The Fast Way to Get Nantucket Fishing Licenses
Nantucket, MA, is known for amazing fishing all year round. If you've never fished historic Nantucket, know that the island is about 30 miles off the coast of Cape Cod. During the colder months, the island is home to about 10,000 locals.
The fishing really heats up in the warmer months, and that's when 40,000 more tourists and part-time residents show up. They'll chase down Bluefish, Striped Bass, Flounder (or "fluke"), Bonito, and False Albacore in the waters of Nantucket Sound.
But you do need a license to fish Nantucket. And today, we'll cover everything you need to know about Read on to learn about:
Fishing licenses you need to fish Nantucket island
The costs of fishing licenses in MA
Where to buy fishing licenses in Nantucket by yourself
How to get a Nantucket fishing license with DoNotPay
And a few other ways you can use the app
If you're eager to get out on the water right now, but it's too early to buy a license or it's a holiday, skip right to the fourth portion: how to get a Nantucket fishing license with DoNotPay. You'll be out on the water in no time!
What Fishing License do I need in Nantucket?
is technically a Massachusetts recreational saltwater fishing license. That means you can use this fishing license to fish any of the Atlantic waters, but it doesn't work for freshwater fishing in the state. (If you're interested in a freshwater license in MA, we can help you apply for those, too.)
How Much does a Nantucket Fishing License Cost?
The table below explores the prices of Nantucket fishing licenses. The prices are very straightforward and affordable. And the good news is that your residency doesn't matter. You don't need to be a Nantucket resident to get the best price on a fishing license.
| | | |
| --- | --- | --- |
| License Type | Cost | Exclusions |
| MA Saltwater Recreational Fishing License | $10 | Children under 16, seniors 60+ |
| Senior MA Saltwater Recreational License | $0 | N/A |
Note that young children don't need to carry a license to fish the Nantucket sound. Seniors must carry a license, but it doesn't cost anything.
At the time of writing, we cannot find any resource that suggests there is a lifetime fishing permit in MA. However, there are combination sporting licenses for fishing and hunting, to which one can add the yearly "stamp" for a big game, small game, etc. Learn more about them at the MA Division of Fisheries website.
Now let's talk about where to get your MA saltwater fishing license.
Where to Buy a Nantucket Fishing License by Yourself
You can at dozens of retailers on the island, or online at Mass.gov. If you go that route, you're exposing yourself to a few risks:
Poorly trained retail staff might fudge your license
You're sharing your credit card information with a retailer you don't know
Even state databases like Mass.gov get hacked
DoNotPay is the faster, easier, and more secure way to buy a Nantucket fishing license online. Let's see how it works.
How to Get a Nantucket Fishing License with DoNotPay
If you want to get your Nantucket fishing license but don't know where to start, DoNotPay has you covered in 3 easy steps:
1. Search "fishing license" on DoNotPay and select the state you would like a fishing license for.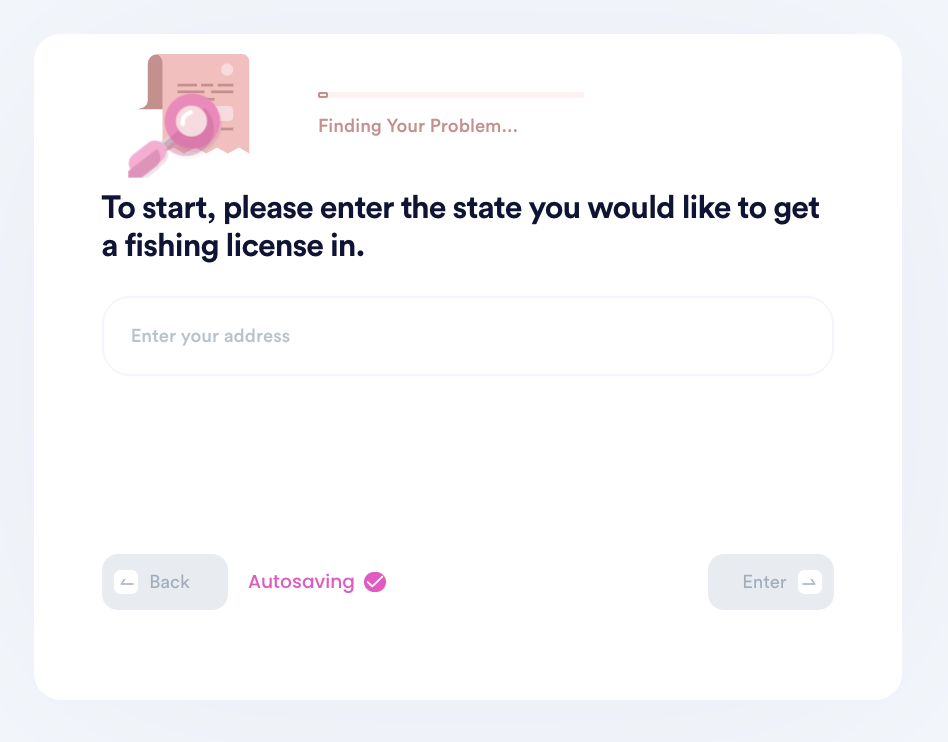 2. Indicate whether you are a resident or non-resident, and choose the type of license you want. For example, saltwater vs. freshwater license, three-day only pass, and more.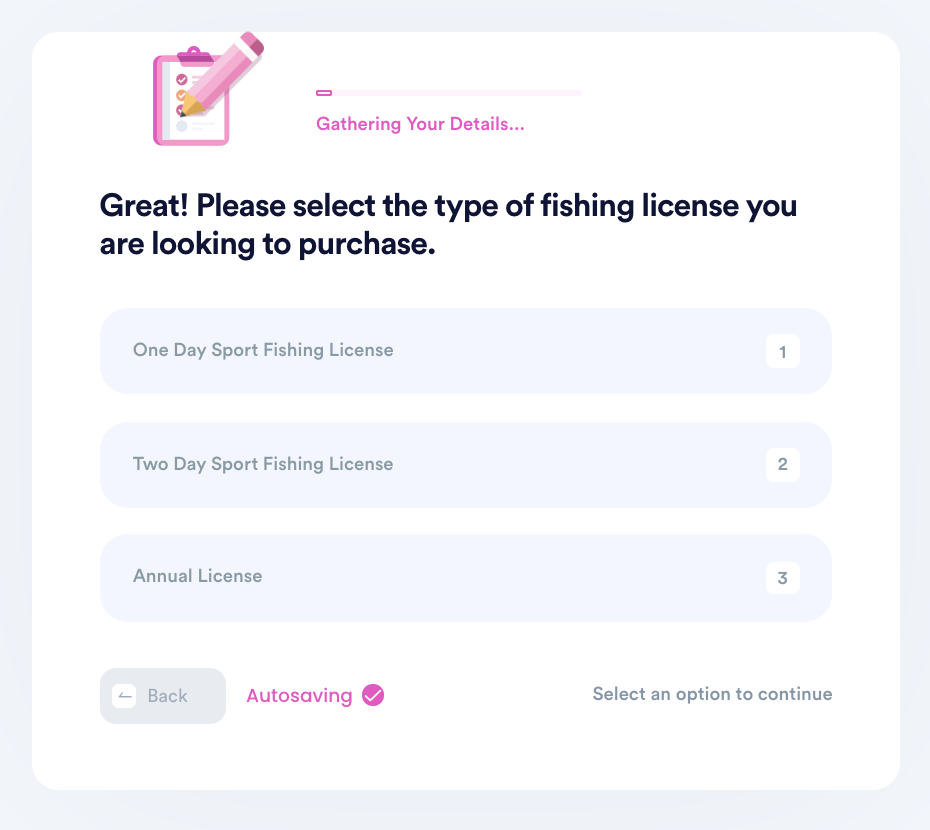 3. Provide your contact information, and a copy of your government-issued ID, and pay the fee required by the state.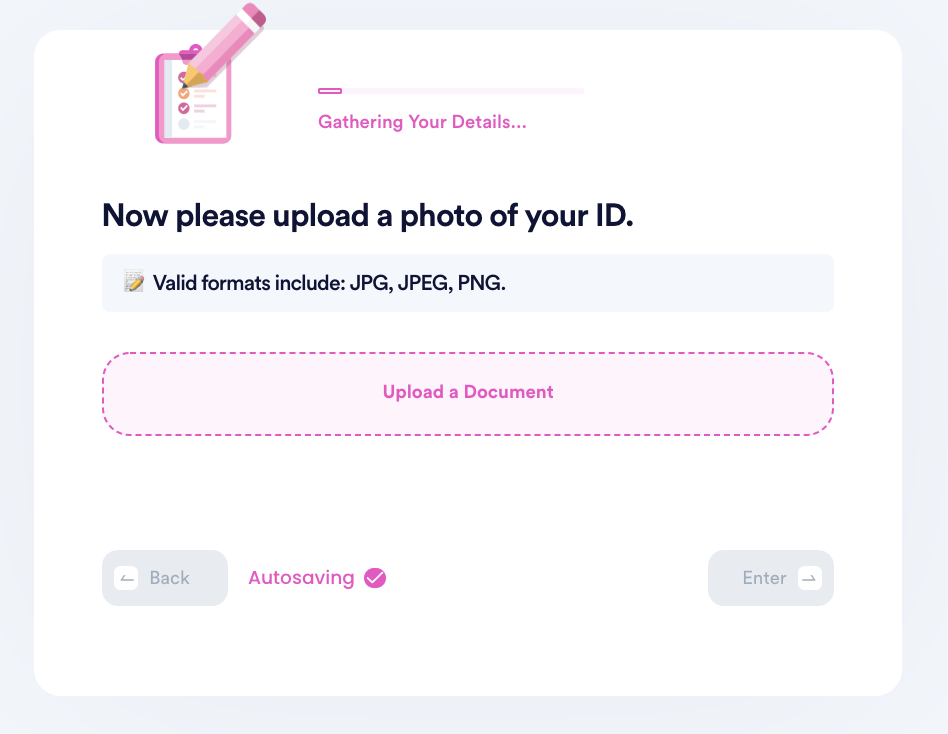 See how easy that is? And remember, you can use the app to get any US fishing license. Whether you want to fish the gulf coast, the mighty Niagara River, or the Great Lakes, DoNotPay has you covered. We can help you select the right fishing license for your trip and purchase it securely in just a few clicks. But DoNotPay is so much more than a fishing license app.
Other Ways DoNotPay Can Help
If you're planning a trip to Nantucket, use DoNotPay to find the cheapest hotel rooms. Then try our coupons and price match tools to make sure you're getting the best prices on fishing gear and clothes.
If you come back from your trip feeling like a company took advantage of you, let us know. We can help you:
Fight and waive hotel fees
Battle airline baggage fees
Or file complaints about price gouging in MA
Spend some time at DoNotPay.com and see all the ways we can help.