The Best Way to Get an Orlando Fishing License
If you want to fish the waters around Orlando and Pensacola, you'll need a fishing license if you're 16 or older. The state of Florida issues these fishing licenses that you can use as an Orlando fishing license or a Pensacola fishing license.
You need to determine what kind of fishing license you want before purchasing. Three main levels of a fishing license exist in the state:
Saltwater Angler for saltwater fishing, lobster, and snook only ($32).
Gone Fishing! for saltwater, lobster, and snook, and freshwater fishing only ($49).
Florida Sportsmen for freshwater, saltwater, lobster, snook, and various hunting ($128.50).
Each fishing license level uses a different form, as well as variations in fees. You can apply for each online using the Go Outdoors Florida website. You will need to first create an account and log in to the website.
Or, you can apply for Orlando area fishing licenses using DoNotPay. Using the DoNotPay solution provides you with an efficient, straightforward way to expedite the application process. At DoNotPay, our automated process alleviates frustration and quickly solves the problem.
When is a Fishing License Necessary in Orlando?
Since no out-of-state hunting or fishing license is valid in Florida, you will need a valid fishing license every time you fish, unless you're a child under 16.
You must be licensed to fish:
Freshwater fish
Saltwater fish
Lobster
Crab
Snook
You can dig for clams without a license. But you will need a license for any native or nonnative marine organisms, including crabs and marine plants. You will still need to purchase a Florida recreational saltwater fishing if you are listed on the National Saltwater Angler Registry.
When Is a Fishing License Not Necessary in Orlando or Pensacola?
Individuals under the age of 16 do not need a fishing license. Those over the age of 16 won't need a saltwater fishing license or permit if they:
Hire a vessel guide, party boat, or charter with a valid charter license,
Hire a vessel with an operator holding a valid recreational saltwater vessel license,
Fish during a state-declared free saltwater fishing day,
Hold a valid saltwater products license or the Florida Fish and Wildlife Conservation Commission (FWC) license,
Fish from a pier with a valid saltwater pier license
Private Pond Fishing
You can avoid purchasing a Florida fishing license freshwater designation under certain conditions, too. The table below explores fishing in private ponds.
You may fish without a license in private ponds when you are:

Fishing in a pond of 20 acres or less on private property with the owner's permission
Fishing during a state-declared free freshwater fishing day
Fishing in a pond of 20 acres or more whose owner purchased a fish pond
Fishing in St. Mary's River or Lake Seminole (not including tributary creeks) and holding a valid Georgia fishing license.
How to Get A Fishing License in Orlando or Pensacola
The process of applying for a fishing license in Florida can get complex. You cannot purchase a license for just Orlando or Pensacola. You purchase a Florida fishing license. If you decide you would like to fish for a type of marine life that your license doesn't cover, you'll need to upgrade your license. But the good news is that your license will be good at other waterways in Florida.
Where to purchase a fishing license Florida accepts?
You can always use DoNotPay to get a fishing license. You can purchase your Florida state fishing license before traveling to the cities of Pensacola or Orlando. The state provides an online portal to help you obtain your fishing license. You can use the links above to purchase your fishing license. Phone the Licensing and Permitting office with questions at 850-488-3641.
What Fees Are Associated With Getting A Fishing License?
The fee structure of the state of Florida consists of a complex set of fees. Four types of fishing license fees exist, with the cheapest starting at $17.
Saltwater fishing begins at $17,
Freshwater fishing begins at $17,
Saltwater vessel licensing begins at $2001.50,
Saltwater fishing pier license begins at $501.50.
Solve Your Fishing License Issue with DoNotPay
DoNotPay can help you get your fishing license online with minimal effort and save you a trip to your county office. Our application process is all done online. All you have to do is choose which license you want and pay the fee and we'll handle the rest.
If you want to get your fishing license but don't know where to start, DoNotPay has you covered in 3 easy steps:
1. Search "fishing license" on DoNotPay and select the state you would like a fishing license for.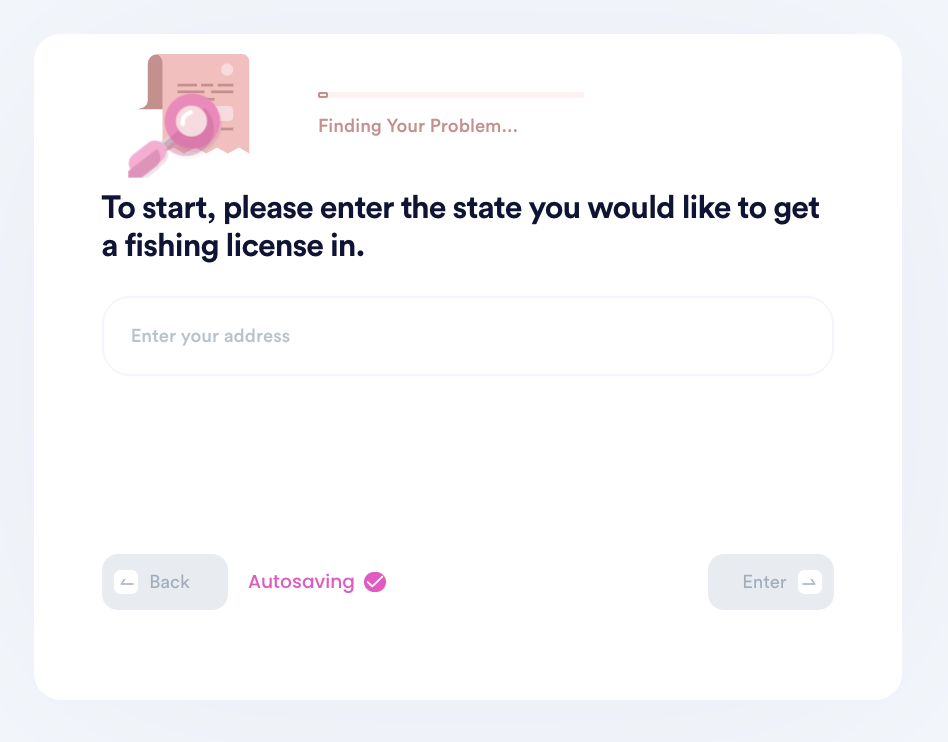 2. Indicate whether you are a resident or non-resident, and choose the type of license you want. For example, saltwater vs. freshwater license, three-day only pass, and more.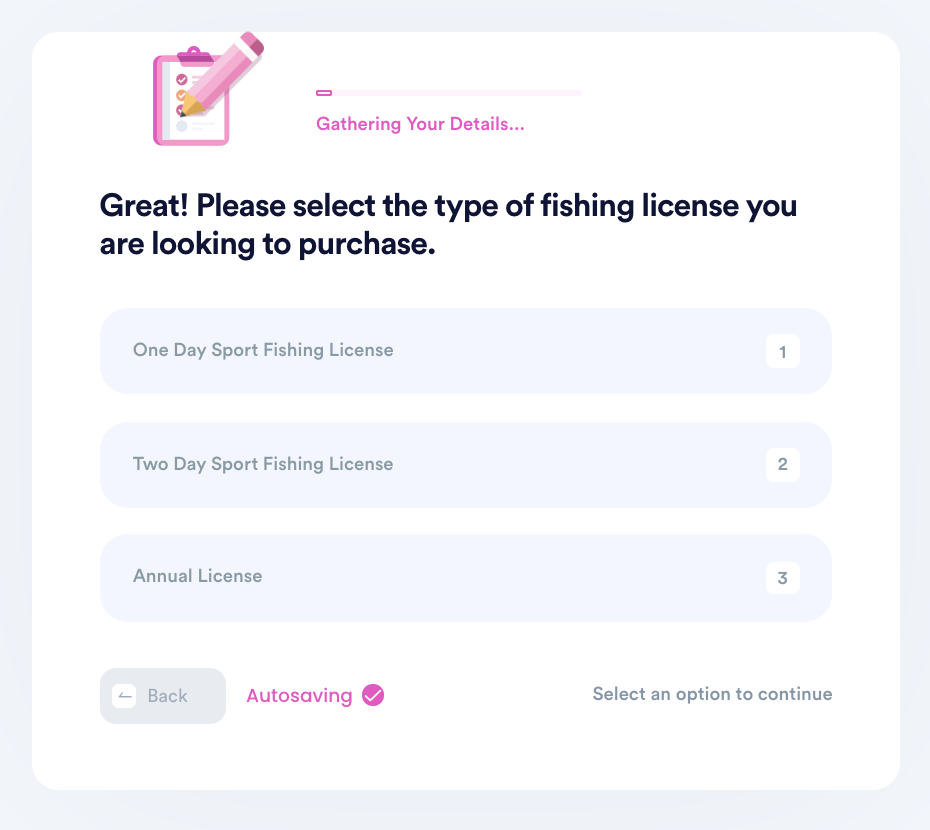 3. Provide your contact information, a copy of your government-issued ID, and pay the fee required by the state.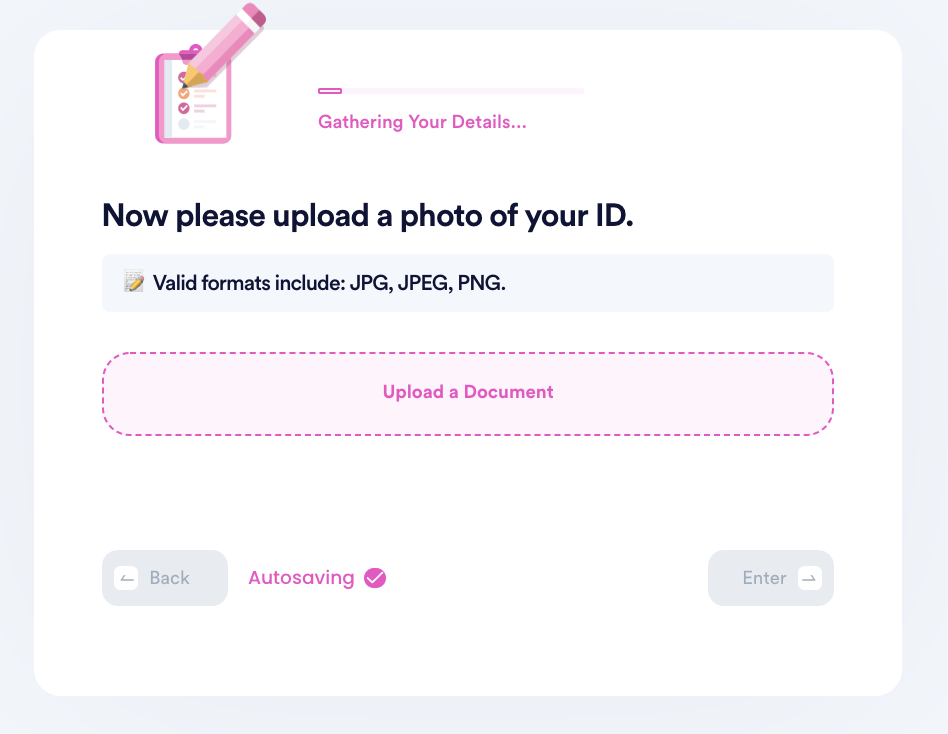 And that's it! DoNotPay will get an Orlando fishing license on your behalf, which will be valid immediately. (Yes, even at 4:00 in the morning on a Sunday.)Just download the file and print it as a temporary license, while a physical copy gets processed and sent to you by mail.