How to Obtain a New Jersey Fishing License
While many people may not associate New Jersey with amazing fishing spots, the state is actually home to a diverse number of fish species. Bordered by the Delaware River and the Atlantic Ocean, New Jersey not only has some incredible freshwater fishing locations but also is known for excellent ice and deep-sea fishing. Trout and bass make up the majority of freshwater offerings, while tuna and swordfish are sought after in the Atlantic. The most popular freshwater spots include Lake Hopatcong, the Delaware River, Delaware Bay, while the deep waters of the Atlantic attract those seeking larger fish species. But, before you start planning your fishing expedition, you will need to apply for a New Jersey fishing license. Most states require this license to protect against overfishing and preserve various species. Additionally, the proceeds from the license go towards conservation and research programs that protect fish populations and prevent poaching.You can obtain a fishing license online or in person at New Jersey fishing license agents located throughout the state. However, DoNotPay can also assist you with your New Jersey fishing license application with just a few easy steps.
Who is required to obtain a New Jersey fishing license? 
Anglers who are aged 16 and older are required to have a valid license for freshwater fishing in the State of New Jersey.  This also includes fishing in privately owned lakes.
While you do not need an individual saltwater fishing license in the state, individual anglers ages 16 and older must also register in the New Jersey Recreational Registry Program.
New Jersey does not have a saltwater license. However, a separate shellfish license is required for harvesting hard and soft clams, surf clams, oysters, bay scallops, and mussels.
What are the New Jersey fishing license types and associated fees?
New Jersey fishing licenses are available in several classifications as follows: 
| | |
| --- | --- |
| Residents, 16-64 years of age | $22.50 |
| Senior residents, 65-69 years of age | $12.50 |
| Non-residents, ages 16 and up | $34.00 |
| Seven-day vacation fishing (non-residents only) | $19.50 |
| Two-day vacation fishing (non-residents only) | $9.00 |
| Resident trout stamp (required for trout fishing) | $10.50 |
| Non-resident trout stamp | $20.00 |
New Jersey fishing licenses can also be purchased under a buddy plan when two licenses are purchased together. Through this program, a current and new angler or two new anglers pay a reduced rate. Resident buddy anglers, aged 16-64 pay $11.75 while non-resident anglers over the age of 16 pay $17.50. Specific conditions apply, which can be found on the New Jersey Division of Fish and Wildlife page.
The State of New Jersey issues fishing licenses at no charge to the following groups:
New Jersey National Guard members
Veterans with a service-connected disabilityLegally blind residents  who are registered with the Commission for the Blind and Visually Impaired
How to obtain a NJ fishing license on your own
There are two ways to purchase a New Jersey fishing license. Both will require government identification for applicants 16 years older and up. The online registration process requires a valid credit card for the form of payment. 
Online from the  New Jersey Electronic License System website. Licensing agents such as sporting goods and bait and tackle shops. Call ahead to ensure you are able to purchase the license types you need. 
A New Jersey Child Support Certification is required as part of the process of obtaining a fishing license. Additionally, first-time license buyers can establish a customer account and be assigned a lifetime Conservation Identification Number (CID). Both of these are completed during the online registration and application process. Upon completion of these two requirements, a license can then be purchased through the online license system or in-person with a licensing agent. Note: Those that use the online system to purchase their licenses are subject to additional transactional fees of 3.9% along with a credit card processing fee of 2.5%. For further assistance, you can email the New Jersey Department of  Fishing and Wildlife at NJDFWLicenses@dep.nj.gov. 
How DoNotPay can help you obtain a NJ fishing license online
The registration and application process for a New Jersey fishing license requires several time-consuming steps to accomplish. However, DoNotPay can help you obtain your New Jersey fishing license in three easy steps:
Search "fishing license" on DoNotPay and select the state you would like a fishing license for.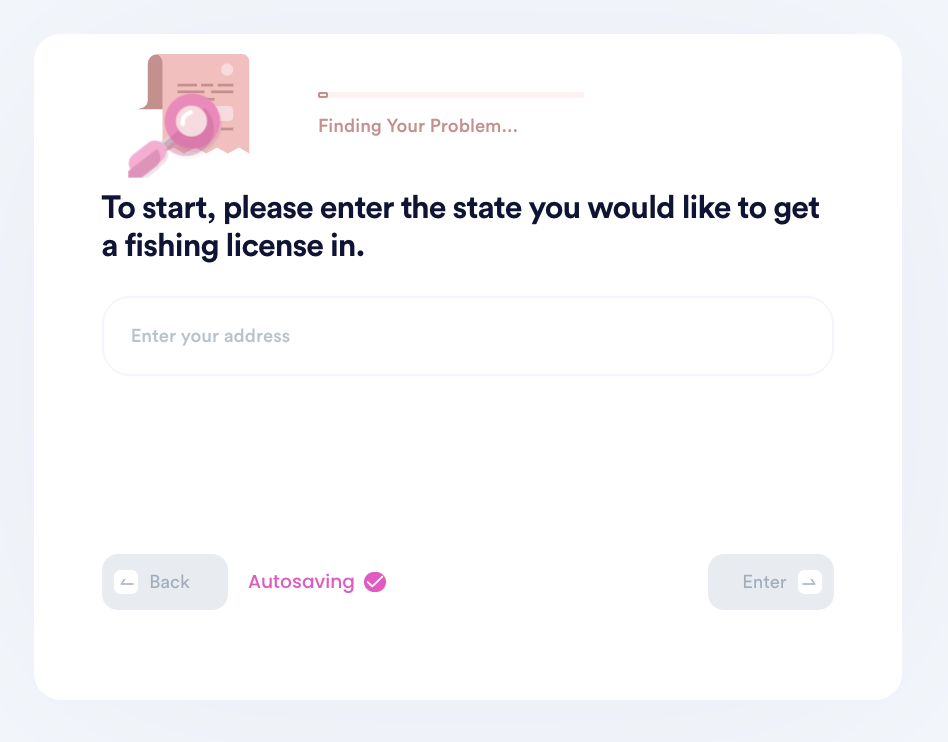 Indicate whether you are a resident or non-resident, and choose the type of license you want. For example, saltwater vs. freshwater license, three-day only pass, and more.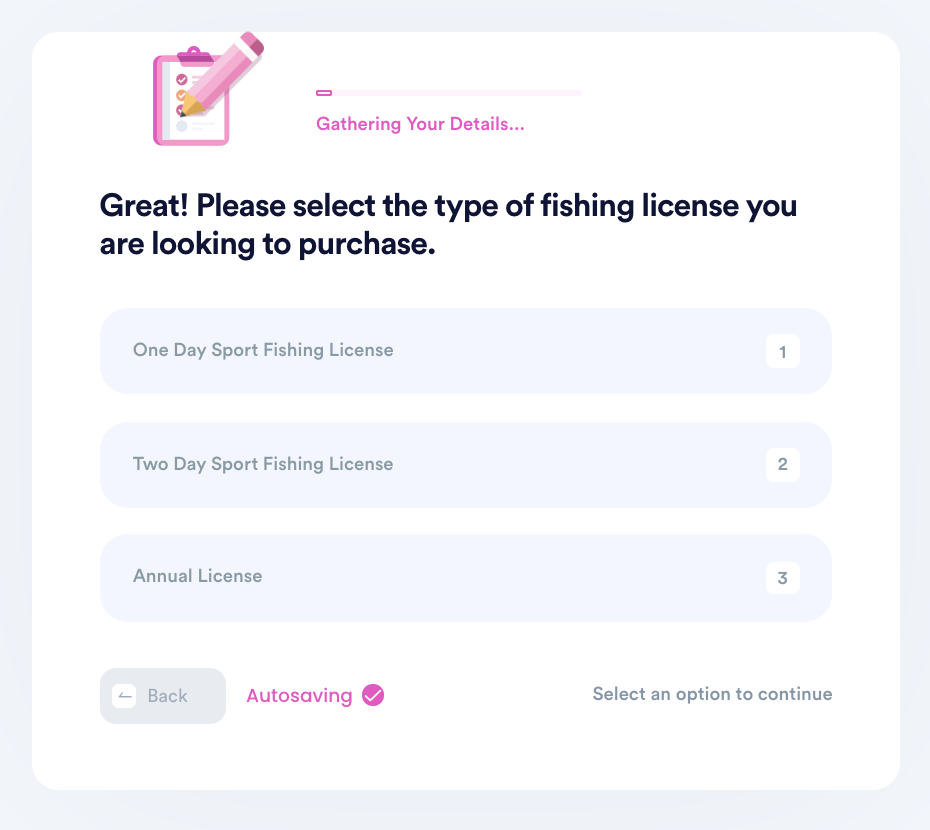 Provide your contact information, a copy of your government-issued ID, and pay the fee required by the state.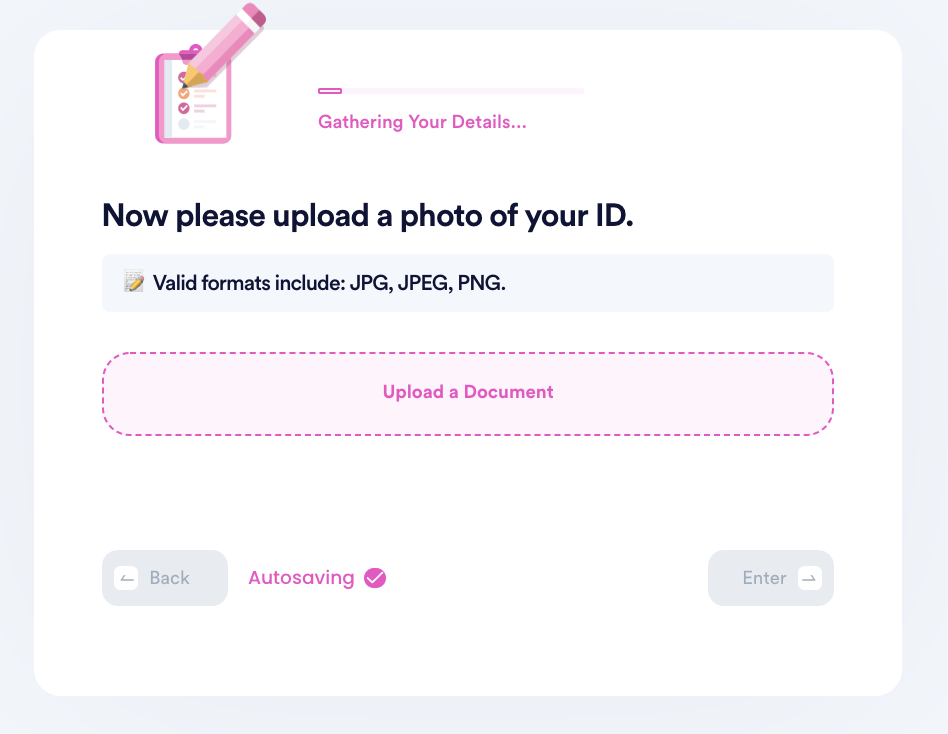 DoNotPay will obtain your fishing license immediately through a download link. Simply download and print it as a temporary license. A physical copy will be processed and be sent to you by mail. 
DoNotPay works across all companies and entities with the click of a button
With DoNotPay's innovative platform, we help you cut through bureaucratic red tape, find you money, and resolve many common administrative issues. Rather than trudging through pages of confusing information and application instructions, DoNotPay streamlines the process to get your documents, licenses, and other claims delivered efficiently.