Opened a Spam Email by Mistake? Here's What Happens Next
Nowadays, getting spam is so mundane that many people don't even notice it among a bunch of others they receive every day. According to Statista, spam emails made up 53.95% of all email traffic in March 2020. Even though the spam email rate has been decreasing, it is still very high.
Some spam emails are relatively benevolent, designed for marketing purposes, but others are incredibly nefarious, aiming to create chaos in your life.
If you received an email with attached malware from yourself like this Reddit user did, or if you have an email spam problem you don't know how to solve, read on.
Is It Dangerous to Open Spam Email?
You'll be thrilled to hear that just opening the spam email in your inbox is unlikely to wreak havoc on your computer or mobile device. Whichever email service provider you use—Outlook, Yahoo Mail, Gmail, or some other—opening such emails should be safe.
That said, there are a variety of problems related to spam emails, such as money scams, dangerous website links, harmful file attachments, or phishing emails aiming to steal your data.
DoNotPay Brings Down Your Spam Email Senders

You can't stand getting all those spam emails, and you just want to stop them from flooding your mailbox. You may have accidentally opened one in your inbox or even clicked on one of those links or files attached to it, and the chaos broke loose—you had your bank, email, and shopping account details stolen.
Why bother with reporting email abuse, if there is a simple solution to your predicament. Our DoNotPay robot lawyer has automated this whole process and made it effortless and swift.
The following are the steps to take:
Run your DoNotPay account in any

web browser

Select the

Spam Collector

option

Enter your email address to connect it to DoNotPay

When you receive your next spam email, just forward it to

spam@donotpay.com
We will unsubscribe you automatically, and DoNotPay will check if there's a class-action lawsuit against the sender for you to join if you qualify. If the spam mail is illegal (there is no unsubscribe button, or it is unsolicited), you may even get compensated for it. 
How to Resolve the Spam Email Link Problem on Your Own?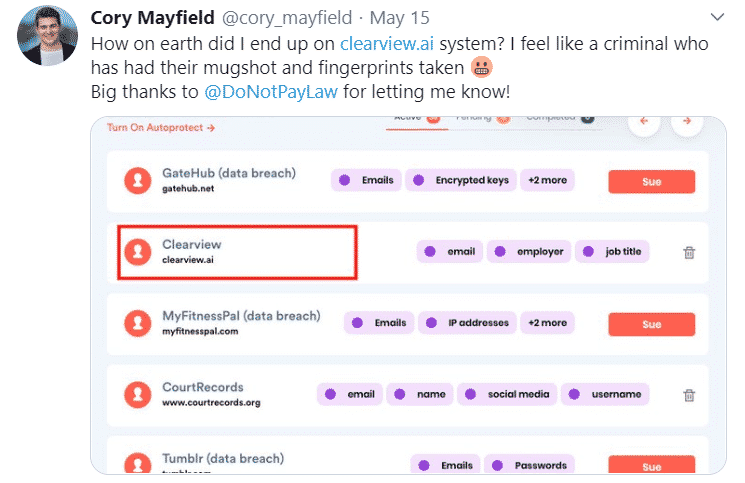 If you have clicked on a spam email link that has taken you to a suspicious website, you have to act promptly. Here are the things you have to do without delay:
Disconnect your device

Perform file backup

Do system scan

Change all the passwords
Disconnect Your Device
The moment you realize that you have clicked on a potentially harmful link, you should disconnect your computer or mobile device from the internet. Disconnecting your device from the network will lower the risk of malware sending sensitive data from your device, spreading to your synced devices on the same network, and enabling someone to access your device remotely.
Perform File Backup
The offline mode enables you to back up your files. In the case of a phishing attack, some of the data can be destroyed during the recovery process. Make sure to protect your sensitive data first and then all the valuables (like videos or photos). You can move them to an external drive.
Perform System Scan
Now that you are offline, you can run a full scan of your device with antivirus software, which is a layer of protection that keeps malware at bay. Follow the instructions to perform a thorough search of your device and remove or quarantine the computer virus.
In case you don't have anti-malware software installed on your device, you can copy it from another device, and then install it onto the compromised one.
Change All Passwords
Malware is a perfect tool for harvesting sensitive data, such as usernames and passwords, bank account numbers, and credit card numbers.
If you suspect you have been duped into clicking on a dangerous link, you should change your online credentials ASAP. Change the passwords for all your online accounts (especially, email, social media, online banking, and shopping accounts). Do not make the mistake of using the same password for all of them unless you want to make accessing your accounts a piece of cake for fraudsters.
Tips on How to Fortify Your Online Defenses
Email links and file attachments still pose a real danger for internet users. To make sure your time on the Internet is safe, there are defenses to build around your inbox, computer, or mobile device.
Here are some of the steps to take:
Install and use an anti-malware program

Update your software

Avoid running dangerous attachments

Watch out for malicious links
Install and Use an Anti-Malware Program
Make sure to install a quality antivirus program and keep your operating system updated. It will regularly scan your computer or mobile device and remove suspicious viruses that have infiltrated it. To provide an additional protection layer against malware, it monitors your internet connection and blocks attacks from websites that are notorious for virus distribution.
Update Your Software
As a rule of thumb, you need to keep your software up-to-date, including your browser, mail client, browser plug-ins, and operating system. These updates are important because they close any holes that may be exploited in the system. Outdated software programs could compromise your internet activity as they won't be able to detect malware threats.
Avoid Running Dangerous Attachments
Certain file attachments are a common source of malware infection, especially the ones ending in ".exe" extension. You should never open such files, even if they come from someone you know. Your computer or mobile device can get infected by just clicking the attachment, let alone downloading additional content from it.
That doesn't mean that all files are potentially dangerous. If you get a PDF file, it is usually safe to open it. Keep your PDF reader updated—just in case!
Watch Out for Malicious Links
Unfortunately, many spam emails come with links to dangerous websites that can play mischief on you if you click on them.
Keep in mind that you should avoid tapping links in your email unless you are totally sure they are safe.
If you suspect that a link leads to a website, it's better to steer clear of it, as impostors are just waiting around the corner to mess up your life.
To get adequately equipped to ward off spam email invasion on your inbox, it won't hurt learning more about how to report spam email and block them on Android or iOS devices.
DoNotMail Slams Your Paper Spam Mail

Fighting off the malware attacks on your inbox, and your devices may be scary for you, but having to fend off the physical junk mail as well can make you plain mad.
Fortunately, you have someone to watch your back—your DoNotPay pal.
All you need to do is take a photo of the junk mail in your mailbox and forward it to us.
Let us show you how:
Scroll down to the

DoNotMail

option on the

DoNotPay

homepage and tap it

Click the

Enroll Now

button

Upload your photos, and that's it!
DoNotMail feature enables you to clear the mess in your mailbox and avoid swindlers and scammers aiming for your money. It gives you complete control of the mailbox and its contents. It helps protect the environment by cutting down on unnecessary waste of natural resources. Using this feature, you may qualify to join a class-action lawsuit and win up to $500 in compensation!
DoNotPay Protects Your Privacy and Finances
Sharing your credit card details online comes with certain risks, and it's getting more difficult to tell good and bad websites apart. With DoNotPay's virtual credit card generator, you will be able to protect your identity and bank account from cyber scammers.
Whenever you run into a suspicious email or website, generate a virtual credit card and proceed without worries. Our virtual cards also work like a charm if you want to avoid automatic payments after free trials.
DoNotPay Awards Your Day

Your DoNotPay robot lawyer works 24/7 to ensure your peace of mind. If you want to stop receiving emails, unsubscribe from emails, or get spam email revenge, we will jump right in and bring you solutions on a silver platter.
Feel free to check out the advantages of DoNotPay in the table below.
| | |
| --- | --- |
| DoNotPay Way | Other Way |
| We are within your price range | It can be quite costly |
| We save your effort and time | It can be exhausting and time-consuming |
| We offer you loads of money-saving features | None is like DoNotPay |
To harness the full power of DoNotPay, you should access your account from any web browser and we will help you with:
Disputing traffic tickets

Fighting speeding tickets