Easily Get Your Missouri Fishing License With DoNotPay
Fishing is a relaxing activity that allows you to enjoy the wonders of nature in a peaceful setting. Missouri is home to a number of beautiful fishing spots, with lakes including the Lake of the Ozarks, Table Rock Lake, and Stockton Lake. Whether you enjoy a day on the water with friends or prefer to go fishing solo, there's no doubt that fishing is a sport for anyone at any age. You might not be aware of it, but if you plan to fish in Missouri, you must be in possession of an active .
Getting a Missouri fishing license on your own can be time-consuming and stressful, causing you to spend hours online or even drive well out of your way. Cut the stress from the process and get your Missouri fishing license with DoNotPay, the fast, easy, and successful way to get a fishing license.
Who Is Eligible for a Missouri Fishing License?
Fishing licenses are required to legally fish in the state of Missouri, with a few exemptions. Fishing licenses help to prevent illegal fishing and promote wildlife sustainability in the state. If you are caught fishing without a license, you could face a hefty fine or other serious legal consequences. Here are a few groups of people who are not required to have a fishing license in Missouri, according to the Missouri Department of Conservation's website:
Missouri resident landowners who own five acres or more and their immediate households fishing on land they own do not need a fishing permit
Missouri residents age 65 and older
Anyone aged 15 and under, whether they are a Missouri resident or nonresident, doesn't need a fishing license
Honorably discharged veterans or active personnel who have a service-related disability of 60% or greater, was a prisoner of war during military service or as a patient in a Warrior Transition Brigade, Warrior Transition Unit, or military medical center do not need a Missouri fishing license
Certain individuals with serious medical conditions such as cerebral palsy don't need a Missouri fishing license
If you don't fall into one of these categories, you need a fishing license in order to legally fish in Missouri.
Information for Residents
If you meet the following criteria, you are considered a Missouri resident:
Are residents of the state. You call Missouri your domicile if it is your only permanent legal abode.
Are not domiciled, yet have a permanent home in Missouri and spend more than 183 days there each year.
If you do any of the following, you may be considered a Missouri resident:
Have a Missouri address and have graduated from a Missouri high school.
Have parents (or one of them) who live in the state and work (or are retired).
Member of the military or a member of a military family stationed in Missouri on active duty
Have a full-time state-employed spouse.
A Missouri-registered student who lives and attends school there
An immigrant holding a valid I-551 Resident Alien Card issued by the United States. With a valid permanent residence in Missouri – and no other state or nation – Immigration and Naturalization Service.
What Are the Different Missouri Fishing Licenses?
There are many types of Missouri fishing licenses, and the costs differ for residents and nonresidents. Here are the different kinds of and the fees associated with each one.
Resident Missouri Fishing Licenses
Resident Missouri license fees are subject to change each year. The fees for 2021 are as follows:
| | |
| --- | --- |
| Daily fishing permit | $8 |
| Annual fishing permit | $12 |
| Lifetime fishing permit | Fees differ each year and vary based on the age of the applicant |
| Lifetime Conservation Partner permit | The fee for this permit varies each year and is based on the age of the applicant |
| Military reduced cost permit | $5 |
Nonresident Missouri Fishing Licenses
According to the Missouri Department of Conservation's website, there are only two types of fishing licenses available to non-Missouri residents.
| | |
| --- | --- |
| Daily fishing permit | $8 |
| Annual fishing permit | $49 |
How to Get a Missouri Fishing License on Your Own?
If you are ready to purchase your Missouri fishing license, you have several options.
You can buy a Missouri fishing license online through the Missouri Department of Conservation website. The e-Permits system that the website utilizes will give you the option to select which type of permit you want to buy and prompt you to enter your contact information, as well as info from your photo ID.
You can purchase a Missouri fishing license through a licensed vendor, such as a tackle shop or hunting and fishing equipment store.
Finally, you can buy a fishing license from a Missouri Department of Conservation office. There are a number of offices located around the state.
It is important to note that if you choose to buy a license in person, whether from a vendor or through the Department of Conservation office, you might have to call ahead to verify their hours since many in-person locations are operating on limited hours. Additionally, only certain types of permits are available to purchase from specific areas. If all of this seems too overwhelming, don't worry - there's a simple solution. DoNotPay allows you to easily purchase your Missouri fishing license from the comfort of your home without a lot of lengthy forms and questions.
Get Your Missouri Fishing License Through DoNotPay
How to get your fishing license using DoNotPay:
If you want to get your fishing license but don't know where to start, DoNotPay has you covered in 3 easy steps:
1. Search "fishing license" on DoNotPay and select the state you would like a fishing license for.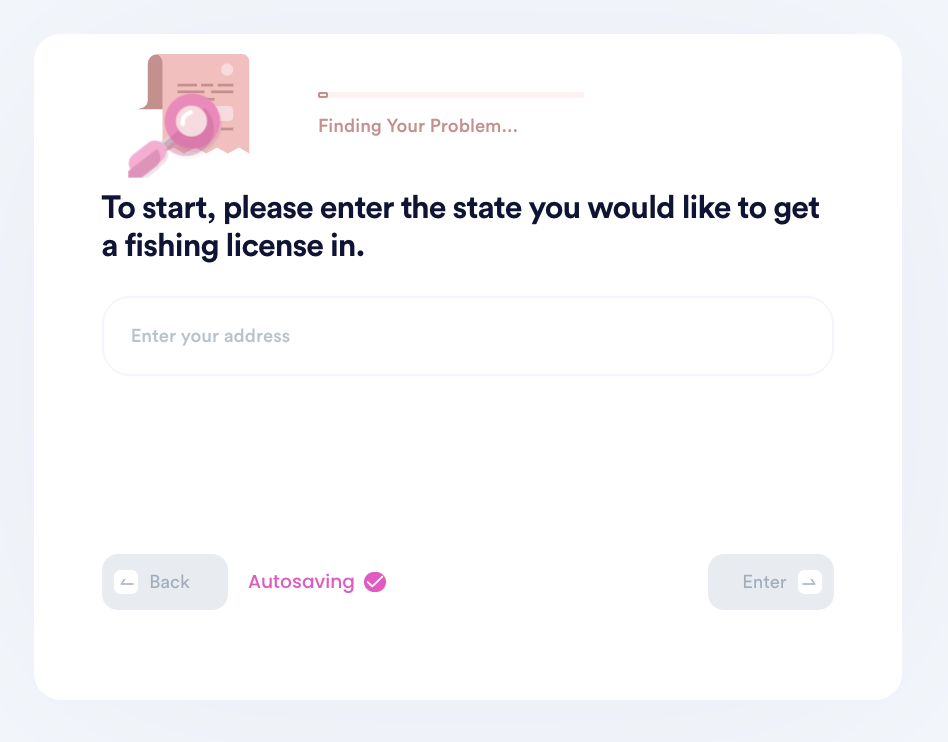 2. Indicate whether you are a resident or non-resident, and choose the type of license you want. For example, saltwater vs. freshwater license, three-day only pass, and more.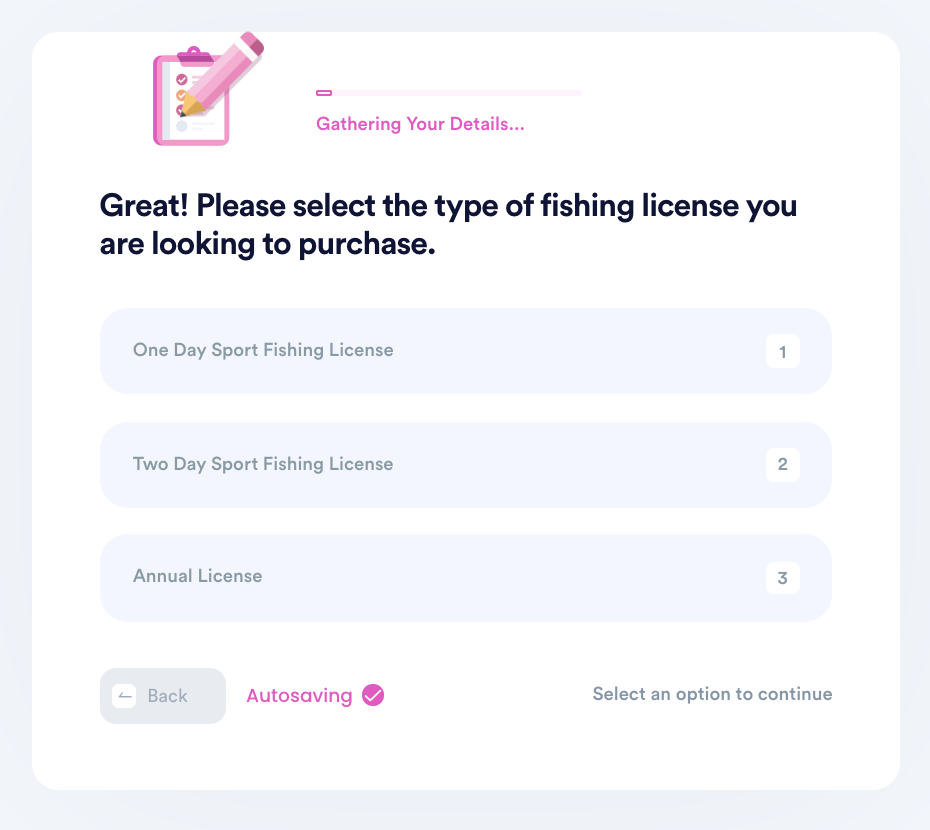 3. Provide your contact information, a copy of your government-issued ID, and pay the fee required by the state.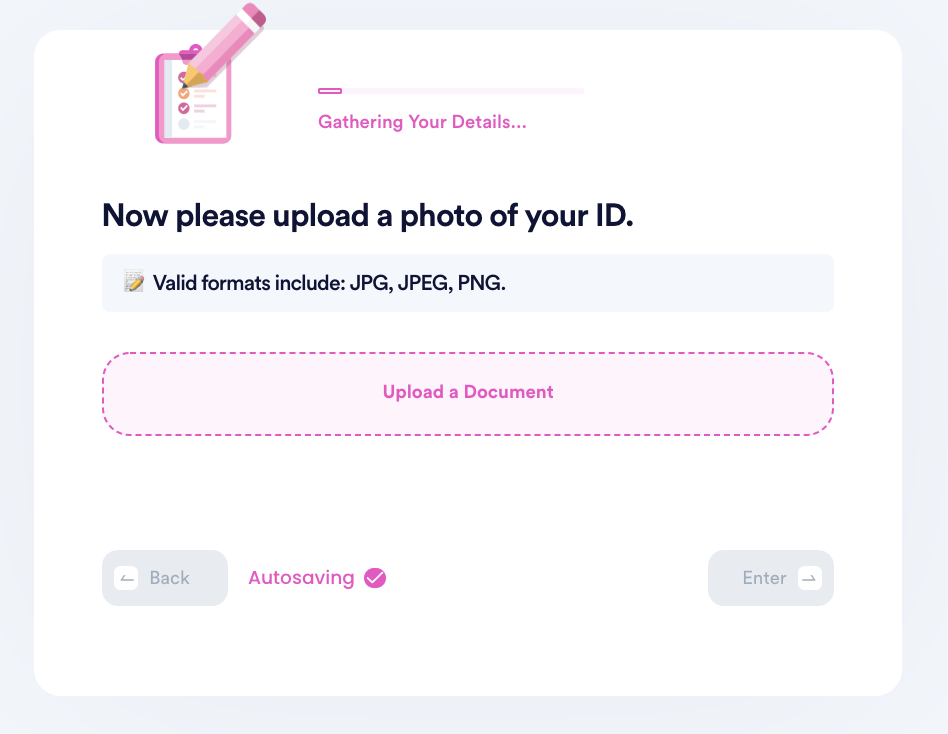 DoNotPay Is the Easy Solution for Getting a Missouri Fishing License
Don't get stuck without a legal license and get forced to pay a heft fee - getting a fishing license is easy with DoNotPay's foolproof system. DoNotPay is your one-stop solution for all things related to getting your fishing license, whether you are a Missouri resident looking to get a lifetime license or a visitor who just wants to enjoy the pristine waters of Missouri's best lakes for a few hours or a day. Choose DoNotPay for your Missouri fishing license needs!