Convert Points and Miles With Our Miles Transfer Process
You can sell your hotel or credit card points and airline miles for cash and other rewards. Alternatively, you could opt to transfer the rewards to other memberships, for example, transferring hotel points to airline miles and using them to book flights. However, miles transfer can be complicated or confusing. For example, you cannot transfer miles between American AAdvantage and Alaska Mileage Plan, but you can book on American Airlines using Alaska miles.
The problem is finding good deals and evaluating their best options based on their points. Depending on your rewards program, you may get a good deal by transferring the points to miles instead of purchasing a gift card or using them for cash.
Still, unless you can compare all your options, it's hard to know the best deal available. This is where DoNotPay comes into play. The app combs through the web for the best deals whether you want to do or miles selling.
With DoNotPay, you can:
Reasons to Sell Your Points and Miles
Vacation rates are increasing, and airlines and hotels are still struggling to fill seats and beds, so now's the best time to spend your points or begin a . Below are more reasons to spend your points and miles:
Mileage balances are high following the lockdowns due to the COVID-19 pandemic, so we are likely to see mileage inflation moving forward.
Demand and travel costs are increasing, as are mileage rates.
Devaluations are inevitable.
Award tickets get free airline ticket changes.
How Much Money Are Points and Miles Worth?
At its core, you will use simple multiplication and division to calculate your award redemption values whether you are transferring airline miles or points. Below is how to calculate your award redemption values:
Find Your Award Redemption Value
First, start with the cash price in dollars and multiply it by 100 to convert it into cents. Then, divide the result by the miles or points you require to book the itinerary as an award. The result you get is your award redemption value expressed in cents per mile or point (abbreviated as CPM or CPP, respectively).

Redemption value = 100 × Cash Price/Award Price

The cash price reflects the full out-of-pocket amount for the given itinerary (transaction). Additionally, the above is a basic equation that does not consider expenses.

Consider Fees and Expenses
Below is an equation for accounting for award fees, including expenses:

Redemption value = 100 × (Cash Price - Expenses)/Award Price

The calculation gets more complicated when comparing different itineraries, for example, comparing tickets for a Seattle to Phoenix flight between Alaska Airlines and Southwest. Furthermore, it would be best to have a resource to compare your answers to your program's typical award redemptions.
As you can see, the points-and-miles landscape is complicated to the point it even makes professionals' heads spin. For example, many airlines have now abandoned their awards charts, making it harder to track and discern your miles and points. Unfortunately, there is no one-card-its-all approach. Therefore, unless you prepare a printed spreadsheet, you need an app to help you find the best deals for each transaction.
Here are a few partners with easy to comprehend point values:
| | |
| --- | --- |
| Partner | Point Value (in dollars) |
| Delta Skymiles | $0.013 |
| American Express | $0.020 |
| Diners Club | $1.00 |
| Radisson Rewards | $0.006 |
| Marriott Bonvoy | $0.007 |
| Hilton Honors | $0.005 |
| IHG Rewards Club | $0.008 |
| Hertz | $0.025 |
How DoNotPay Can Help
If you have accumulated a lot of credit card, airline, and hotel points, DoNotPay can guide you through your options for converting them. Of course, your options depend on your specific reward program and how much the points are worth monetarily.
For example, let's say you are a Marriott rewards member and you wish to find discounted hotel rates and redeem the best value or transfer them to airline miles. DoNotPay can help you find the best deal available through third-party vendors. We can also help you check your points balance automatically.
Here's how to go about it:
1. Search "points" or "rewards" on DoNotPay, and select the rewards program you're a part of / the type of points you have.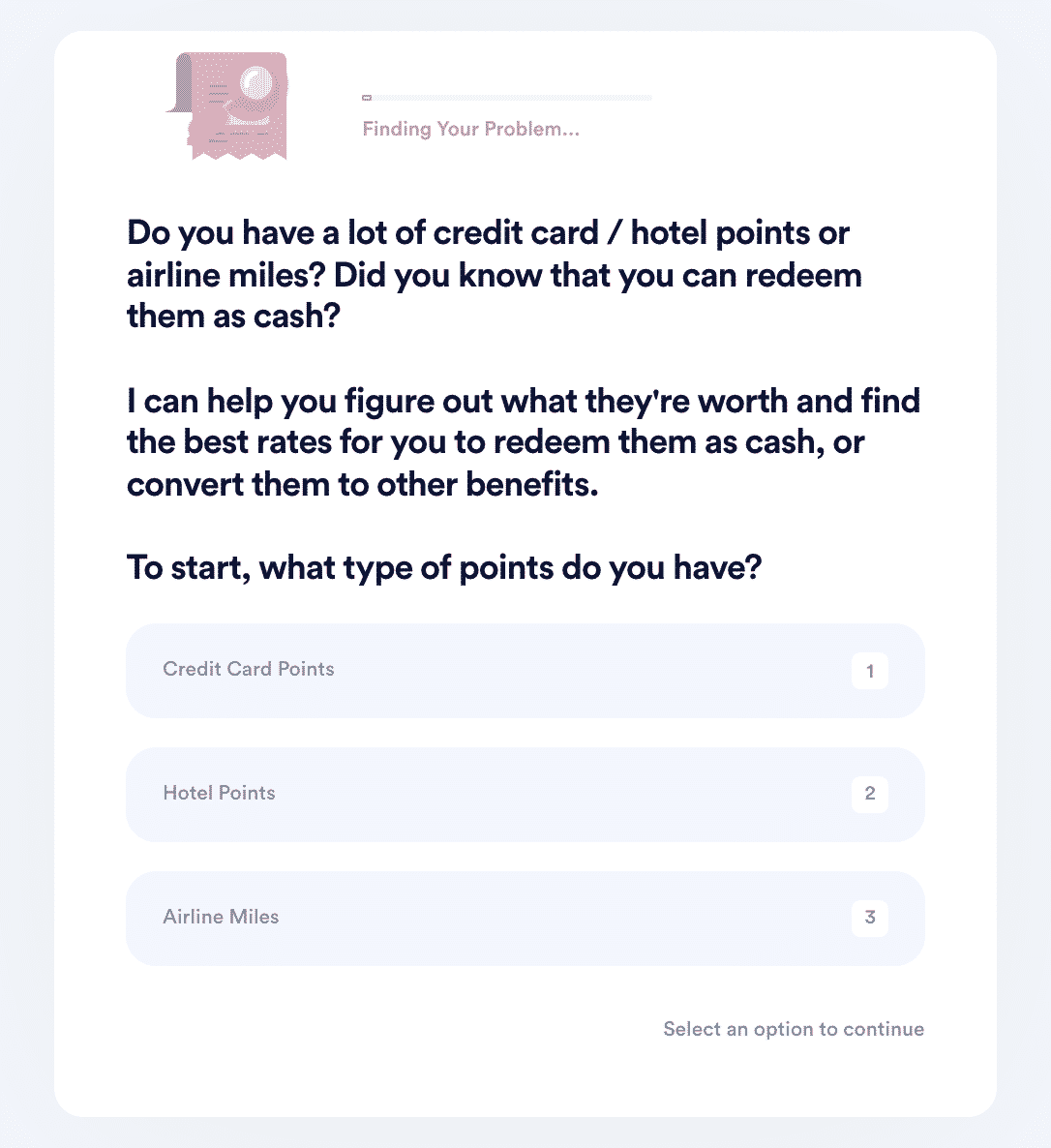 2. Choose whether you want to check your points balance, transfer your points, or sell them for cash.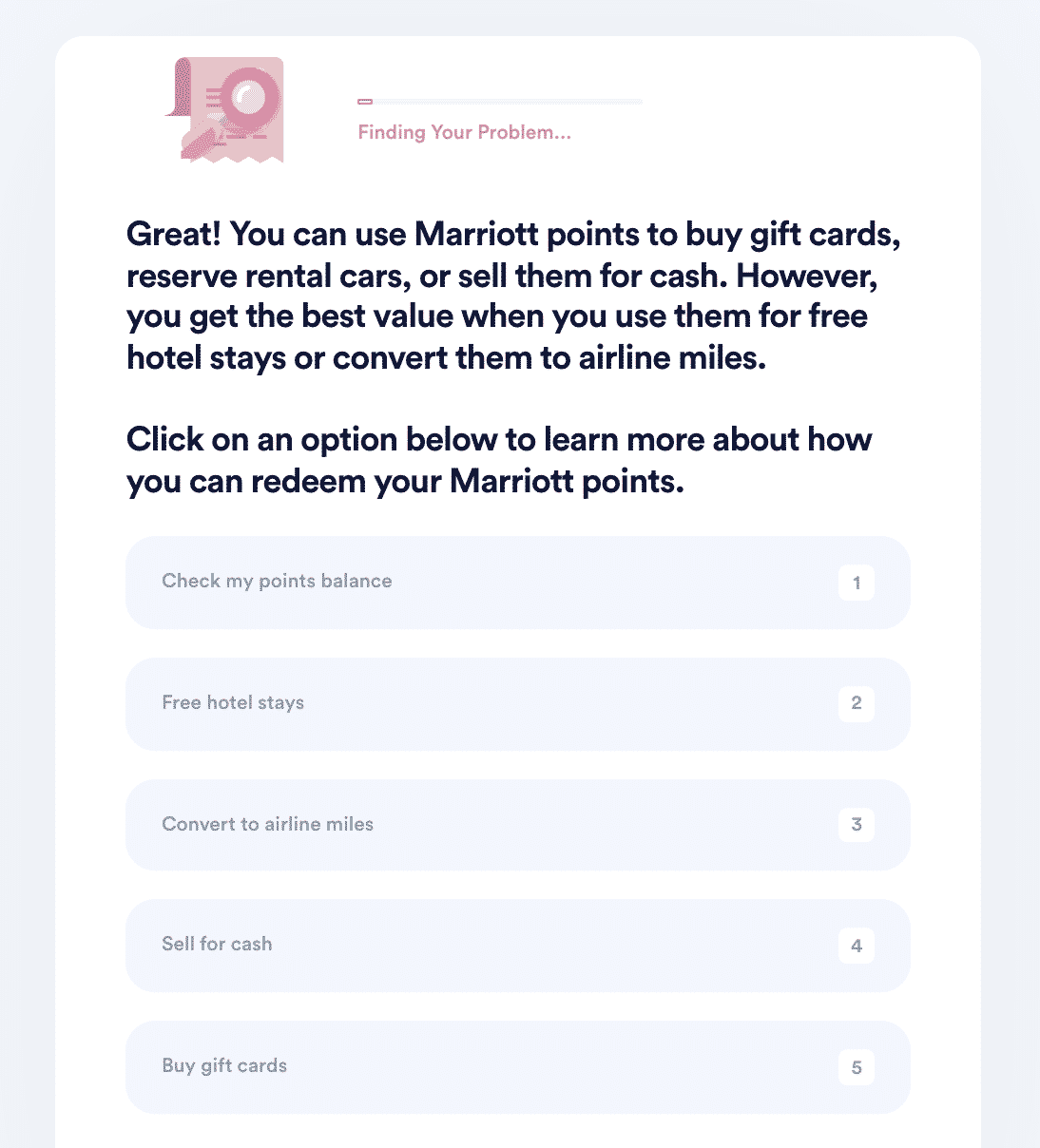 3. If you selected one of the first two options, DoNotPay can check your points balance or transfer your points for you. Otherwise, we can help you find the best deal through third-party vendors.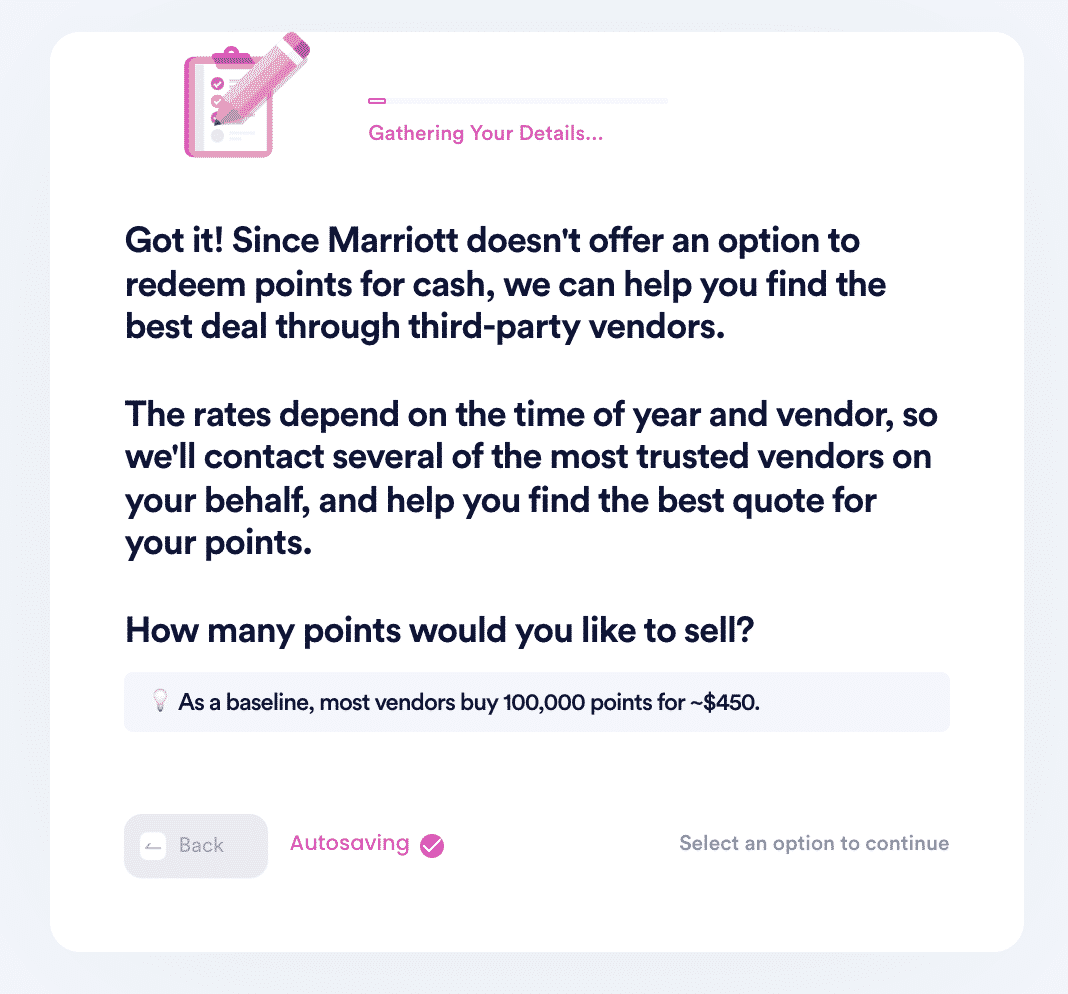 Why Use DoNotPay to Convert Your Points and Miles?
DoNotPay is an automated online legal app that helps you solve your problem fast, quickly, and conveniently. Simply log into the app, fill in a few details about your situation, and wait for the result.
Trust DoNotPay to guide you through your best options for converting your credit card or hotel points and airlines miles depending on your rewards program. We will calculate how much each point is worth monetarily, scan the web to sell your points and miles for cash, or convert them to other benefits. Additionally, DoNotPay is automated, making it a convenient and less frustrating option for converting airline miles or hotel points.
Thanks to DoNotPay, you don't need to spend hours combing the web for the best deals for points and miles transfer. You also don't need to fill out tedious forms and keep track of the steps required to solve your issue. Finally, you can rest assured that DoNotPay will make the best case and find the best deals for you.
What Else Can DoNotPay Do?
Along with assisting travelers manage points and miles, our app can help you:
Sign up today to get started.