Let DoNotPay Scan the Web to Sell Your Airline Miles for Cash
Selling your unused airline miles can be an overwhelming process. There are so many things to consider: whether or not you're getting the maximum payout for your miles, who you can trust to perform the trading process — not to mention potentially frustrating and tedious interactions with a company's customer service. DoNotPay helps you transform your airline quickly and easily, scanning the web to make sure that you're receiving the most money that you can.
How to Earn Airline Miles
The process of earning airline miles is different for each airline, but it usually involves taking flights, making purchases, and showing loyalty to the airline in some way. Specific examples for various popular airlines are listed below.
United
You can earn points by:

Flying with United or any of their partner companies
Using a partnered credit card, staying in a partner hotel, or renting a car from a partner company
Using United-provided services, including dining and shopping

Southwest
You can earn points by:

Earn points when you fly with Southwest; the point amount is based on the ticket fare
Make purchases with their partnered credit card
Performing tasks, like taking a survey, to earn extra miles

JetBlue
You can earn points by:

Make a qualifying purchase of a flight or service directly from JetBlue
Using a partnered credit card or taking a flight from a partner airline

Delta
You can earn points if you:

Take a flight via Delta or one of their partner airlines
Use their partnered credit card to make purchases
Earn when you use various partner services, including Marriott, Hertz, and Lyft

American Airlines
Earn points by:

Flying with American Airlines or any of their partner airlines
Making a purchase with a partner company, including various hotels and car rental companies
Using a partnered credit card to make everyday purchases
Once you earn miles, you can use miles for travel or convert .
How Much Money Are Airline Miles Worth?
Miles are worth different amounts based on which airline is being looked at. Generally, the conversion from miles to cents is a 1:1 ratio — that is, one airline mile earned can be cashed out for one cent. Data from 2021, taken from NerdWallet, for the value of a mile from various popular airline companies is as follows:
| | | | |
| --- | --- | --- | --- |
| Airline Reward Program | Miles | Standard Mileage Value (in Dollars) | Priority/Business/First Class Mileage Value (in Dollars) |
| American Airlines AAdvantage Miles | 1 | $0.012 | $0.025 |
| Southwest Rapid Rewards | 1 | $0.014 | $0.015 |
| United MileagePlus | 1 | $0.010 | $0.024 |
| Delta Skymiles | 1 | $0.013 | $0.014 |
| Jetblue TrueBlue | 1 | $0.015 | N/A |
These prices can fluctuate with time and the world's current economic situation.
Why Is Selling Your Airline Miles a Good Idea?
If you're accumulating a lot of airline miles but aren't able to use them often, selling them is a great option to consider. That way, you can convert the miles into something you'll be able to use on any purchase you'd like. Additionally, due to the pandemic, taking a flight often isn't an option, and it's generally not at the top of people's priorities. Converting the miles to cash ensures that any previously earned airline miles don't sit in your airline account unused, potentially expiring before you have a chance to redeem them on any flights.
How to Sell Airline Miles on Your Own
In order to successfully sell airline miles on your own, extensive online research must be done. When you Google "selling airline miles," a wide variety of companies and brokers appear. It's necessary to look into several of these options and compare their rates, as there's no true standard rate for the conversion of an airline mile to monetary value. Completing this process can be daunting and potentially very frustrating if you end up accidentally accepting an offer that's much lower than the true value of your earned miles.
How to Use DoNotPay to Sell Airline Miles Quickly and Easily
DoNotPay helps you sell your airline miles without the hassle. They'll scan the internet, searching for the best rate among the plethora of online airline brokers, to ensure that you're compensated properly.
Here's how to get started:
1. Search "points" or "rewards" on DoNotPay, and select the rewards program you're a part of / the type of points you have.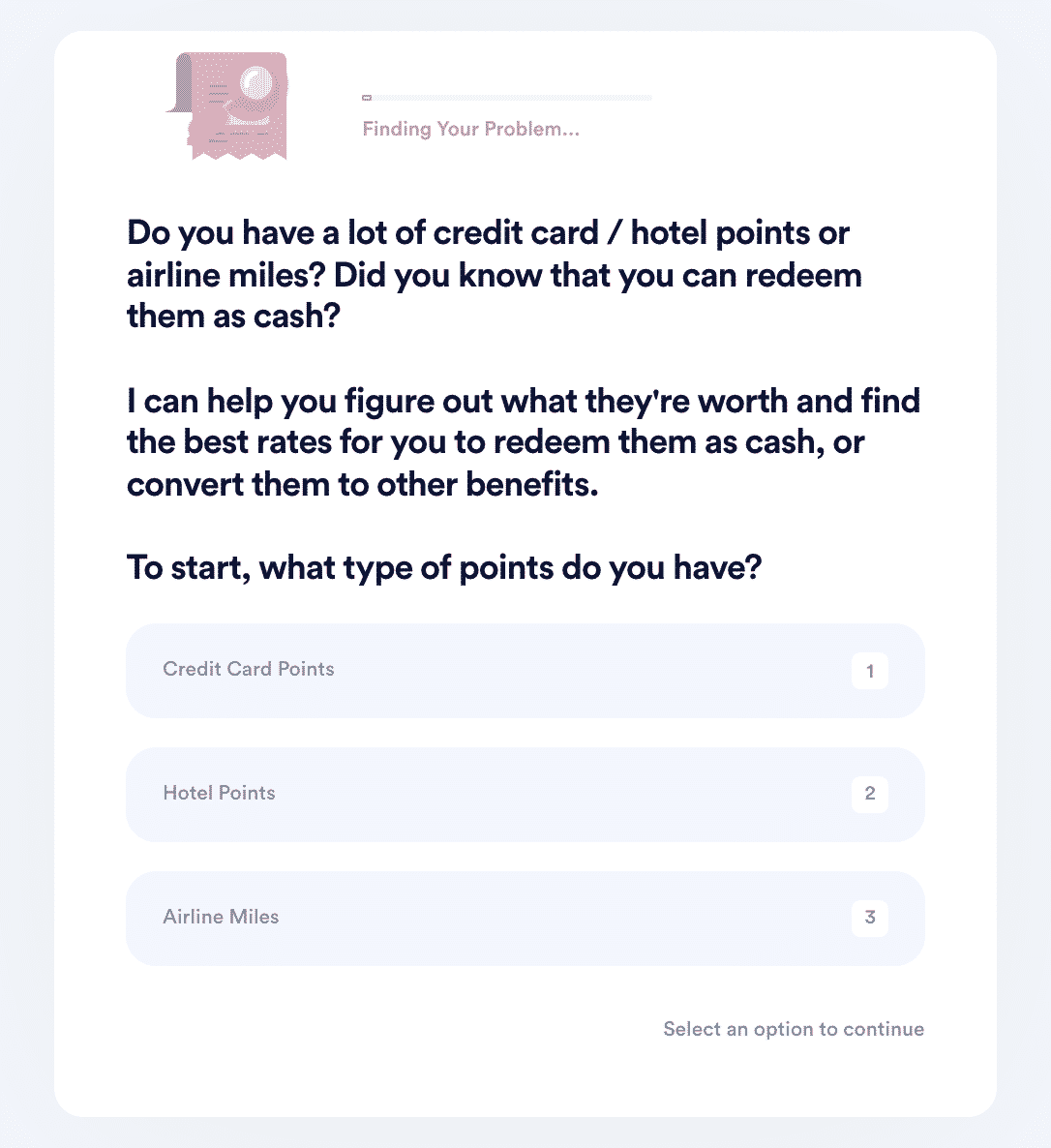 2. Choose whether you want to check your points balance, transfer your points, or sell them for cash.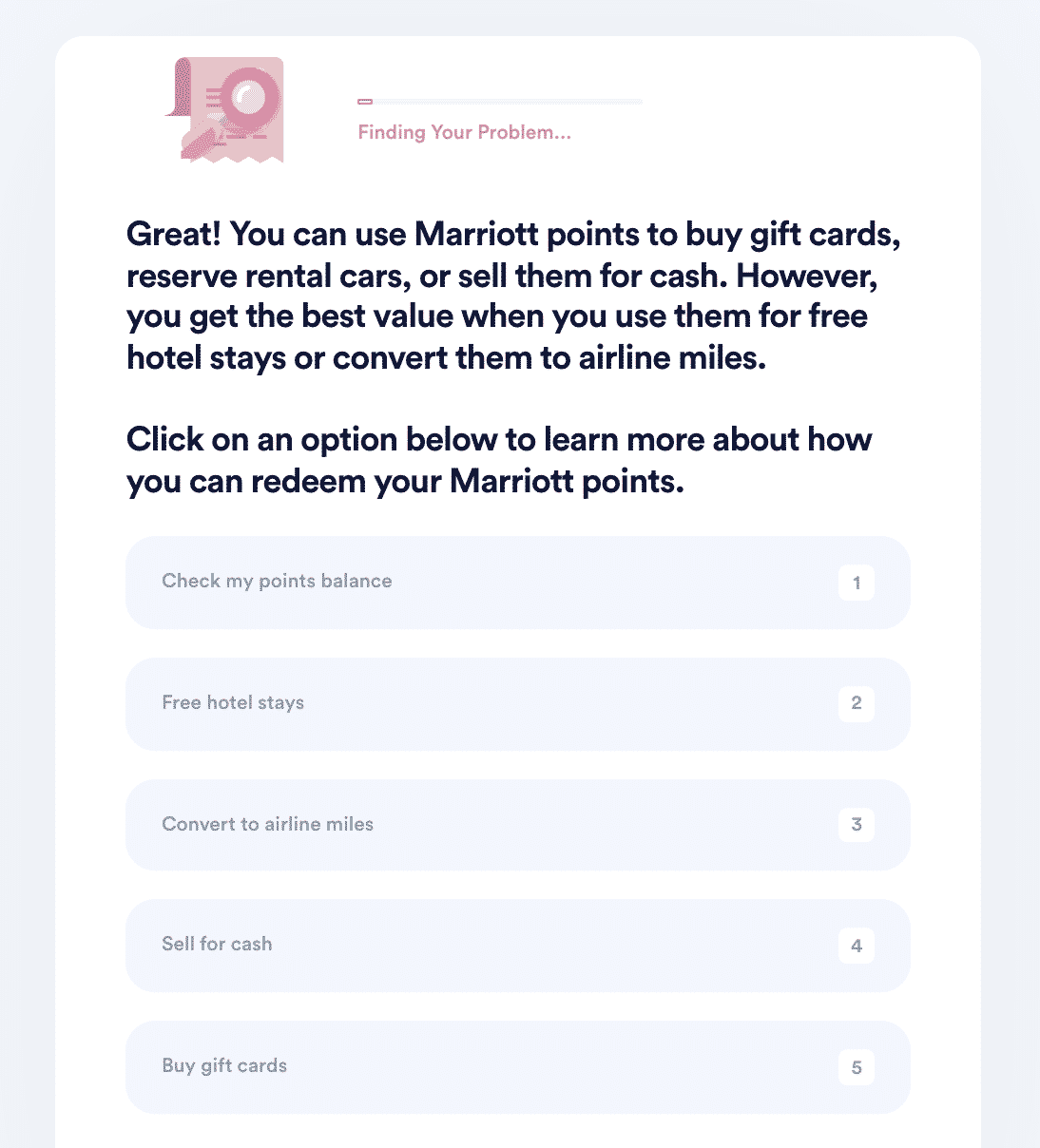 3. If you selected one of the first two options, DoNotPay can check your points balance or transfer your points for you. Otherwise, we can help you find the best deal through third-party vendors.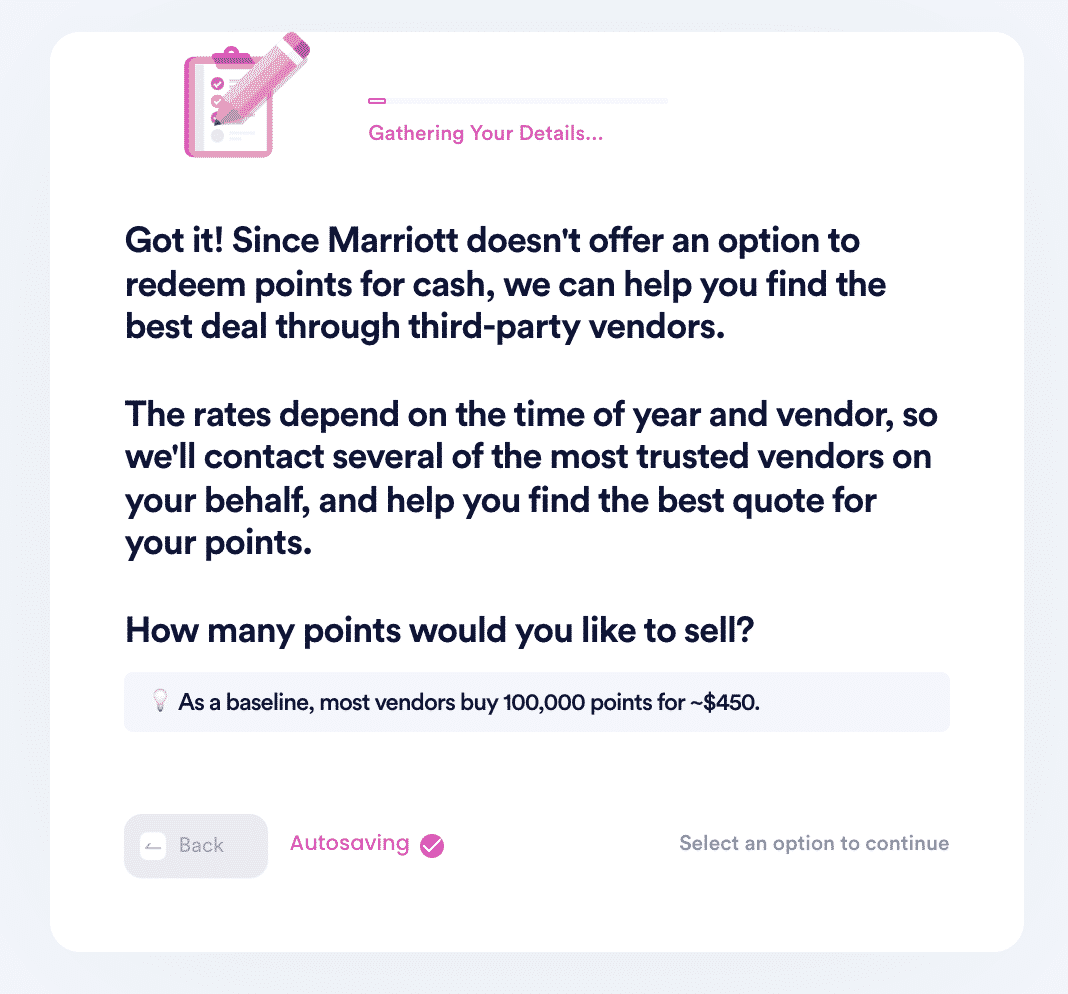 If you want to sell your points, we can help you find the best deal through third-party vendors. Lastly, we can also help you check your latest points balance automatically.
What Else Can DoNotPay Do?
The services DoNotPay provides stem far beyond converting your airline miles to cash. DoNotPay can also help you: