Applying for a Los Angeles Fishing License the Easy Way
Los Angeles has lots of serene and bountiful fishing spots - most notably Catalina Island, Santa Monica Bay, and Huntington Flats. However, you will need a Los Angeles fishing license to fish at most of these and other spots – or else you could face thousands of dollars in fines. Unfortunately, getting a fishing license here is easier said than done.
Here is a comprehensive guide on how to apply for a fishing license in Los Angeles. You will also get to learn about how DoNotPay can help and make the process a lot easier.
Who is Eligible to Get a Fishing License
You need a license to fish in Los Angeles if you have reached 16 years of age. However, you don't need one if you are fishing from a public pier. Additionally, you don't need a license if you check at least one of the following boxes:
A low-income Native American
Mobility-impaired
Developmentally disabled
Blind
What Are the Different Types of Fishing Licenses? 
Los Angeles fishing licenses come in varying types to meet different applicants' varying needs and preferences. Depending on the type and frequency of fishing that you plan on doing, here are different types of fishing licenses that you can apply for:
Annual fishing license
Short-term fishing license
Resident sport fishing license
Non-resident sport fishing license
One-day sport fishing license
Two-day sport fishing license
Ten-day sport fishing license
Lifetime fishing license
It is also worth noting that certain marginalized groups and non-residents also qualify for reduced-fee fishing licenses. These include low-income seniors, disabled veterans, and recovering service members.
Fishing License Costs in Los Angeles, California 
The city charges fees for fishing licenses and uses the proceeds for environmental conservation purposes. Here is an overview of what different types of licenses cost:
| | |
| --- | --- |
| One-day sport fishing license | $17.00 |
| Two-day sport fishing license | $26.00 |
| Ten-day sport fishing license | $52.00 |
It is also worth noting that life-time fishing license fees vary depending on how long the license will last:
0 – 9 years: $579
10 – 39 years: $946
40 – 61 years: $853
62 years and more: $579
How to Apply for a Los Angeles Fishing License on Your Own 
The process of applying for a fishing license in Los Angeles varies depending on the type of license. However, all applicants are required to provide certain details and documents, including:
Identification documents such as a U.S. passport or birth certificate
Non-resident identification documents, such as a passport
Your age
The purpose of your fishing license
You can apply for a Los Angeles fishing license online or in person at one of several California fishing license locations. You can find fishing license agents all over the city in locations such as Walmart, Big 5 Sporting Goods, tackle shops, and CDFW offices.
The application process is designed to be easy, but it can become complicated especially if you don't know your way around the application forms or licensing locations. Fortunately, DoNotPay is here to help by essentially automating and fast-tracking the process. 
Next Steps for Getting a Los Angeles Fishing License if You Can't Do It Yourself 
Applying for a fishing license in Los Angeles can become complicated and long, as mentioned. Fortunately, you have several other options, including hiring an attorney (which will be even more expensive). Alternatively, you can use DoNotPay and let the platform do all of the heavy lifting while reducing application costs and times. 
Solve Your Los Angeles Fishing License Problem With the Help of DoNotPay 
DoNotPay is like an automated lawyer that will help you conduct a wide range of legal processes, including applying for a Los Angeles fishing license. Avoid absurd processing times and redundant forms. We reduce the process to three easy steps:
1. Search "fishing license" on DoNotPay and select the state you would like a fishing license for.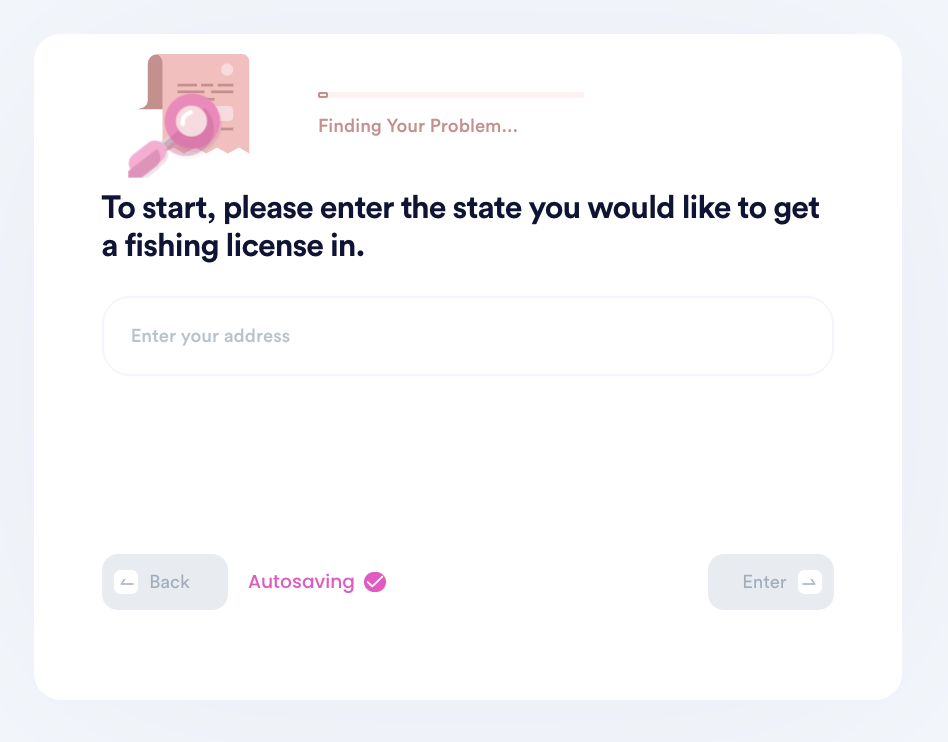 2. Indicate whether you are a resident or non-resident, and choose the type of license you want. For example, saltwater vs. freshwater license, three-day only pass, and more.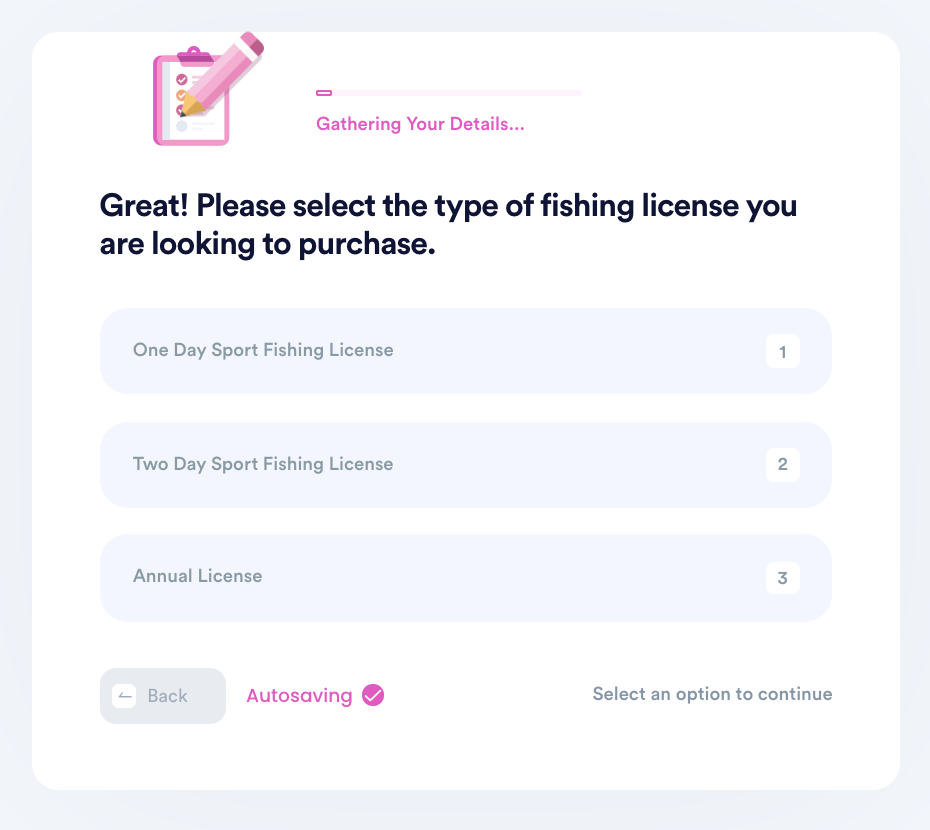 3. Provide your contact information, a copy of your government-issued ID, and pay the fee required by the state.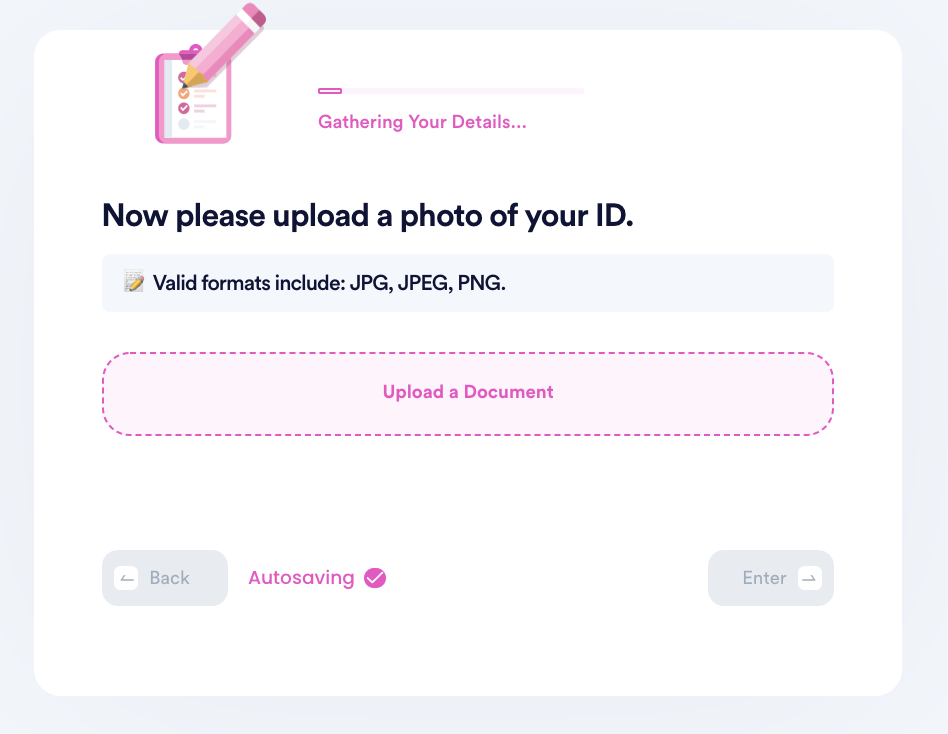 Why Use DoNotPay to Solve Your Los Angeles Fishing License Problem 
It is prudent to use DoNotPay to apply for a fishing license in Los Angeles for three reasons:
It is fast.The goal is to get you out on the water as soon as possible.
It is easy. The whole process is automated, and all you have to do is provide your information.
Success if guaranteed, as the platform doesn't make mistakes. We strive for accuracy and efficiency.
With DoNotPay, you can rest assured that you are spending your time and money in a more productive way.
DoNotPay Works Across All Companies/Entities/Groups With the Click of a Button 
California isn't the only state with serene fishing spots. You can (and should) fish in any state in the U.S., but you will also need a fishing license. Fortunately, DoNotPay will help you get a license in any state and with any agency.
What Else Can DoNotPay Do? 
You may think of DoNotPay as the last resort when struggling with a complicated formal process but we highly recommend that you come to us immediately to save yourself from all the trouble. Our services include:
Preparing for government tests.
Filing and handling neighbor complaints.
Our list of services goes on and on. Visit our platform to explore everything we have to offer and learn more about how we can help.