Connect With an Inmate at Lakeview Shock Incarceration Correctional Facility
is a minimum-security level facility in New York for young men and women. It is managed by the New York Department of Corrections and Community Supervision. It can take in approximately 600 sentenced individuals, 500 males and 100 females.
Lakeview Shock Incarceration Correctional Facility is a harsh boot-camp program. It allows inmates from other locations the opportunity to earn an early release by stringently adhering to all rules and regulations. Inmates with less than three years remaining on their sentences may spend six months at Lakeview for "shock incarceration." This severe program includes performing drills, executing military discipline, and taking substance abuse classes in a rigorous therapeutic community atmosphere.
Lakeview Shock Incarceration Correctional Facility offers the following programs:
Adult Basic
Aggression Replacement Training (ART)
Building Maintenance
Computer Operator
Custodial Maintenance Course
Floor Covering Course
Horticulture classes
Painting and Decorating
Where Is Lakeview Shock Incarceration Correctional Facility, and How Do I Get There?
Visitors to the facility from New York can get here by train, car, bus, and plane.
How to Contact Inmates at Lakeview Shock Incarceration Correctional Facility
Lakeview Shock Incarceration Correctional Facility allows visitors on weekends from 9 am until 3 pm. Individuals incarcerated in SHU custody are allowed one non-legal visit every seven days during normal visitation hours. SHU visitation is allowed only on Saturdays. IASAT visitation is allowed on Sundays only.
To write a prisoner at this facility, send a letter written in blue or black ink on plain white paper addressed as follows:
Inmate Name, DOC Number
Lakeview Shock Incarceration Correctional Facility
P.O. Box T
Brocton, New York 14716-9798
Inmates are able to make phone calls from Lakeview Shock Incarceration Correctional Facility during daytime hours. If you wish to receive calls from incarcerated individuals in New York State correctional facilities, you must have an account with Securus. An account can be created online or by calling 1-800-844-6591. The reported calling rate is $.048 per minute for calls within the United States. There is no additional call connect fees.
Difficulties You May Have Contacting Loved One in Lakeview Shock Incarceration Correctional Facility
This facility is minimum security, but it's no joke. The people incarcerated here go through a lot to earn an early release, and sometimes they seem to disappear without contact. Phone privileges are scarce, and there are often situations when the telephone or the service isn't working.
Writing letters home takes second fiddle to sleep and rest when you're working as hard as the inhabitants of this facility. Your best bet might be a visit, but this isn't an easy correctional facility to visit. It's a hefty distance from New York City, and there aren't a lot of choices for overnight in the area.
Get in Touch With Your Loved Ones via DoNotPay
DoNotPay is the easiest and most reliable way to get in contact with a loved one at Lakeview Shock Incarceration Correctional Facility. Our proprietary Connect With an Inmate feature does all the hard work and worries for you. It's difficult enough to have a loved one locked away. We want to make the process of reconnecting easier.
To get started, you'll need the following:
An inmate ID or booking number
The name of the prison
The unit where the inmate is located, if applicable
DoNotPay Can Help You Locate Your Imprisoned Friend
Follow these steps so DoNotPay can help you locate and write letters to inmates:
1. Locate the Connect With an Inmate service on DoNotPay.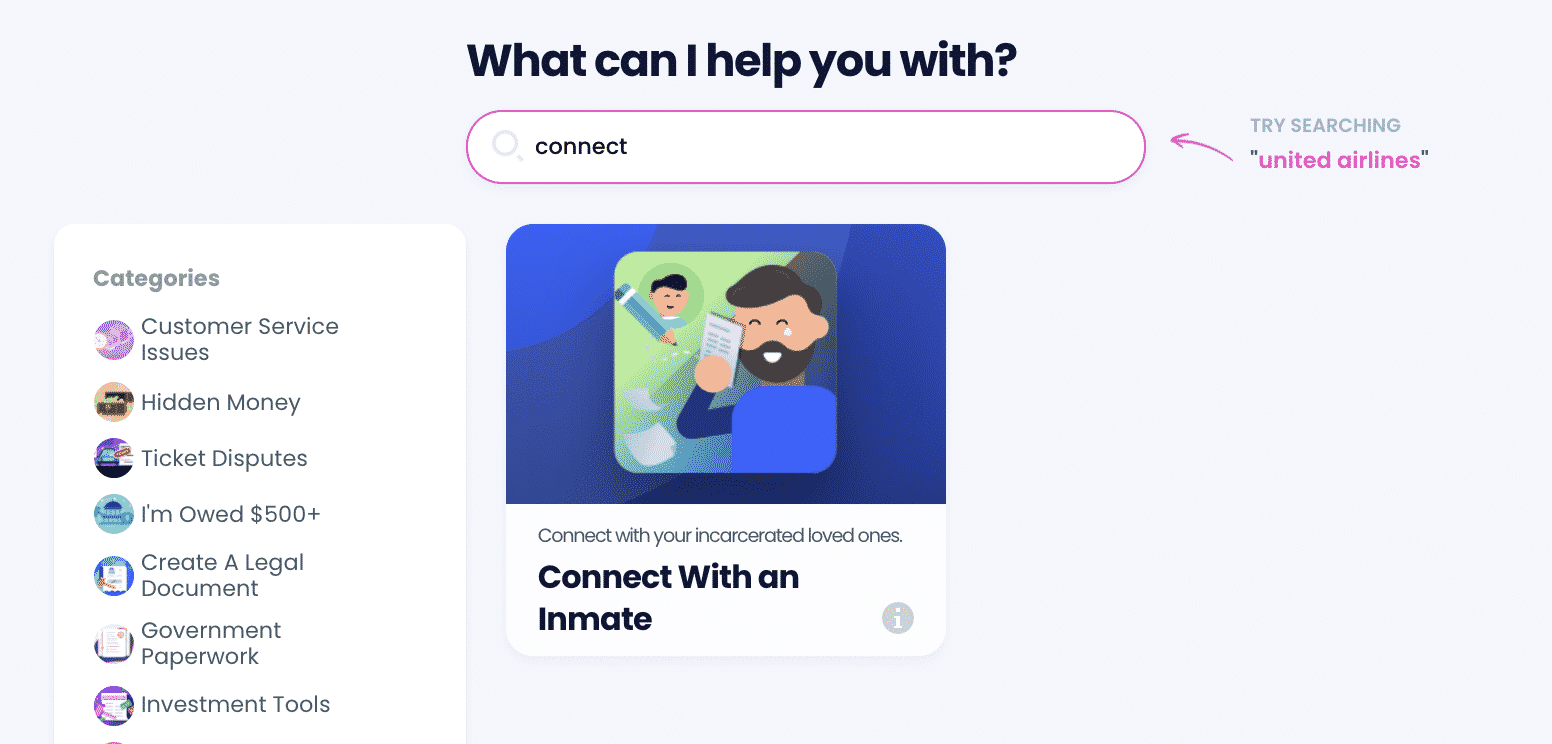 2. Choose whether you want to locate a loved one, create a virtual mailbox, or send a personalized letter.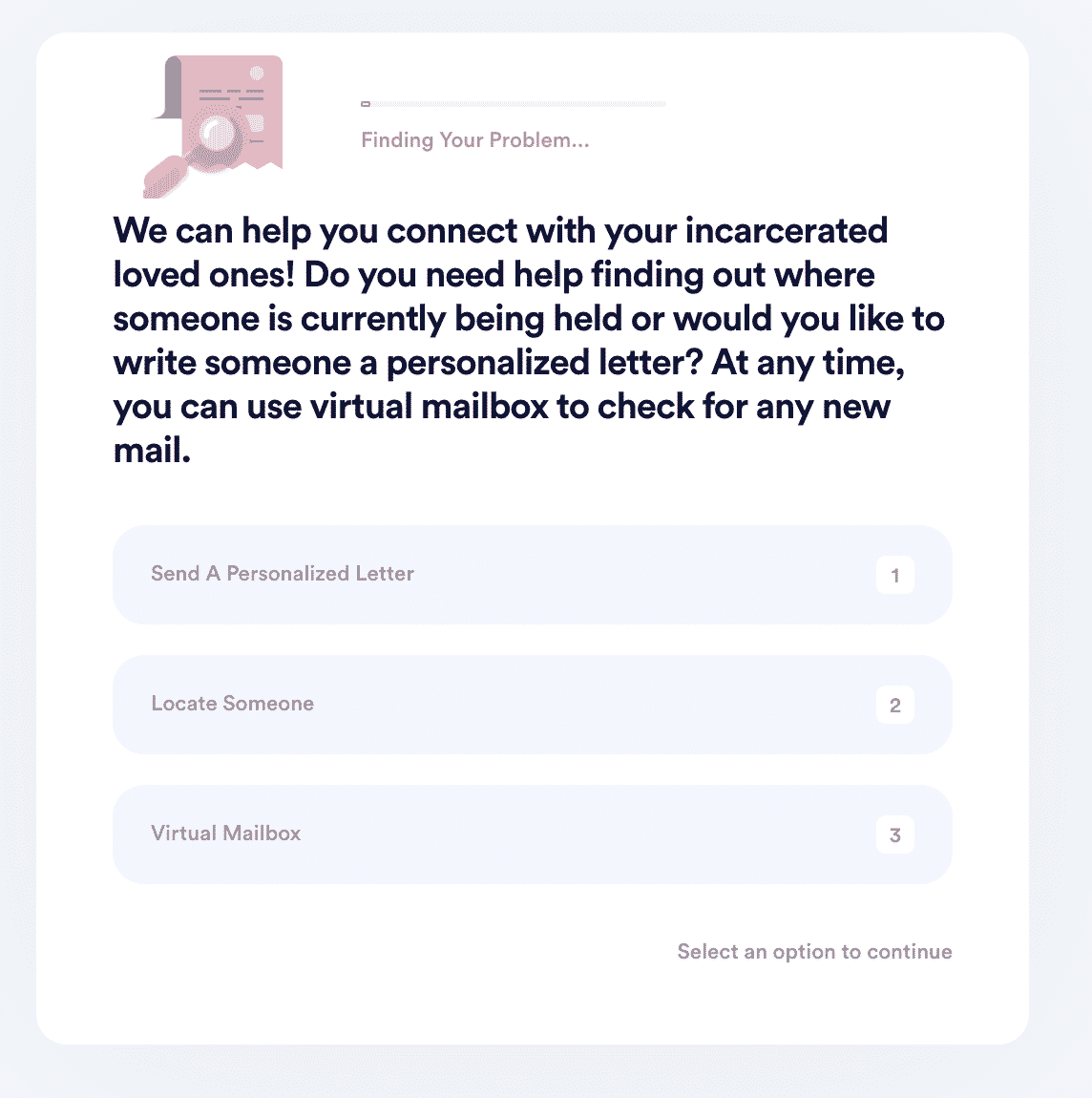 3. If you want us to find your loved one, provide his or her personal details and the state they are located in. We'll then conduct a search on the appropriate state database.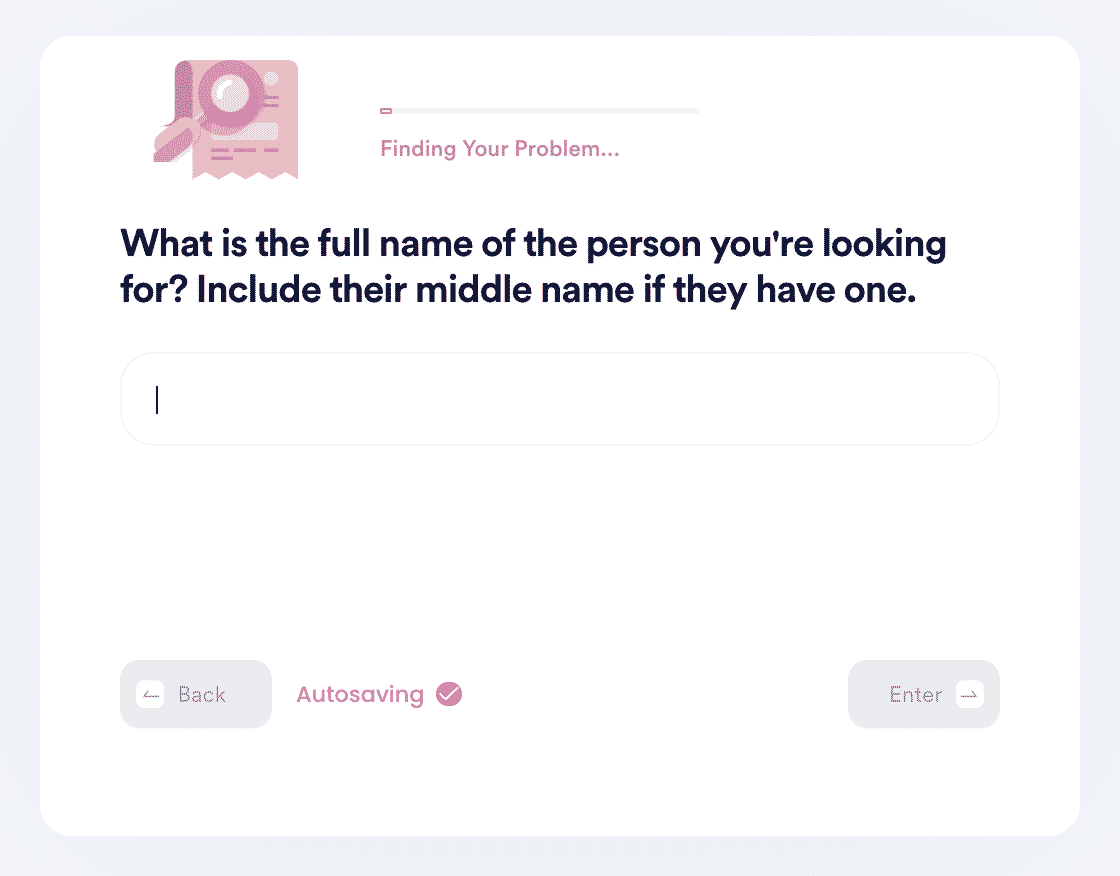 4. If you want to create a virtual mailbox, just provide your full name! We'll set one up for you so you can easily receive incoming mail from your loved one.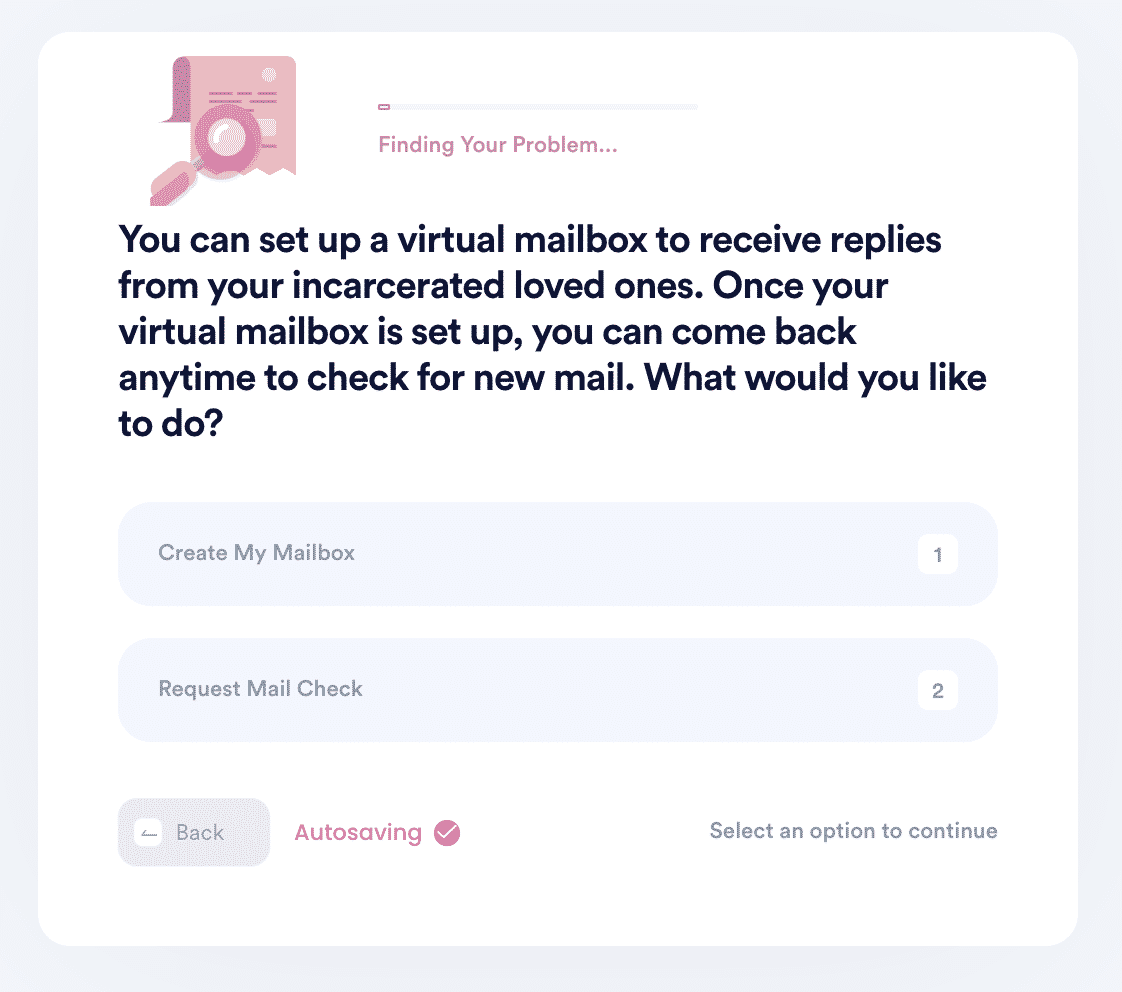 5. If sending a personalized letter, tell us which facility your loved one is located in and what you would like to say to them. You can even include a photo! Your letter will be delivered automatically - just wait 10 days for it to arrive to your loved one!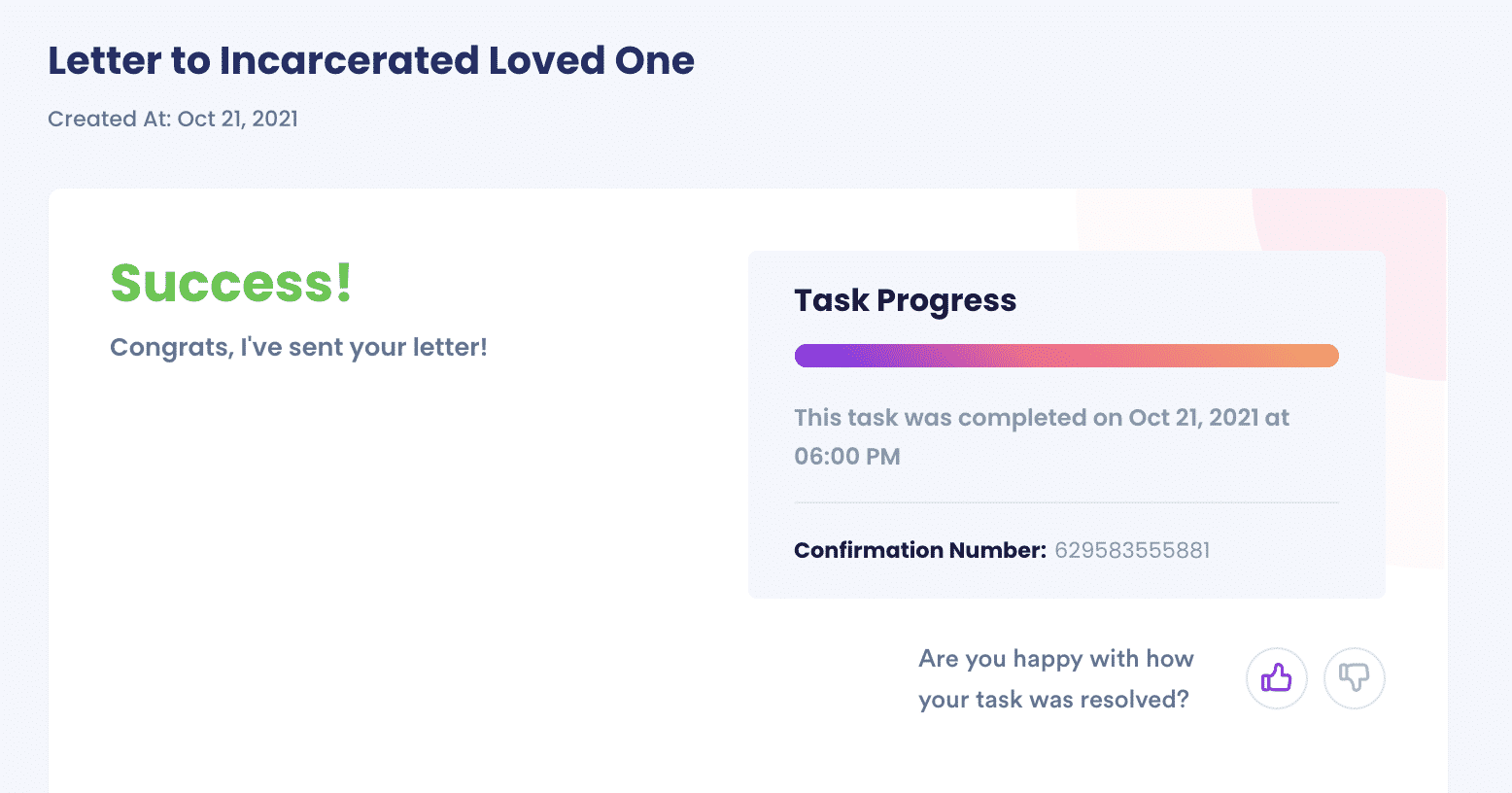 What Else Can DoNotPay Do?
DoNotPay can help you connect with your incarcerated loved one in many ways, including:
Let DoNotPay help you learn the world of your incarcerated loved one. While you'll find much to worry about with jail and prison systems, we are here to help make it easier for you to stay in touch with your loved ones and remain a vital and active part of their life with correspondence, visiting, and phone calls.
We can also help with daily tasks, like: