How to Get a Lake Weiss Fishing License the Easy Way
Covering over 32,120 acres in northeast Alabama on the border of Alabama and Georgia is Lake Weiss. An artificial masterpiece owned by Alabama Power Company is typical for bass and crappie fishing for both residents and visitors.
Before heading down to the lake, you should know you can't enjoy the lake's privileges without a . The license is part of a regulatory mechanism that helps protect the fish population in any water body. To get the license, you have to go through several tedious steps. However, DoNotPay can help you get a fishing license quickly.
Who Is Eligible for a Lake Weiss Fishing License?
To get a Lake Weiss fishing license, you must be between 16 years and 65 years. But the type of license will vary depending on whether you are a resident or a visitor. For the state to consider you a resident, you must possess a valid driving license from Alabama state only, and this acts as proof that Alabama is your only state residence.
As a non-resident, you must be over 16 and you must purchase a fishing license.
Exempted parties include:
Children under 16 years
Residents over 65
Residents fishing from a local bank in your county
Residents on military leave
Non-Resident college-going students from 17 - 23 years of age
Those fishing with an Alabama saltwater guide
What Are the Different Types of Fishing Licenses?
If you intend to fish in Lake Weiss, you need one of these six types of fishing licenses.
Freshwater Fishing License
A freshwater fishing license allows you to fish in any freshwater body.
Saltwater Fishing License
A saltwater fishing license permits you to fish in saltwater areas.
Wildlife Heritage License
This license allows you to fish in protected areas under the Division of Wildlife and Freshwater Fisheries.
Wire Basket License
With this license, you can fish any non-game fish in freshwater.
Spearfishing License
This type of license lets you dive and fish either recreationally or commercially using a speargun in both freshwater and saltwater.
Freshwater commercial fishing license
This license allows residents to use a commercial fishing tackle for fishing non-game fish in open waters.
You must be a resident to qualify for a lifetime fishing license. Even if you move out of state, the license will remain valid.
What Is the Cost of Getting a Lake Weiss Fishing License?
The cost of any Lake Weiss fishing license depends on the type of license, your residence, and your age.
| | | |
| --- | --- | --- |
| Type of License | Resident fee | Non-resident fee |
| Annual freshwater license | $14.05 | $54.20 |
| 7-day freshwater license | N/A | $30.40 |
| Annual Saltwater license | $24.35 | $52.20 |
| 7-day saltwater license | $10.15 | $28.85 |
| Annual Public fishing | N/A | $13.10 |
| Daily Fishing license | $6.45 | $7.55 |
| Spearfishing Family Trip License (max 4 family members) | $6.00 | $8.50 |
| 7-day Spearfishing Family Trip | N/A | $3.50 |
| Freshwater Fishing Family Trip License (max 4 additional family members) | N/A | $30.40 |
If you are partially disabled or a veteran, you will need a discounted Lake Weiss license. The discounted prices are as follows:
| | | | |
| --- | --- | --- | --- |
| Type of License | Duration | Resident fee | Non-resident fee |
| Physically Disabled Saltwater fishing | 3 days | $100 | $100 |
| Disabled Saltwater | Annual | $3.05 | N/A |
| Disabled Freshwater | Annual | $3.05 | N/A |
| Veterans Appreciation | Annual | $3.15 | N/A |
How to Get a Lake Weiss Fishing License on Your Own
To get a Lake Weiss fishing license, you can apply either online or in person.
1. Online Application
Apply for a Lake Weiss fishing license online by applying on the Alabama Department of Conservation & Natural Resources, Hunting & Fishing Licenses website. Fill out the form with your personal information (name, date of birth, etc.) then proceed to choose your fishing privilege. Make the payments through your credit/debit card, then print your license.
2. In-Person Application
Visit any local government offices in Alabama or a certified retailer to apply for a fishing license in person. The government offices include:
A county's probate office
State park locations
The License Commissioner's Office
Certified fishing license retailers include:
Walmart
Ace hardware
Any bait and tackle store registered by the state.
You must carry a valid Identification Document (driver's license or passport) and your social security number. Also, bring the necessary assignment paperwork if you have a military discount.
How to Get a Lake Weiss Fishing License with the Help of DoNotPay
If you want to get your Lake Weiss fishing license but don't know where to start, DoNotPay has you covered in 3 easy steps:
1. Search "fishing license" on DoNotPay and select the state you would like a fishing license for.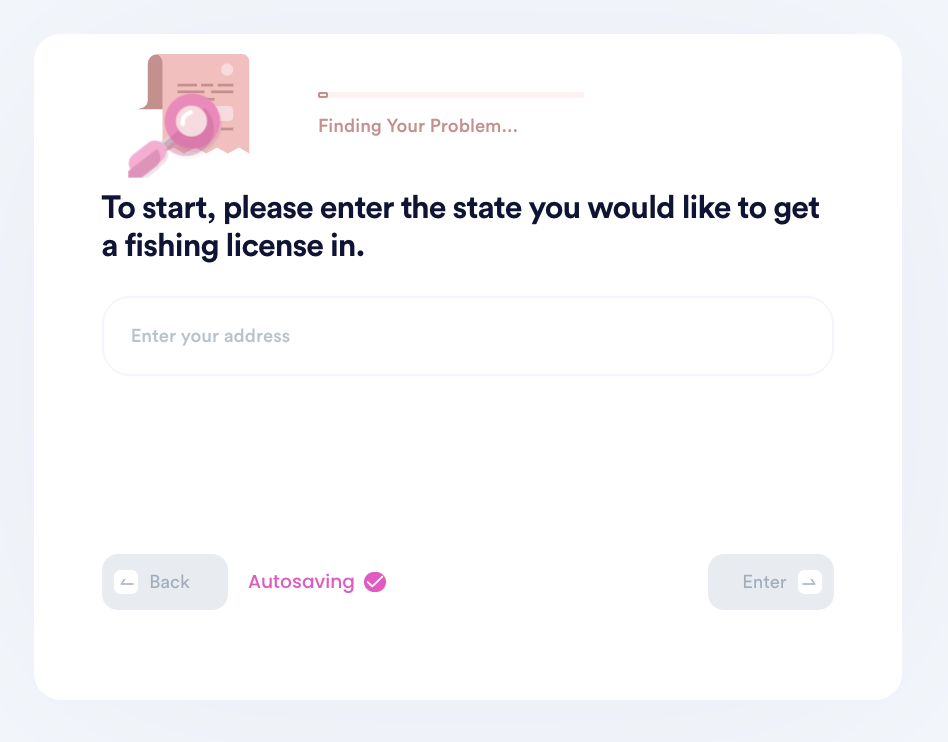 2. Indicate whether you are a resident or non-resident, and choose the type of license you want. For example, saltwater vs. freshwater license, three-day only pass, and more.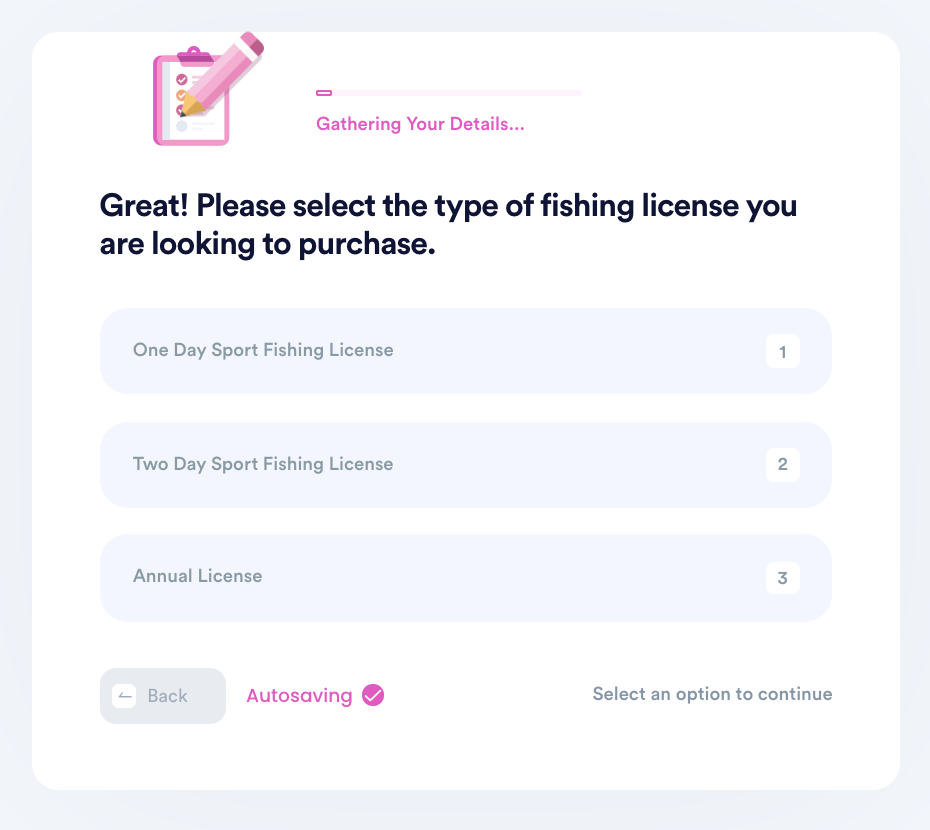 3. Provide your contact information, a copy of your government-issued ID, and pay the fee required by the state.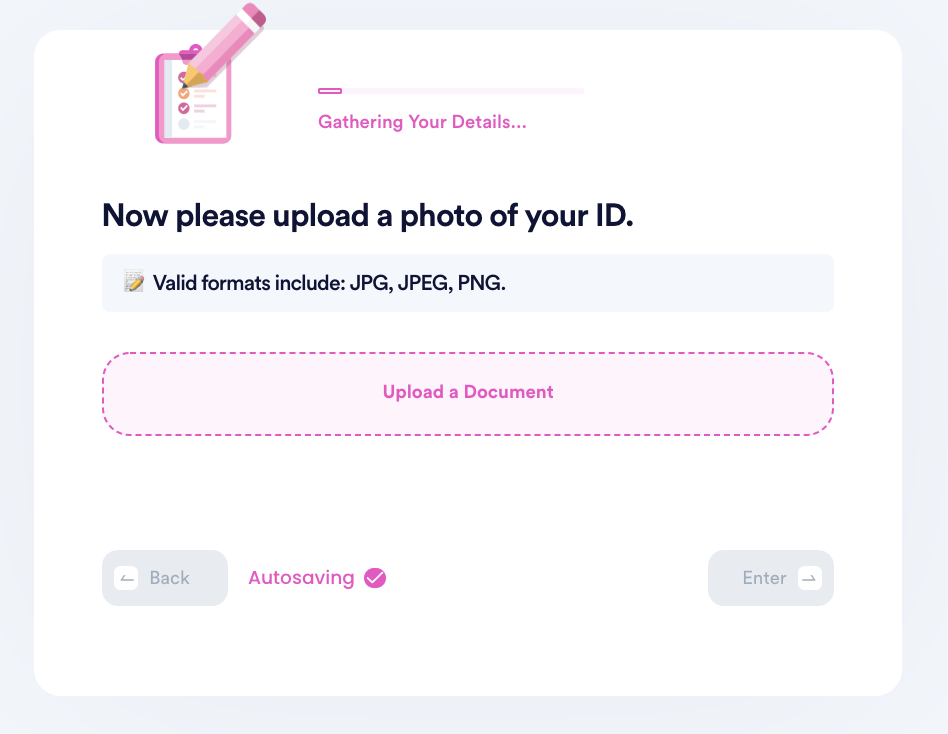 Why Use DoNotPay to Get Your Lake Weiss Fishing License
Getting a can be a hassle when you have to complete different tedious tasks before getting approval. However, with DoNotPay, you can have your fishing license within a short time. All you need to do is sign up, input the necessary information and let us handle the rest. DoNotPay works with all government entities, private companies and service providers to grant you access to all information on a single platform. Apply for all documents, permits and licenses from the comfort of your home.