How to Get a Lake Poway Fishing License Hassle-Free
Located in Poway, California, about 30 miles northeast of San Diego, Lake Poway is a small reservoir that has a wide variety of fish.
Unlike other lakes which require a fishing license, Lake Poway doesn't. You just need a . Getting a fishing permit is not easy. You need to go through challenging steps that can take too long. However, DoNotPay will streamline everything for you hassle-free and get you that permit in minutes.
Who Is Eligible for a Lake Poway Fishing License?
Any resident or non-resident is qualified for a Lake Poway fishing permit however, the cost of the permits will vary depending on your age.
What Are the Different Types of Fishing Permits in Lake Poway?
There are only two fishing permits available for anglers fishing in Lake Poway:
City of Poway Adult Fishing permit
Youth fishing permit
City of Poway Adult Fishing Permits
An adult fishing permit is for anyone who is 16 years and older.
Youth Fishing Permits
Anyone between the age of 8 and 15 requires a youth fishing permit to fish in Lake Poway.
Youth below the age of 7 must have a youth fishing permit when the adult they are with is not fishing.
Before going fishing, you must ensure that you meet all the requirements provided. These requirements are:
You must carry a fishing permit at all times.
You should have a daily fish permit before going fishing.
You are not allowed to use sport fish as bait.
You are not allowed to use corn as bait.
You must only use two rods to fish.
No entry of dogs on the shoreline or on the boats.
You must have your own stringer if you fish out a bass that is less than 12 inches, release it back into the water.
No catching and releasing a trout back into the water
You can only fish up to 4 trout a day.
What Is the Cost of Getting a Lake Poway Fishing Permit?
The table below shows the fee applicable to different age groups of anglers who intend to fish in Lake Poway.
| | |
| --- | --- |
| Angler age | Fees |
| 16 to 54-year-olds | $7 |
| Seniors (55 and above) | $3 |
| 8 to 15-year-old youths | $3 |
| 7 years and below | Free with a youth paid permit |
| Active Military | $4 |
| Non-residents | $10 |
The fishing hours at Lake Poway begin from 6:00 AM to sunset, from Wednesday through Sunday.
If you intend to fish from a boat, you should know the boating hours are only available from Wednesday to Sunday, from 6:00 AM to sunset.
The lake entry station is open all weekends and holidays from 6:00 AM to sunset.
How to Get a Lake Poway Fishing Permit on Your Own
You can get Lake Poway fishing permits in three different ways:
In-person Application
Phone Application
1. In-Person Application
If you choose to apply in person, do so by visiting Lake Poway Concession offices on 14644 Lake Poway Road, Poway, CA 92064, and make the necessary payments.
You can also purchase your fishing permit at Lake Poway Grill & Tackle shop, which offers an annual catfishing contest.
Alternatively, purchase your fishing permit at the lake's entry station. A parking fee will be waived when you purchase your license at the entry station.
2. Phone Application
Apply for your fishing permit by calling Lake Poway Concession offices on 858-668-4778. The office lines' operating hours are between Wednesday through Sunday, from 6:00 a.m. to 30 minutes before sunset.
Fill out the application form with the necessary information, then make payment using your credit/debit cards, money orders, and checks.
Ensure you meet all the requirements first, as you won't be given a permit if you don't.
3. Online Application
Visit the City of Poway website to apply for your fishing permit. Once you are logged in, find the type of service you want from the list of services, in this case, fishing permits. Then submit the request and choose your preferred method of payment (debit/credit card), then wait for a confirmation, which will take a day or two. Proceed to print your fishing permit from the link provided in your email.
How to Get a Lake Poway Fishing Permit with the Help of Donotpay
If you want to get your Lake Poway fishing permit but don't know where to start, DoNotPay has you covered in 3 easy steps:
1. Search "fishing license" on DoNotPay and select the state you would like a fishing license for.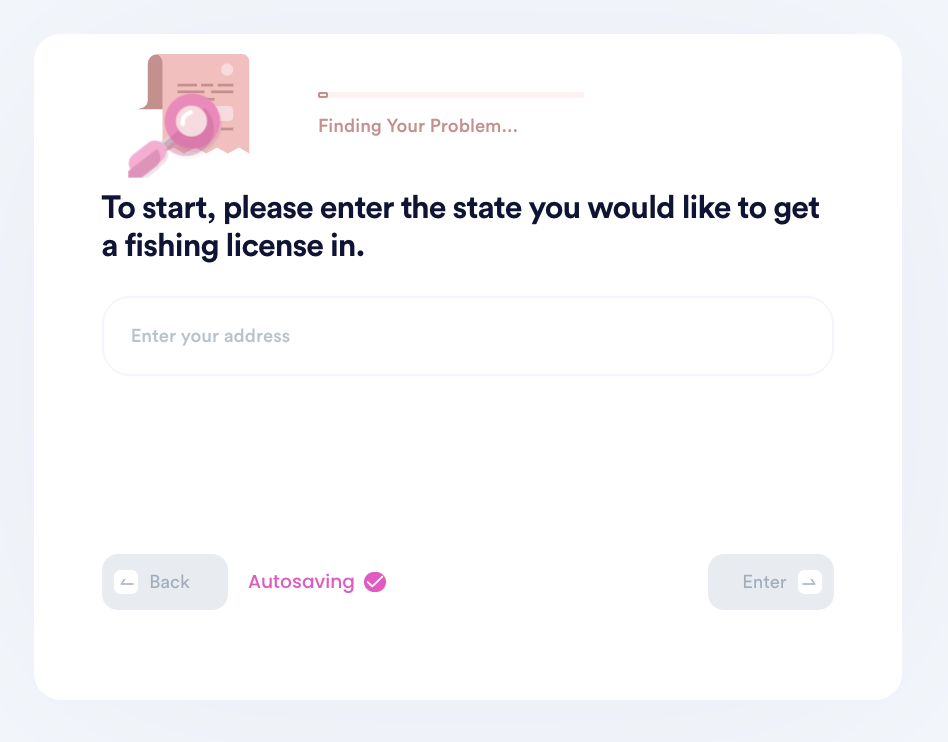 2. Indicate whether you are a resident or non-resident, and choose the type of license you want. For example, saltwater vs. freshwater license, three-day only pass, and more.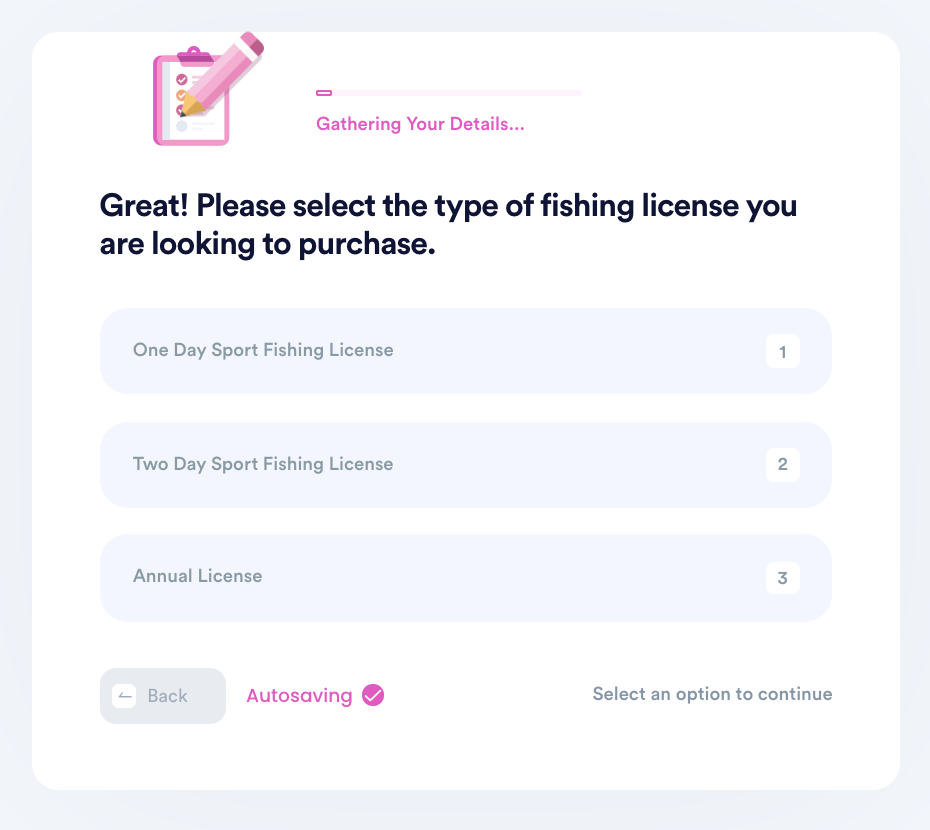 3. Provide your contact information, a copy of your government-issued ID, and pay the fee required by the state.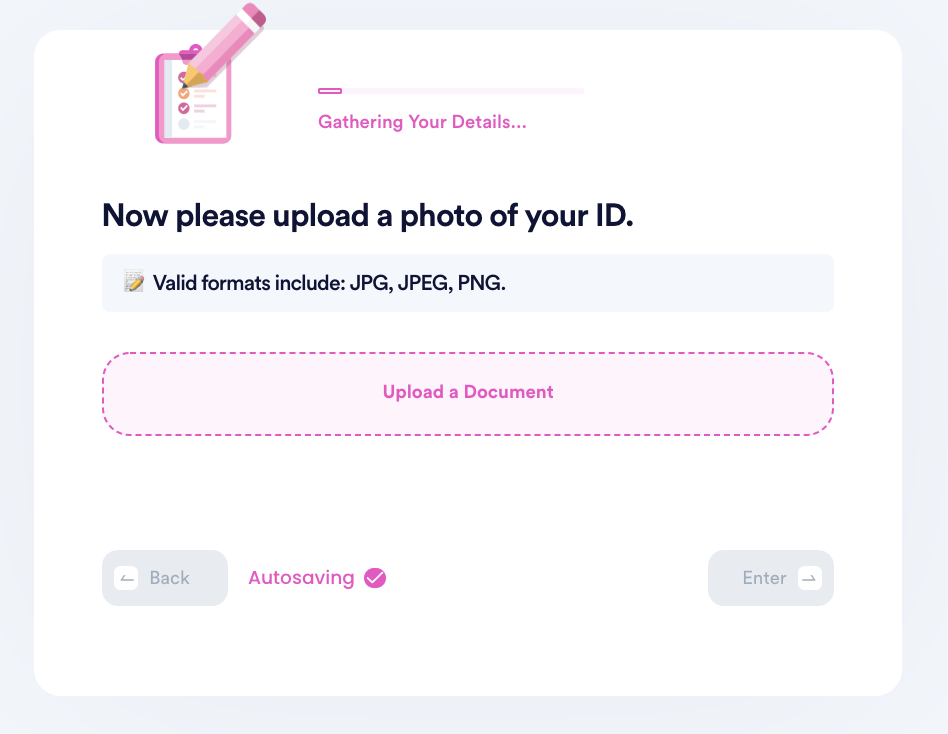 Why Use DoNotPay to Get Your Lake Poway Fishing Permits
Getting a may seem like a simple task, but it's not. You have to go through various challenging steps before getting approval. However, this doesn't have to be so. With DoNotPay, you can get your permit in a short time, at the comfort of your home. DoNotPay works with every government entity, private companies, and service providers to grant you access to all the relevant information and documentation needed on a single platform.