Get a Lake Champlain Fishing License Fast!
If you're looking for a Lake Champlain fishing license online, you're at the right spot. The DoNotPay App is an outstanding resource for anglers who plan on fishing the legendary Lake Champlain.
You can use it to find fishing licenses anywhere, by the way. But today, we're talking about Lake Champlain fishing permits.
This article will explore:
Which fishing license you need to fish the lake
How to get a Lake Champlain fishing license using the DoNotPay App (it's super fast and easy, especially at 4 am when bait stores aren't yet open)
Fees associated with Lake Champlain fishing permits
And some other legal tasks you can manage using DoNotPay
Which Fishing License Works at Lake Champlain?
Lake Champlain is unique because it's bordered by two US states — New York and Vermont — and one Canadian province, Quebec. It's also a very narrow and deep lake, making it ideal for exciting sport fishing.
Lake Champlain defines the state border between VT and NY. Its watershed is bounded to the east by the Connecticut River Basin and the southwest by the Champlain Canal and Hudson River Basin.
3 Different Licenses Work for Lake Champlain
You can use a New York state fishing license, a Vermont fishing license, or a Quebec fishing license to fish the lake. It will all boil down to what other fishing you might choose to do with your license.
Which Fishing License is Best for You?
If you live in NY, VT or Quebec, and fish often, you select your residential license. That way, you have a valid permit when you fish other waters in your state or province. But if you're a non-resident planning a trip to the area, you can purchase licenses based on fees, and we'll address those shortly.
Now, let's imagine it's the wee hours of the morning, and you're hoping to head out the door for a day of fishing on the lake. Bait and tackle stores aren't open yet, but you can still get your Lake Champlain fishing license with DoNotPay. It's easy!
Get Your Lake Champlain Fishing License Fast with DoNotPay
If you already know which license you prefer, DoNotPay has you covered in 3 easy steps:
1. Search "fishing license" on DoNotPay and select the state you would like a fishing license for.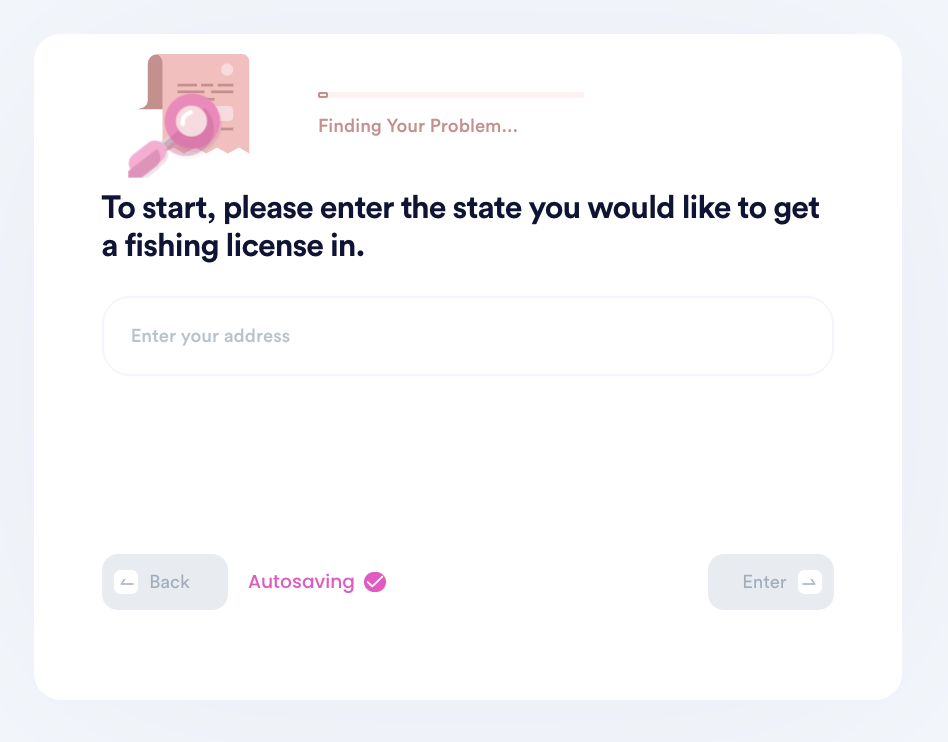 2. Indicate whether you are a resident or non-resident, and choose the type of license you want. For example, saltwater vs. freshwater license, three-day only pass, and more.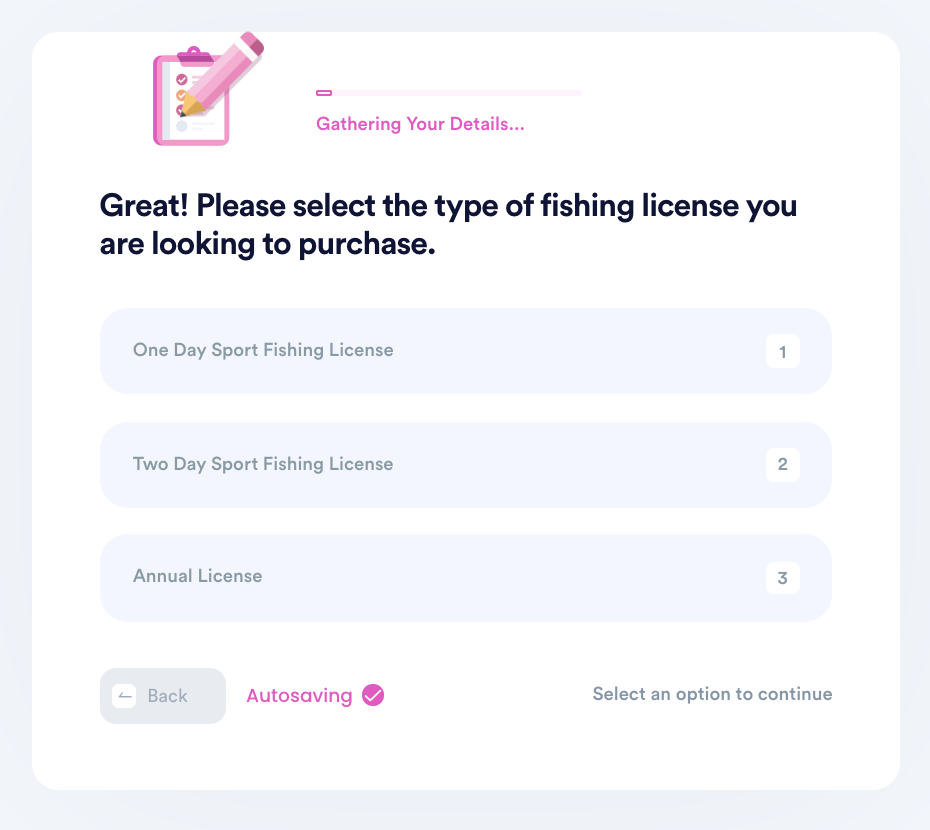 3. Provide your contact information, a copy of your government-issued ID, and pay the fee required by the state.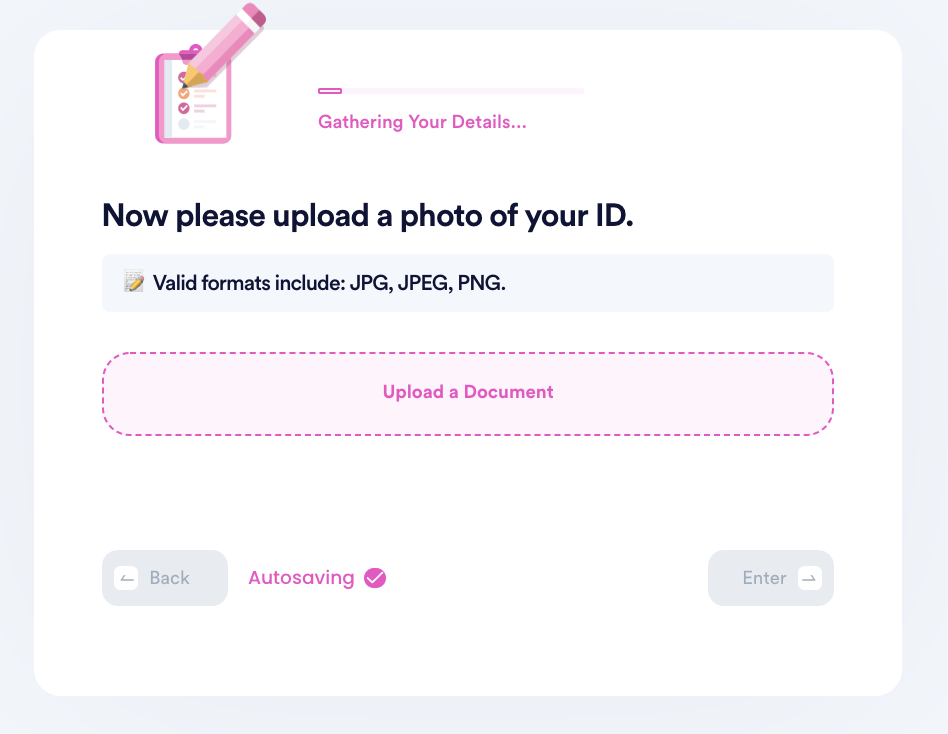 See how easy that is! The DoNotPay App is the fastest and most reliable way to get your Lake Champlain fishing license online.
Now let's explore the different fees. That way, you can get the best bang for your buck!
Compare Non-Resident Fishing License Fees for Lake Champlain
If you don't live in Quebec, NY or VT, you'll buy a non-resident fishing license.
As of November 2021, they cost:
| | |
| --- | --- |
| Quebec Annual Non-Resident License | $83.75. Note that's Canadian dollars and equals about $65 US at the time of writing. |
| Vermont Annual Non-Resident License | $54.00 US for adults, $15 for youth age 15 - 17, and free for children under 15. |
| New York Annual Non-Resident License | $50.00 for adults aged 16 - 69. Children under 16 fish free, and seniors can get reduced rates. |
For most adults, the NY non-resident fishing license is the best value, at $50. You'll be legally fishing Lake Champlain in no time! Just hop onto the fishing license section of the DoNotPay App, and follow those three steps we listed above.
Of course, there are other ways you can apply for fishing licenses. If you want to wait for a bait or sporting goods store to open, wait in line, and share your personal information with a stranger, it can be done.
Get Your Lake Champlain Fishing License in Person
Any sporting goods store or bait shop will sell fishing licenses good for that state or province.
Here are the steps you'll take to get one:
Head to the tackle shop or sporting goods store. Sometimes Walmart sells fishing licenses too.
Wait for them to open.
Stand in line.
Fill out your paperwork.
Pay the employee.
And leave with your fishing license in hand.
It's not difficult to accomplish, but DoNotPay is the faster and easier way. Plus, you won't need to share your personal information with a creepy bait shop employee.
Now that you're licensed and ready to fish let's see what else you can do with DoNotPay.
What Else Can DoNotPay do for You?
DoNotPay is the world's first robot lawyer. It's so much more than a fishing license app! While you can use it for freshwater and saltwater fishing licenses, you can also use it to:
Cancel timeshare contracts
Manage utility bills and medical bills
Stop getting junk mail
Remove your personal information from social media sites
And apply for pet licenses in your city
Give it a try today!