Complete List of JetBlue Points Transfer Partners
JetBlue has a primarily domestic presence, but its loyalty program partners with hotels, airlines, and car rental companies to allow you to earn and redeem TrueBlue points for rewards. To maximize your JetBlue points or miles, you can utilize periodic transfer bonuses for impressive points redemptions.
To help you easily track these offers, we've compiled the major transferable rewards programs. Then you can make the most of JetBlue's travel partnerships in this post. We'll also show you how JetBlue points work and how DoNotPay can help you convert your points with JetBlue points transfer partners.
How to Earn JetBlue Points and How They Work
Points pooling is one way to collect TrueBlue points with those closest to you. This method lets two to seven people combine points to earn awards easier and faster. You can track your progress and redeem them for flights to your favorite JetBlue destinations. You can also use them at qualifying JetBlue points transfer partners.
A member must be 21 or older and can only join one pooling account. A pool leader manages the account and can nominate pool members to redeem points.
JetBlue's Points Transfer Partners
JetBlue has the following airline and hotel partners with which members can earn points:
American Airlines
United Airlines
Emirates
Hawaiian Airlines
IHG Rewards Club
JSX
Marriott Bonvoy
Silver Airways
Singapore Airlines
If you've collected points either by flying with JetBlue, spending on your JetBlue credit card, or spending on a credit card that earns JetBlue Membership Rewards points, read on. We will explain how you can use your JetBlue TrueBlue points to give you the highest value rewards.
How to Redeem JetBlue Points
You can earn 70,000 bonus points with the JetBlue card when you spend $1,000 on purchases and pay the annual fee in full.
Other program rewards are:
Six points on eligible JetBlue purchases,
Two points at restaurants and eligible grocery stores,
One point on all other purchases, plus your first bag is checked free!
You can use your points to:
Land one-way and round-trip award flights to JetBlue destinations–with no blackout dates!
Pay for the air portion of vacation packages using TrueBlue points
Book seats on Hawaiian Airlines flights
Combine cash and TrueBlue points—starting with as little as 500 points
If you are wondering how to do this, don't worry — DoNotPay is here to help. DoNotPay is a faster, more convenient, automated, and less frustrating way for you to transfer your points for rewards.
DoNotPay scans the web to sell your airline miles and hotel or credit card points for cash or shows you how to convert them to other benefits. We can also guide you through the best options you have depending on your rewards program and how much each point will be worth monetarily.
Where Can I Transfer TrueBlue Points From?
You can transfer points to your TrueBlue account from Chase, Citi, or American Express. Transfer rates vary by program partner. Here's a quick breakdown:
| | |
| --- | --- |
| 250 American Express Membership Rewards | 200 TrueBlue points |
| 1,000 Chase Ultimate Rewards® | 1,000 TrueBlue points |
| 1,000 Citi ThankYou points | 1,000 TrueBlue points for American Express Chairman, Citi Premier® Card, and Citi Prestige® Card cardholders |
| For other cardholders, 1,000 ThankYou points | 800 TrueBlue points |
How Much Money Are JetBlue Points Worth?
At the moment, JetBlue points are worth 1.5 cents each. But this value could change drastically with the move to dynamic pricing.
| | | | |
| --- | --- | --- | --- |
| Airline Reward Program | Miles | Standard Mileage Value (in Dollars) | Priority/Business/First Class Mileage Value (in Dollars) |
| Jetblue TrueBlue | 1 | $0.015 | N/A |
How to Sell Points by Yourself
Even though there are no blackouts on JetBlue points, you may still desire to exchange them for cash to get flights for cheaper. When selling a Marriott timeshare, you have a few different ways you can go. You can sell your timeshare yourself, use the services of a licensed timeshare resale broker, or go directly to JetBlue and see if they will place your timeshare in their resale program.
These processes can be complicated and tedious to handle on your own.
How to Earn or Redeem JetBlue Points With Travel Partners
Stay at their properties, reserve a rental car, or book a flight through the TrueBlue partner page. Make sure to add your TrueBlue membership number to earn points. JetBlue's TrueBlue loyalty program partners with hotels, airlines, car rental agencies, and financial institutions to allow you to earn and redeem points for rewards.
The benefits vary from partner to partner. For instance, you can earn or redeem TrueBlue points on Hawaiian Airlines flights. But with Emirates and Singapore Airlines, you can only earn points without redeeming.
Financial partners let you transfer points at a 1:1 ratio.
Next Steps for Transferring JetBlue Points If You Can't Do It Yourself
Finding the best prices with time constraints, finding bad coupons online, and looming expiration dates can be frustrating and time-consuming. But don't sweat it; there's an alternative solution that will get you the best results. DoNotPay can guide you through the best options available to you.
Transfer JetBlue Points With the Help of DoNotPay
We can help you transfer your points to airline miles or find discounted hotel rates to redeem the best value. If you want to sell your points, we can help you find the best deal through third-party vendors. Lastly, we can also help you check your latest points balance automatically.
Here's how to get started:
1. Search "points" or "rewards" on DoNotPay, and select the rewards program you're a part of / the type of points you have.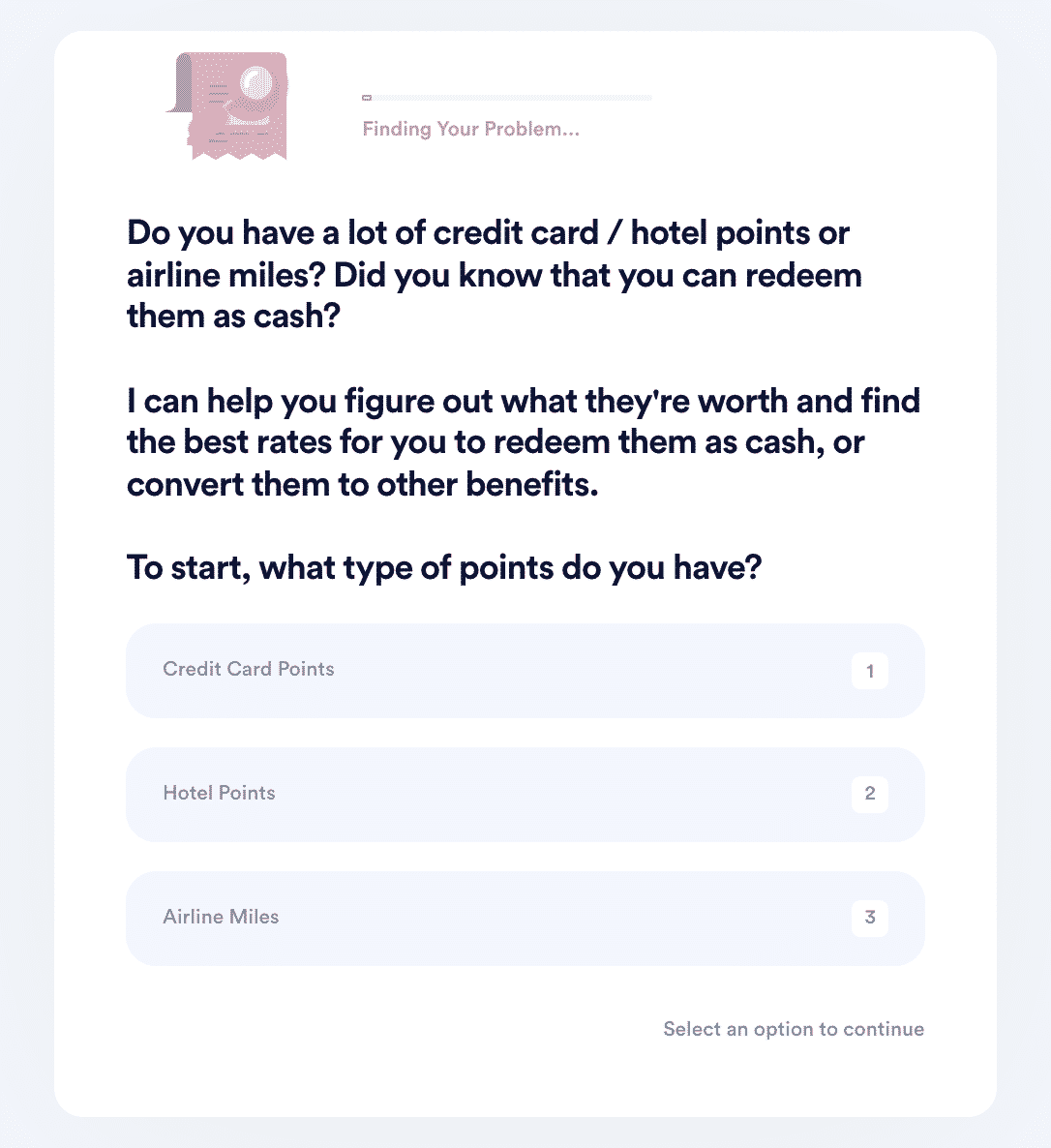 2. Choose whether you want to check your points balance, transfer your points, or sell them for cash.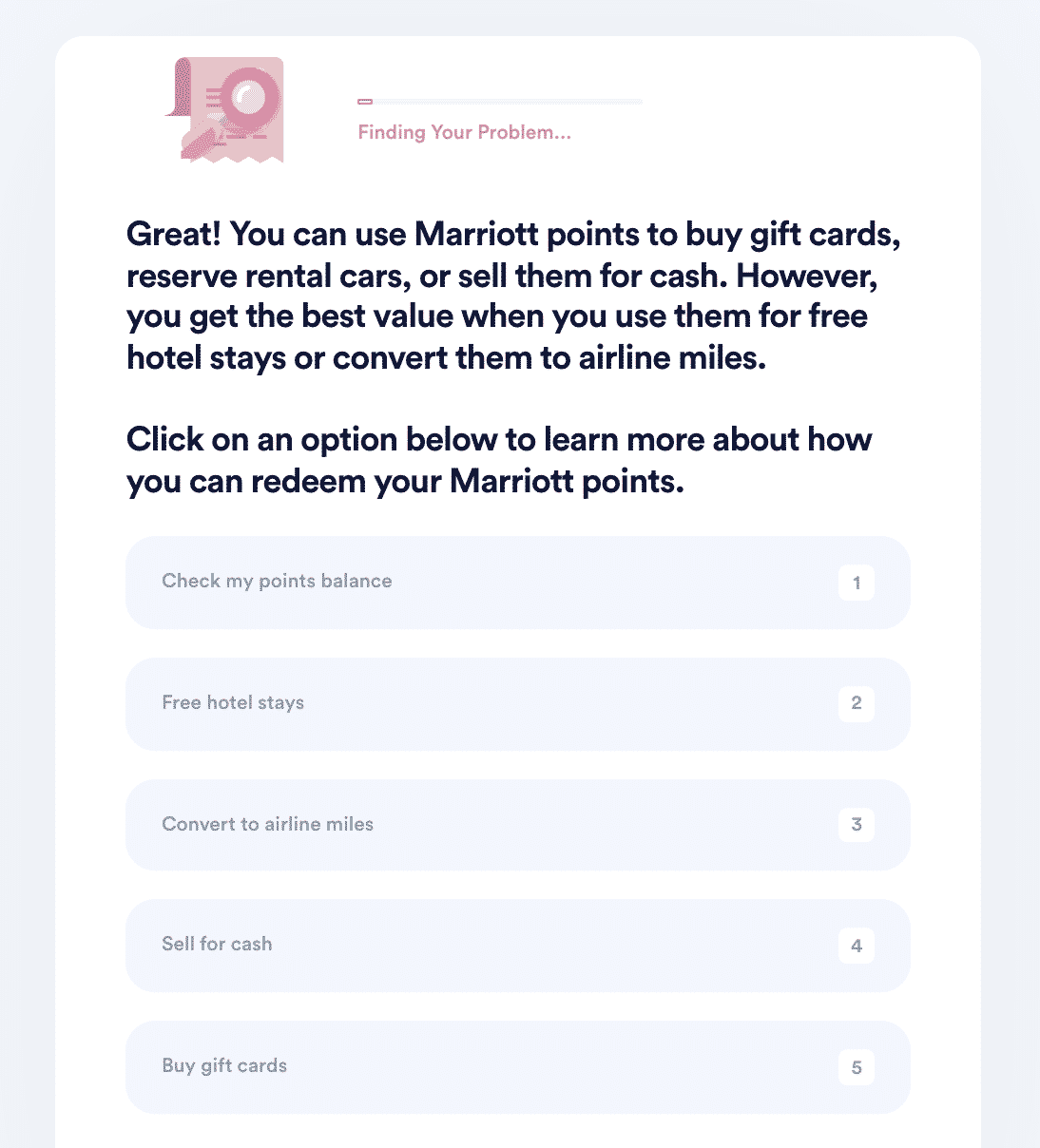 3. If you selected one of the first two options, DoNotPay can check your points balance or transfer your points for you. Otherwise, we can help you find the best deal through third-party vendors.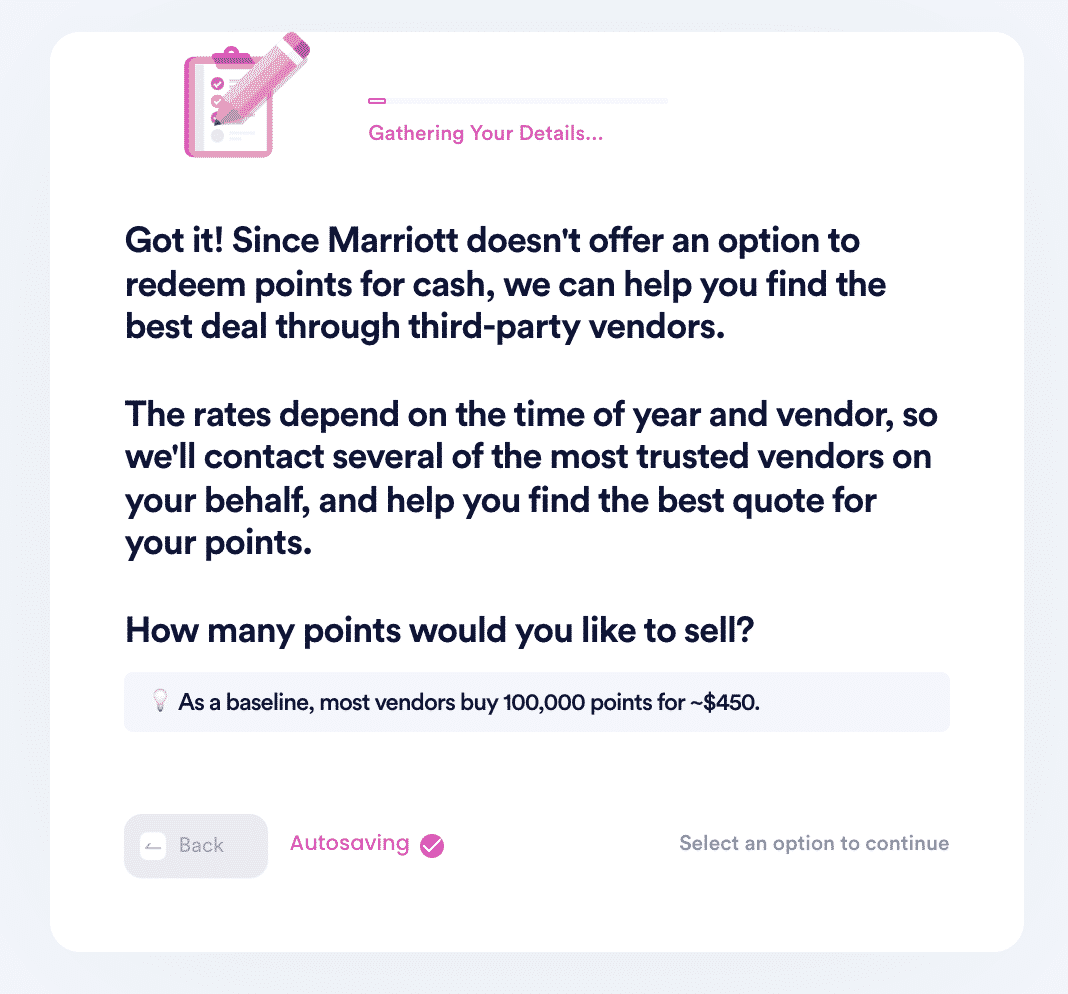 DoNotPay Works Across All Companies With the Click of a Button
If you are a Trueblue Rewards member, you can transfer your airline miles to points or find discounted Hilton, Southwest, or Marriott hotel rates to redeem the best value. If you want to sell your airline mileage for United, Delta, American Airlines, and Marriott points, we can help you find the best.
Our services can help you:
What Else Can DoNotPay Do for You?
Apart from helping you transfer your JetBlue points, DoNotPay can also help you with the following:
Visit our website to check out more of our products!