IRS Contact Representative
Dealing with taxes can be stressful, time-consuming, and at times, incredibly confusing. If you've ever wondered who to turn to for help, the answer would be the IRS. Consider them your go-to government representative for all things tax-related.
We've got everything you need to know about the IRS and how can help you contact any of their representatives quickly.
How Exactly Does the IRS Work?
The Internal Revenue Service (IRS) works to collect taxes throughout all of the United States. They are the ultimate government agency for everything related to taxes and credits.
With offices located throughout every US state, the goal of the IRS is to help taxpayers better understand their federal tax responsibilities and how to fulfill these as quickly and effectively as possible.
Through the IRS, anyone can pay their taxes, obtain their tax record, and find all the forms needed for organizing and filing their income.
What is the Best Way To Get In Touch with the IRS?
Like any government agency, the IRS is an incredibly large structure with many departments that are constantly hard at work.
Here are some of the best ways to reach them if you need their help:
| | |
| --- | --- |
| Address | 1111 Constitution Avenue Northwest, Washington, District of Columbia, DC. |
| Official Website | https://www.irs.gov |
| Email | Fill out the following form to email the IRS your comments or questions |
| Phone Number | Toll-free phone service: 1-800-829-1040 |
| Fax | Within the US: (855) 215-1627Internationally: (304) 707-9471 |
What Services Can the IRS Help You With?
The IRS has a wide range of services that they can assist you with, and their website provides access to everything you'll need when it comes to your taxes. The following explains what the IRS can help you with:
Tax refunds
Whether it's requesting a refund, checking the status of a previously made request, or wanting to check if you are in fact eligible for a refund, the IRS can help you with the tax refunding process.
Filing your taxes for free
The IRS Free File Program program operates exclusively online and works with partner sites to assist any eligible taxpayers that fall below the $72,000 adjusted gross income bracket file their taxes.
For further information on having the IRS assists you with filing your taxes free of charge, you can click the following link.
Getting your tax record
Requesting your tax record can be done through an online request, on a request by mail.
Please note: Online requests are delivered relatively quickly, while mail requests can take anywhere between 5 to 10 days to arrive.
To read through some of the most frequently asked questions about requesting your tax record, you can click here.
Making a payment
You can view your payment activity, the current balance of your account, or select an amount that you want to pay.
Payments are generally accepted either through your bank account (by means of Direct Pay) or through a debit/credit card.
Other methods of payment include: electronic federal tax payment systems (ideal for larger payments and businesses.) Same-day wire transfers, or cash.
Obtaining Coronavirus tax relief
The IRS has been helping people across America reduce economic strain caused by the COVID-19 pandemic by providing "Economic Impact Payments"
Up until today, there have been 3 rounds of payments, if you are only discovering this service now and want to claim the last 2 payments, click here to find out how.
Individual tax provisions have also been adopted due to the pandemic, such as the employer tax credits, or the American Rescue Plan Act. Check out their official website to see if you might be eligible for help from the IRS when it comes to COVID-19 losses.
Should I Call The IRS or Send An Email?
The IRS phone lines are always busy, and they can leave you waiting in the line for long periods of time, not to mention that explaining your concerns accurately in a single phone call can be hard. This makes calling the least effective method of contacting the IRS. Because the IRS is a government agency, any email or letter which you send to them should be formal, well-structured, and clear. You should provide any details related to your issue and explain the course of action that you wish to take. Writing the perfect email can be intimidating, but it's definitely the best way to get the answers to your questions and receive a response relatively quickly.
How DoNotPay Can Help You Contact an IRS Representative Faster
DoNotPay can help you send a letter to any government representative regarding your issues with the IRS. Just by answering a few questions and providing the details of your case, can write a formal email and get your frustrations regarding the IRS sent to your public official. Here's how it works:
1. Log in to and click the "Contact Your Government Representative" service.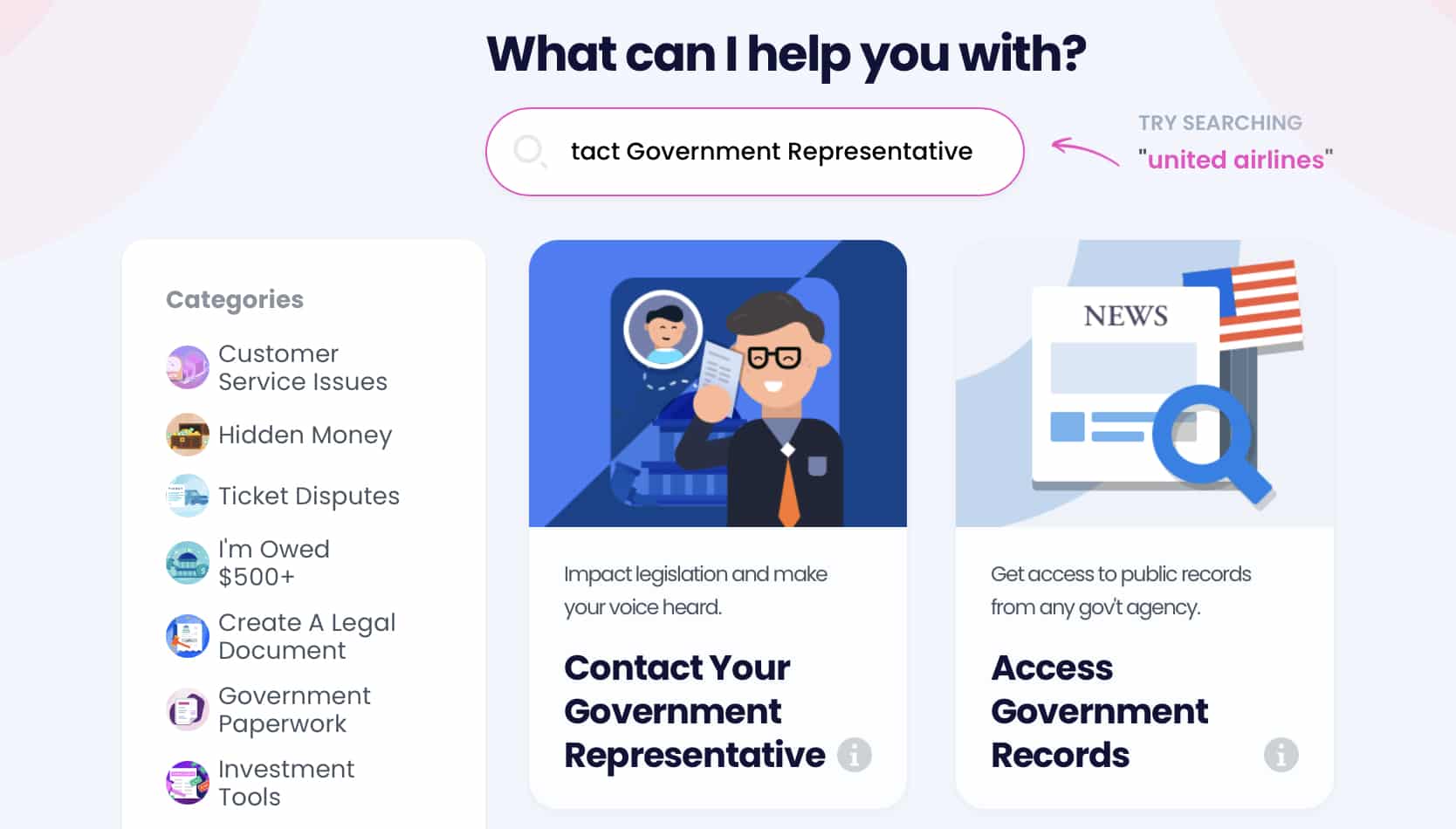 2. Select which representative you are contacting:
Senator
House Representative
President
Mayor
Governor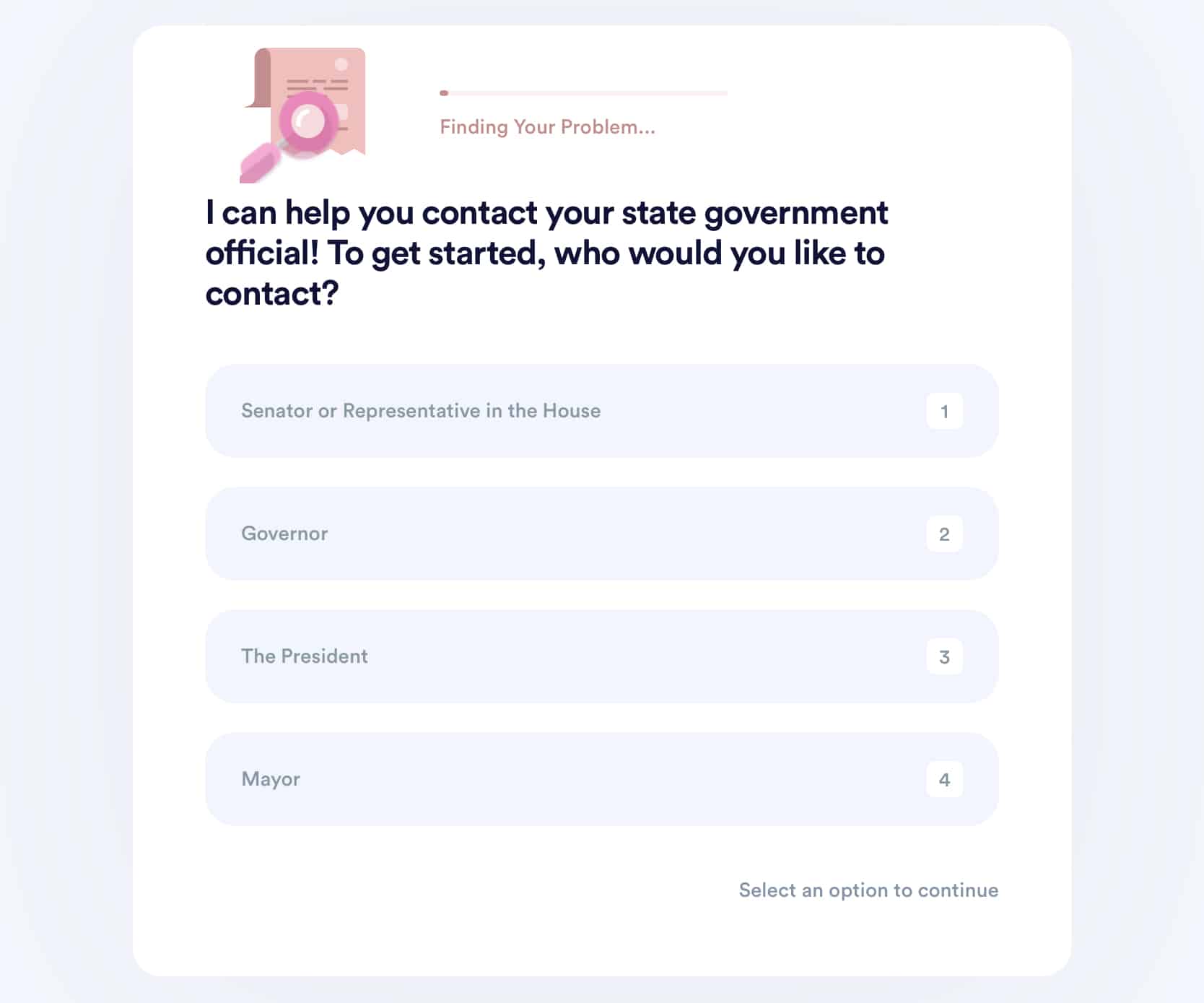 3. Explain why you are contacting the representative - in this case, because of the IRS - and provide a detailed call to action.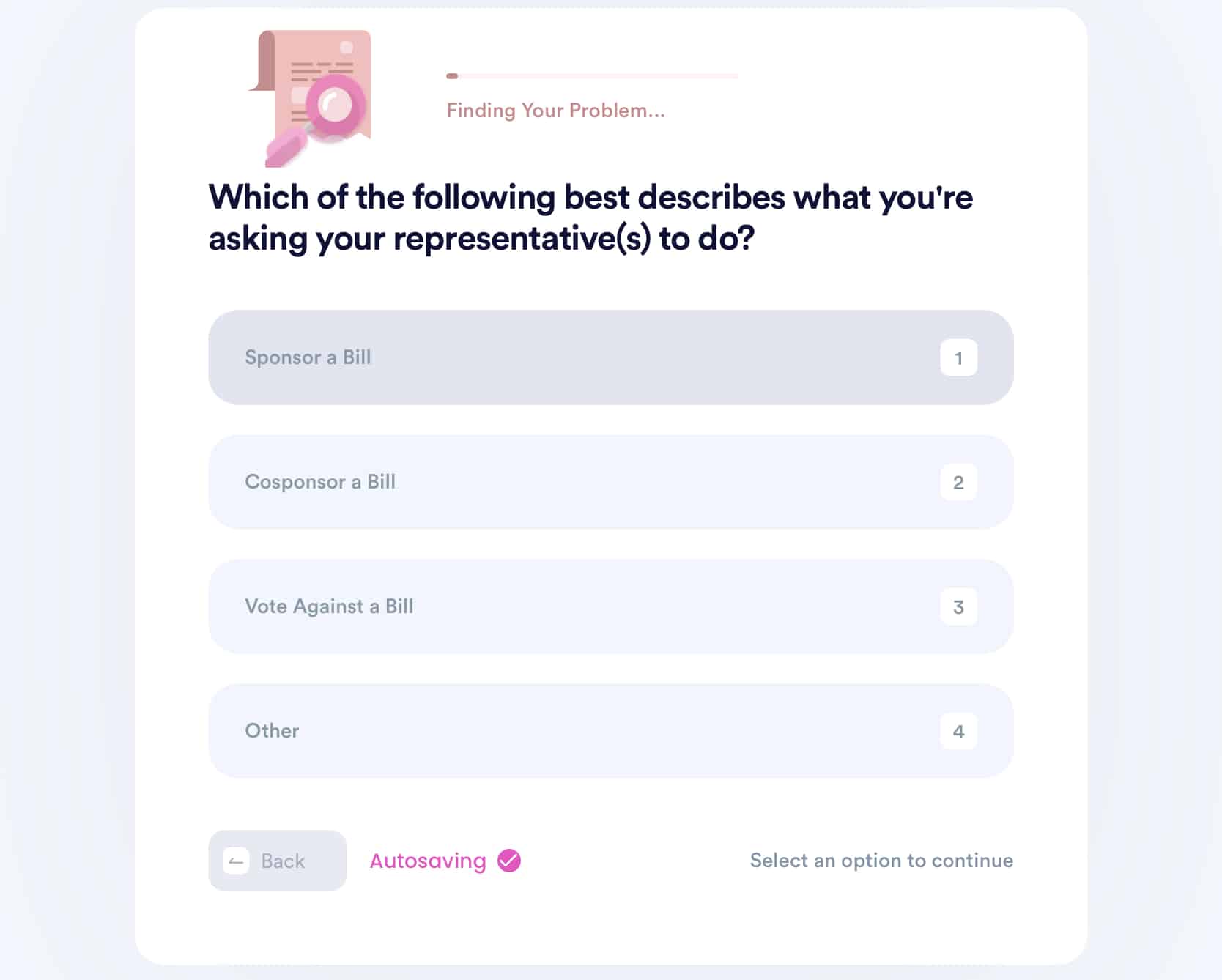 That's it! will get started on your formal message right away and send it to your representative based on where you live.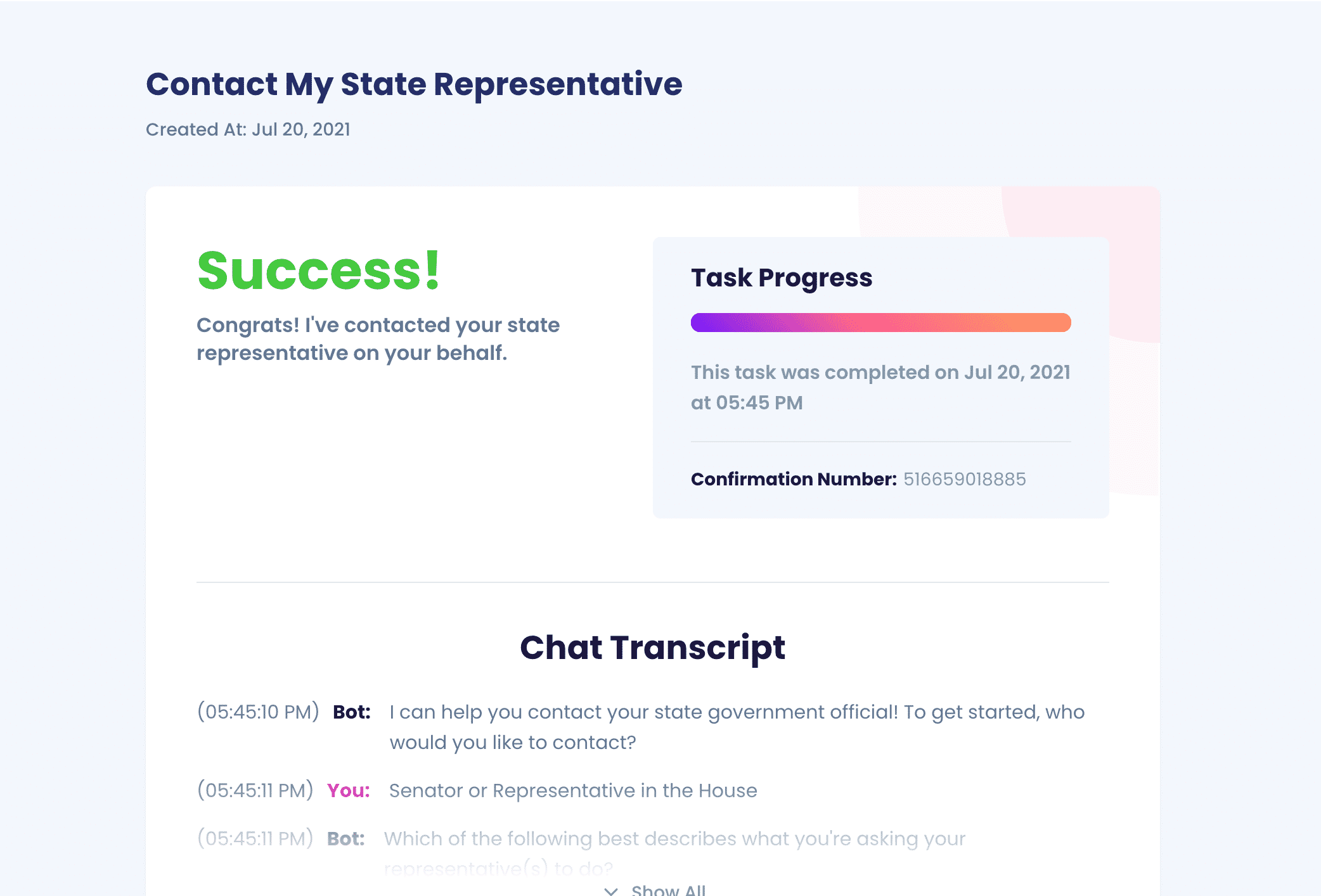 What Else Can DoNotPay Do?