How to Sell Bluegreen Points the Easy Way
Learn without getting scammed. Did you know you can convert your Bluegreen points into decent amounts of cash? But the process is full of scammers and can be tedious. Read on to uncover your safest options.
How Bluegreen Points Work
Bluegreen Vacation Points are the currency you use to book stays at destination resorts within the company's network. You can also exchange, convert, or save these points to enjoy more vacation options beyond the company's network. allocates a points value to each resort villa based on various factors:
Room size
Seasonal demands
Villa location
Villa type
The day of the week
The number of nights stayed
These factors will determine the number of vacation points you'll need to book a stay at their resort. For instance, July may see your 3,000 vacation points earning you a Studio Suite in TradeWinds (in St. Pete Beach, FL) for three nights.
Also, with Bluegreen Vacations Points, you can book stays at participating Choice Hotels®. Simply sign up for a Choice Privileges® membership and connect your account. The points can also enable you to enjoy private yacht excursions, guided Owner Adventure tours, cruises, and more.
Here are a few ways you can use your points towards a vacation:
Points
Vacation
3,000 Vacation Points
3-Night July Stay

Studio Suite

Bluegreen at TradeWinds

St. Pete Beach, FL

6,000 Vacation Points
7-Night March Stay

1-Bedroom Suite

Mountain Run at Boyne™

Boyne Falls, MI

9,000 Vacation Points*
3-Night June Stay

Hotel Suite

Hotel Blake

Chicago, IL

12,000 Vacation Points
7-Night October Stay

2-Bedroom Townhome

MountainLoft™

Gatlinburg, TN

15,000 Vacation Points
5-Night September Stay

3-Bedroom Cabin

Shenandoah Crossing™

Gordonsville, VA
But if you don't want to go on a vacation in the near future, learn for cash so you can make your own plans.
Top Reasons to Sell Bluegreen Vacation Points
Here are the reasons behind the need to turn Bluegreen points into cash:
| | |
| --- | --- |
| 1. Lack of Use | Have you fallen out of love with Bluegreen Vacation Club? Maybe every year sees you visiting the same spots, so you're no longer as excited with the offers as before. |
| 2. You Can't Afford the Expenses (Or Don't Want To) | Maintaining Bluegreen timeshares can cost up to $800 and upward every year. They need that money for new construction, upgrades, taxes, upkeep, and more. Also, natural calamities can drive these expenses even higher. |
| 3. Life Happens | Unpredictable life changes can make enjoying vacation hard. Families break up, grandchildren get born, people lose jobs, and other events happen. |
| 4. Your Family Lost Interest | You can transfer points to your family members if the Bluegreen Vacation Club allows. But what if they don't want to assume ownership? |
These and more reasons make selling the vacation points sensible. But, while it's sometimes possible to deal with excess points on your own, it can be tedious. DoNotPay can make the process of selling your points simple.
How to Sell Bluegreen Vacation Points on Your Own
Do words like "Cancel your timeshare contract," "timeshare lawyer," and "timeshare exit" ring a bell? You might have encountered billboards and TV ads screaming out juicy offers around these words.
But most of these claims are scams. To get rid of your Bluegreen points, you may end up paying outrageous up-front fees. Selling these points on your own isn't a walk in the park, especially if it's your first time. But with our best tips, you should find your way out. Consider these approaches:
1. Call Bluegreen Vacations
Reach out to Bluegreen customer care. They can direct you on how to get out of your ownership. They'll probably direct you to a recommended reseller. You may also weigh the option of surrendering the points back to Bluegreen for money. So be sure to ask if they can buy your points back.
2. Approach a Resale Company
When considering selling your Bluegreen Vacation Points through a reseller company, be sure to do your homework like a pro. Don't get scammed.
Your best bet is to ensure the reseller is approved by the American Resort Development Association (ARDA). This trade association strives to keep scammers away and only accepts companies with unquestionable integrity.
After narrowing down to your choice:
Call them. The firm will ask you to provide more information, probably by filling out an online form.
Create a listing on their website to advertise your Bluegreen vacation points.
When buyers submit offers, you'll be notified. Make your choice.
Got a buyer? It's time to transfer your name and get those dollars. The reseller can refer you to a legitimate title firm for name transference.
3. Advertise on eBay
eBay is another excellent place for advertising your Bluegreen points. Be sure to set a low reserve (or, better yet, no reserve at all).
Your best bet is to go through completed listings. This will give you an idea of the best listing price. However, because you're dealing with bargain shoppers, resell buyers will rarely part with a premium.
4. Advertise in Major Newspapers
List it in the relevant section, such as "Real Estate: Timeshares." Be sure the newspaper targets a location where most Bluegreen resorts' visitors live.
Other recommendable channels include Craiglist, a Bluegreen resort's bulletin board, or its newsletter. But all of these options are tricky, and they don't guarantee success.
How to Sell Bluegreen Vacation Points Using DoNotPay
The above processes can be time-consuming and tedious. Plus, someone can easily scam you by asking you for money or disappearing with your points.
Let DoNotPay take these headaches out of the process in just a few clicks. All you have to do is:
1. Search "points" or "rewards" on DoNotPay, and select the rewards program you're a part of / the type of points you have.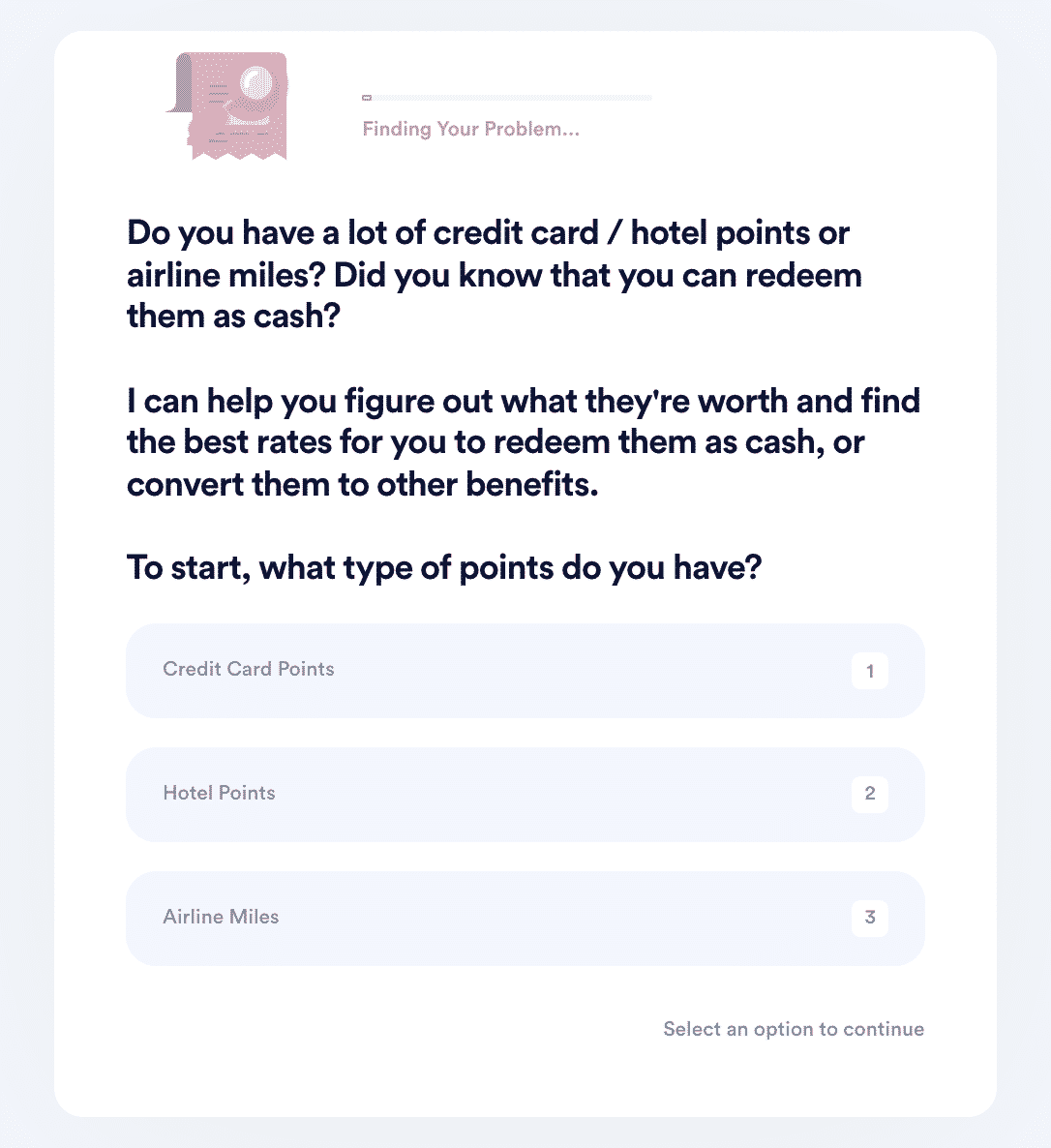 2. Choose whether you want to check your points balance, transfer your points, or sell them for cash.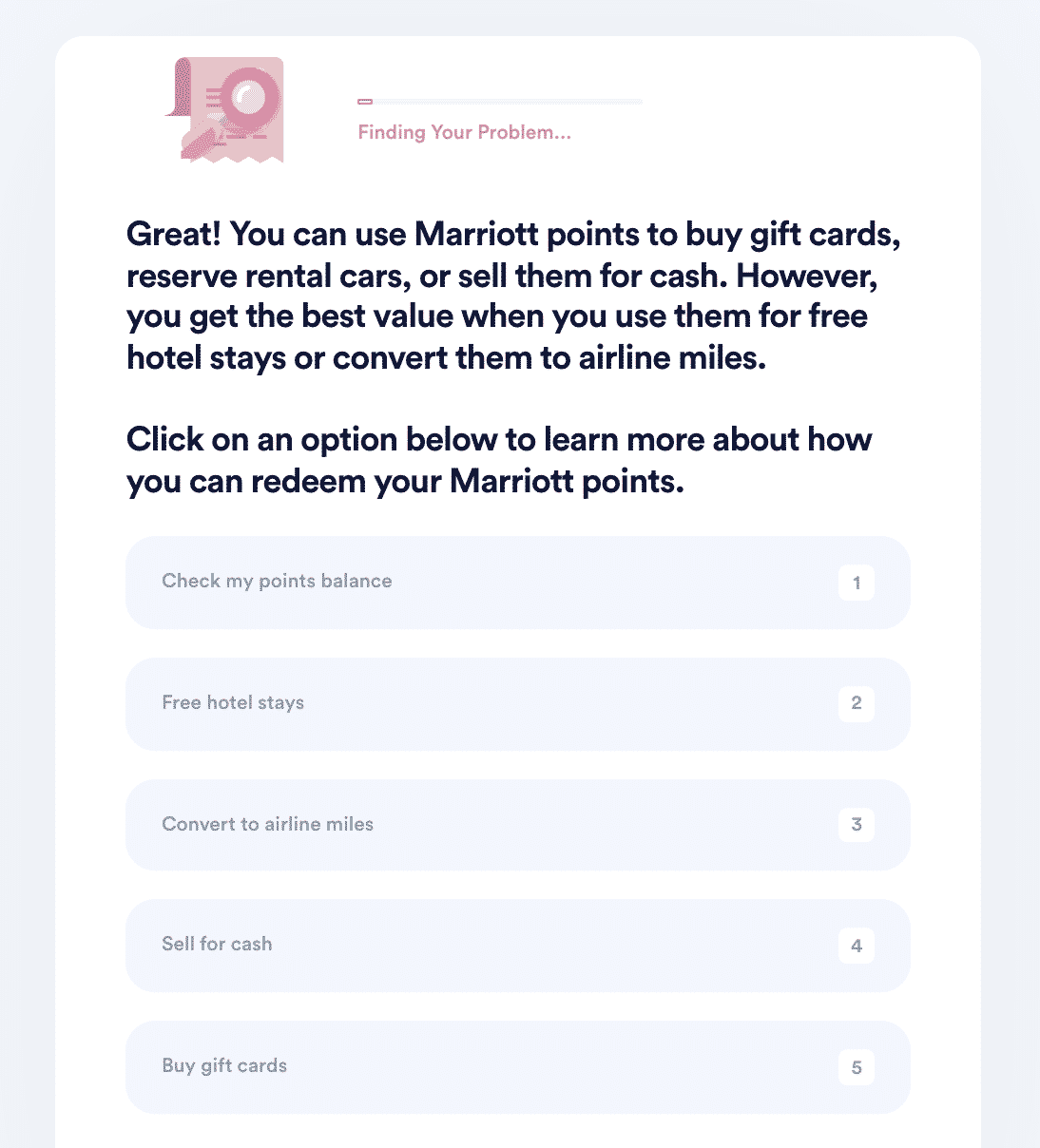 3. If you selected one of the first two options, DoNotPay can check your points balance or transfer your points for you. Otherwise, we can help you find the best deal through third-party vendors.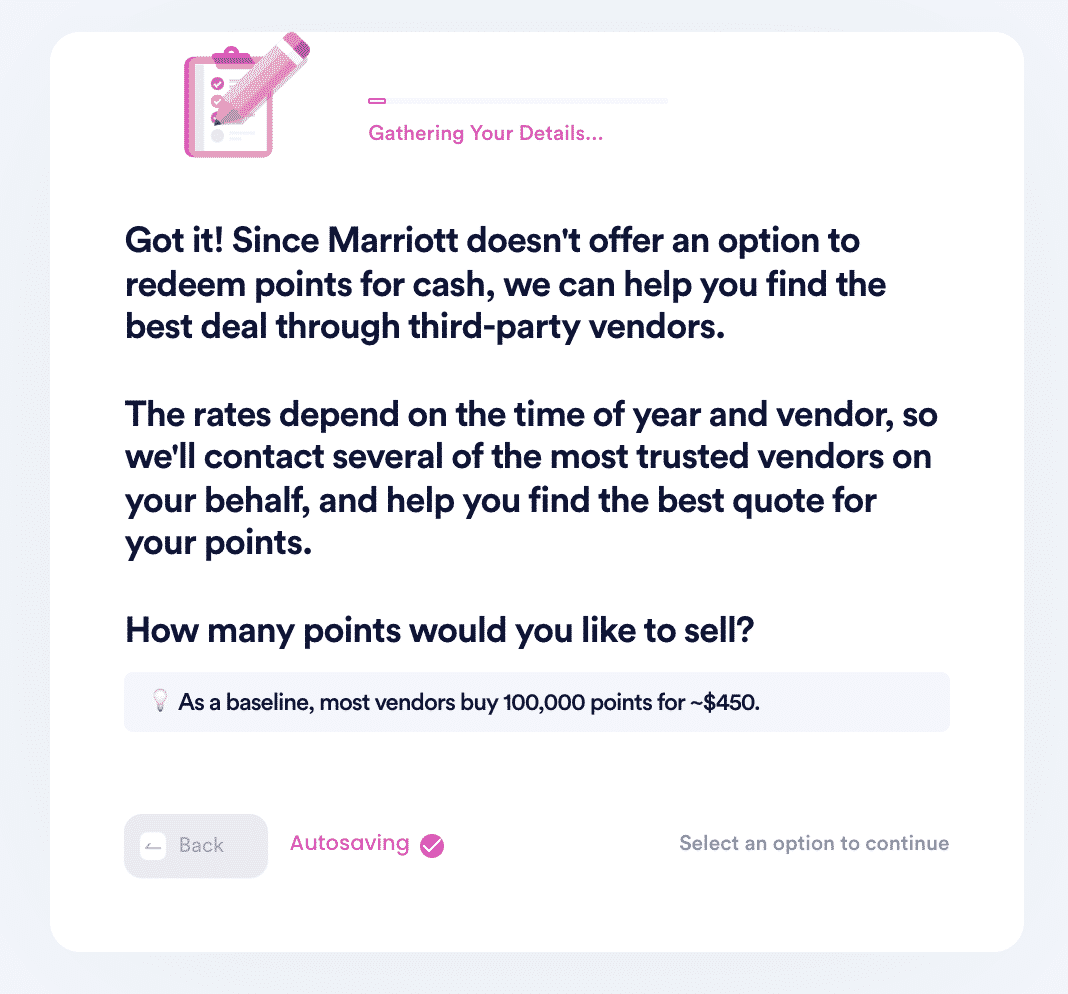 Then relax as we automatically check your balance or look for the best reseller.
Why Use DoNotPay to Sell Your Bluegreen Points?
Bid farewell to lengthy and painful processes of converting your Bluegreen points into money or redeeming them. With DoNotPay, the process is:
Safe: We will find a legit reseller for your points.
Fast: No tedious forms will block or slow you down
Successful: Once we receive your details, consider everything done. You'll get a good (and legitimate) deal at the end of the day.
What Else Can DoNotPay Do?
Some other travel-related tasks DoNotPay can simplify for you include:
All you have to do is tell our platform what you need, and it will do the work.