Need help with vet bills? DoNotPay can give you a hand!
Pet ownership has been on a constant rise over the past few years—so much so that there are currently 136 million households with pets in the U.S. As the vet industry keeps growing, so do the costs. Have you ever asked yourself how much money you really spend on your pet every year?
Well, it's rare that anyone does. Questions such as this one only pop up in your head once you reach what may seem like a dead-end. Fret not, though—if you need help with vet bills, DoNotPay is here to save the day.
How can DoNotPay help with my veterinary bills?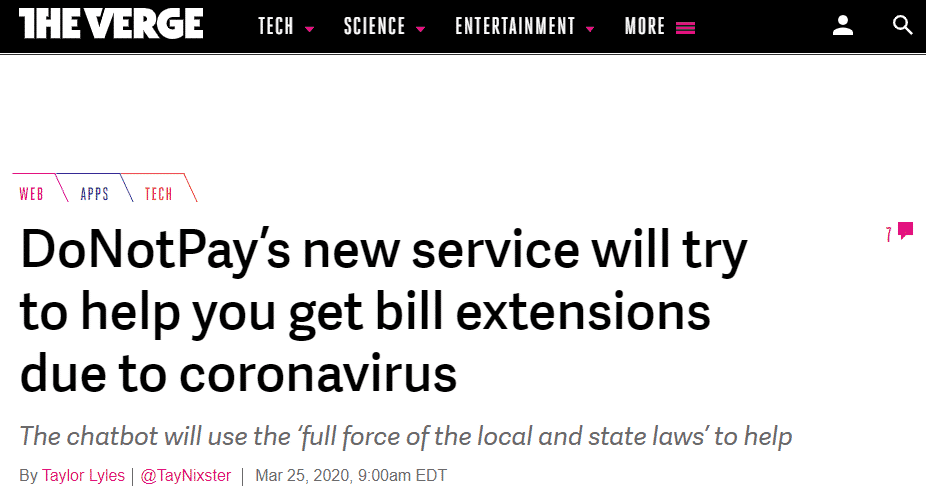 We've created the DoNotPay platform with one goal only—to assist you when you need it the most. Our app allows us to help you fight for your right in many different ways, one of which is providing you with vet bill assistance.
The procedure is quite simple, as our app is above all user-friendly. This is what you should do: 
Log in to the DoNotPay app through your

web browser

Choose the 'Corona Relief' option

Tell us what kind of help with vet bills you'd like to receive

Answer the questions about your basic information

Let us do the work for you!
How can I understand my vet bills better?
Many of us get so perplexed and confused by bills that we're never really sure what we're paying for. When it comes to vet bills, these are some of the procedures you could be charged for:
Routine check-ups

Anesthesia

Surgeries

Hospitalization

Blood tests

Radiographs and ultrasounds

Diagnostic tests
Vet bills are pretty straightforward—the only thing you should be more aware of is how much regular procedures cost on average. The vet industry is highly competitive, so the costs can vary greatly. One thing we know for sure is that vet fees are on a constant rise, so don't hope for sudden drops in prices!
Let's take a look at how much different pet procedures cost:
| | |
| --- | --- |
| Procedure | Pricing |
| Routine exam | $45–$55 |
| Vaccine | $15–$25 |
| Surgery | $400–$5,000 |
| Fecal exam | $25–$45 |
| Allergy test | $200–$300 |
| Neutering/spaying | $35–$200 |
Animal procedures are already expensive on their own, so you can only imagine what the bill would look like if some errors showed up. That's exactly why you need to look for:
Duplicate items

Services you're unfamiliar with

Services your pet insurance should have covered (if you have one)

Services you're certain your pet didn't receive

Services that were canceled yet appear on the bill
Just like you, vets are human beings that make mistakes. Still, some of them take advantage of people in stressful situations. This is why you need to look for errors on your bills. Whether they're there purposefully or not, you should analyze them carefully to determine if you're being overcharged.
Duplicate items
Duplicate items are probably the most common of all errors, so make sure you don't pay double for one service.
Personal information
There's a chance that your vet gets your personal information wrong. You should pay extra attention to the name spelling and your insurance ID if you have one. If they get your insurance ID number wrong, you might run into a series of repercussions that you should try to avoid at all costs. You should also call your pet insurance company and double-check whether the procedure you were charged for should be covered by them or not.
Services your pet didn't receive
Don't overlook the names of the procedures on your bill. If you took your pet to the vet to get them vaccinated, but the bill says that you were charged for a routine exam, the vet might be trying to scam you.
Canceled procedure
Another common error is getting charged for a procedure that was supposed to take place but eventually got canceled.
Vague medical terms
If there's any medical term you don't understand, you can use a medical dictionary to decipher what it stands for. Your average Joe probably won't know what the majority of these medical terms mean, so don't get discouraged—keep looking!
Ask for help
Are you having trouble doing all the work on your own? Don't hesitate to ask for professional help. There are so many experts out there who can spot these errors in the blink of an eye. If you don't want to get in touch with a professional, you can ask a friend for help. Perhaps they have more experience finding errors on bills than you do.
Try to negotiate your vet bill
If you're in need of veterinary bill assistance, try to negotiate the bill. Keep in mind that low-income households are much more likely to have a successful negotiation, though.
Talking to a consumer rights advisor is a good idea if you need help with vet bills. They can point out some of the best options you should go for—after all, they are called advisors for a reason. If you aren't keen on talking to professionals, you could also opt for a conversation with your vet. Vets are usually friendly and empathetic people, so don't be afraid of talking to them.
Using DoNotPay is the easiest, fuss-free way of getting assistance with vet bills. You can access our app through your web browser and we will provide you with help for pet bills. We consider it our mission to help with emergency vet bills as much as possible.
If you want to see some other possibilities, these are the ones you can choose from:
Financial aid options

How to go about it

Ask for a discount

Explain your situation

Be kind and friendly

Don't beat around the bush; just ask

Ask for a payment plan

Explain why you need a payment plan

Propose the rates

Ask about interest rates

Find a consumer rights advisor

Ask how you can lower your vet bills

See if they can find any errors

Complain to them if you think you're being overcharged

Look for organizations that help with vet bills

Choose an organization

Explain your situation

See what they offer and what the offer entails
Vet bill assistance 101: Where can I find organizations that help with vet bills?
If you're on the lookout of organizations that help with vet bills, there are plenty of them. Lots of animal shelters offer loans, so you have many options to choose from.
We've found some of the most popular organizations that can help with emergency vet bills—check them out:
Try asking for an extension date for your vet bills

Vets are usually reasonable and understanding people, as we've already mentioned. If you haven't already, try asking for an extension date for your vet bills. There are multiple ways in which you can request an extension date, and these are the most effective ones:
In-person

Calling your vet's customer service

Writing a letter
If the first two options seem too stressful, writing a letter will be the most suitable choice for you. If the first thing that crosses your mind is 'But I don't know how to write this type of letter!', don't worry—DoNotPay can do the harder part of the job for you. Access the app through your web browser.
Once you reach out to us asking for help with vet bills, we can write a request letter for you and send it on your behalf. All you need to do is tell us a bit about yourself, as well as the primary reason as to why you are unable to pay the vet bill on time. We always have your best interest at heart, so you don't have to worry about how the letter will come off.
We will ask you to propose a different date for your vet bills, and once we gather all of your necessary information, the letter will be sent. The process can take up to 48 hours, as we solve all of our users' issues quickly, yet effectively.
Try asking for a waiver on late fees for your vet bills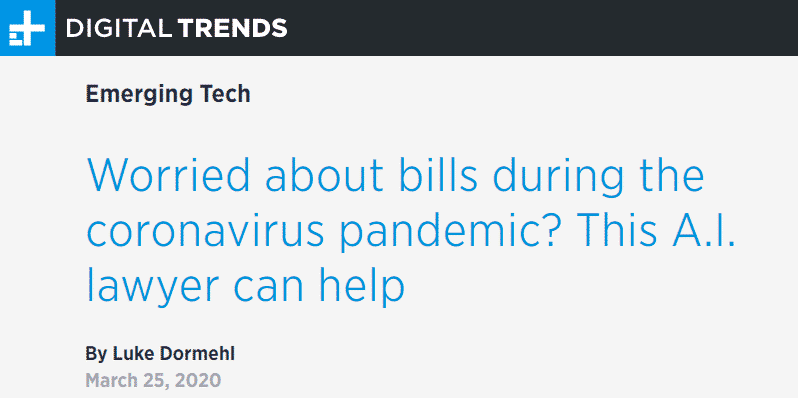 If asking for an extension date for your vet bills doesn't work, or if you'd rather ask for a waiver on late fees for them, go for it! One of these options will definitely work. These are some of the most common ways to ask for a waiver on late fees:
In-person

Writing a letter

Calling customer support

Consulting with your lawyer

Consulting with a financial advisor
Writing a letter is the best option for those who don't want to fuss around too much—and you can also let DoNotPay do this part of the work in your stead. We can send a special waiver letter to your vet and ask for your late fees to be waived.
You can access our app through your web browser and let us help with your pet bills.
Pay your vet bills with your credit card
If you've got nothing in cash, you can always pay your vet bills with your credit card. While it does remain an option, you should know that this could severely damage your credit scores if your bills are enormous. Think wisely before you decide to use the credit card.
Get a loan to pay your vet bills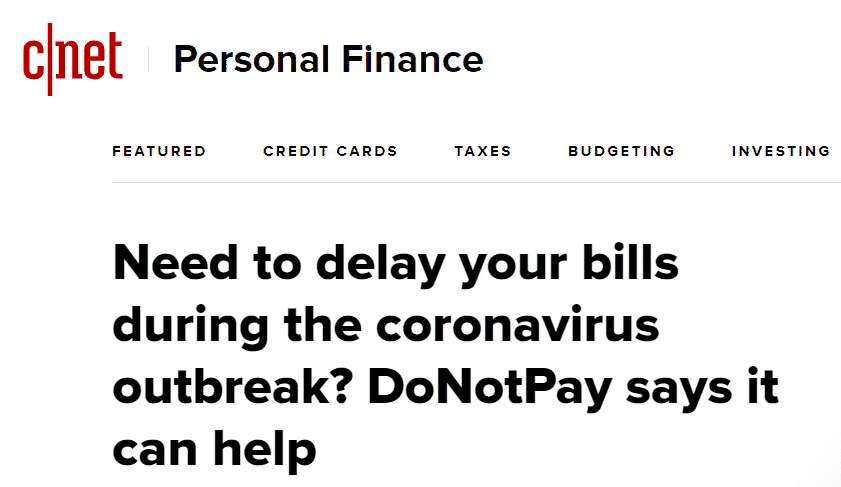 You can always get a loan to pay off your vet bills, but we believe this should be the last resort for you. This option is far from ideal, but if nothing else works out, getting a loan might not be the worst idea. Though if you live in a low-income household, we would not recommend this option by any means. Interest rates will get you to a dead-end, and we can agree that this option is the least desirable.
What happens if I don't pay my vet bills?
If you don't pay your vet bills, you might come across some serious repercussions. Your vet will most likely turn to a third-party collection agency that you definitely do not want to mess around with. If that kind of scenario does occur, though, there are a few things you should know because preparation is key.
What can a collection agency do?
Not doing anything about your unpaid vet bills will most probably force you into dealing with a collection agency. Once the process begins, the debt collector will try to reach you through phone calls and letters. If you don't answer either of those, they are legally allowed to dig deeper into the matter. Don't think that you can fool them—debt collectors can easily conduct some research, get access to your bank account, and see for themselves whether you're really unable to pay the bill or not.
You should also know that collection agencies aren't allowed to draw money from your bank account and pay for your bills. They will do everything in their power to make you pay the debt on your own.
Offer to pay part of the debt
If you come across a debt collector that is friendly enough for you to offer to pay part of your debt, go for it. Ask if that's even a possibility. If it doesn't work out, nothing bad's going to happen—at least you tried!
Most collection agencies will allow you to do this, which is good news since nobody desires to be called and threatened by debt collectors.
Keep track of all facts and record everything
There is a chance that the collection agency might try to rip you off. You need to be exceptionally careful and keep track of all facts and relevant information. If you're suspicious of the agency, you can always ask for a debt validation letter, which they are obliged to send you.
Know your rights
The best way to deal with this situation is to educate yourself. Learn everything there is to know about consumer rights or, if you don't want to do it on your own, turn to a consumer rights advisor.
Even if it might seem like a completely sensible thing for them to do, you should know that debt collectors are not allowed to threaten or call you in the middle of the night. This is why it's necessary to gain some knowledge on the matter—nobody's allowed to terrorize you this way.
Be aware of the credit score damage
Once your account gets recognized as a delinquent one, it is seriously going to damage your credit score. If you don't pay your debt off, you will no longer be able to get a loan from the bank or a credit card. Debt collections can remain on your account for seven years, but the effects become weaker as time passes.
Invest in prevention
Prevention is key. If you don't want this emergency situation to repeat itself ever again, you should seriously consider taking some prevention measures. Of course, you cannot prevent every single potential disease or circumstance your pet might get in, but there are a few ways you can ensure that you don't go to the vet as often:
Consider getting pet health insurance.

If you don't have it already, you should definitely start thinking about it. Pet insurance will make sure that at least some of your vet bills are covered no matter what. Knowing that you won't suddenly have to spend thousands of dollars if something happens to your pet will put you at ease.
Learn how to take care of your pet on your own.

If you learn how to trim your pet's nails, groom them, or brush their teeth, you will be cutting some serious cost. You will also contribute to your pet's overall health, which is a win-win situation.
Make sure that your pet's nutrition is lean.

Knowing what you're feeding your pet can save their life. Don't neglect their nutrition—it's essential that you keep your pet as healthy as possible by making good choices with their food.
Shop for medications.

If your pet suddenly gets sick and you have to take them to the vet, we all know that you will be paying triple as much for a single medication. It's well known that vets don't offer the best prices. You should ask them if you can get an OTC medication that costs less but gives the same result in that case.
Opt for three-year vaccinations if you can.

You should not make this decision on your own by any means. Ask a vet whether it would be safe for your pet to get three-year vaccinations instead of the yearly ones. Whatever you do, don't compromise your pet's health—listen to what the vet has to say.
If you manage to do at least one of these things, you will certainly delay your next vet visit, if anything else. Invest in prevention for both yours and your pet's best interest.
What else can DoNotPay help me with?
DoNotPay has numerous features that you access through your web browser. You're more than welcome to visit our platform and check these out:
Contesting speeding tickets

Helping with any other bills

Disputing traffic tickets