How to Change Your Mailing Address Online
Whether it's a temporary move, or a permanent one to an entirely different state for the foreseeable future, your most pressing concern is  The advancement of technology means that even if you don't have the time to visit a physical post office to effect the change, you can easily do so on your phone.
You've probably been thinking, "How do I change my mailing address?" because you realize the DMV, Social Security, and even USPS Informed Delivery services all hinge on your submission of an accurate address. However, what you've learned thus far is a USPS change of address is a simple enough procedure.
Here's how.
How to Change Your Mailing Address Online By Yourself
There are very few government services left that do not have a digital equivalent yet. Thankfully, changing your mailing address is not one of them. If anything, changing your mailing address is one of the simplest things you can do online. 
You can change your mailing address in a few simple steps.
On your browser, type in https://www.usps.com/move to navigate to the dedicated section.
Enter your details into the website to start the process of changing your mailing address online. There are five steps involved, so you'll have to be accurate with your information if you want to avoid any mistakes. How long the process takes is dependent on how much time you can spare to fill in the details of the move.
You may have to fill in a form, PS 3575. This form will also capture all the details necessary to execute the move.
Next, the USPS will ask for your credit or debit card, as well as your email address. The reason for this is to ensure the person requesting the mail address change is the actual owner of the address and not a fraudster.
How to Change Your Mailing Address If You Can't Do It Yourself
Let's face it; not everyone is tech-savvy, or would even think of looking for the service online. Getting a USPS change of address online, though not new, can still be a strange thing for many to want to do online. Also, considering how important a mailing address is, you may want to do it in person.
In such cases, you can still do it the old-school way. You can walk into a post office and request a move of location package from the attendants. Once you have filled in all the requirements, you can hand them back to the attendant.
The problem with this is
You may not have the time required to visit a physical post office
In the middle of relocating, there's so much stuff to move, it's easy to fumble with some, and even lose others
The Importance of a Change of Address
Nearly all service providers tie your address to your identity. Many of the services you receive from the government, financial institutions, and more require you to provide your actual address if the documentation you receive is to be valid.
Many agencies, such as departments and bureaus of motor vehicle registrations require you to update your particulars within 90 days of shifting.
The Patriot Act requires financial institutions to verify the address you provide as true. If not, you will be locked out.
Failing to update your address can open a window of opportunity for identity thieves to get a hold of your details and start operating maliciously. They can open bank accounts in your name, and even plunge you into financial distress by taking out credit cards.
The Best Way to Change your Mailing Address Effortlessly
Not having the technological aptitude to handle a change of mail address online isn't something to be ashamed of. Even if you don't have the time to visit a physical post office to get it, don't try to bend yourself in between your schedule to get it done. 
Even then, the complexity of changing your address is just one part of the problem. The process itself can be time-consuming, taking anywhere from 7 to 10 business days for any changes to be reflected. This is time you could use to accomplish more things related to your move.
What you require is a service that understands you, and helps you achieve all your needs while you get on with your work. That's the kind of service that  offers to its clients, and here's why you should rely on the service.
| | |
| --- | --- |
| It's Fast | Setting up an account and changing your address takes minutes (you'll see below). |
| It's Easy-To-Use | DoNotPay was built to be easy to navigate and understand. |
| It's Successful | DoNotPay has a proven track record of helping hundreds of people every single day. |
DoNotPay Eases the Process of How to Change Mailing Addresses Online 
If you would like to file a change of address but have no idea where to begin, well, DoNotPay has your back in this endeavor.
If you want to file a change of address but don't know where to start, DoNotPay has you covered in 5 easy steps:
1. Tell us the new address and when you want to start forwarding your mail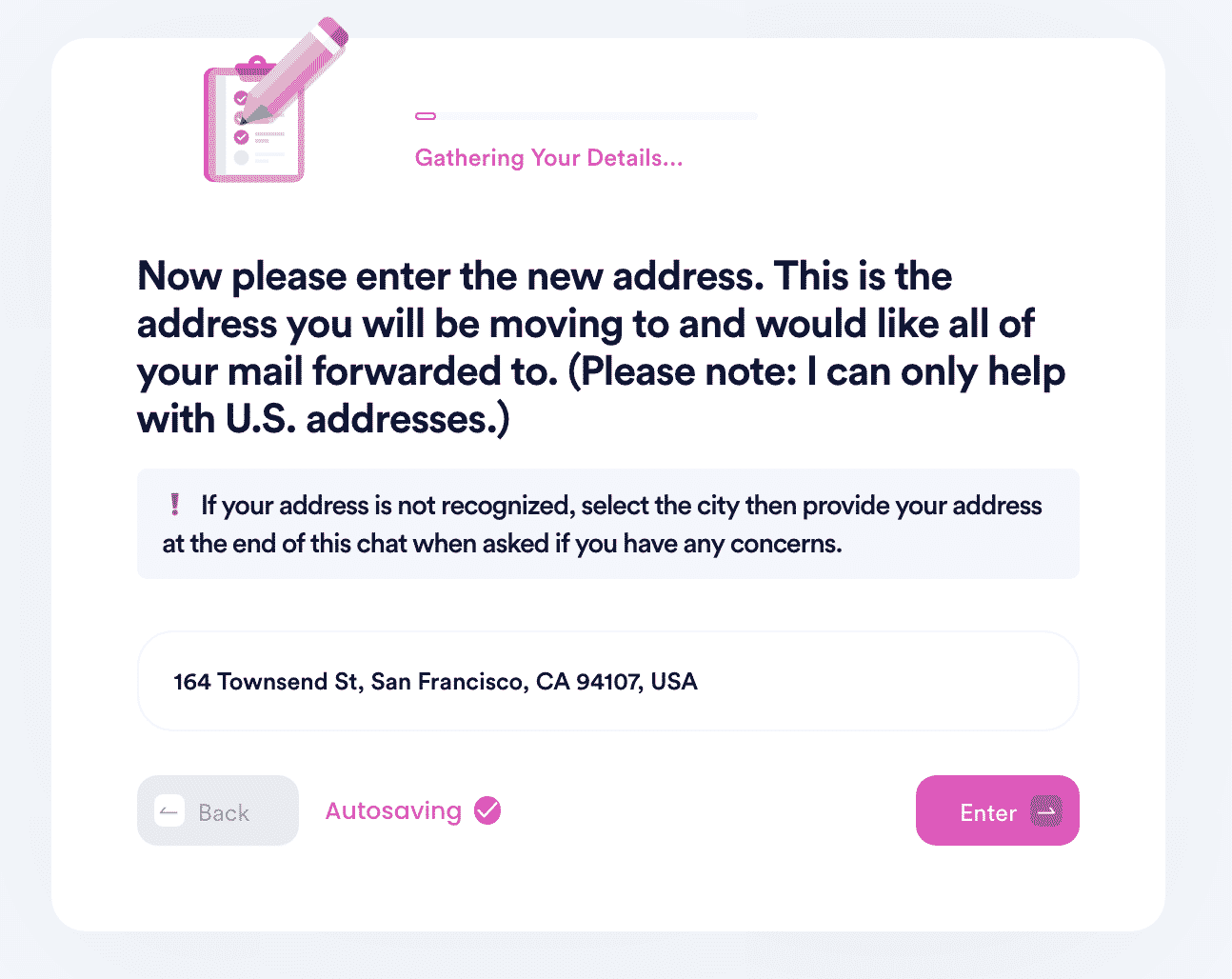 2. Tell us who is moving (is it just you, your family, or your business)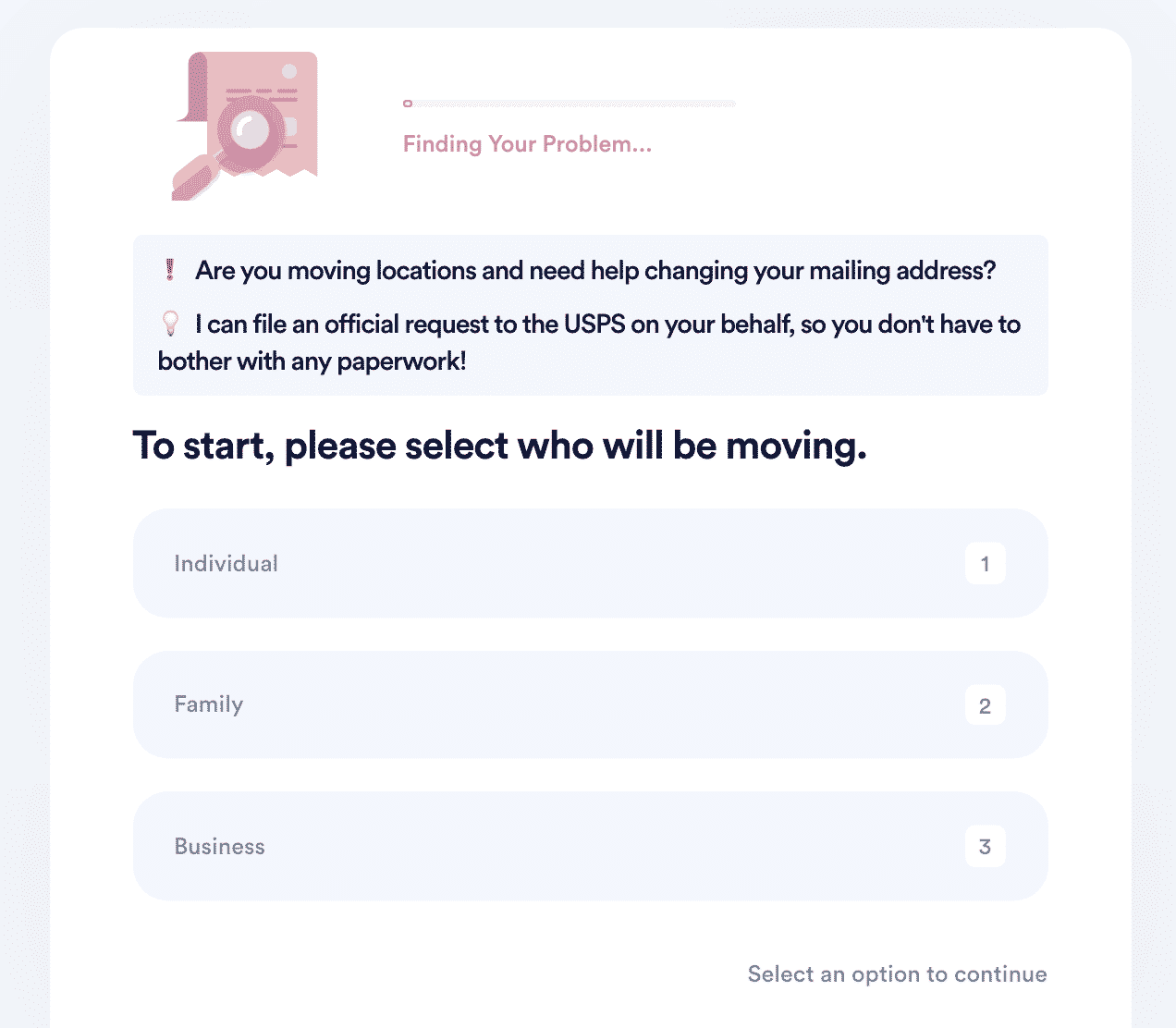 3. Select whether it's a temporary move or permanent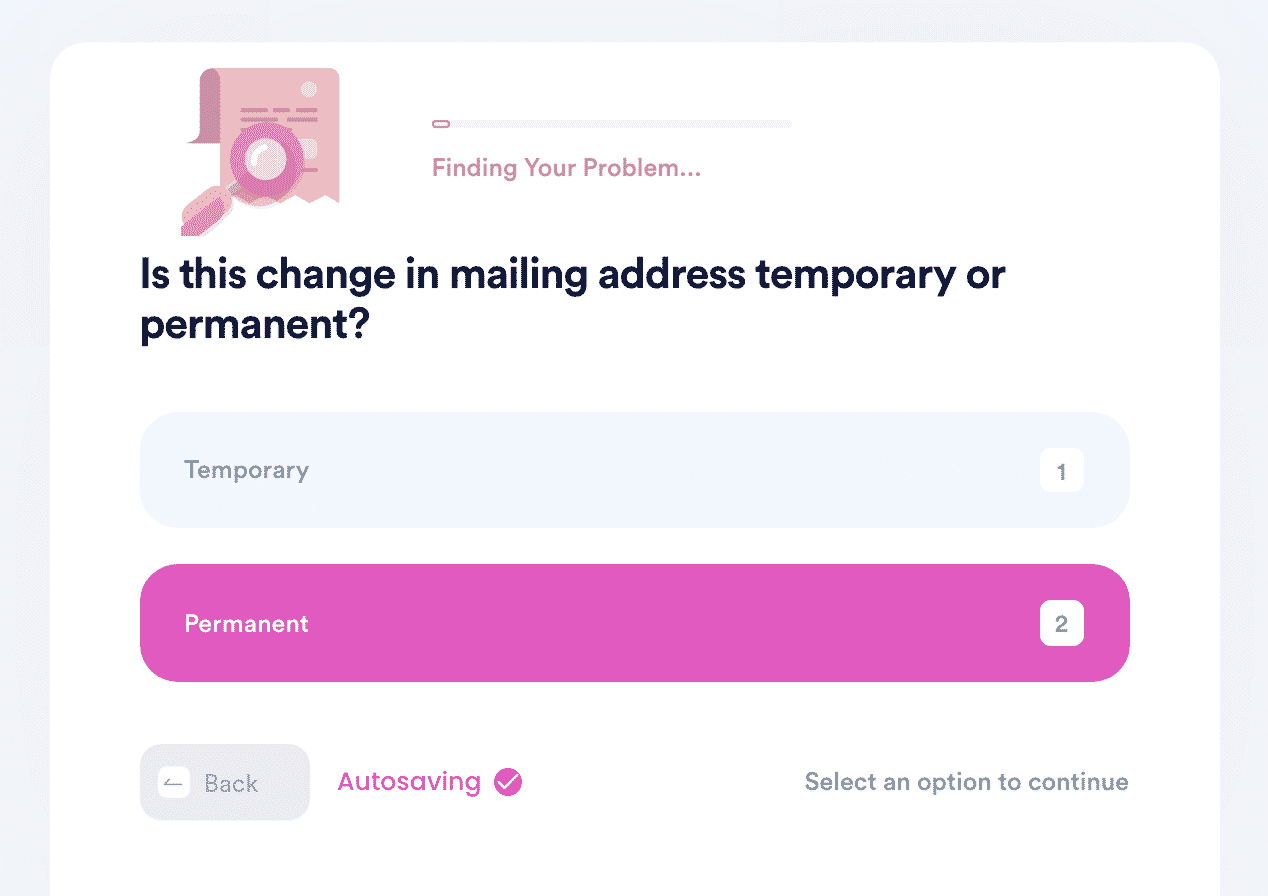 4. Add the option to extend your mail forwarding period beyond 12 months (you can get your mail delivered from your old address for up to 2.5 years)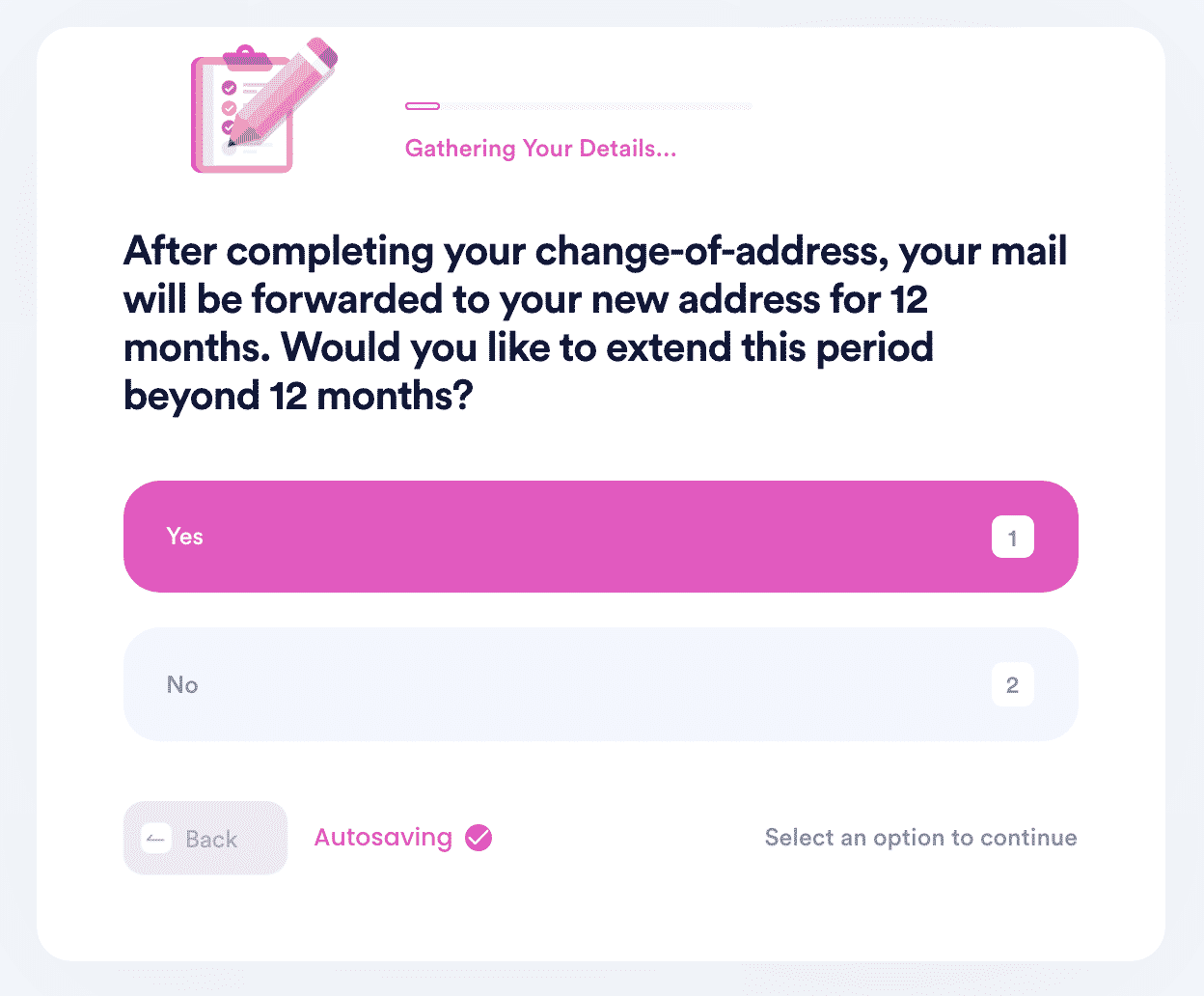 5. And that's it! DoNotPay will take care of the rest on your behalf. You should receive a confirmation email from USPS after your request is completed.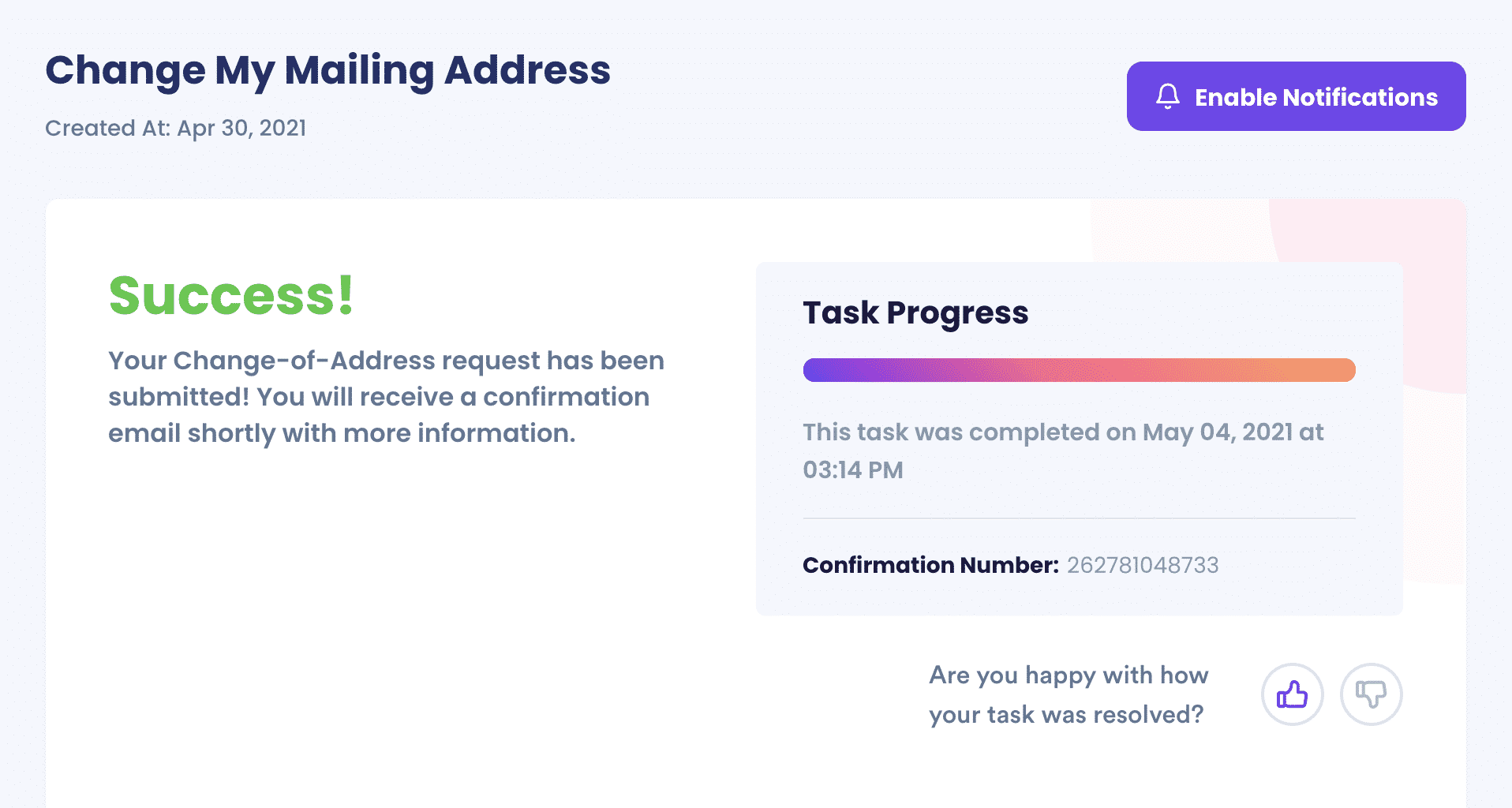 Conclusion
Changing your address the traditional way can be time-consuming, and even expensive if you use the post office method. The time, energy, and cost it takes to get you to a post office could easily be of help to you in your other endeavors. This is why DoNotPay is your best option for accomplishing a change of address.
If you'd like to know more about how DoNotPay can help you with this and many more errands, join us today!