Negotiate Hotel Fees and Surcharges Online With Ease
After enjoying your stay in a hotel, they may overcharge you when checking out. It is easy to notice double charges on room service, but some hidden charges, such as valet and parking fees, aren't readily noticeable. It only gets more frustrating when you start negotiating with the front office for error corrections.
The process is challenging and takes up a lot of time. Typically, the front desk won't readily approve your request, so you have to take it to the supervisor or general manager. Getting the overcharges overturned can be a hassle.
But what if there was a better way? is your trustworthy robotic lawyer, able to arbitrate on your behalf. The upside is that you complete the process in four simple steps entirely online. Don't waste time anymore; let DoNotPay handle that for you.
Types of Fees Hotels Charge
The New York University School of Continuing and Professional Studies reported that hotels collect $1 to $2 billion annually from check-out fees and surcharges. Guests often come to learn about these hidden charges after receiving the bill when checking out.
But if you know which amenities hotels charge, it's easy to know how to avoid surprise Some of these expenses include:
| | |
| --- | --- |
| Resort Fees | Resorts often charge extra for many activities offered. It's critical to know what services they are and whether they are charged even if you don't use them. If they don't charge, ensure they are not entered in your bill. If they do, you can contact the front office and ask them to remove the charges. |
| Wi-Fi Fees | Hotels charge for Wi-Fi, but the best way to get around is by signing up for an establishment's loyalty program for free. That gets you privileges like free Wi-Fi. |
| Extra Personal Fees | Hotel room rates are based on double occupancy, meaning you need not pay for the kids' room. But if they charge extra for an additional adult, it would be best to look for an establishment that doesn't. |
| Gym Fee | It's not uncommon to find gym fees automatically added to your bill as a hidden charge. If you didn't utilize the service, ask for it to be removed. |
How to Get Your Hotel Fees and Surcharges Waived
If you've refused to pay your resort fees in Vegas due to erratic entries in your bill, it's possible to have them waived. Here are ways to get the charges removed from your check-out expenses.
1. Request Comped Resort Fees
Vegas casinos and hotels will do anything to keep you spending your money. If you spend more than enough, it's easy to get rooms and other amenities for free. That's getting comped – short for complimentary.
If you are moderate in your gambling budget, you may not get a free room, but you may qualify for waived fees. Ask the casino host about that, and you might quickly get charge waivers.
2. Ask the Front Office to Waive the Fee
One rule of life is: you don't get what you want unless you ask for it. Being courteous in your negotiation and adding a friendly smile, you can work out something with the front desk personnel. Find a genuine reason not to pay the fees. It may be because:
The Wi-Fi wasn't working or was slow during your stay
The pool was out of service
Your room's AC was problematic
Negotiate Your Hotel Fees and Surcharges Hassle-Free With DoNotPay
If you are confident you should get the charges removed, you can escalate the issue to the manager. But that's not always easy. Sometimes the office desk may decline your request. It's time-consuming and frustrating, too, especially when you have to wait for the manager for long hours.
Let DoNotPay help you. We provide an automated means of negotiating technology fees for hotels, making the process;
When you're ready to debate your inflated hotel bill, simply visit DoNotPay's "Hotel Bill Negotiations" product and follow the easy four-step procedure. It alleviates the need to negotiate with the hotel prices in person. Instead, you can rely on us to draft the refund request letter and submit it to the general manager.
Here's How to Lower Your Hotel Fees and Surcharges With DoNotPay:
If you want to reduce your hotel bill but don't know where to start, DoNotPay has you covered in the following four steps:
1. Go to the Hotel Bill Negotiations product on DoNotPay.
2. Answer a few questions about your hotel bill, which charges you want to have refunded, and the details of your reservation.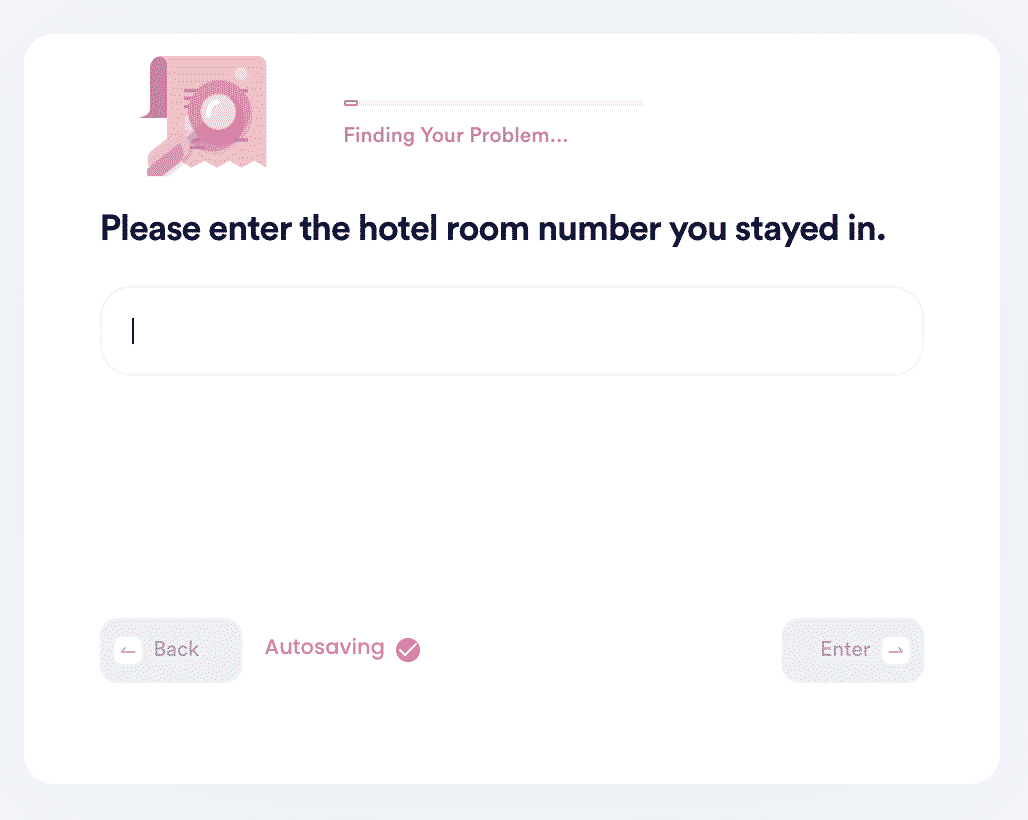 3. Tell us whether this is for a past reservation or you're still at the hotel (this helps us decide whether negotiation or chargeback is a better option for your case).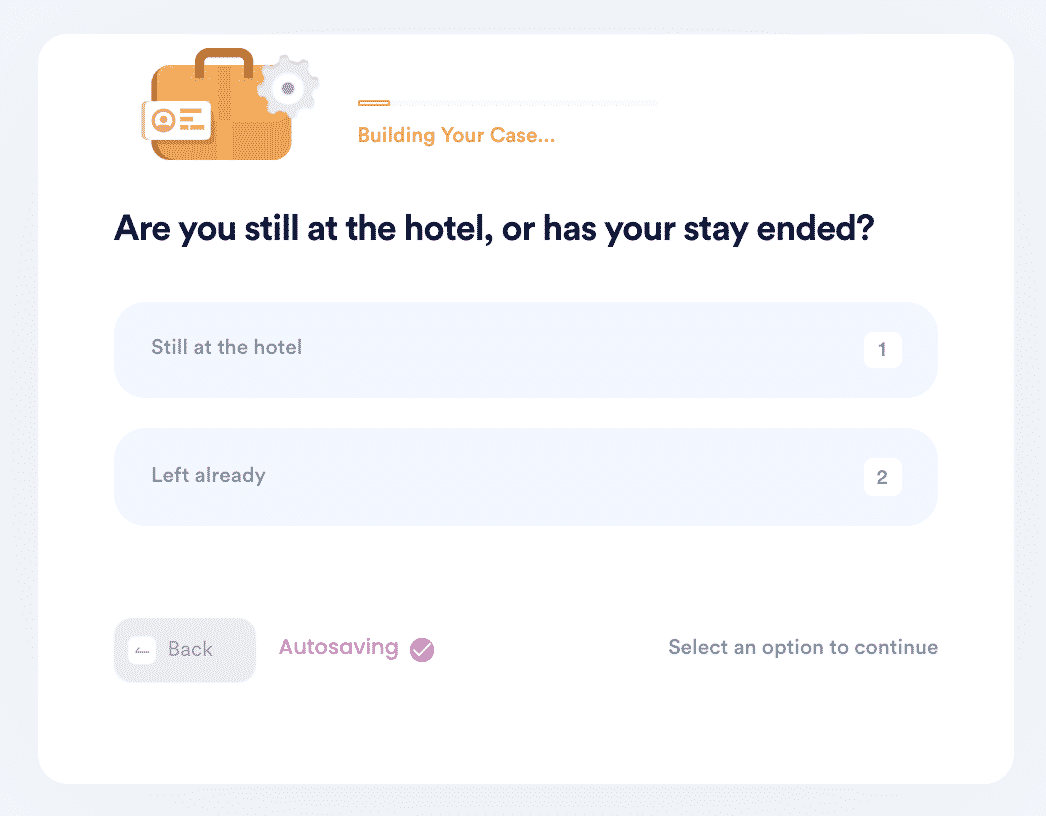 4. Choose whether you want us to contact the front desk or general manager (if you've already tried contacting the front desk already).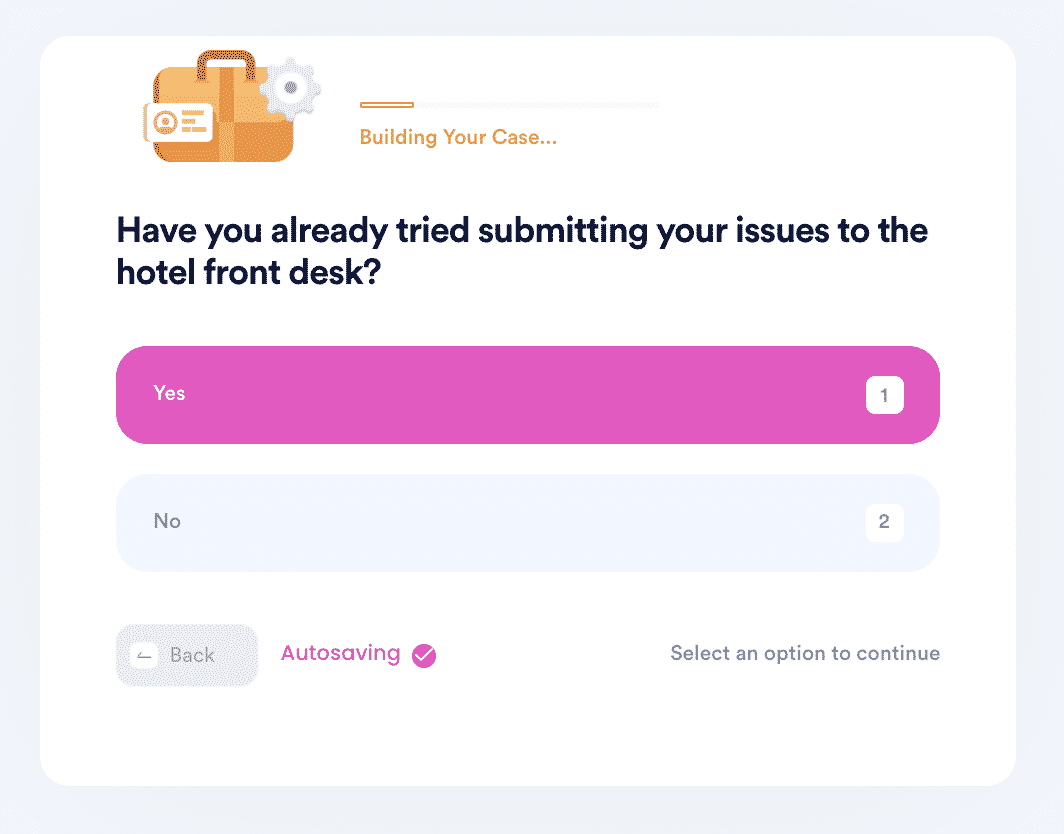 Once you're done, let us handle the rest. We will generate a draft paper requesting payment waivers and submit it to the hotel's front desk.