US Governor Office Phone Number - Full List
Getting your views known by your respective state officials is one of the basic tenets of democracy. But how do you do that? What's the best way to call the head of state? In this article, we will provide you with a comprehensive list of each governors' office phone number and other contact details.
Governor's Duties and Responsibilities
Functioning just like the US president but on a smaller scale, the governor is the state's highest-ranking elected official. The governor is the leader of each state's executive branch, whose function is to administer the governor's policies. Governors and their families sleep in an official residence billeted for them by the state known as a Governor's Mansion. Some of the roles and responsibilities of a governor are as follows:
Legislative functions such as approval of state budget and appropriations, enactment of state legislation, confirmation of appointment, and legislative oversight of the executive branch.
Gubernatorial appointments such as in boards and commissions, independently selected executive branch positions, and the state cabinet.
Executive orders include ensuring adequate preparation for emergencies and disasters, creation of committees or commissions, and addressing management administrative issues.
How to Contact the Governor's Office
Each state's executive branch is headed by a duly elected Governor. In this section, we provide you with the contact details of your state's governor in alphabetical order.
Governors' Contact Information

Alabama - Governor Kay Ivey

Address: 600 Dexter Avenue, Montgomery, AL 36130

Alaska - Governor Mike Dunleavy

Address: Office of the Governor, P.O. Box 110001, Juneau, AK 99811-0001

American Samoa - Governor Lemanu Mauga

Address: Office of the Governor, Pago Pago, American Samoa

Arizona - Governor Doug Ducey

Address: 1700 West Washington Street, Phoenix, AZ 85007

Arkansas - Governor Asa Hutchinson

Address: Governor Asa Hutchinson, State Capitol Room 250, 500 Woodlane Ave., Little Rock, AR 72201

California - Governor Gavin Newsom

Address: 1303 10th Street, Suite 1173, Sacramento, CA 95814

Colorado - Governor Jared Polis

Address: State Capitol Building, 200 E. Colfax Ave., Rm. 136, Denver, CO 80203

Connecticut - Governor Ned Lamont

Address: 210 Capitol Ave, Hartford, CT 06106

Phone: 860-566-4840, 800-406-1527 (Toll-free)

Delaware - Governor John Carney

Addresses: Wilmington, Carvel State Office Building, 820 N. French Street, 12th Floor, Wilmington, DE 19801 or Tatnall Building, 150 Martin Luther King Jr Blvd South, Dover, DE 19901

Phones: Wilmington Office: 302-577-3210; Dover Office: 302-744-4101

District of Columbia - Mayor Muriel Bowser

Address: John A. Wilson Building, 1350 Pennsylvania Avenue, NW, Washington, DC 20004

Florida - Governor Ron DeSantis

Address: State of Florida, The Capitol, 400 S. Monroe St., Tallahassee, FL 32399-0001

Georgia - Governor Brian Kemp

Address: 206 Washington Street, Suite 203, State Capitol, Atlanta, GA 30334

Guam - Governor Leon Guerrero-Tenorio

Address: Ricardo J. Bordallo Complex, 513 West Marine Corps Drive, Hagatna, Guam 96910

Hawaii - Governor David Ige

Address: Executive Chambers, State Capitol, Honolulu, Hawaii 96813

Idaho - Governor Brad Little

Address: State Capitol, PO Box 83720, Boise, ID 83720

Illinois - Governor JB Pritzker

Address: 207 State House Springfield, IL 62706

Phone: 217-782-6830 to 31

Indiana - Governor Eric Holcomb

Address: 200 W. Washington St., Rm. 206, Indianapolis, IN 46204

Iowa - Governor Kim Reynolds

Address: Office of the Governor, Iowa State Capitol, 1007 East Grand Avenue, Des Moines, IA 50319

Kansas - Governor Laura Kelly

Address: Office of the Governor, Capitol, 300 SW 10th Ave., Ste. 241S, Topeka, KS 66612-1590

Phone: 785-296-3232, 877-579-6757 (Toll-free)

Kentucky - Governor Andy Beshear

Address: 700 Capitol Avenue, Suite 100, Frankfort, Kentucky 40601

Louisiana - Governor John Bel Edwards

Address: Office of the Governor, PO Box 94004, Baton Rouge, LA 70804

Phones: 225-342-0991, 844-860-1413

Maine - Governor Janet Mills

Address: Governor Janet Mills, 1 State House Station, Augusta, ME 04333

Maryland - Governor Larry Hogan

Address: 100 State Circle, Annapolis, Maryland 21401-1925

Phone: 410-974-3901, 1-800-811-8336 (Toll-free)

Massachusetts - Governor Charlie Baker

Address: Governor Charlie Baker's Office of Constituent Services, Massachusetts State House, 24 Beacon St., Office of the Governor, Room 280, Boston, MA 02133

Michigan - Governor Gretchen Whitmer

Address: P.O. Box 30013, Lansing, Michigan 48909

Minnesota - Governor Tim Walz

Address: 130 State Capitol, 75 Rev Dr. Martin Luther King Jr. Blvd., St. Paul, MN 55155

Phone: 651-201-3400, 800-657-3717 (Toll-free)

Mississippi - Governor Tate Reeves

Address: P.O. Box 139,, Jackson, MS 39205

Missouri - Governor Michael Parson

Address: P.O. Box 720, Jefferson City, MO 65102

Montana - Governor Greg Gianforte

Address: PO Box 200801, Helena, MT 59620-0801

Phone: 406-444-3111, 855-318-1330 (Toll-free)

Nebraska - Governor Pete Ricketts

Address: P.O. Box 94848, Lincoln, NE 68509-4848

Nevada - Governor Steve Sisolak

Address: State Capitol Building, 101 N. Carson Street, Carson City, NV 89701

New Hampshire - Governor Chris Sununu

Address: State House, 107 North Main Street, Concord, NH 03301

New Jersey - Governor Phil Murphy

Address: PO Box 001, Trenton, NJ 08625

New Mexico - Governor Michelle Lujan Grisham

Address: 490 Old Santa Fe Trail Room 400, Santa Fe, NM 87501

New York - Governor Andrew Cuomo

Address: Governor of New York State, NYS State Capitol Building, Albany, NY 12224

North Carolina - Governor Roy Cooper

Address: 20301 Mail Service Center, Raleigh, NC 27699-0301
Phone: 919-814-2000

North Dakota - Governor Doug Burgum

Address: State of North Dakota, 600 East Boulevard Avenue Bismarck, ND 58505-0100
Phone: 701-328-2200

Northern Mariana Islands - Governor Ralph Torres

Address: Commonwealth of the Northern Mariana Islands, Caller Box 10007, Saipan, MP 96950
Phone: 670-237-2200

Ohio - Governor Mike DeWine

Address: Riffe Center, 30th Floor, 77 South High St., Columbus, OH 43215
Phone: 614-644-4357

Oklahoma - Governor Kevin Stitt

Address: 2300 North Lincoln Blvd, Oklahoma City, OK 73105
Phone: 405-521-2342

Oregon - Governor Kate Brown

Address: 900 Court Street, Suite 254, Salem, OR 97301-4047
Phone: 503-378-4582

Pennsylvania - Governor Tom Wolf

Address: 508 Main Capitol Building, Harrisburg, PA 17120
Phone: 717-787-2500

Rhode Island - Governor Dan McKee

Address: 82 Smith Street, Providence, RI 02903
Phone: 401-222-2080

South Carolina - Governor Henry McMaster

Address: 1100 Gervais Street, Columbia, SC 29201
Phone: 1-803-734-2100

South Dakota - Governor Kristi Noem

Address: 500 East Capitol Avenue, Pierre, SD 57501
Phone: 605-773-3212

Tennessee - Governor Bill Lee

Address: 1st Floor, State Capitol, Nashville, TN 37243
Phone: 615-741-2001

Texas - Governor Greg Abbott

Address: State Insurance Building, 1100 San Jacinto, Austin, Texas 78701
Phone: 512-463-2000

Virgin Islands - Governor Albert Bryan Jr.
Utah - Governor Spencer Cox

Address: 350 North State Street, Suite 200, PO Box 142220, Salt Lake City, UT, 84114-2220
Phone: 801-538-1000, 800-705-2464 (Toll-free)

Vermont - Governor Phil Scott

Address: 109 State Street, Pavilion, Montpelier, VT 05609
Phone: 802 828-3333

Virginia - Governor Ralph Northam

Address: P.O. Box 1475, Richmond, VA 23218
Phone: 804-786-2211

Washington - Governor Jay Inslee

Address: PO Box 40002, Olympia, WA 98504-0002
Phone: 360-902-4111

West Virginia - Governor Jim Justice

Address: State Capitol, 1900 Kanawha Blvd. E Charleston, WV 25305
Phone: 304-558-2000

Wisconsin - Governor Tony Evers

Address: P.O. Box 7863, Madison, WI 53707
Phone: 608-266-1212

Wyoming - Governor Mark Gordon

Address: State Capitol, 200 West 24th Street, Cheyenne, WY 82002
Phone: 307-777-7434
Points to Remember When Contacting State Government
Social media may be the easiest way to contact the Governor, but due to the ephemeral nature of social media feeds, it may be easy to miss your post, comment, or Tweet. And unless you can successfully talk to the Governor directly, a phone call may not be the best way to get in touch with the state government. Leaving a message may not ensure that it reaches the Governor. The best way to reach the state government is by email where you can organize your thoughts better. When sending an email, remember the following:
When writing the salutation, use "Dear Governor" followed by his/her last name.
Get to the point immediately. If the letter's content ends up too long, consider using bullet points to improve readability.
End the letter respectfully and thank the Governor for his/her time.
DoNotPay Can Help You Contact Your Governors
If you have views that you wish to extend to the Governor, but don't know how to get started, can help. Our service can let you voice your opinions and concerns to your government representative in a few clicks. All you have to do is:
1. Log-in to DoNotPay and go to the Contact Your Government Representative product.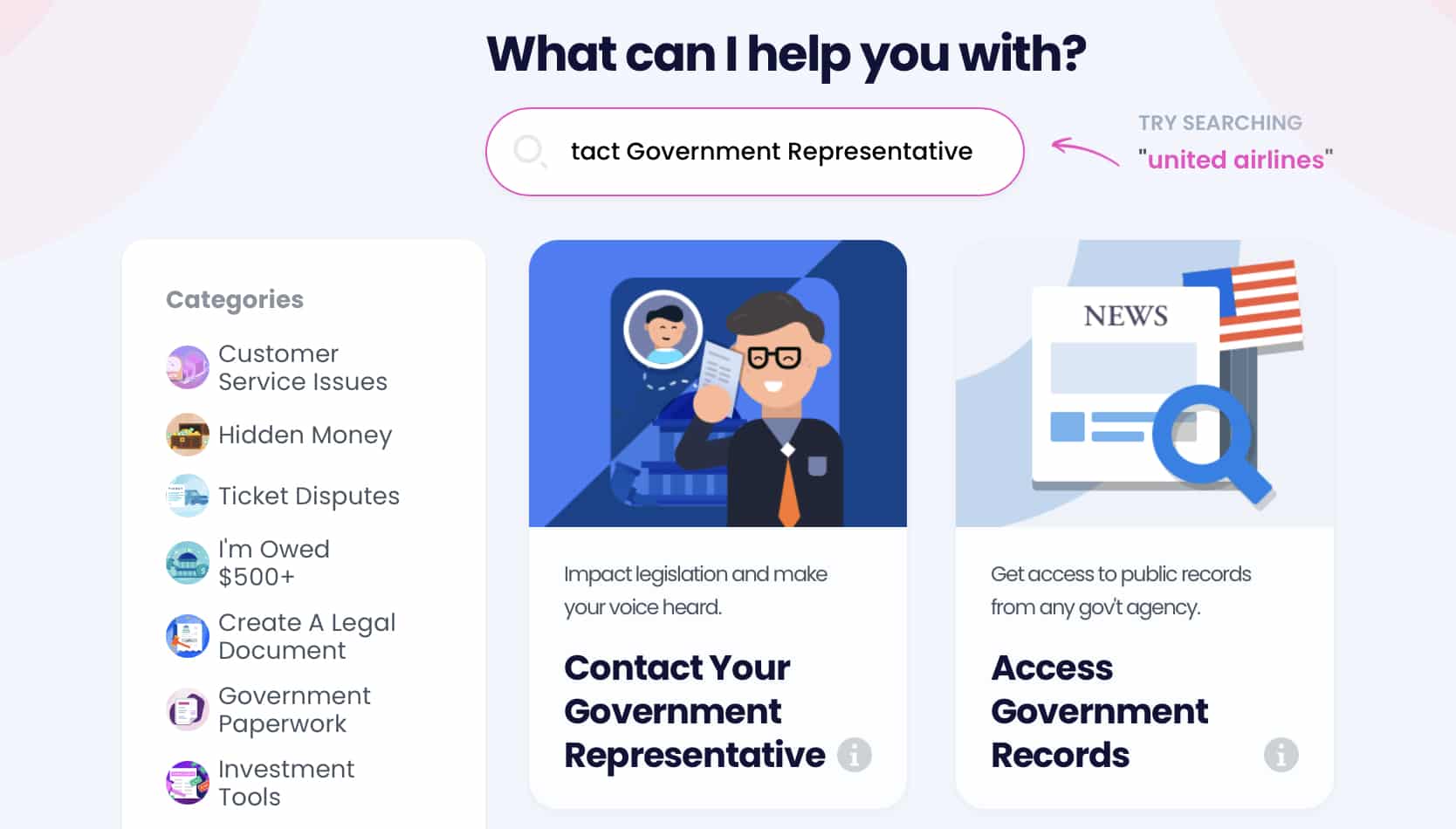 2. Select whether you want to contact your Senator, House Representative, Governor, President, or Mayor.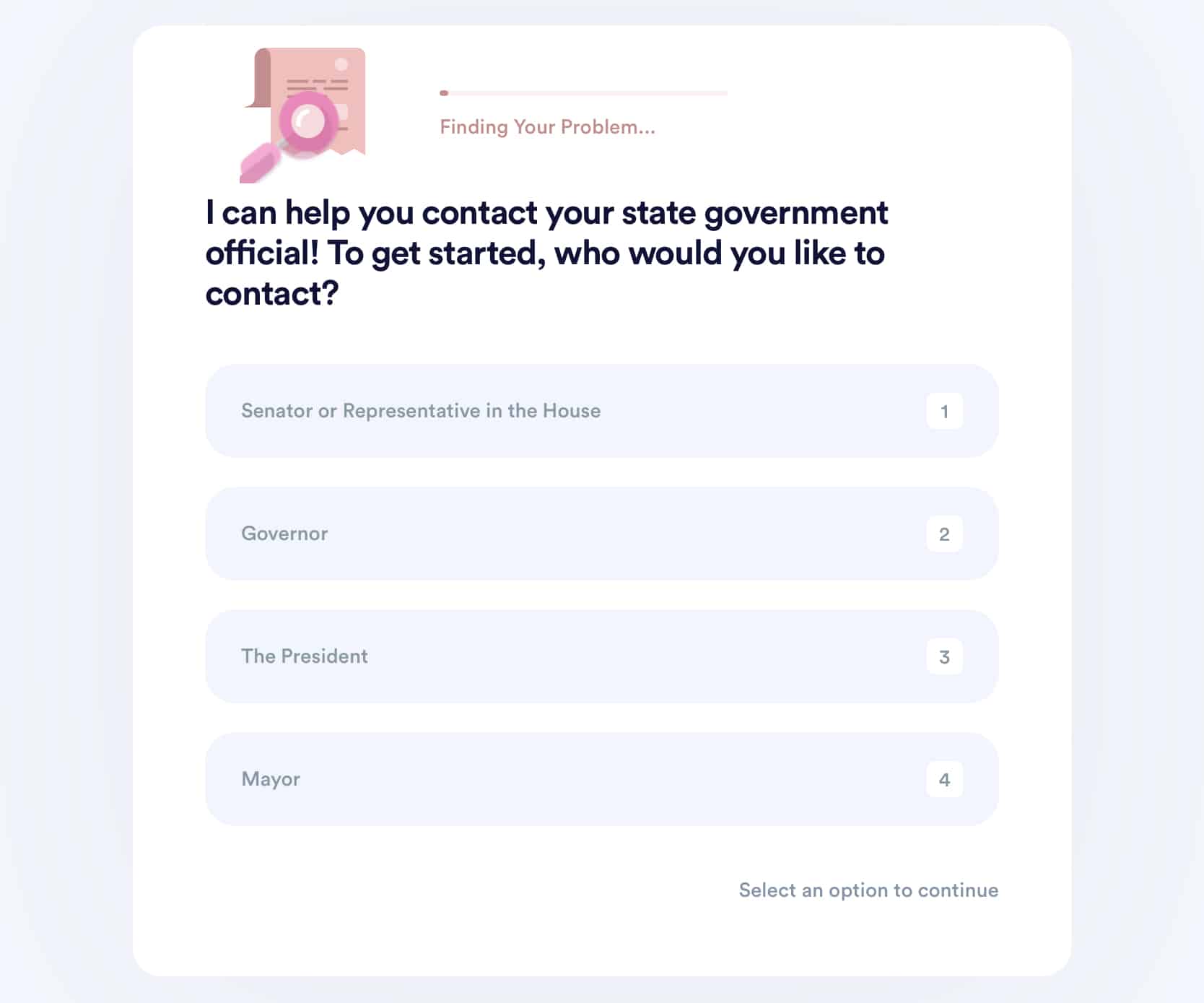 3. Tell us what you want to contact your representative about.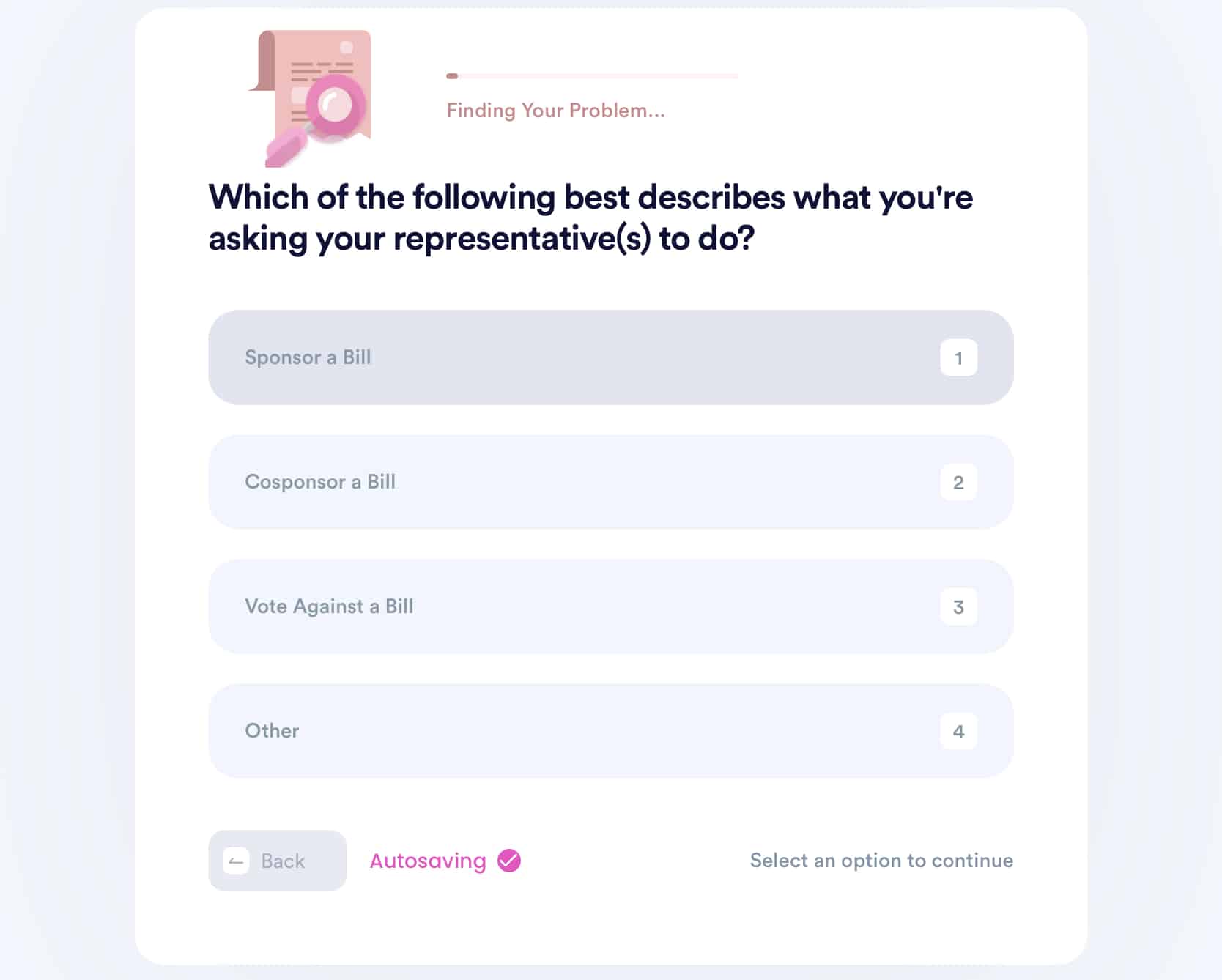 Sit back and relax! takes the load off your shoulders and contacts your government official based on your responses.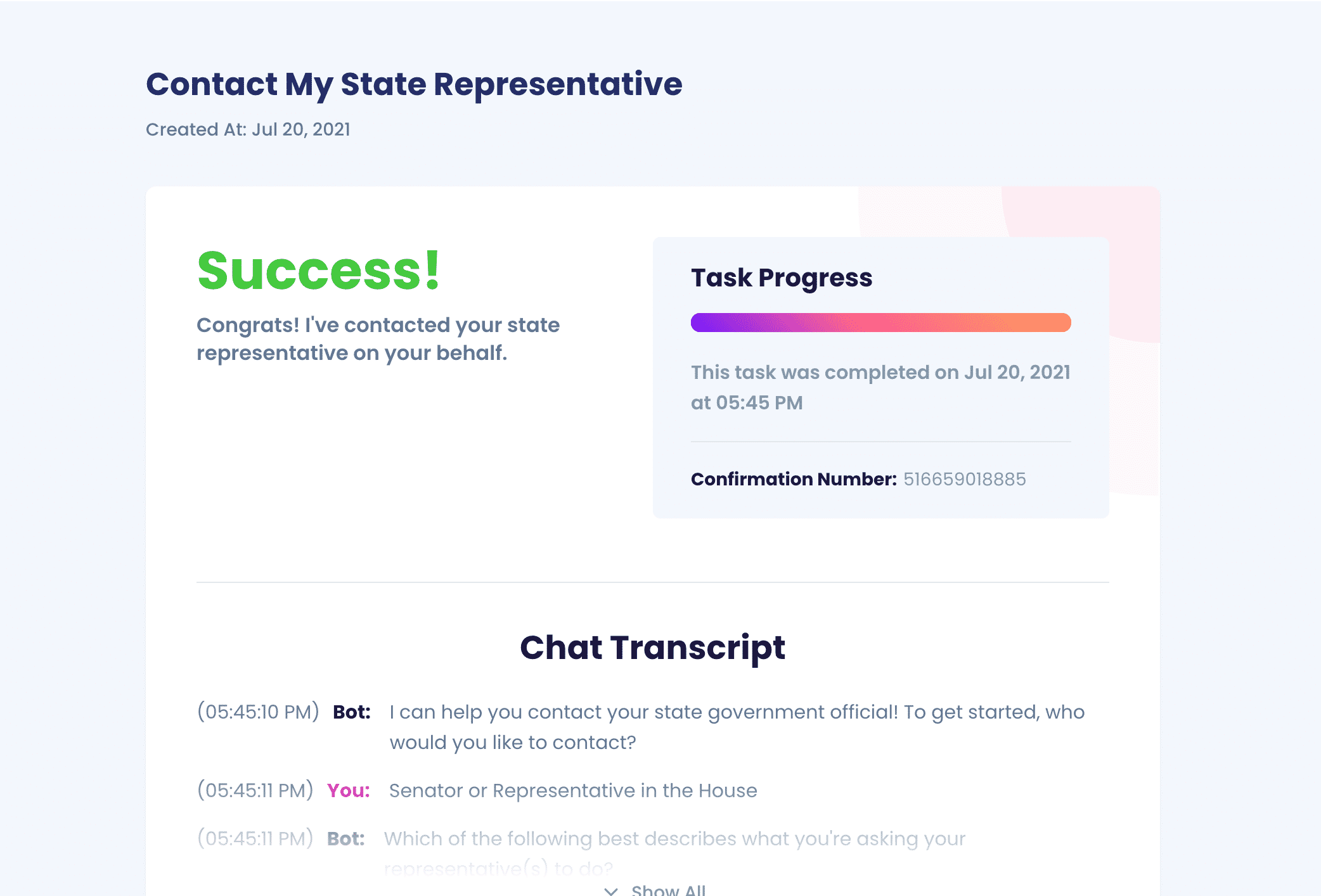 DoNotPay has More to Offer
Defamation demand letters

Divorce settlement agreements