Governor of Kentucky Phone Number
Governor Andy Beshear is Kentucky's 63rd governor. He was elected in 2019 under the Democratic Party. Beshear, who soared to power largely on the wings of the reputation of his father, Steve Beshear, the 61st governor of Kentucky, continues to grow in acceptance among Kentuckian residents, especially for his outstanding handling of the COVID-19 pandemic.
See below for the current phone number, address, and other contact details of the Governor of Kentucky and learn how you can contact the office of the governor and all other government representatives without stress!
About Governor Andy Beshear
Beshear attended Henry Clay High School in Lexington, before proceeding to Vanderbilt University where he graduated with a bachelor's degree in Political Science and Anthropology. Governor Beshear is also a Juris Doctor graduate of the Virginia School of Law (2005).
Before becoming governor, Andy Beshear had served a single term as Kentucky's Attorney General. As AG, he won several lawsuits against the former governor, Matt Bevin, over several cases of abuse of power.
Beshear also signed a bill restoring full civil rights, including the right to vote, to persons who have been earlier convicted and have served their time.  A self-professed Christian, Governor Beshear's stance on key national issues are:
Pro-Abortion
Pro-LGBT
Pro-Medicaid
Anti-opioid endemic
Governor Beshear is married to Britainy and they have two children.
Contact the Governor of Kentucky
Here is the official address, phone, and fax number of the governor of Kentucky:
| | | |
| --- | --- | --- |
| Office Address | Phone Number | Fax |
| 700 Capitol Avenue, Suite 100, Frankfort, Kentucky 40601 | (502) 564-2611 | (502) 564-2517 |
The governor is also active on social media. Follow the governor on Facebook, Twitter, Instagram, and Youtube.
Other notable Kentuckian government representatives
The first step to contacting a government representative is to determine whether the office is responsible for looking into the issues which you seek to solve. Here are other notable Kentuckian government officials you can contact:
Name
Office
Office Address
Phone Number
1
Lt. Gov. Jacqueline Coleman
The current Lieutenant Governor of the Commonwealth of Kentucky.
700 Capitol Avenue

Suite 142

Frankfort, KY 40601

(502) 564 2611
2
Michael  Adams
The current Secretary of State to the Commonwealth of Kentucky
700 Capital Avenue

Suite 152

Frankfort, KY 40601

(502) 564-3490
3
Daniel Cameron
The current serving Attorney General of the Commonwealth of Kentucky
700 Capitol Avenue, Suite 118

Frankfort, KY 40601

(502) 696-5300
4
Mike Harmon
The Auditor General of Kentucky
209 St Clair St

Frankfort, KY 40601

(502) 564-5841
5
Allison Ball
The current serving State Treasurer of the Commonwealth of Kentucky
1050 US Hwy 127 S

Suite 100

Frankfort, KY 40601

(502) 564 4722
6
Rand Paul
The junior senator for the state of Kentucky currently serving in the US 117th congress.
167 Russell Senate Office Building, Washington, DC 20510.
(202) 224 4343
7
Mitch McConnell
The senior senator for the state of Kentucky currently serving in the 117th congress.
317 Russell Senate Office Building, Washington, DC 20510

 

(202) 224-2541
8
Andy Barr
Kentucky's 6th district representative in the 117th Congress.
2430 Rayburn House Office Building

 

(202) 225-4706
9
Harold Rogers
Kentucky's 5th district representative since 1981, currency serving in the 117th US Congress.
2406 Rayburn House Office Building

 

(202) 225-4601
What Can the Kentucky Governor's Office Do for You?
As a Kentuckian, you can lay a complaint, schedule a visit, report an issue or seek assistance from the governor's office. Here are some of the specific services you are entitled to as a Kentuckian resident. You can:
Voice your concerns through constituent services
Apply for openings in any Kentucky state board or commission
Submit a nomination for a suitable Kentucky Colonel
Submit a request for the proclamation of a certain day in Kentucky
Apply for pardon and commutation of given sentence in Kentucky
Having Challenges Contacting Governor Beshear?
The most frequent challenge most US residents have is their inability to determine which contact line is currently active and responsive, and how to formally present their reasons for contact. Unsurprisingly, most people are apathetic to local politics and have no idea who occupies what position and how the service rendered by their government official can be beneficial to them.
helps solve that problem by providing a comprehensive detail of some of the most notable government officials across all 50 states. You can also use DoNotPay to get in contact with your government representative and worry less about the formality needed. Here's how to use below:
Use DoNotPay to Contact the Kentucky Governor
1. Search "contact representative" on and choose the Contact Your Government Representative product.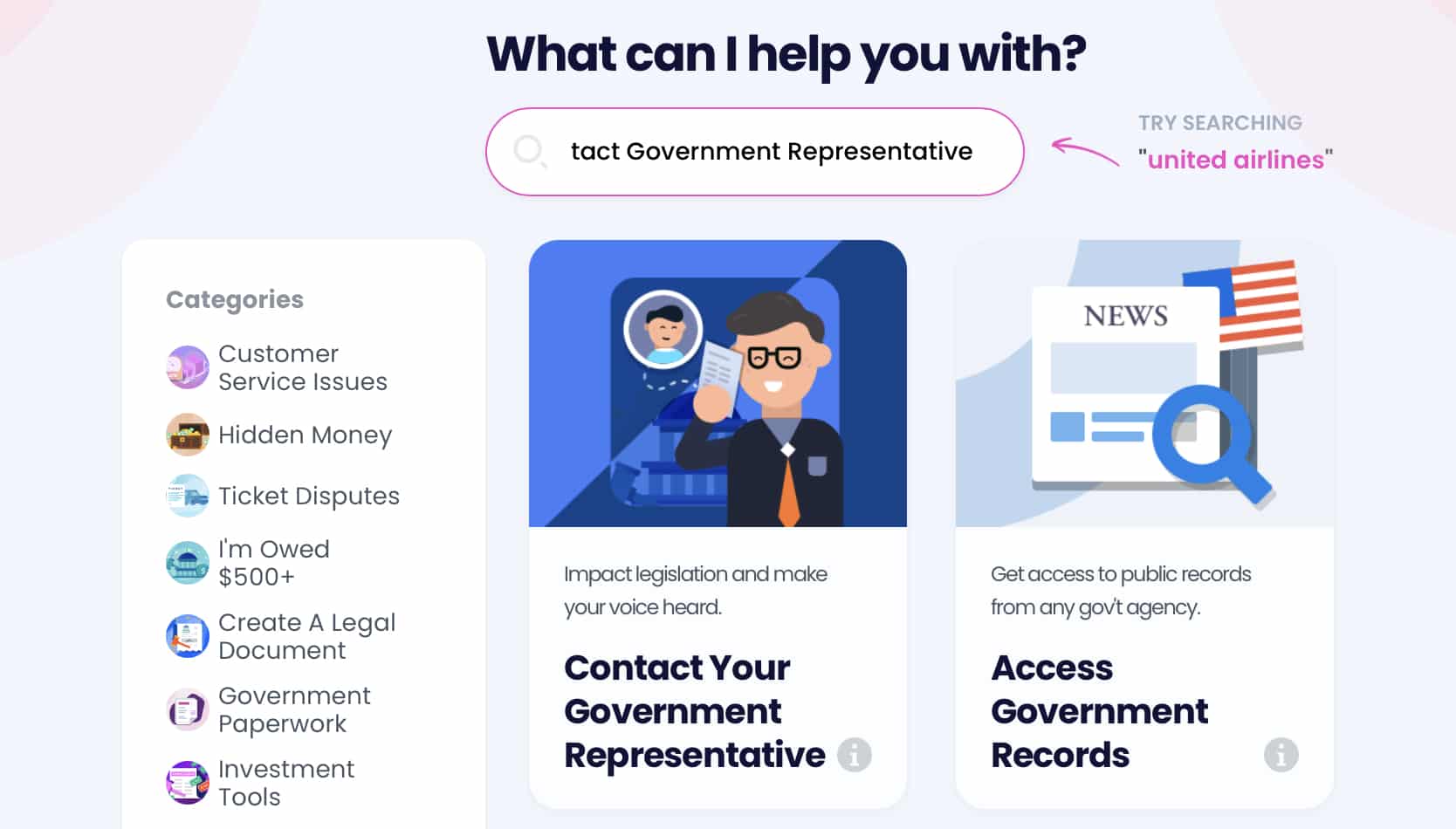 2. Choose what representative you wish to contact.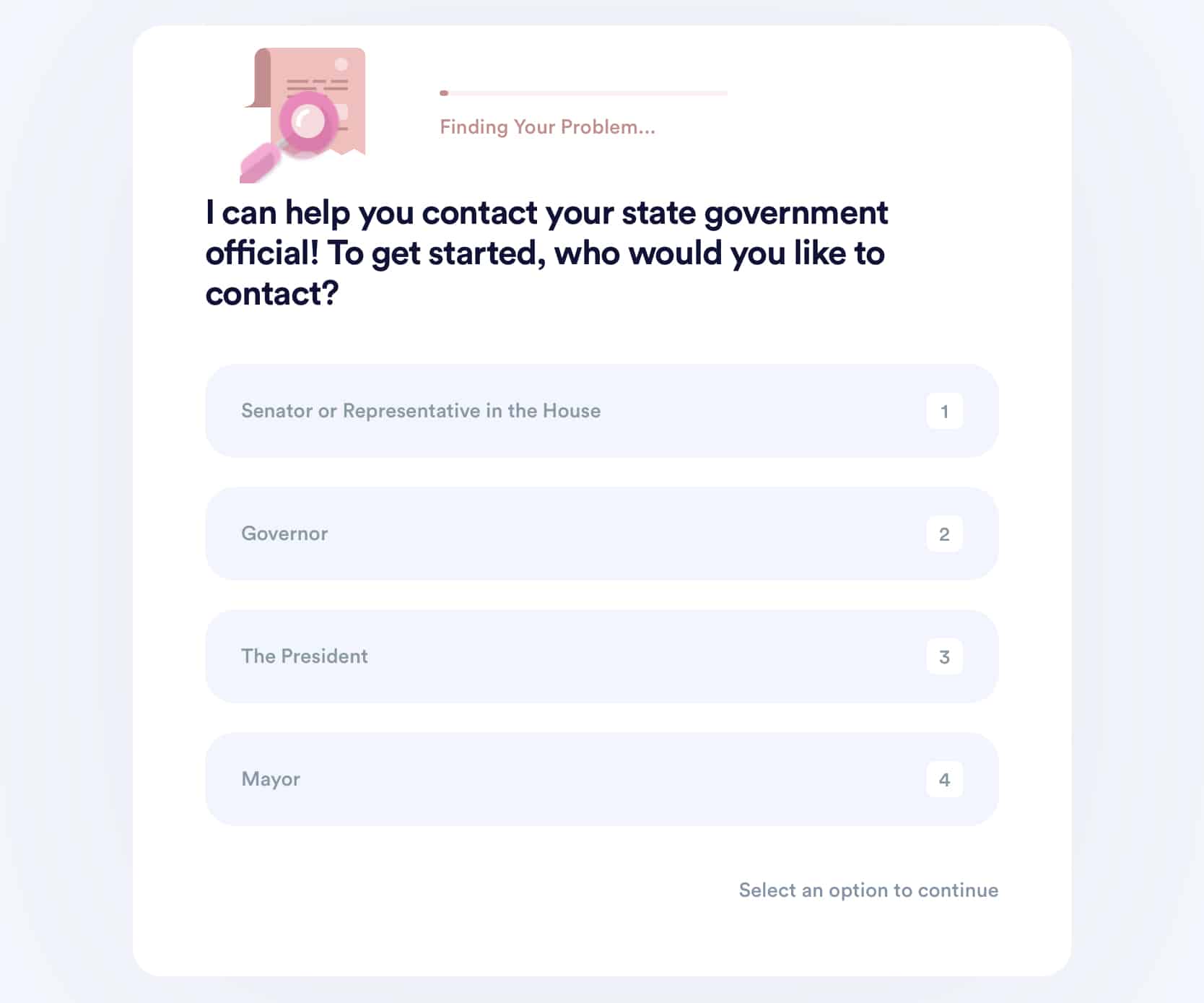 3. Tell us why you are contacting your representative, provide the bill or issue you have concerns about, and explain what you would like done.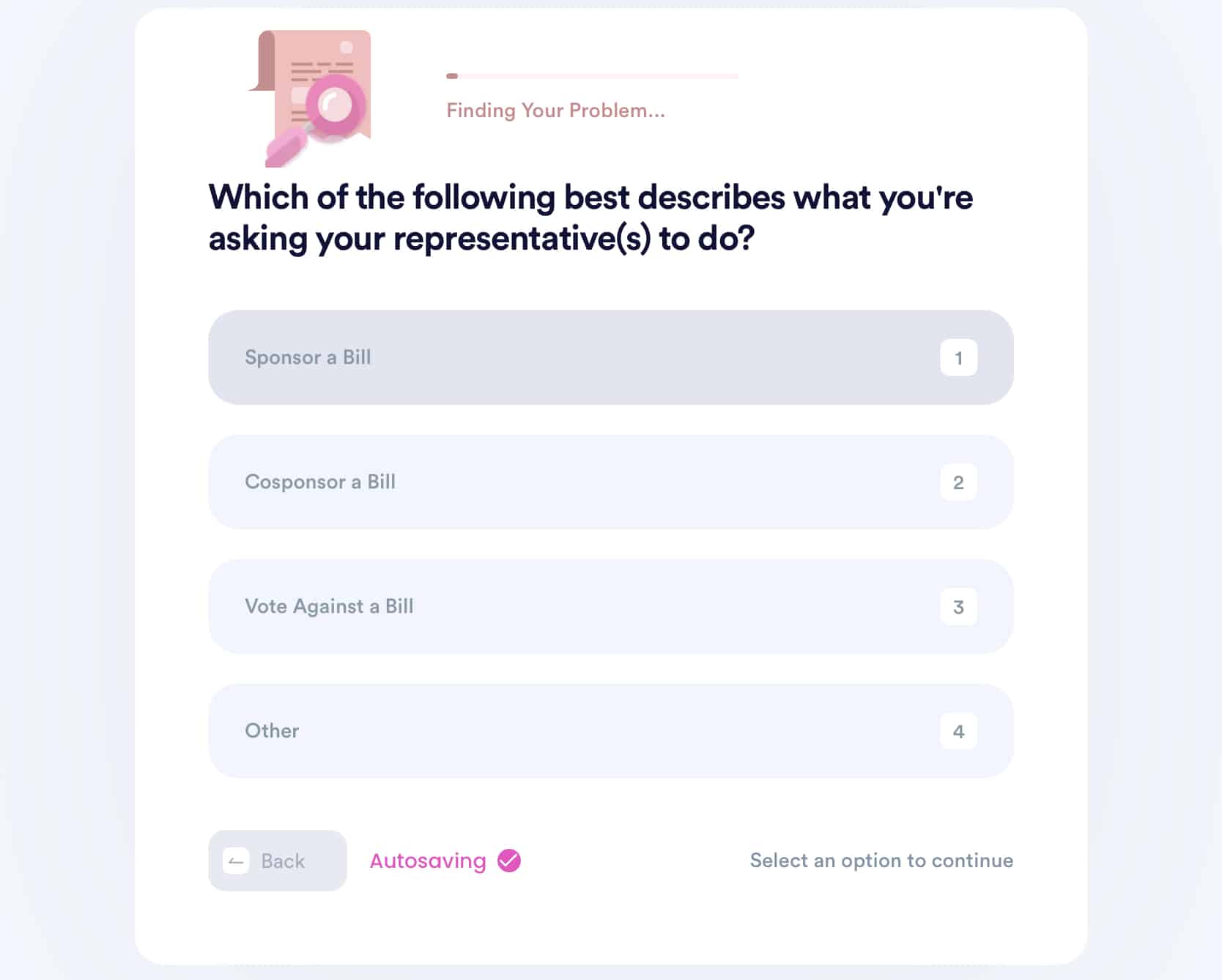 4. Sit back and relax! DoNotPay will deliver your message and handle the rest for you.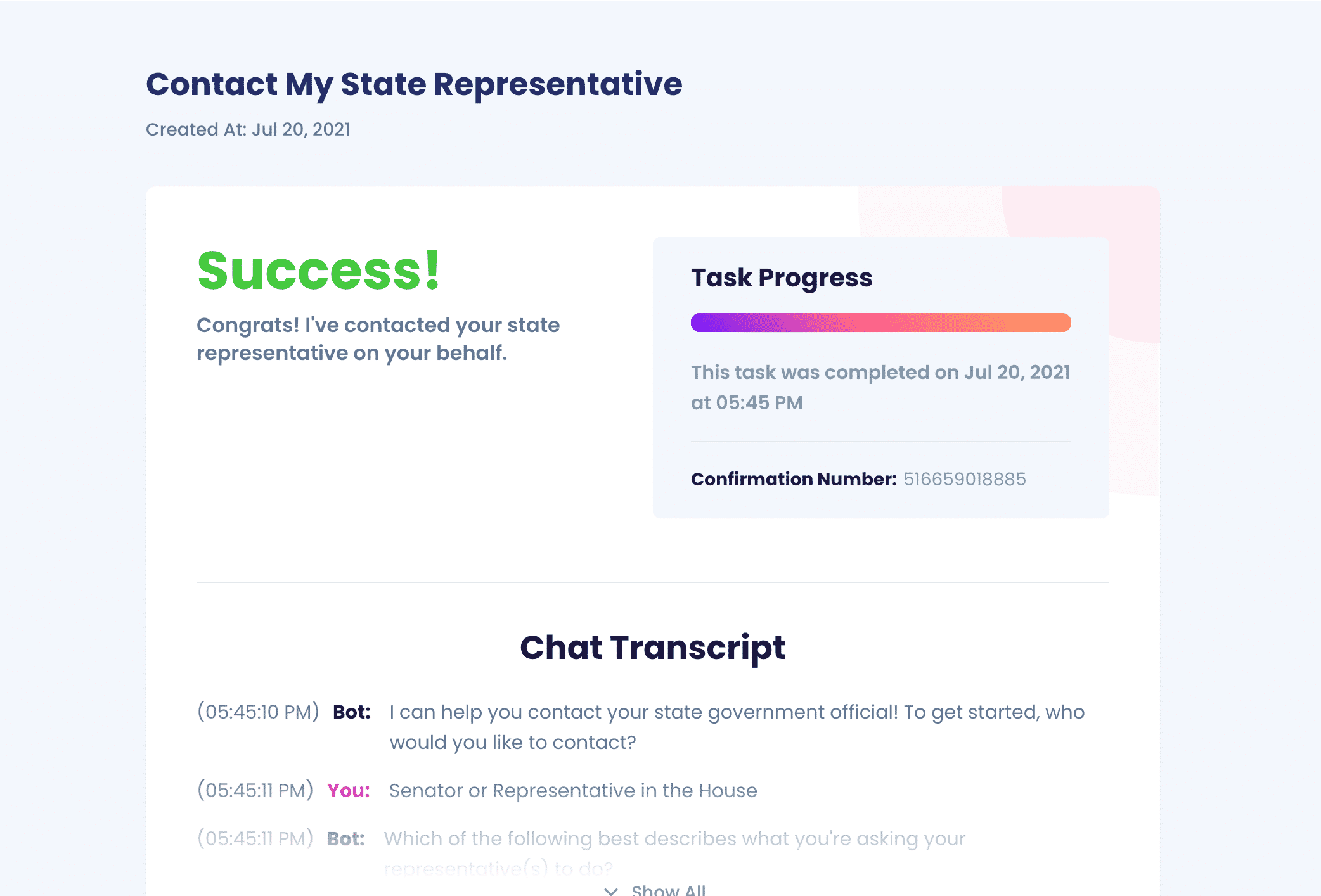 Your message will be carefully crafted and sent to your legislator! How easy was that?
DoNotPay Can Do More!