How to Connect With Foothills Correctional Institution Inmates
If you know someone incarcerated at , staying in contact with them during their sentence could be very important for their ability to adjust when they return home. Of course, maintaining communication is easier said than done with all the rules and requirements. If you had a quicker, easier way to stay connected, it would be easier to find the time. This article introduces Connect With An Inmate, a new product from DoNotPay that will make connecting with an inmate easy as sending an email. And there is more where that came from. Check out some of the other product series from DoNotPay as well.
Where Is Foothills Correctional Institution Located?
is a minimum and close security men's facility located just south of Morganton, NC. With a capacity for 858 inmates, the facility opened in 1994 and consists of four buildings for offender housing and one administrative building.
Physical Address
Foothills Correctional Institution

5150 Western Avenue Morganton, NC 28655

Phone Number
(828) 438-5585
Connecting With Inmates at Foothills Correctional Institution
Before you can connect with an inmate, you must ensure that you know the correct facility and the inmate's inmate ID number. Here are the steps to getting that information.
You will need to go to the offender search website for North Carolina online.
If the offender is located in a state-run facility, you should find the information by entering the inmate's first and last name.
Be sure to note the inmate's ID number for communicating with the inmate.
If the offender is in a federal facility, you will need to check the federal inmate facility search tool.
Phone
Inmates at Foothills Correctional Institution can make calls, but they cannot receive them. All calls must be prepaid or billed collect. To set up a prepaid account, you will need to go to the GTL Connect Network website or call 1(800)483-8314.
Mail
All inmate mail is now processed through TextBehind. Mail is sent to the address listed, and letters are relayed to the inmates digitally. This process ensures that contraband cannot enter the jail through inmate mail. All mail must include the inmate's name, ID number, facility, and facility, and the sender's full return address.
Inmate Mail: Inmate Name, ID Number, Housing Unit (if available), Foothills Correctional Institution, PO Box 247 Phoenix, MD 21131
Visitation
At Foothills Correctional Institution, visitation is by appointment only. After receiving approval, visitors are allowed Tuesday through Friday from 8 AM until 10:30 AM and from 1:30 PM until 3:30 PM. Visitors are asked to arrive at least 15 minutes early.
Send Money
Inmates at this facility can only receive money from people listed on their approved visitor list.
Walk-In
If you wish to add money to an inmate's account in person, you can do so at any MoneyGram location. A fee will be assessed based on the amount being sent.
By Phone
To add money by phone, you will need to call JPay 24-hour customer service at 1(800)574-5729. The fee to add money by phone is $4.45 for up to $20, $7.65 for deposits up to $100, $9.65 for deposits up to $200, $11,65 for deposits up to $300. There is no fee to deposit amounts over $300.
Online
The JPay website allows digital deposits for inmates. For inmate deposits of up to $20, the fee is $3.45; for deposits up to $100, the fee is $6.65. For up to $200 deposits, the fee is $8.65; for deposits up to $300, the fee is $10.65, and there is no fee for deposits over $300.
By Mail
When you make inmate deposits by mail, there is no fee. You will need to go online and get a deposit slip, fill it out completely and send it with a Money Order from the US Postal Service. The money order should be made payable to JPay and have the inmate's name and ID number in the memo field.
Deposits By Mail: JPay, PO Box 173070 Hialeah, FL 33017
Connect With Foothills Correctional Institution Inmates Using DoNotPay
There are three ways this product will work to help you stay connected. First, you can locate the inmate. Then you can have letters printed and mailed on your behalf—no need to worry if you forgot any information. The product even receives replies and sends them to your email for easy correspondence.
1. Locate the Connect With an Inmate service on DoNotPay.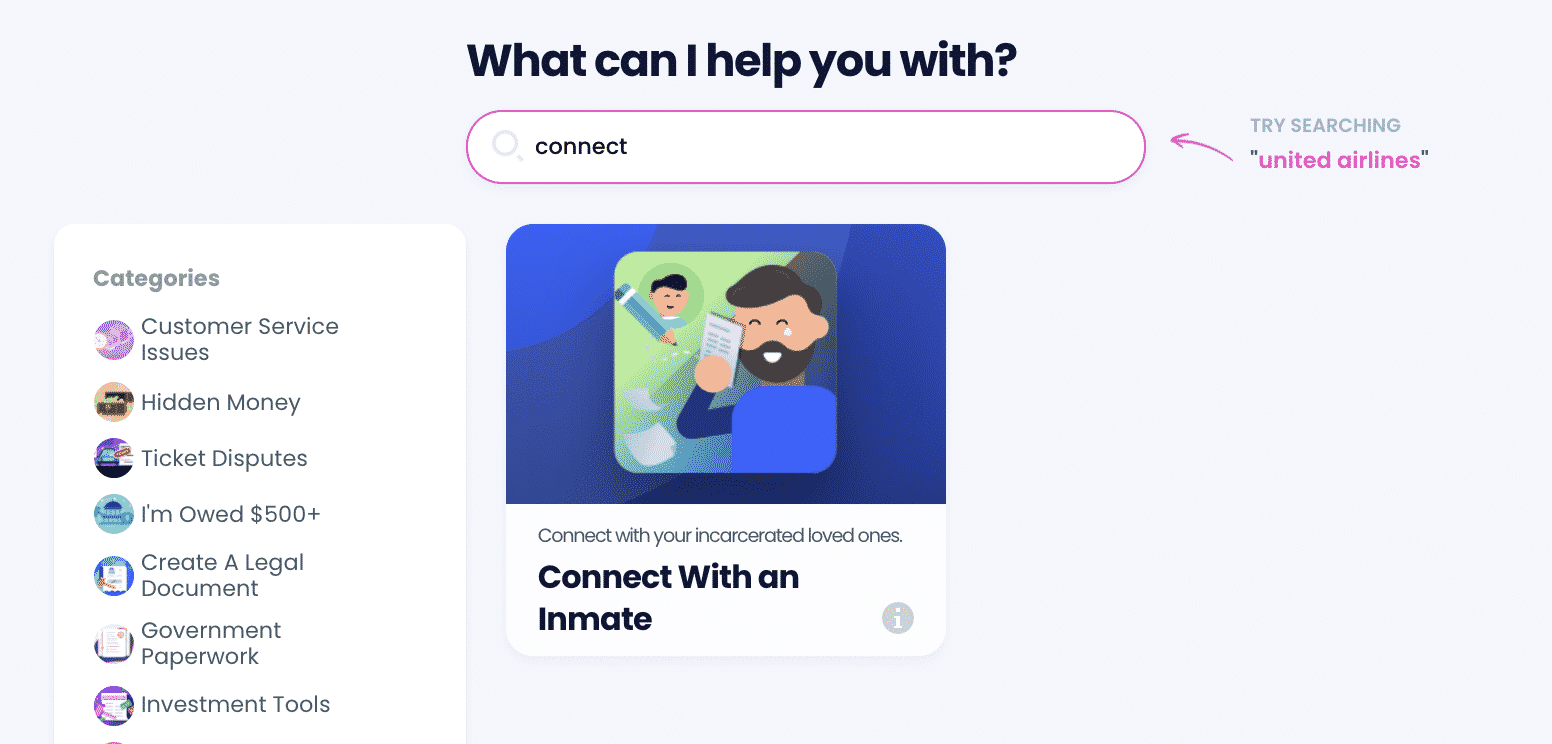 2. Choose whether you want to locate a loved one, create a virtual mailbox, or send a personalized letter.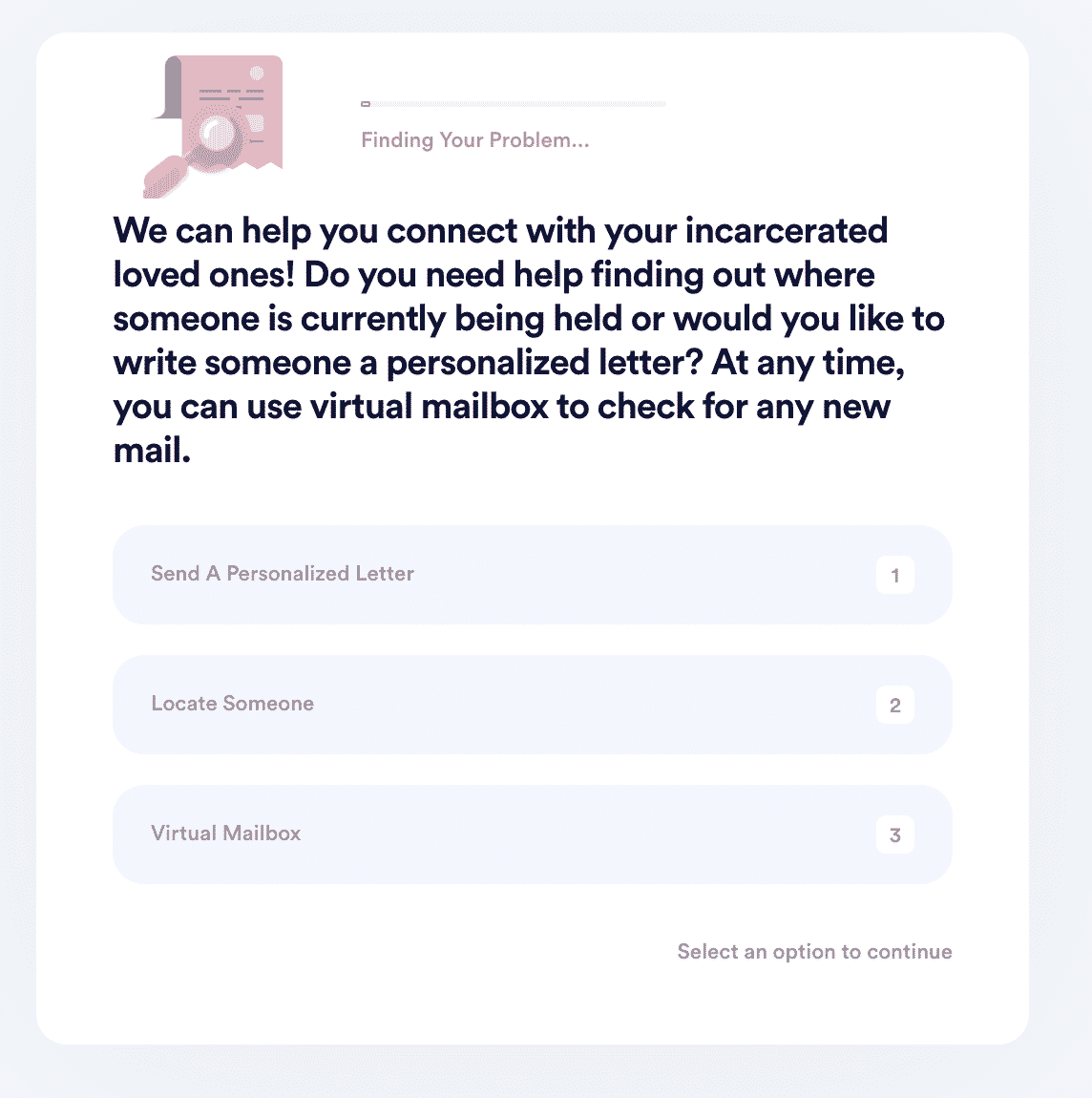 3. If you want us to find your loved one, provide their details and the state they are located in. We'll then conduct a search on the appropriate state database.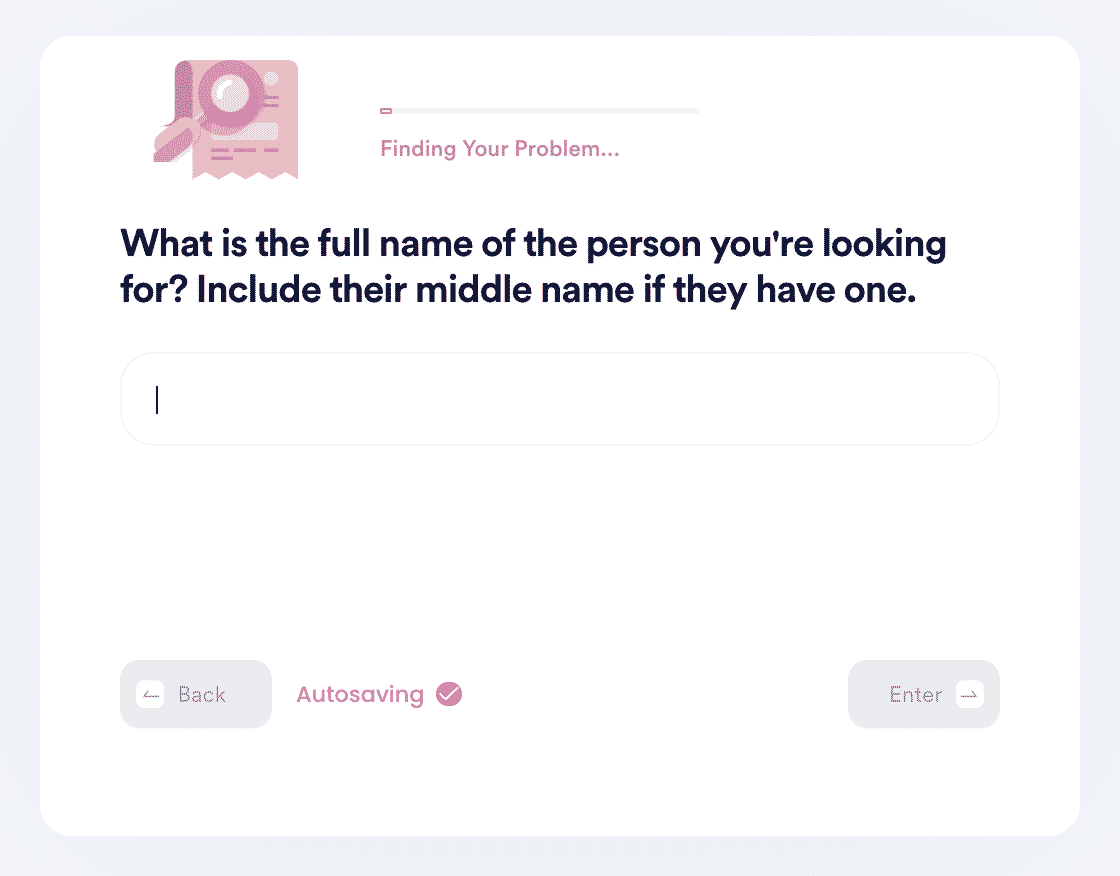 4. If you want to create a virtual mailbox, just provide your full name. We'll set one up for you to easily receive incoming mail from your loved one.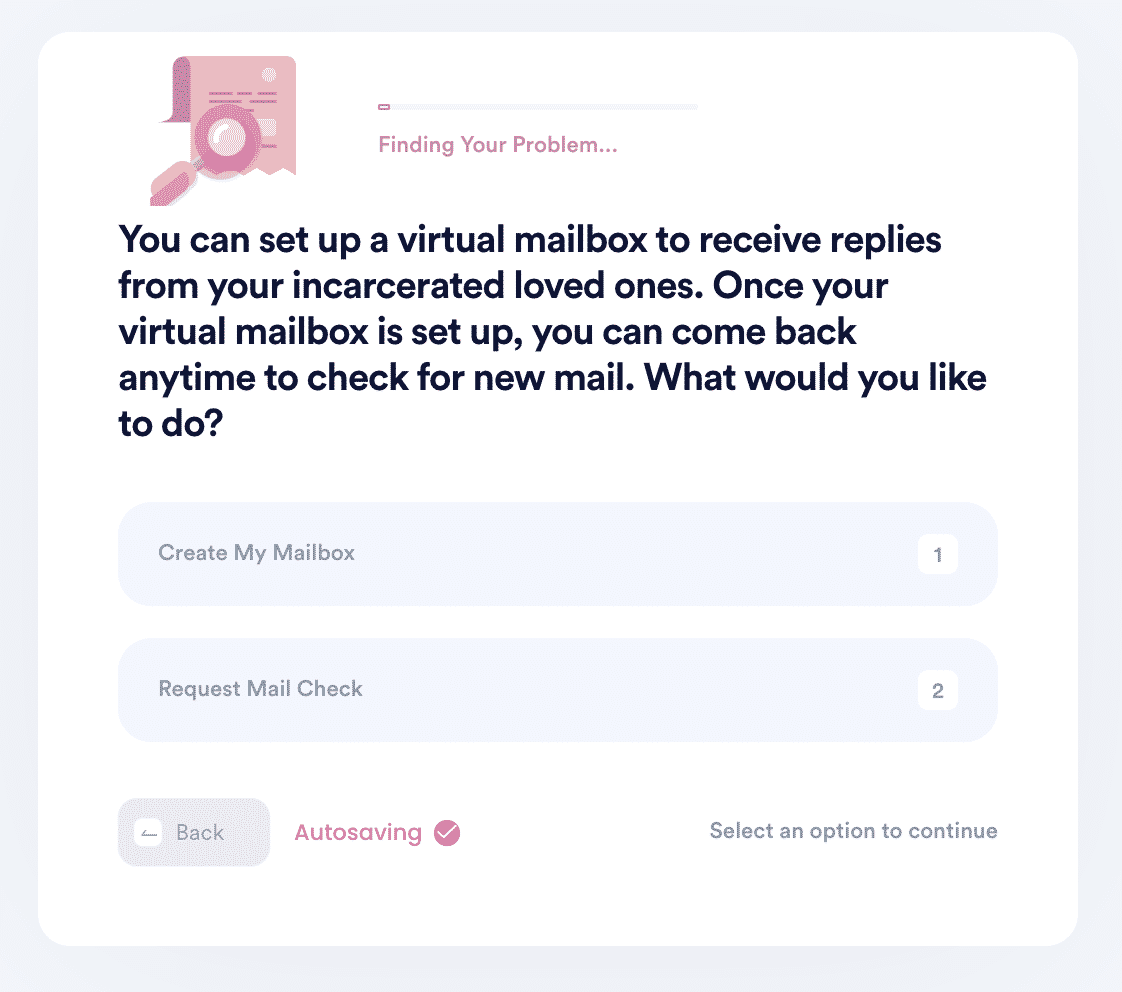 5. If sending a personalized letter, tell us which facility your loved one is located in and what you would like to say to them. You can even include a photo. Your letter will be delivered automatically - just wait ten days for it to arrive for your loved one.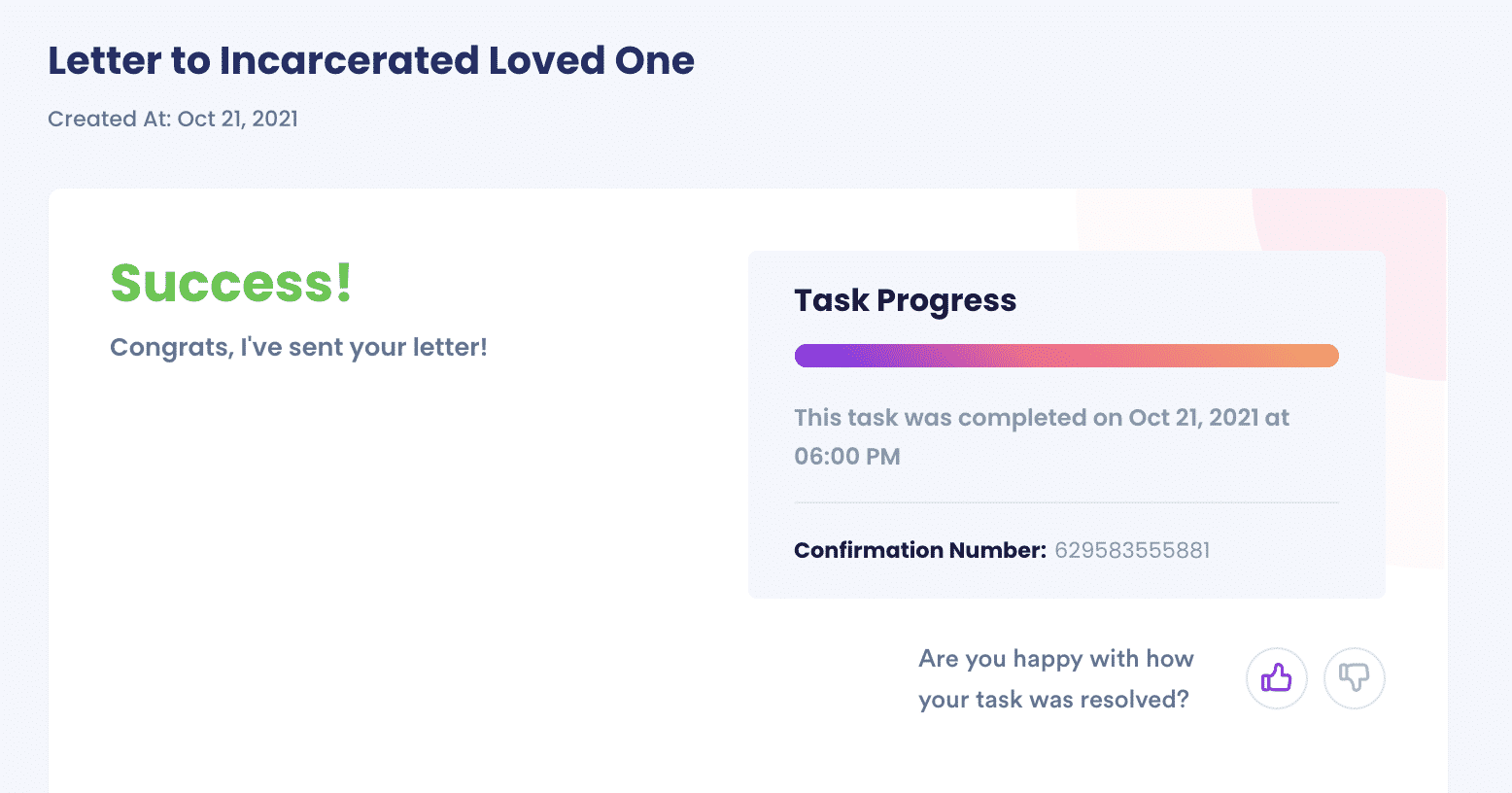 Works Across Any Type of Facility
There is no need to search across state and federal facilities. The Connect with Inmates product will quickly, easily, and successfully locate the inmate. Whether they are at a state facility or a federal facility, all you need is the first and last name of the inmate and the state where they were sentenced. Here are some more articles from the Connect With An Inmate product series.
What Else Can DoNotPay Do?
If there is a task you just never find time to complete because it is just too much searching and too much hassle, there is a good chance DoNotPay has a product that can help. The possibilities are endless, with many ways to save time and money. Here are some more product series from DoNotPay.