How to file a "National Do Not Call" complaint against spam calls

You're getting them. We're getting them. Everybody is getting them. Spam calls are on the rise, becoming more and more frequent (and annoying) with each month. According to a report by USA Today, robocalls alone have risen by 22%, from 47.8 billion in 2018 to 58.5 billion in 2019. This data is not taking into account scam calls or telemarketing calls, which there are plenty of as well. New methods of filtering out and stopping the calls are being put into use. Unfortunately, all these solutions only forced unwanted call providers to get creative in avoiding them—until now. Today we'll show you how to legally protect yourself against unwanted calls and even get compensation for the inconvenience.
What are my legal rights against unwanted calls?

When broken down by state and time period, an average U.S. citizen receives 18 spam calls every month. These can happen anywhere from once every three days to multiple times a day. The new legislation is actively being introduced in hopes of reducing those numbers. As of 2020, the Telephone Robocall Abuse Criminal Enforcement and Deterrence, TRACED act for short, was put into use. Under it, people have more rights against spam calls and can make better use of the "Do Not Call" registry.
What is the "Do Not Call" registry, and how does it work?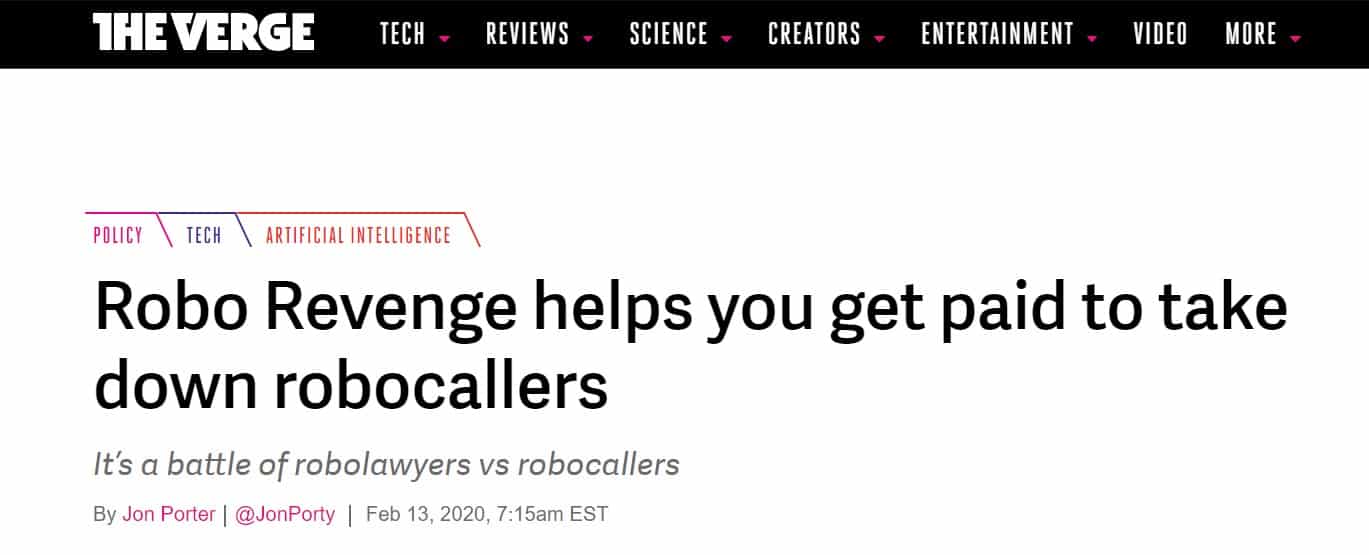 The "Do Not Call" registry is a list of numbers that requested not to be contacted by call service providers. Unfortunately, being on this list does not actively block the phone calls from coming in. All it does is tell the companies who provide these services that "this number does not want to be disturbed". 
While being on the list is respected by service providers that work legally, some calls may still come through. If a company decides to ignore your decision and calls you, they are doing so illegally and can face paying fees to you and the state. With these illegal calls, the chances are high that they're also a scam. Continue reading to learn how you can sue them for damage for up to $3,000.
How to add your number to the "Do Not Call" registry?
Turn your robocallers into cash, and earn up to $1,500 per robocall
Being on the "Do Not Call" list if free. Adding or removing your number to/from the registry can be done in three ways:
Online

Register your number

at this link

Via Phone

Call 1-888-382-1222

For the hearing impaired

TeleTypewriter 1-866-290-4236
When you apply online, you can register up to three numbers at a time. If you do it by phone, you have to call separately from each number you wish to add.
How to get compensation for unwanted calls?

Despite the new legislation, individuals are still reporting large numbers of spam calls. The reality is that plenty of companies working outside the law either don't know or don't care about you being on the "Do Not Call" list. To them, the risk of calling you is outweighed by the potential profit. They're also counting on you not having the time or willingness to deal with them.
In the past, creating an entire legal case against a spam call could cost you more than what you would gain, all things considered. Now, our app, DoNotPay, is taking over small legal claims. It's successfully cut down the process of creating disputes from an entire workday, to just a few minutes on your phone or computer. Our latest feature, known as Robo Revenge, is oriented at eliminating robocalls and similar unwanted calls.
Joshua Browder, the CEO of DoNotPay, told Fox Business in a recent interview that robocalls won't stop unless the companies using them start taking noticeable financial losses. That's how he came to the idea to make our newest feature, Robo Revenge. Here's how easy it is to use:
Open DoNotPay through the

web app

 

Use the app to put your number on the "Do Not Call" list

The next time you receive a call asking you for payment information, give them info from your virtual credit card

The scammers will attempt to charge you, but instead, they will provide their information to DoNotPay

Use "Robo Revenge" to automatically generate and send them a letter demanding compensation
If the company refuses your warning, DoNotPay can use the gathered information to help you sue the service provider in small claims court.
Are all robocalls illegal?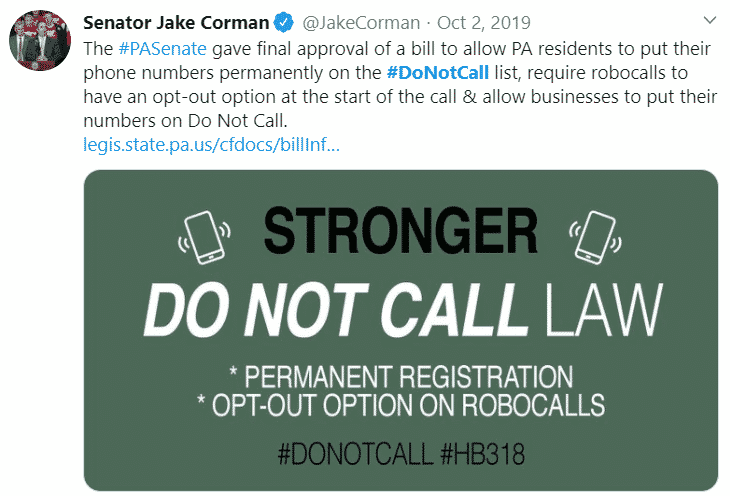 Not all robocalls are illegal, even when the registry protects your number. Being on the "Do Not Call" list is aimed at stopping unwanted telemarketing and sales phone calls. If the caller is trying to sell you something or is asking for your payment information while you're on the list, that's most likely illegal. Still, if the call is purely information, it's almost always allowed to go through. Here are some examples:
Allowed
Political and public survey calls

Calls distributing information of interest to you

Public service announcements

Charitable or humanitarian calls

Calls from collection agencies
Not Allowed
Calls from masked numbers

Any type of sales pitch or call asking for your payment information. The only exceptions are companies that have your permission or who you've done business with in the last 18 months
How the FCC and mobile service providers are fighting robocalls
As much as 60% of complaints received by the FCC are about unwanted calls. The total number is somewhere around 200,000 complaints a year. Cell phone service providers are also feeling the heat of customer complaints. Customers want to know who is calling them, how they got their number, but more importantly, how to stop the calls. That's why the FCC partnered up with major phone companies to introduce the SHAKEN/STIRN standard. This means that the companies actively exchange information before their customer receives a call. 
For example, if you're using Verizon, and a number with an AT&T numeration is attempting to call you, that number must be recognized by AT&T as legitimate for the call to connect. These background checks happen fast and in real-time, using the existing customer databases of each company. This way, customers don't feel a delay in connection but have a significantly lesser chance of receiving a call from a masked, a.k.a spoofed number. This free flow of information helps the phone companies filter out unwanted calls for everybody, not just their customers.
Although these solutions are working well, some of the legislation is met with criticism. Suggested laws are pushing for upfront caller identification between the companies. This may lead to even those who don't have your number memorized getting your information if you call them. Even though well-intentioned, some customers warn that accepting these reforms may lead to more significant privacy breaches in the future.
How to handle robocalls if you answered already

Robocalls are calls that, when answered, play a pre-recorded message. They can be anything from a simple reminder message to an entire system of commands and functions. They usually work as an IVR, meaning that pressing specific numbers on your phone will trigger a command on the machine. Here are some for dealing with them:
Don't think they will stop calling if you just keep hanging up —

choosing to ignore robocalls is no guarantee they will stop. Your number will just go back to the queue, and you will receive another call in a few days. The best thing to do is to file a complaint with Robo Revenge

Never follow the voice's instruction —

if you're uncertain about a service, you should not follow what the pre-recorded messages say. For example, the voice might tell you to say the word "cancel" or press a specific number to unsubscribe from the service. In reality, that command can trigger a completely different function. If you're having any doubts about the service, just hang up

Block the number —

use the option through your recent calls list or get an app with that function
How to recognize if a telemarketing call is a scam?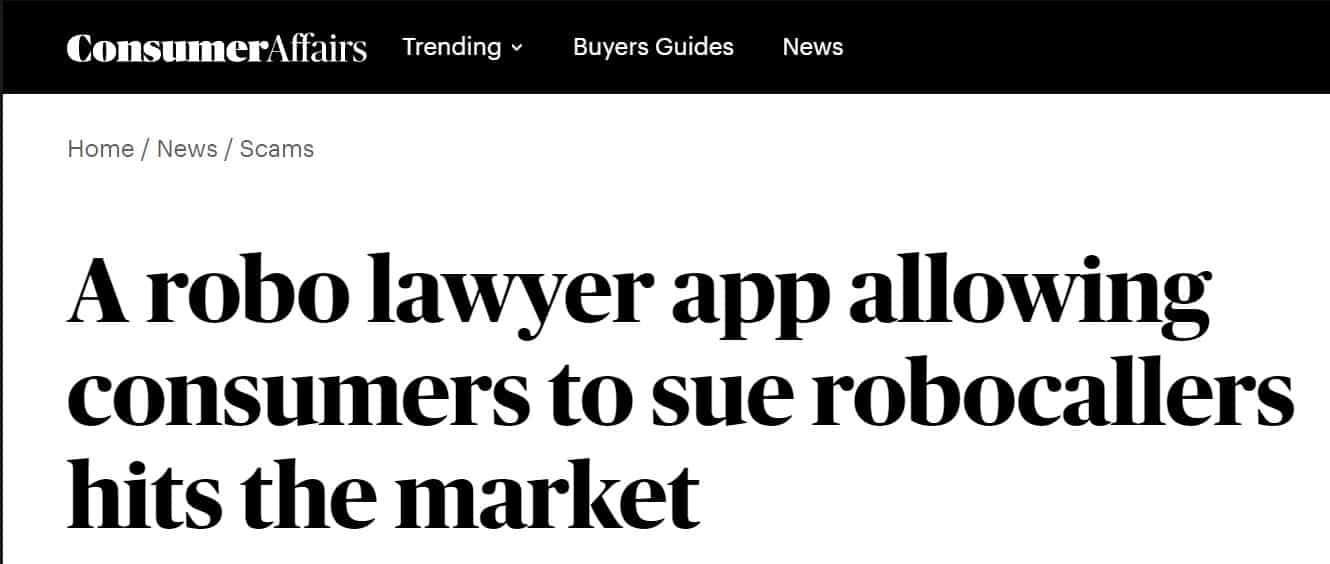 Finding yourself on the other end of a well-delivered sales pitch is no guarantee you'll get what you're being promised. It's important to watch out for cues that might give away possible scams. For instance, if your number is on the "Do Not Call" registry, and you receive a sales call, the company calling you is likely working illegally. That heavily increases the chances of their services being a scam too. Here are some other things to keep in mind:
Telemarketers can't call before 8 a.m. or after 9 p.m.

If they're noticeably pushy for information, but disregarding talking about their product, that's a red flag

They must tell you on behalf of whom they're calling at the beginning of the call

If you ask for a number to call them back on, and they refuse to give it, it's a warning sign

Your caller I.D. must pick up their number or public name (no "private" numbers)

If you ask them not to call you again, they must comply
The three most common scams and how to recognize them
Unfortunately, even if you use every method of filtering out unwanted phone calls, some of them still might come through. If that does happen, it's important to be able to recognize some common recurring scams. If you feel like you've been on the receiving end of one, even if you did not fall for it, notify the police immediately.
Fake bank representatives
The caller typically opens up by giving personal information to gain your trust. They'd ask something like: "Is this the so-and-so person living in the so-and-so street?". In reality, this information can be obtained in many ways, such as through social media. Whatever the reason for their call, if they ask for your payment information, it should raise your concern. Actual bank representatives will never have to ask you for your billing information. They will already have it on the screen when talking to you. What they'll do instead is ask you to give out a password or answer a security question to confirm your identity. 
To make sure you're not being taken advantage of, ask for a phone number to call back. If they refuse to give it to you, hang up and call the bank immediately to inquire about the call you just had.
Fake customer service calls
These calls will typically mask the number to look similar to a known number from a popular service provider. They'll claim to work for Amazon, Spotify, Netflix, or similar widely-used services. They usually say there is something wrong with your account, and they require you to "confirm your method of payment" so that they can fix it. What they're really doing is fishing for information they can use to charge you with later. 
Actual customer service representatives in these situations have the information already but aren't allowed to tamper with it. Instead, they'll likely troubleshoot you through fixing the issue. If you're uncertain about this type of call, make an excuse and ask for a call reference and a contact number, so that you can call back. If they're hesitant to give it to you, you'll know something is wrong. Hang up and call the actual customer service number for that company. If it's a scam, calling the company is mutually beneficial. You might learn some new info on how to deal with similar issues. Additionally, every individual report will assist the company in tracking down the scam source.
Fake prize competitions
The caller, whether automated or a person, will claim you've somehow been selected to win a prize. For starters, actual prize competitions don't select winners at random. They have a set of pre-requirements that must be met. They must give you a reason, even if seemingly arbitrary, in case you don't remember entering the competition. No one just thinks of a phone number to call. That just means they already called millions before you, and that it's a scam. Most physical awards are supposed to be picked up in person. Monetary awards are never paid in cash directly onto your account. They usually require you to pick up or be sent a redeemable voucher or check. Never give out your billing information on these types of calls.
What else can I do to protect myself from robocalls?
Putting your number on the "Do Not Call" registry should be step number one. After you're sure you have your legal rights, now you can look for third-party solutions for filtering out spam calls. There are plenty of apps that offer features against them. Some of them are developed or endorsed by mobile phone carriers. Here's a list of recommended apps:
App Name
Pros
Cons
Key features
iOS version
Android version
Hiya

The basic version is free

Offers premium version

Not limited to mobile carrier

Some apps have the same features plus more

Requires paid version to unlock all features

Manual number blocking option

Filters out known spam calls

Lets you report spam calls to their database

Phone number lookup

Yes

Yes

Nomorobo

Overall most well-rounded app

Has some unique features

Paid service

Only 14-day free trial

Filters out known spam calls

Lets you report spam calls to their database

Manual number blocking 

Listen to recorded blocked calls

Yes

Yes

RoboKiller

Paid service

Only 7-day free trial

Filters out known spam calls

Lets you report spam calls to their database

Robot answering with pre-recorded messages to waste scammers time

Yes

Yes

AT&T Call Protect

The basic version is free

Offers premium version

Only available to AT&T subscribers

Requires paid version to unlock all features

Filters out known spam calls

Manual number blocking option

Lets you report spam calls to their database

Yes

Yes

Truecaller

The basic version is free

Offers premium version

Not limited to mobile carrier

Requires paid version to unlock all features

Some apps have the same features plus more

Phone number lookup

Lets you report spam calls to their database

Filters out known spam calls

Yes

Yes
What else can DoNotPay assist me with
Robo Revenge and its features are the newest addition to the DoNotPay arsenal. The app is efficient in saving you time and money by doing things such as:
Reverting unwanted traffic tickets

Challenging annoying speeding tickets
If you found this article helpful, know that there are plenty of similar articles available for FREE on the DoNotPay learning center page.