Get a
DirecTV Sunday Ticket Refund
Quickly and Easily 
DirecTV is an AT&T subsidiary and a service provider that broadcasts direct satellite TV to U.S. customers. 
If you are a huge NFL fan, then you're probably familiar with DirecTV NFL Sunday Ticket. This sports package broadcasts National Football League regular-season games that are typically unavailable on local news channels. 
DirecTV Sunday Ticket is primarily aimed at NFL fans that don't live in the team's city and are therefore unable to watch these matches on their local TV channels.
What You Should Know About the
DirecTV NFL Sunday Ticket Refund 
You can get a refund, but only under certain conditions. For DirectTV to accept your refund request, you will need to cancel the subscription before the start of the NFL season. 
This means that, if you try to cancel the NFL Sunday Ticket subscription after the first week of the season (typically at the beginning of September each year), your cancellation will not be accepted. You will also be denied your subscription charge refund.
According to the Sunday Ticket help page related to the 2020 season, if you cancel the service on or before September 6, 2020, you will receive a full refund of your subscription fee. Cancellation requests after that date are strictly non-refundable.
When Can You Expect to Get the
DirecTV NFL Refund
?
You will get your money back within 60 days from the cancellation date. 
Request a DirecTV NFL Sunday Ticket Refund With DoNotPay

You don't need to go through the rigmarole of requesting a refund from the vendor directly! Avoid the trouble and delegate the task to DoNotPay instead. All you need to do is complete a few steps, and then our app will do the rest. 
To do so, follow these instructions:
Go to DoNotPay in your

web browser

Scroll to the

Chargeback Instantly

tab and click on

Get Protected 

Provide the required information to our chatbot (such as your name, your bank, the transaction in question)

Verify your signature 

Click on the

Submit

button
Once our app has all the details it needs to file a request on your behalf, it will contact your bank. DoNotPay will also include the relevant Visa and Mastercard codes that fortify your claim and ensure a smooth refund process.
How To Ask for a DirecTV Sunday Ticket Refund on Your Own
To handle the NHL Sunday Ticket refund by yourself, you'll first need to cancel the service. Here's how you can do it:
| | |
| --- | --- |
| Can You Request a Refund Via | Yes / No |
| DoNotPay | Yes |
| Email | No |
| Phone | No |
| Letter | No |
| Website | Yes |
| In-Person | No |
Cancel the Service and Apply for the Refund via Website 
To request a refund for NFL Sunday Ticket, you will first need to unsubscribe from it on DirecTV's website. To do that, you must:
Sign in at

NFL Sunday Ticket website

Go to

Account Overview

Click on

My Account

Choose

Billing and Transactions

Select

Click Here

under the Cancel Service section

Pick one reason from the available cancel reasons 

Hit

Submit Cancellation
Once you have canceled the subscription, DirecTV will review if you're eligible for a refund. If so, it will be issued automatically to your original method of payment. 
After approximately 60 days after the cancellation date, you will receive a full refund on your bank account. 
Say Goodbye to Automatic Renewal Charges With DoNotPay's Free Trial Card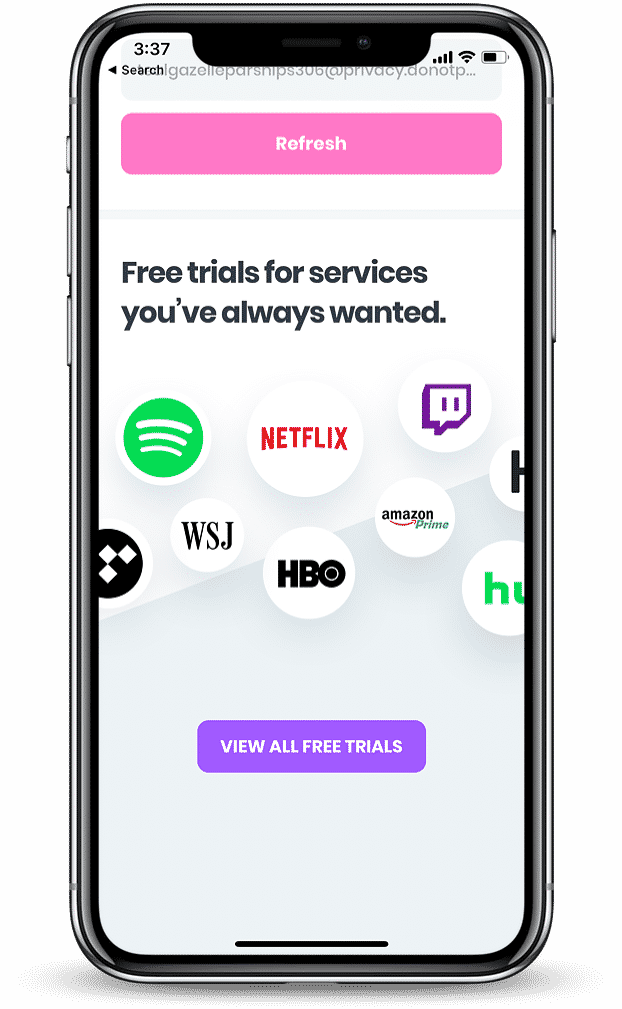 AT&T TV subscription packages are amongst the priciest out there, so you should probably think twice before committing to a costly subscription. A good way to test a service before pulling out your credit card is by signing up for a free trial. But what if you forget to cancel that trial, and the auto-renewed charge kicks in?
With DoNotPay, that's one less thing you have to worry about. Our app's virtual credit card allows you to apply for as many free trials as you want without the risk of incurring an unwanted membership expense.
Our Free Trial Card:
Generates a temporary, random credit card number

Isn't linked to your bank account or another funding source

Gets approved on free trial pages

Gets blocked on subscription pages
In other words, even if you don't cancel the free trial on time, you will not be charged anything. The Free Trial Card has no funds on it! When the service fails to charge you, they will also unsubscribe you. 
Get your free virtual credit card now—open DoNotPay in your web browser.
DoNotPay Detects Your Dormant or Underused Subscriptions

According to West Monroe Partners, the average American spends $237.33 a month on various subscriptions and service fees—197% higher than the survey respondents' original estimate!
When you're paying for memberships and subscriptions that renew automatically, you might not have the clearest idea of how much cash you're actually spending on them each month. The less you use such services, the lesser the likelihood of knowing what these charges and fees amount to every month.
In true DoNotPay style, we can offer you an elegant and efficient solution. Simply connect your bank or email account to DoNotPay, and it will run a quick audit of all the subscriptions you're currently paying for. 
When we identify the ones you're not using enough or at all, we will recommend that you cancel them. Of course, we can also handle the cancellations on your behalf. 
The easiest way to save money is to automate the process, wouldn't you agree?
If You Encountered Problems With AT&T or DirecTV, DoNotPay Can Be Your Aide in Court
Whenever your consumer rights have been violated and you can't get compensation following the standard processes, you might need to consider suing the company in small claims court. Your chances of winning will be much higher if you have the right support by your side. Who better than DoNotPay, the proud recipient of the 2020 Louis M. Brown Award for Legal Access by the American Bar Association?
DoNotPay can be an indispensable resource during an AT&T small claims lawsuit—all you need to do is open the app and explain your issue to our chatbot. We'll come up with the required legal forms and other documents, then develop the argumentation in a script you can use in court. 
A Trusty Sidekick That Fits in Your Pocket

Are you struggling with bureaucracy, tedious life admin, or legal problems that you don't have the first clue on how to resolve? Would you like to save some extra money or cut down on the time it takes to perform various chores? 
Good timing, because you've just learned about DoNotPay—the ideal solution for a wide array of issues and tasks. The Robin to your Batman, the Bucky Jones to your Captain America, DoNotPay is an AI-virtual assistant that fights by your side. 
For example, our app can help you with managing fake AT&T robocalls or getting an AT&T TV Now free trial.
Visit DoNotPay in your web browser if you need to:
Appeal traffic tickets

Fight speeding tickets