Correctional Reception Center: How to Reach Those Behind Bars in This Ohio Prison
The is the rather generic-sounding name for a prison located in Orient, OH that has an inmate population of 1,777 as of the latest reading on that figure (taken in 2019). This center is for both male and female offenders, and it hosts people who have committed a range of different types of offenses. The facility seeks to provide an ethical and safe environment for those who are housed there and follows specific federal guidelines regarding prison safety and security.
If you want to write to a prisoner who is held in the facility there, you are able to do so, but you will need to follow some specific procedures. Additionally, you might struggle to find where your loved one is specifically being held if you don't have the helping hand of a resource like DoNotPay. We will get into why this is so important shortly.
Contact Information for This Facility
To start the process of writing letters to inmates in the , you will need to be sure that you have the right contact information for how to reach those who are in the prison. You want to start with the most basic information about the prison and move on from there. Here is some of the information you will need right from the start:
| | |
| --- | --- |
| Address | Ohio Department Of Corrections 11271 State Rte 762 Orient, OH 43146 |
| Phone | (614) 877-2441 |
| Fax | 614-344-7681 |
If you have this basic information, then you can at least reach out to the type of people who can direct you towards the right answers as far as how to get your letters to an inmate or to understand inmate visitation hours if you should decide to do so. You will want to keep this handy if you know someone who is currently there and try to make sure that they are able to receive the materials that you send them. Of course, you should always follow all of the specific rules that the facilities themselves put out in order to keep everyone safe.
Knowing the address is also key for being able to address a letter to an inmate you need to be able to reach.
Visitation Information You Need to Know
It is human nature to want to visit our loved ones even when they are behind bars. Just because a person has spent some time behind bars does not mean that they are a bad person. It means that they have made some mistakes, and the best way to correct this for the future is to try to keep them in close contact with the people who care about them the most in life.
Thus, it is a good idea to try to visit those who are behind bars when possible. The rules for this facility are pretty clear, and it might be helpful to get a rundown of some of the most important rules so you know what to look for:
Visiting hours for general population inmates are: 8:30 am-11 am and 12 pm-2:30 pm Saturday and Sunday.
Visitors are required to arrive at least a half-hour before this time to go through screening (no exceptions!)
Never bring contraband items to a visitation session
Visitors will have to come on a first-come, first-serve basis due to the limited number of spots available.
There are a lot of additional rules to follow, but these few will at least get you to a point where you can reasonably expect to get the opportunity to see your loved one who is spending some time at this facility.
DoNotPay can also help you communicate with prison pen pals.
Can DoNotPay Track Down an Inmate for You?
Believe it or not, DoNotPay is a great resource for tracking down where an inmate is in the system. If you follow their simple step-by-step instructions about how to track someone in the system down, you should have some pretty solid results. Their steps are:
1. Locate the Connect With an Inmate service on DoNotPay.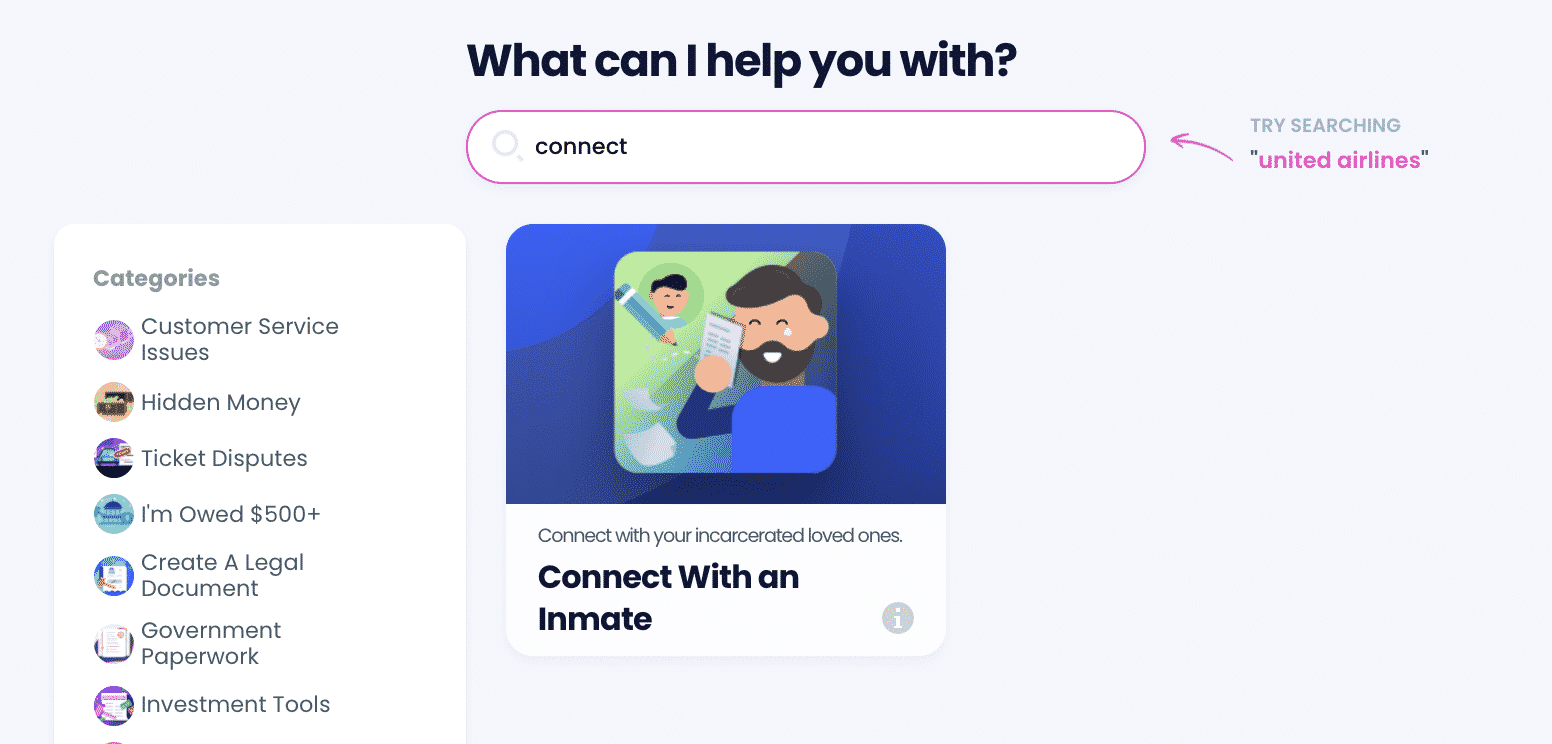 2. Choose whether you want to locate a loved one, create a virtual mailbox, or send a personalized letter.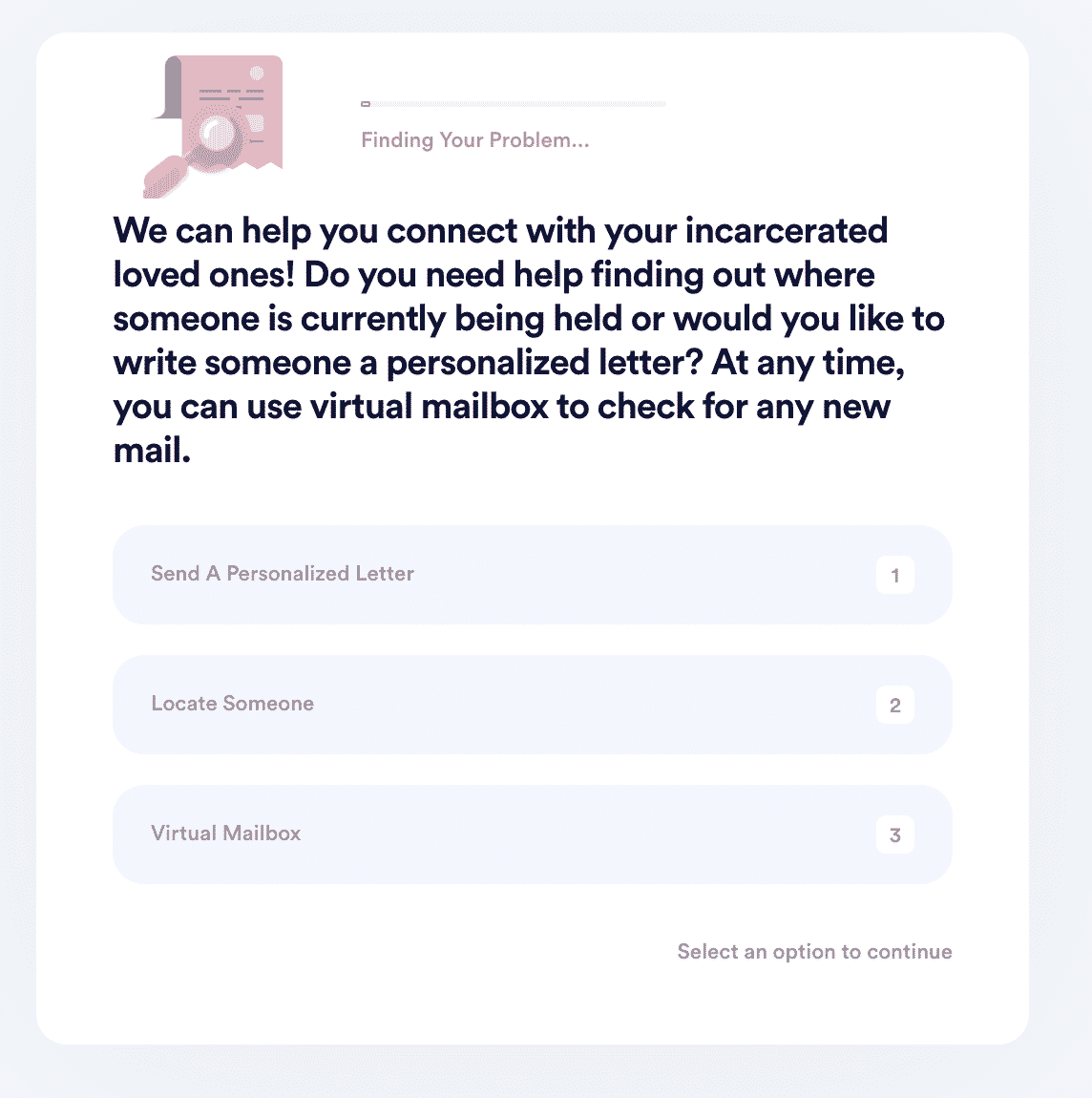 3. If you want us to find your loved one, provide his or her personal details and the state they are located in. We'll then conduct a search on the appropriate state database.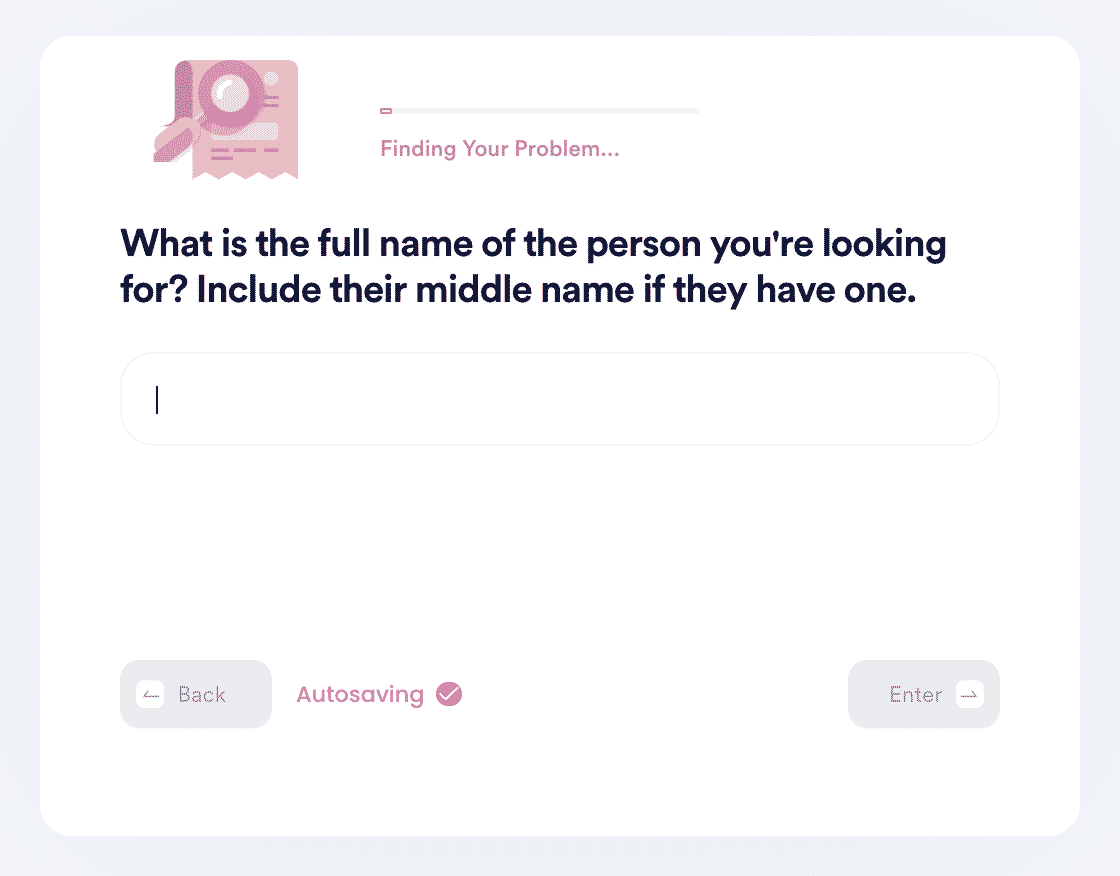 4. If you want to create a virtual mailbox, just provide your full name! We'll set one up for you so you can easily receive incoming mail from your loved one.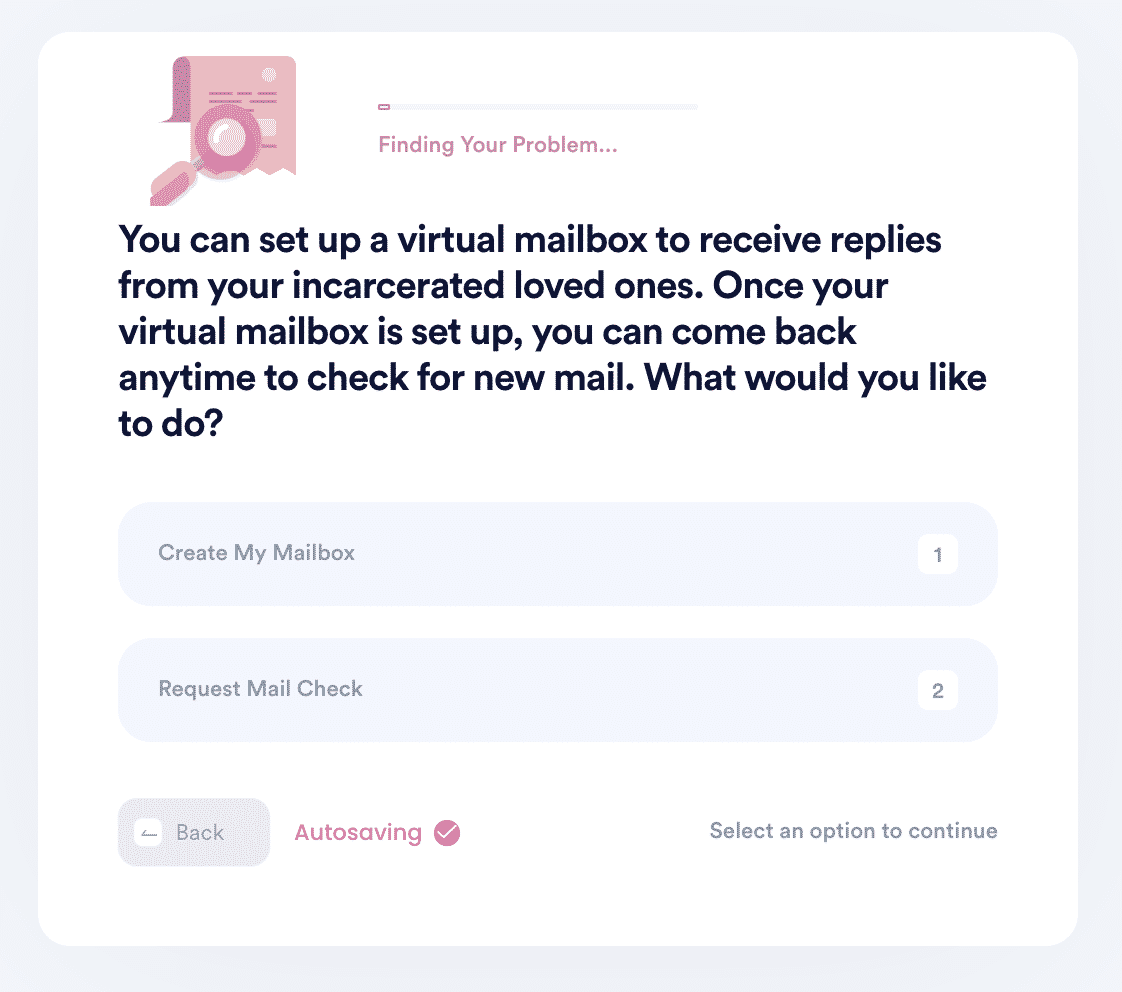 5. If sending a personalized letter, tell us which facility your loved one is located in and what you would like to say to them. You can even include a photo! Your letter will be delivered automatically - just wait 10 days for it to arrive to your loved one!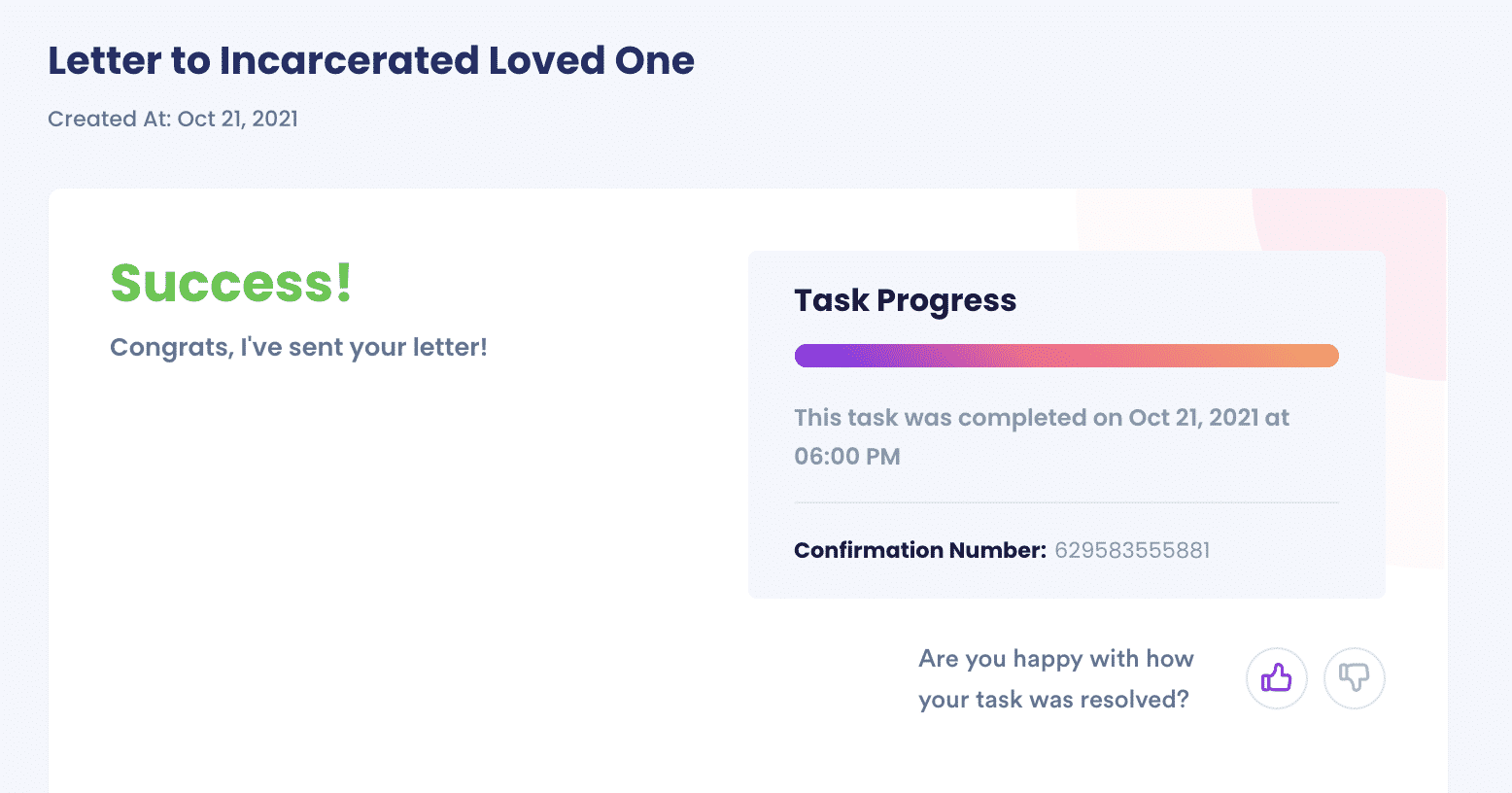 If you follow this, you should be all set to see your loved one in no time at all.
What Else Can DoNotPay Do?
You don't have to stop at just finding the person you love behind bars, and you can also use a number of other resources that DoNotPay provides to help people with the day-to-day tasks that they have in life that they would rather not deal with. Essentially, this service looks for all of the ways that it can help a person navigate through the world around them with as little stress and paperwork as possible, and it creates a service to make that possible. DoNotPay is also known to help with:
Speeding tickets

And more
Anything that you can imagine that deals with government and bureaucracy is likely covered by some program that DoNotPay has set up to help people have an easier time with things. You can definitely see the difference it makes in the lives of people who have already tried their programs and love them, and that is why you should also get on board with doing exactly the same.