How to Contact the Mayor - Any City
This article will outline mayoral duties and the issues that mayors can help you with. It will also list the various ways you can contact your mayor, how you can find their contact information, and various resources and tips on how to make an effective argument to your representative.
In the end, you can also find out how to use ! Keep on reading to find out.
What Does the Mayor Do and What Issues Can They Help With?
As Presidents represent the country, mayors represent their city. Not all cities have mayors and the powers for each may differ amongst cities.
Typically, mayors head local police and fire departments, housing, education, and transportation organizations. They can also hold town halls and award businesses and individuals for accomplishments.
When mayors unite, they can collectively speak out on issues. For example, the United States Conference of Mayors wrote a letter to President Trump in 2017, urging him to continue DACA (the Deferred Action for Childhood Arrivals program). The Conference of Mayors has also been active on issues such as gun violence, urging the passing of bipartisan legislation to protect the safety of children.
What Are Mayors' Responsibilities?
This depends on the specific mayoral structure of the city. This structure can either be strong or weak.
| | | |
| --- | --- | --- |
| Powers | Strong Mayor Structure | Weak Mayor Structure |
| Chief executive, with veto power | Yes | No |
| Appoints department heads | Yes | No |
| Council supervises administration | No | Yes |
| Independent commissions | No | Yes |
To learn more about strong vs weak mayoral structures, check out this article that summarizes municipal power structures. Before contacting your mayor, it is a good idea to know how the division of responsibilities and power works within your city. This way, you can find the administrative official that can best serve your needs.
Contacting Your Mayor: A Step by Step Guide
Research the ways in which you could contact your mayor. Locate the contact information for your mayor through this site: https://www.usmayors.org/mayors/. It can provide you with a brief biography of each mayor, their phone number, email, constituency size, and location, as well as the date of the next mayoral election in that city.
Choose your method of contact. The two most common ways of contacting your mayor will be by phone or by email. If your mayor offers an option to meet with them in person, this would be the best way to communicate with them. However, meetings in person require time and transportation. If you are unable to meet in person, you'll want to choose between a phone call or an email. Let us help you out with a comparison of the two methods:
Pros
Cons
Phone Call

More intimate
Can convey emotion better
More likely to make direct contact
More likely to get a voice message back

Requires more practice
More on-the-spot
Likely to reach a receptionist and have to leave a message
Less time to gather your thoughts

Email

Allows for revisions, more time to create a thoughtful argument
Can support your argument with links or data
Less nerve-wracking for those that struggle with public speaking

Less personal and direct
It may take longer to receive a response
Harder to communicate urgency or emotion
Once you've chosen your mode of contact, you'll want to plan what to say in a clear manner. We suggest you do a little background research to figure out the greater context of the issue, and who may be involved with making your desired outcome happen. With this, it's important to know exactly the action you wish your representative to take and to lay it out clearly for them.

For Email: Make sure to include the appropriate formalities and to address your representative by their correct title. For email structure and other professional email writing tips, check out this helpful guide.
For Phone Calls: You may want to create your own script so you manage to hit all of your talking points. Not sure where to start? We're right there with you - check out our provided script for making calls to representatives.

Go for it! While your representative may hear from many people, they are there to represent you and take action on issues that affect your life.
Want to skip the prep? Let us compose and send your message for you
is making it easier than ever to get in contact with your local representative and have your feedback heard by those that represent you in government. Follow the five easy steps below and let us do the heavy lifting for you:
1. Log-in to and look for the Contact Your Government Representative product.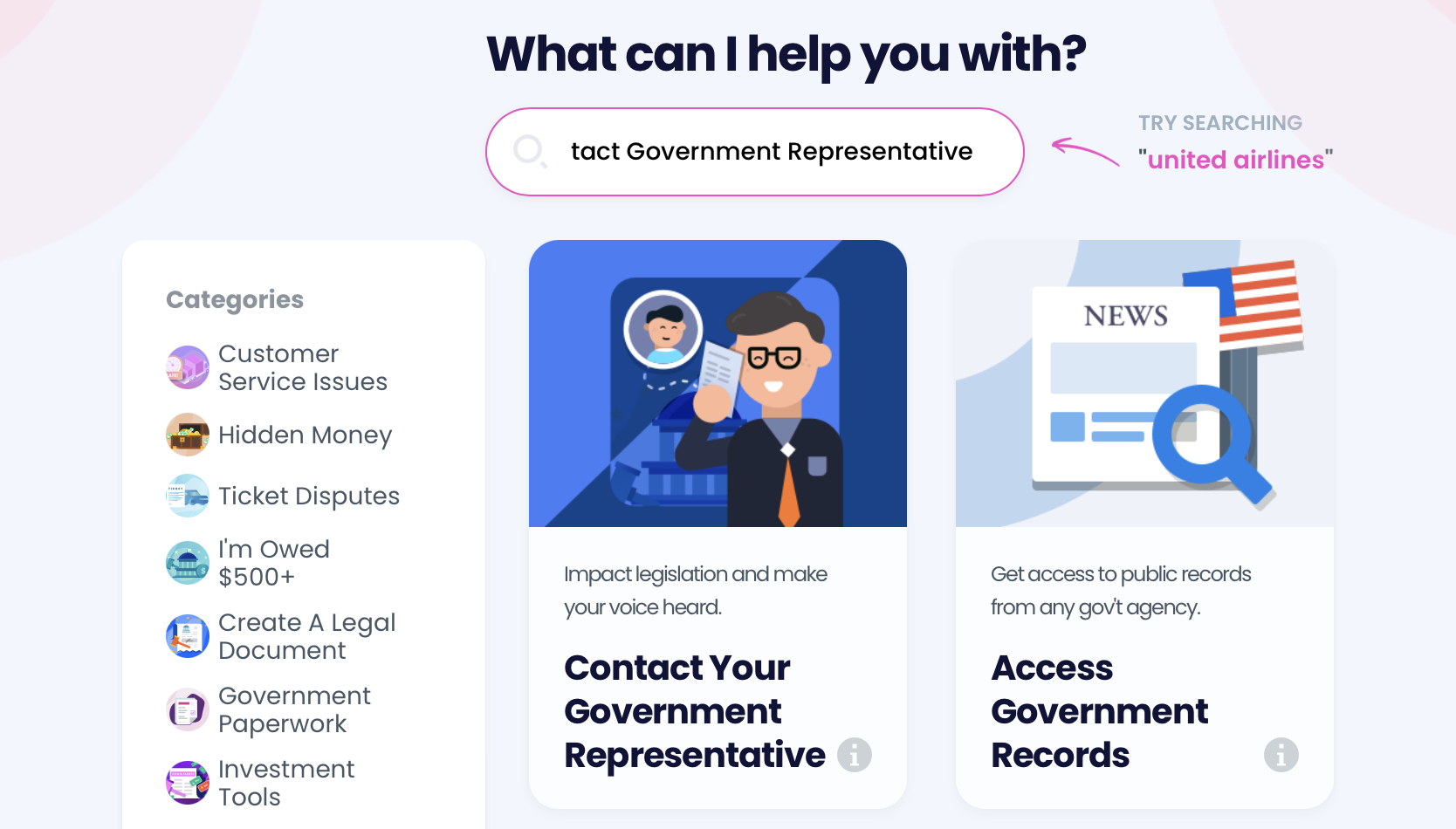 2. Choose the representative you wish to contact from our extensive list: Mayor, Senator, House Representative, Governor, or President.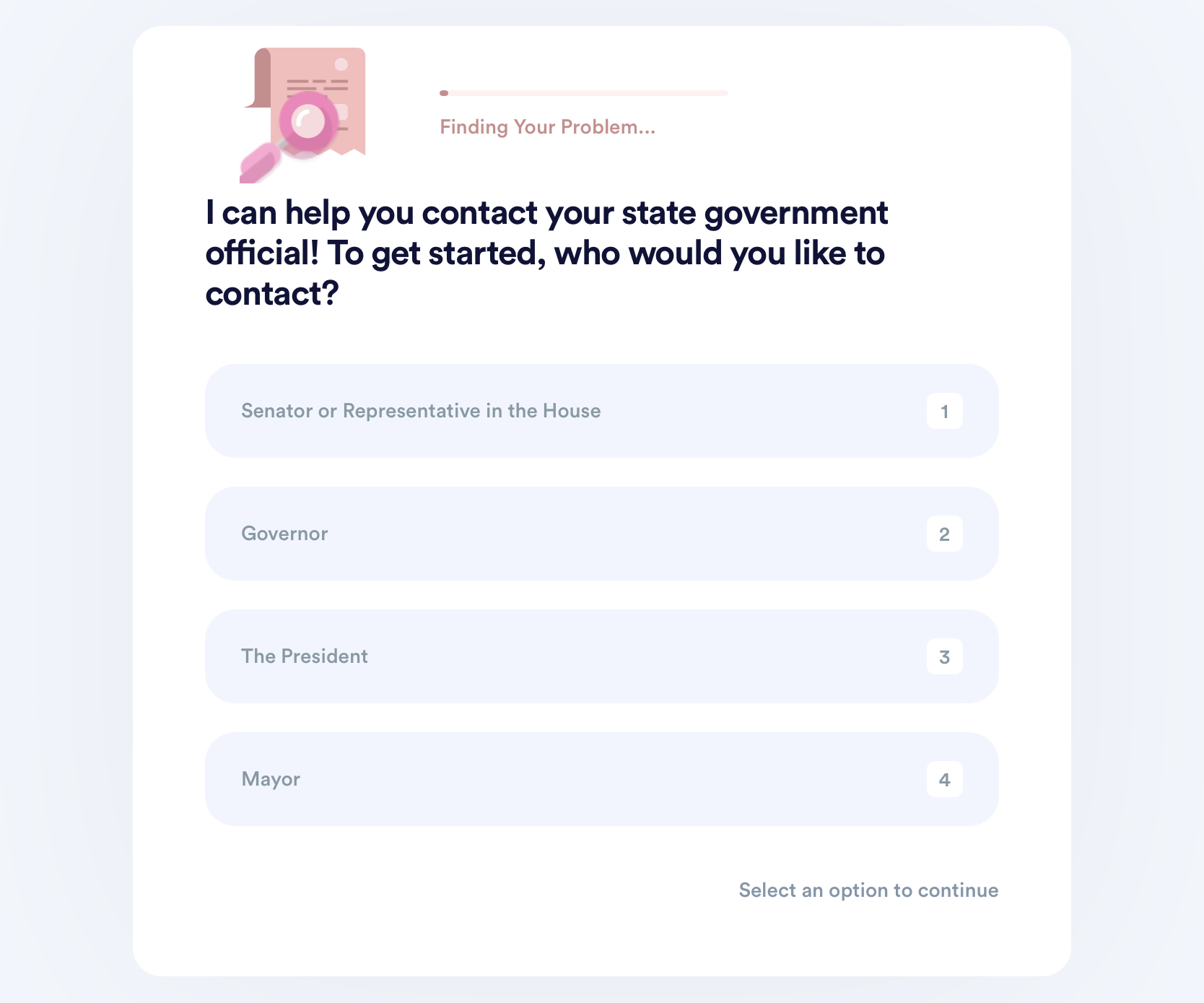 3. Explain why you want to contact your representative, what action you'd like your representative to take, why you feel strongly about it, and why they should feel the same.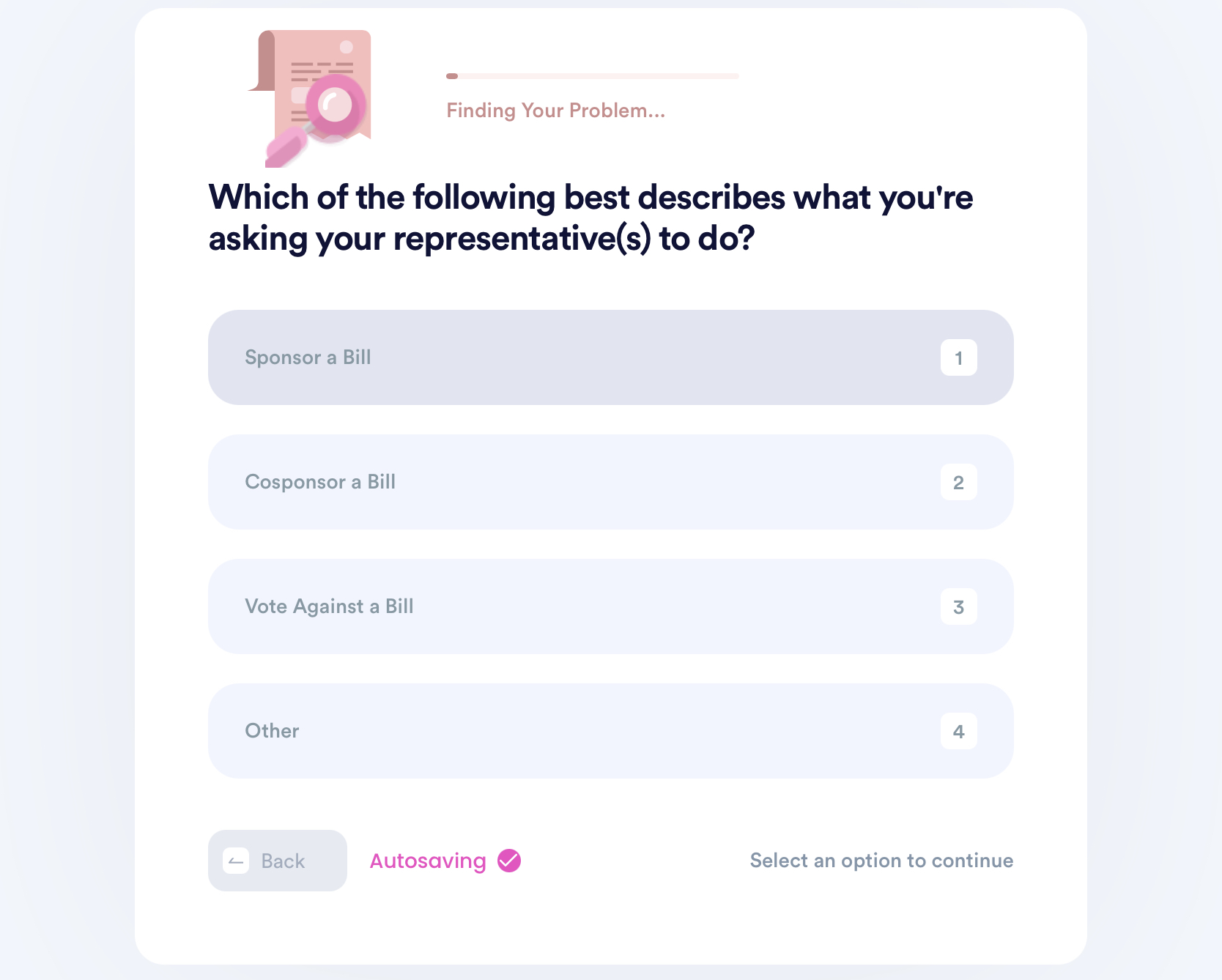 It's as simple as that. will produce a coherent and professional message on your behalf and make sure it is delivered to your representative as soon as possible.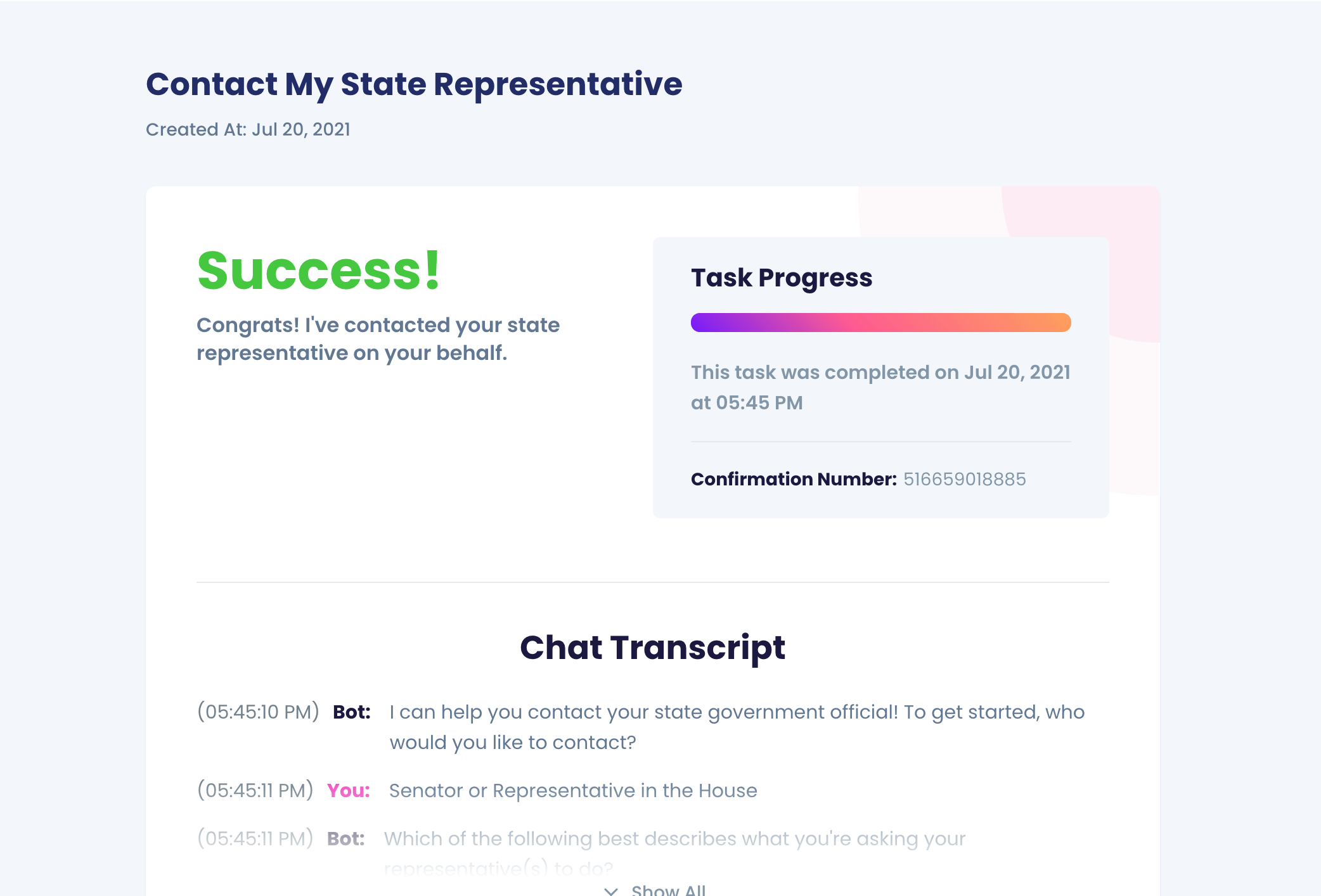 Other resources
Does calling your representative actually work? Check out our informative article here to find out.
What's the best way to contact a representative? Check out our guide here.
Need help locating your representative's contact information? We have lists of phone numbers for both Senators and for members of the House of Representatives.
Some Other Things DoNotPay Can Do
Create a power of attorney

Divorce settlement agreement

And more!