Contact Senator Toomey: All the Info You Need
The best way to get involved in political decisions is to express your views with an elected official. However, bridging the gap between representatives' offices and the ordinary citizen is not always easy. In this article, we will provide you with all the details to contact Senator Toomey and what you can do to reach the Pennsylvania senator's office.
How to Contact Senator Pat Toomey
Senator Toomey has offices in Lehigh Valley, Erie, Harrisburg, Johnstown, Philadelphia, Pittsburgh, Scranton/Wilkes Barre, and Washington DC. When you get in touch with Senator Toomey's office using their website, you will be asked to provide your personal information only if you choose to provide them. Here below are the contact details to the senator's office:
Senator Pat Toomey's Bio
Senator Pat Toomey was born in November 1961 in Providence, Rhode Island as Patrick Joseph Toomey Jr. He holds the highest rank of Eagle Scout with the Boy Scouts of America. He attended La Salle Academy and graduated from Harvard College in 1984 with a Bachelor of Arts in government. His career started with employment in Chemical Bank and followed with Morgan, Grenfell, and Co. Since then, his career flourished as:
Opened Rookie's Restaurant in Allentown, Pennsylvania: 1991
Government Study Commission: 1994
Member of the U.S. House of Representatives from Pennsylvania's 15th district: January 3, 1999 – January 3, 2005
In 1998, Toomey became a congressman for the 15th Congressional District of Pennsylvania. He held the position for three terms and did not seek reelection in 2004.
Senator Toomey assumed office as the United States Senator from Pennsylvania on January 3, 2011, and was reelected in 2016. During his tenure as a US senator, he was assigned to different committees such as Banking, Housing and Urban Affairs, Budget, Finance, Joint Economic Committee, and Joint Select Committee on Deficit Reduction.
Senator Toomey's wife is Kris Duncan and they have three children: Patrick Joseph III, Duncan Olin, and Bridget.
Pennsylvania Senators' Roles and Responsibilities
A US senator is an elected official who will serve in a federal office. The basic tenet of their duty is to write and vote laws. They work part of the year in the Washington DC office and part of the year in their home state. Some of their duties and responsibilities are as follows:
Represent the people – Senators have a legislative duty to fight for what is in the best interests of their constituents. They take phone calls and messages from citizens who want to voice their views and they find out where the constituents stand on various issues.
Gather information – A senator must gather and share information with his/her constituents. They may also hold press conferences, give speeches, or speak in town hall meetings to educate people on issues and legislation.
Serve on senate committees – Senators are required to be assigned to senate committees that have various focuses that range from health to national security.
Pass new laws – Senators use constituent opinion to determine new legislation that needs to be passed. It is their job to get as much support on a bill by networking with other Senate members and organizations.
Tips on How to Contact PA Senators
Placing a phone call to your senator to express your views on specific legislation is a good way to get involved. However, when calling their office, don't always expect to be able to personally reach the senator or representative. Most often, you will speak with a member of their staff who is usually an intern. A Senatorial staff works long hours in a high-pressure environment. This is why you should always take the time to prepare a concise message before you place the call. Here are more tips to remember when calling your senator's office:
Prepare your message – Research the issue that you would like to discuss. Take note of the goal or the action that you want the legislature to take.
State your title and position if relevant – Identify yourself as a constituent and request to speak with a specific legislative assistant assigned to a certain issue.
Be clear with your purpose – Keep the message to the point and simple. A good flow of communication is as follows: talk about the issue, support with facts, and identify your goal.
Be respectful – Avoid argumentative statements or threats of political clout. Be cautious with the staff by thanking them for taking your call and how you would like to follow up.
DoNotPay Helps You Contact Your Government Representative!
How legislators act or decide can make a direct impact on Americans' lives. The best way to influence legislation and support policies that are in your best interests is to let your voices be heard. However, picking up a phone or drafting an email is easier said than done. That is where DoNotPay can help. Our AI lawyer can help you contact government representatives without the painstaking task of looking for their contact details or drafting messages. With our app, all you have to do is:
1. Search for the Contact Your Government Representative product on .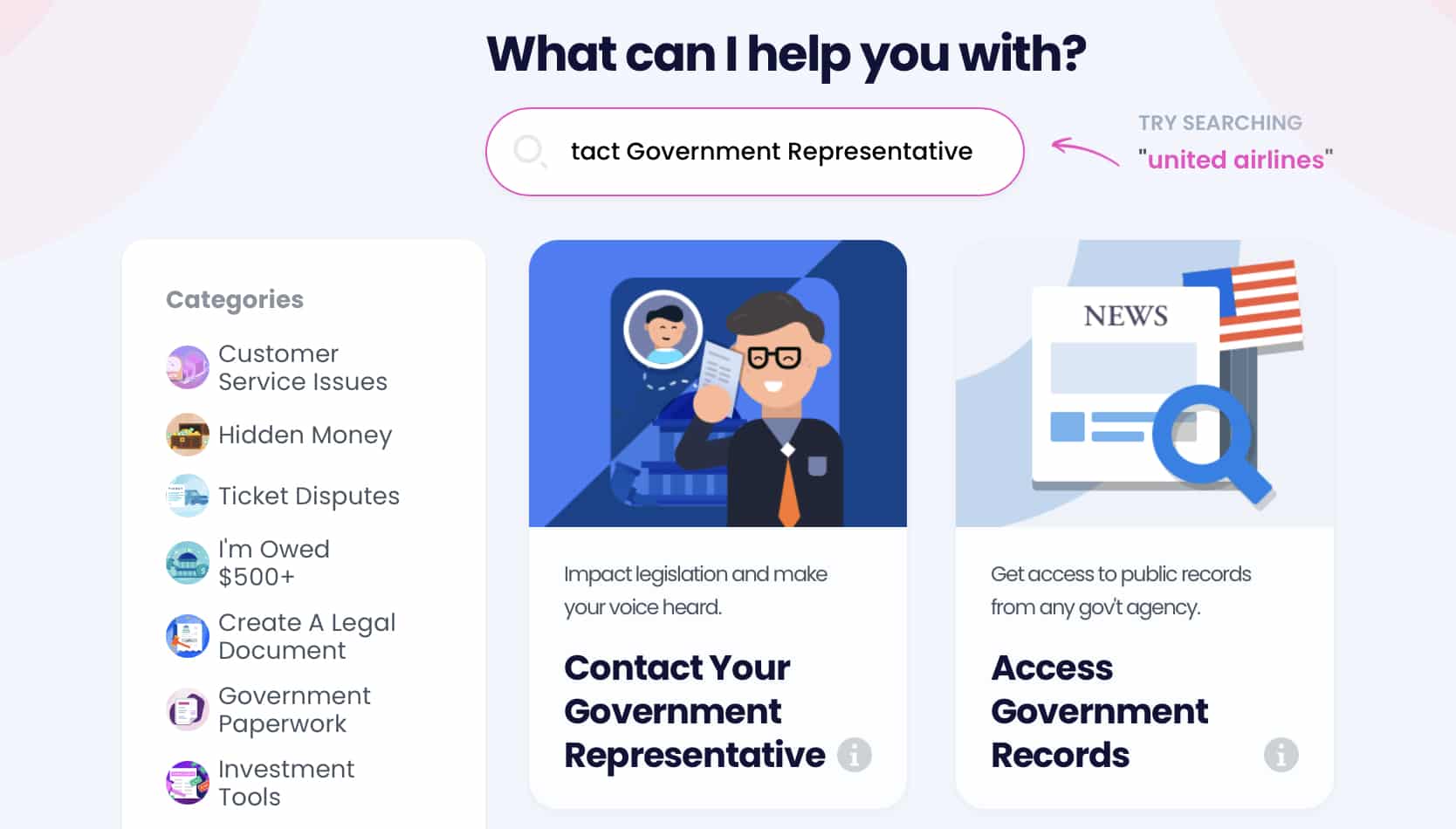 2. Choose between contacting your Senator, House Representative, Governor, President, or Mayor.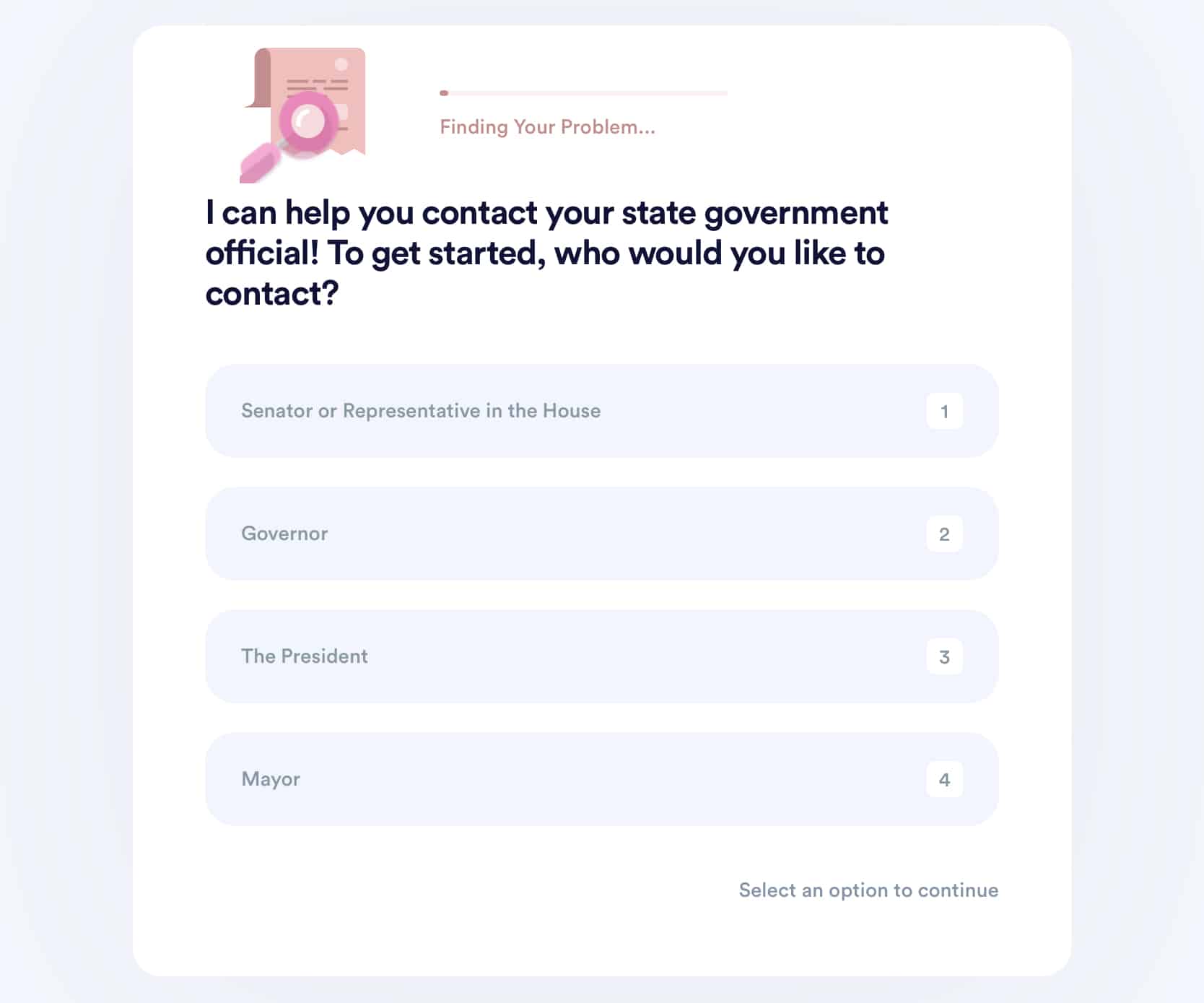 3. Select the option that best describes what you want your representative to do. We'll give you the chance to explain more!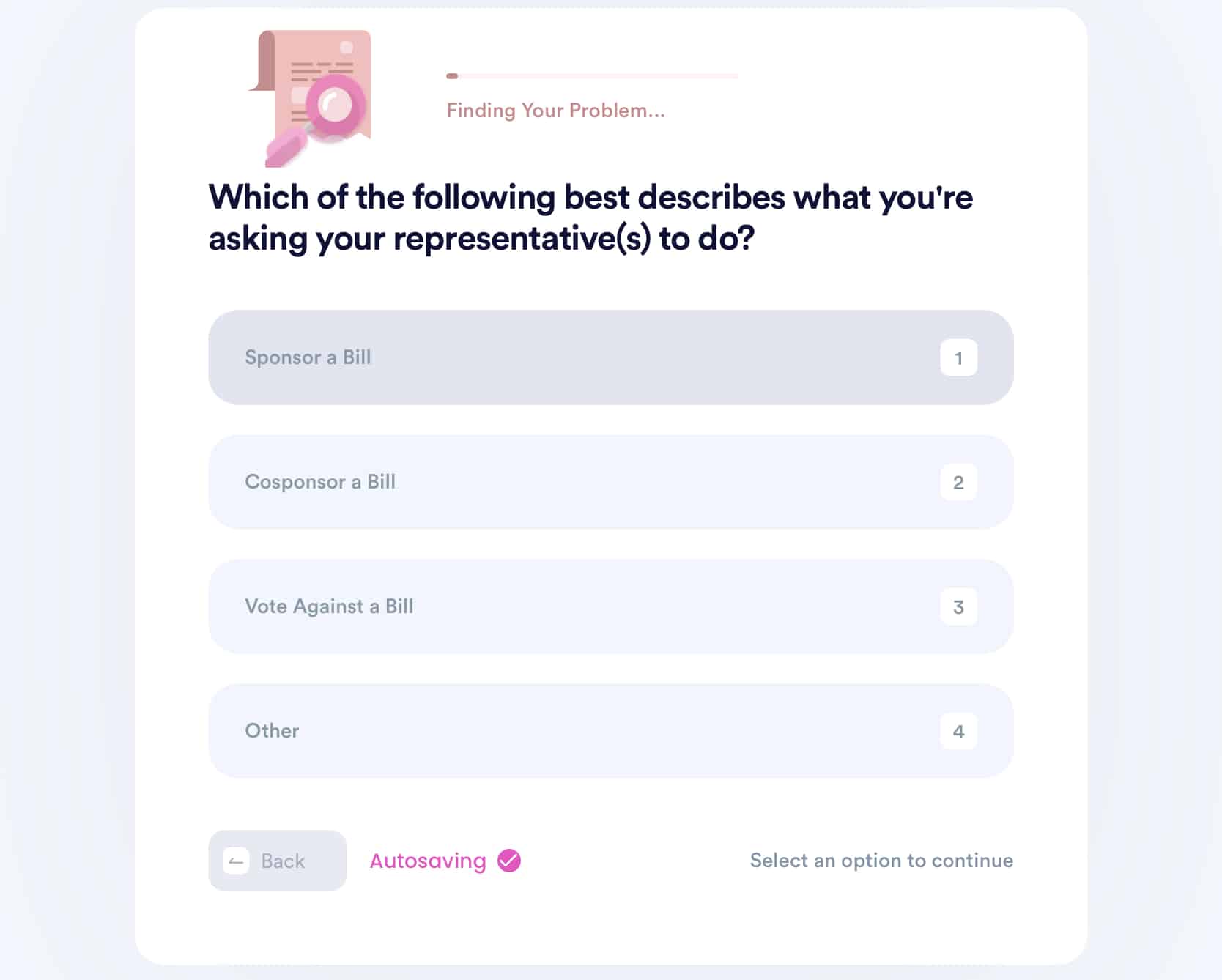 4. DoNotPay will compile your responses and send a message to your government representative!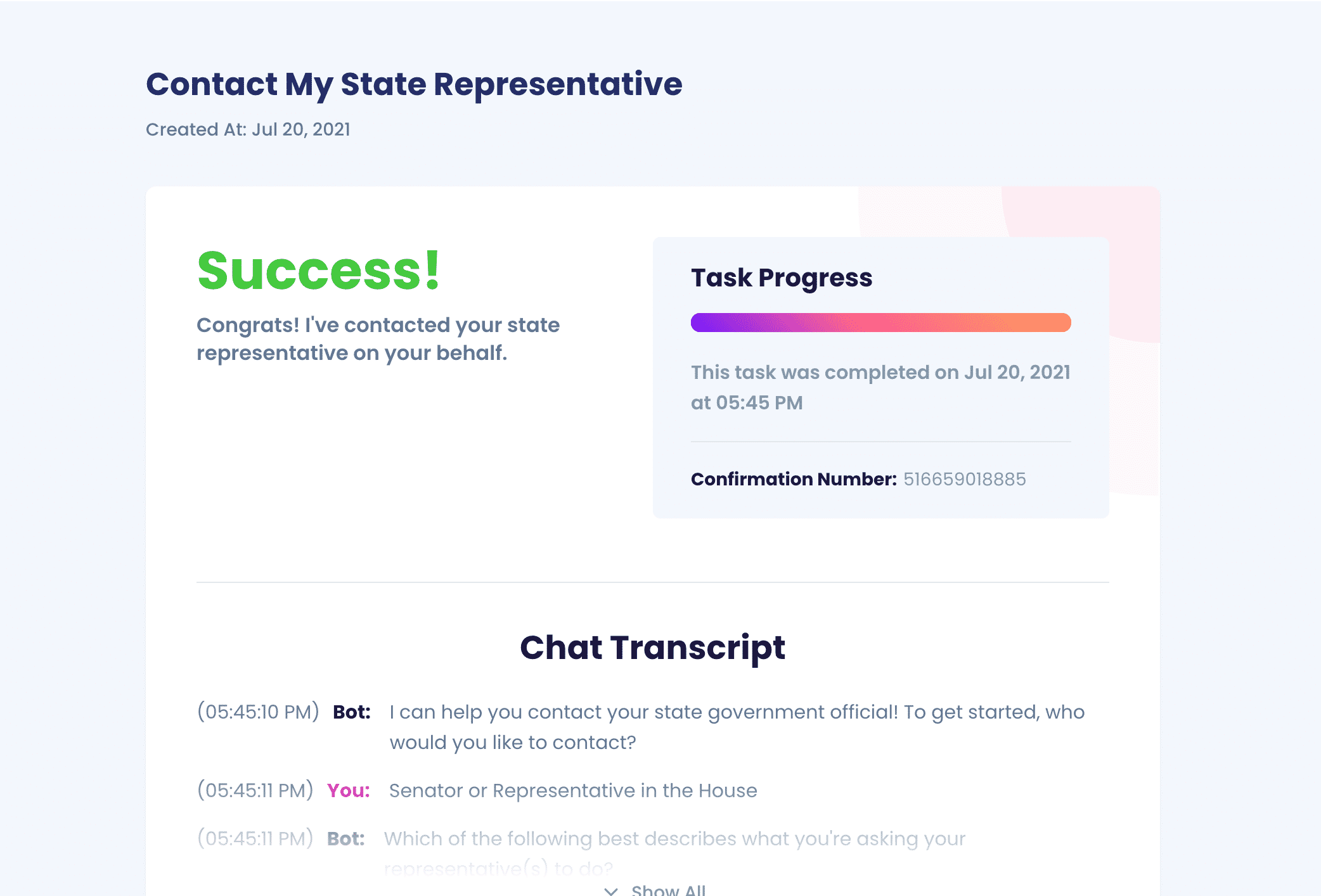 DoNotPay will handle the rest for you and make sure your message gets delivered. Our bots will fill the contact forms on your legislator's website on your behalf.
DoNotPay Does It All!