Ways to Contact Senator Tina Smith
Senator Tina Smith is the current serving junior senator for the state of Minnesota at the 117th US Congress. As former Lieutenant governor of Minnesota, Senate Tina Smith was nominated for the senatorial position in 2018, by former Minnesota Governor, Mark Dayton, to replace Senator Al Franken who retired on the grounds of multiple sexual allegations.
Here's how you can contact Senator Tina Smith and other US senators, representatives, and government officials using fast and professional DoNotPay.
All About Senator Tina Smith
Born Christine Elizabeth Flint (on the 4th of March, 1958), Senator Tina Smith is the current serving junior US Senator for the state of Minnesota. She has held this position since 2018. Before becoming senator, she served as Minnesota's 48th Lieutenant Governor.
Her private work and business experience include a marketing job at General Mills and brief service at Planned Parenthood.
Before graduating with a bachelor's degree from Stanford University and an MBA from Dartmouth College, Senator Tina Smith had her high school education in Northern California.
Details You Need to Contact Senator Tina Smith
Senator Tina Smith operates four district offices in Minnesota and one federal office in Washington, D.C. Here are the office addresses below:
Office Addresses
Phone Number
1

Duluth

515 W. 1st Street

Suite 104

Duluth, MN  55802

(218) 722-2390

2

Moorhead

819 Center Avenue

Suite 2A

Moorhead, MN  56560

(218) 284-8721

3

Rochester

1202-1/2 7th Street NW

Suite 213

Rochester, MN  55901

(507) 288-2003

4

Saint Paul

60 Plato Blvd. East

Suite 220

Saint Paul, MN  55107

(651) 221-1016

5

Washington, DC

720 Hart Senate Office

Building

Washington, DC 20510

(202) 224-5641
You can also sign up for a weekly newsletter or follow Senator Tina Smith on her social media platforms: Facebook, Twitter, and Flickr.
Other Minnesota government officials
Here are other top Minnesota government representatives DoNotPay helps people contact:
| | |
| --- | --- |
| Minnesota government officials  | Position currently held |
| | The 45th governor of the state of Minnesota |
| | The current serving Lieutenant Governor of the state of Minnesota |
| | Minnesota's current serving senior senator in the 117th US Congress |
| | The 30th and current Attorney-General of the state of Minnesota |
| | The current Secretary of State of Minnesota |
| | Minnesota's 5th district representative in the 117th US Congress |
| | Minnesota's 4th district representative in the 117th US Congress |
What Can Senator Tina Smith Help You With?
There may be other specific reasons for contacting Senator Tina Smith, but here are some of the most common reasons people make contact:
Access to COVID relief funds for livestock owners and lumbermen.
Help concerning federal agencies that render unsatisfactory service.
Request to get an authorized US flag.
Have a coffee meeting with the senator.
Nomination of a Minnesota resident for entry into US military academy.
Application for an internship position at the office of Senator Tina Smith.
A tour of the federal Capitol building.
Contacting Senator Smith: How to Get Started
Like many other US residents who find it difficult to reach Senator Tina Smith, you may have trouble presenting all of you concerns in a clear and concise manner.
DoNotPay provides a professional and formal contact service that can be used to reach out to your government representatives. Follow the steps below to use DoNotPay.
Contact Senator Tina Smith with DoNotPay
DoNotPay offers a fast and reliable way to get across to public officers in the US. You'll have a safe and professional contact service delivered in minutes when you:
1. Search "contact representative' on DoNotPay and select the Contact Your Government Representative product.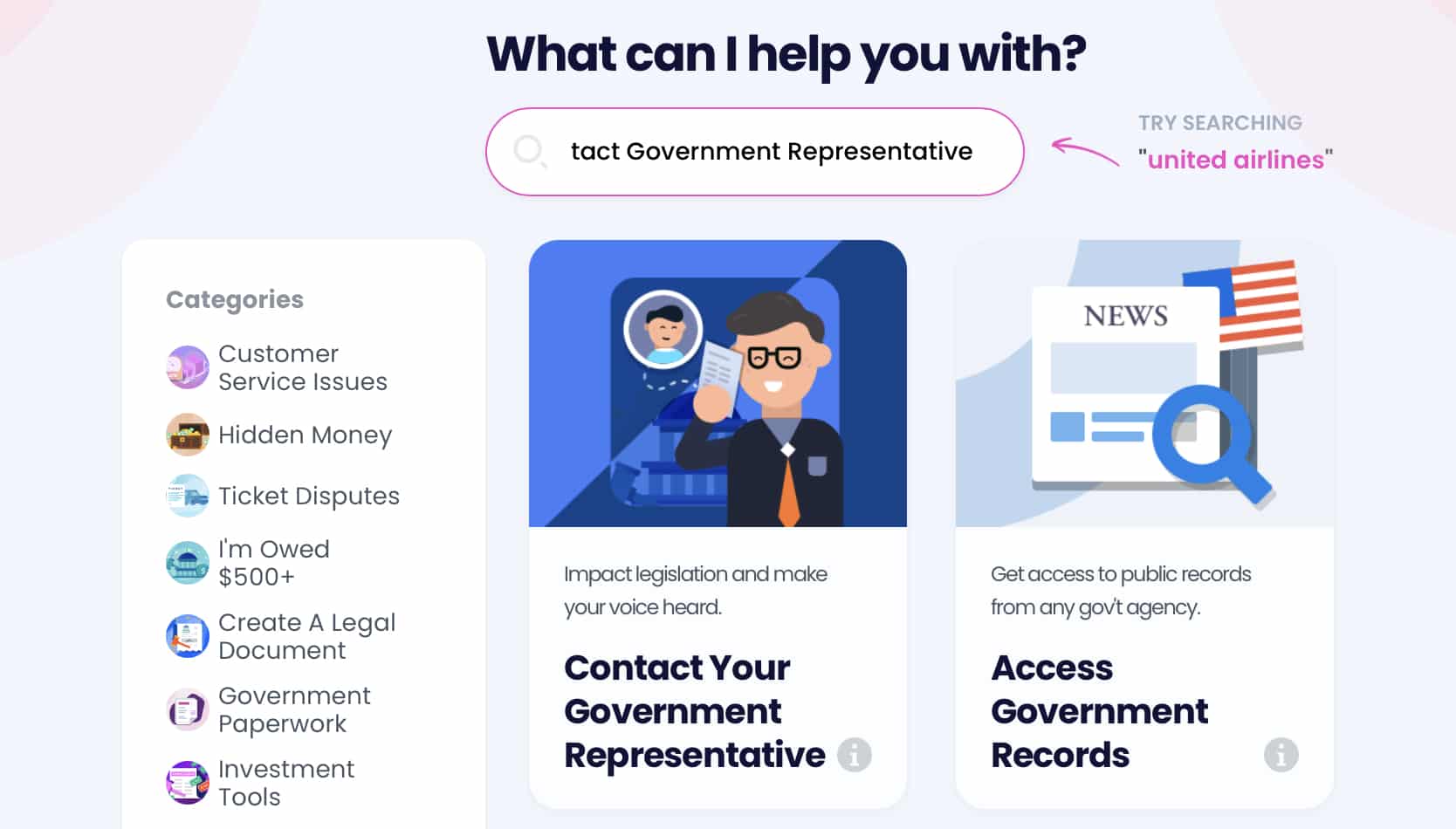 2. Choose whether you want to contact your Senator, House Representative, Governor, President, or Mayor.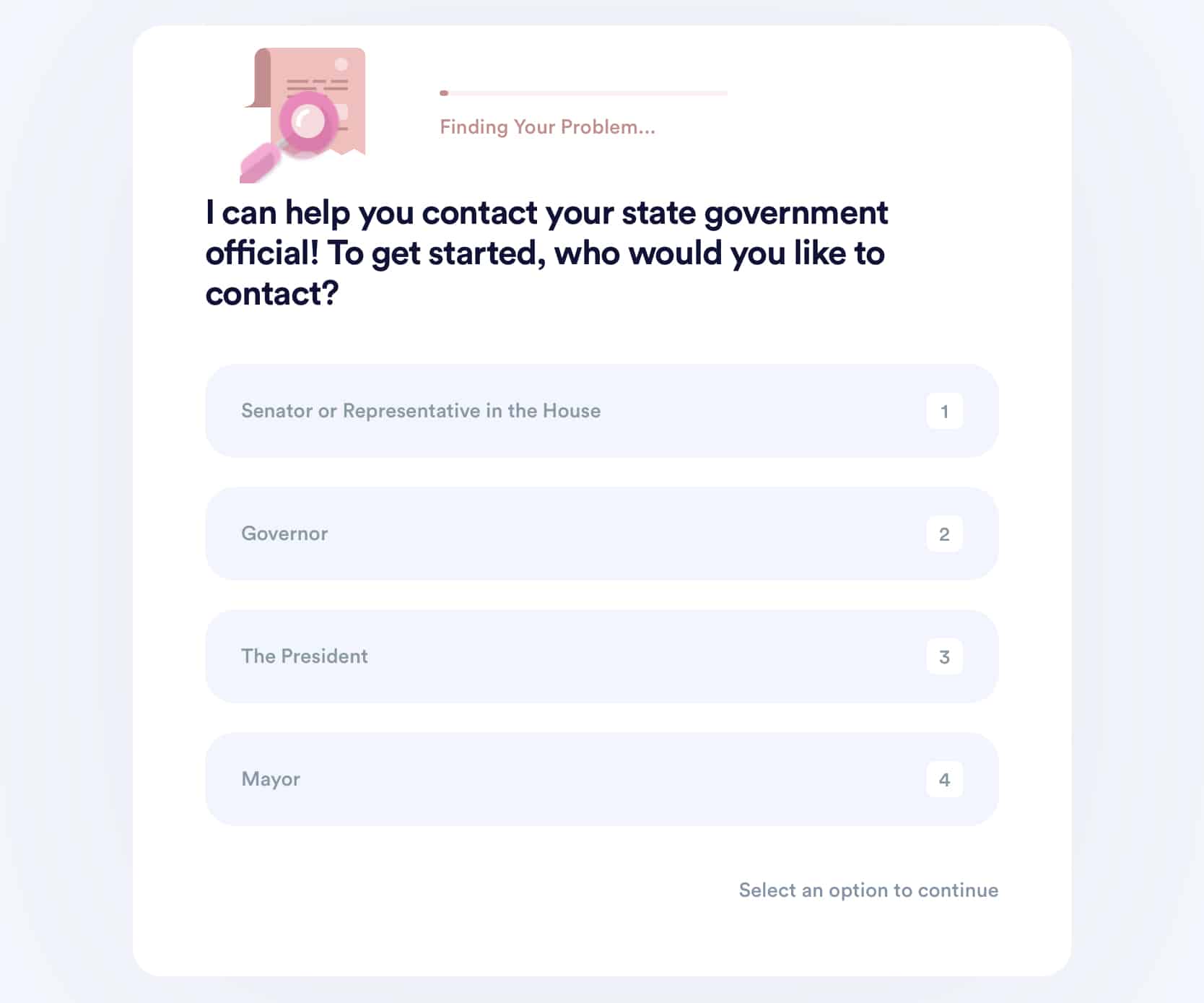 3. Tell us why you are contacting your representative, which bill or issue you're concerned about, and what you're urging the representative to do.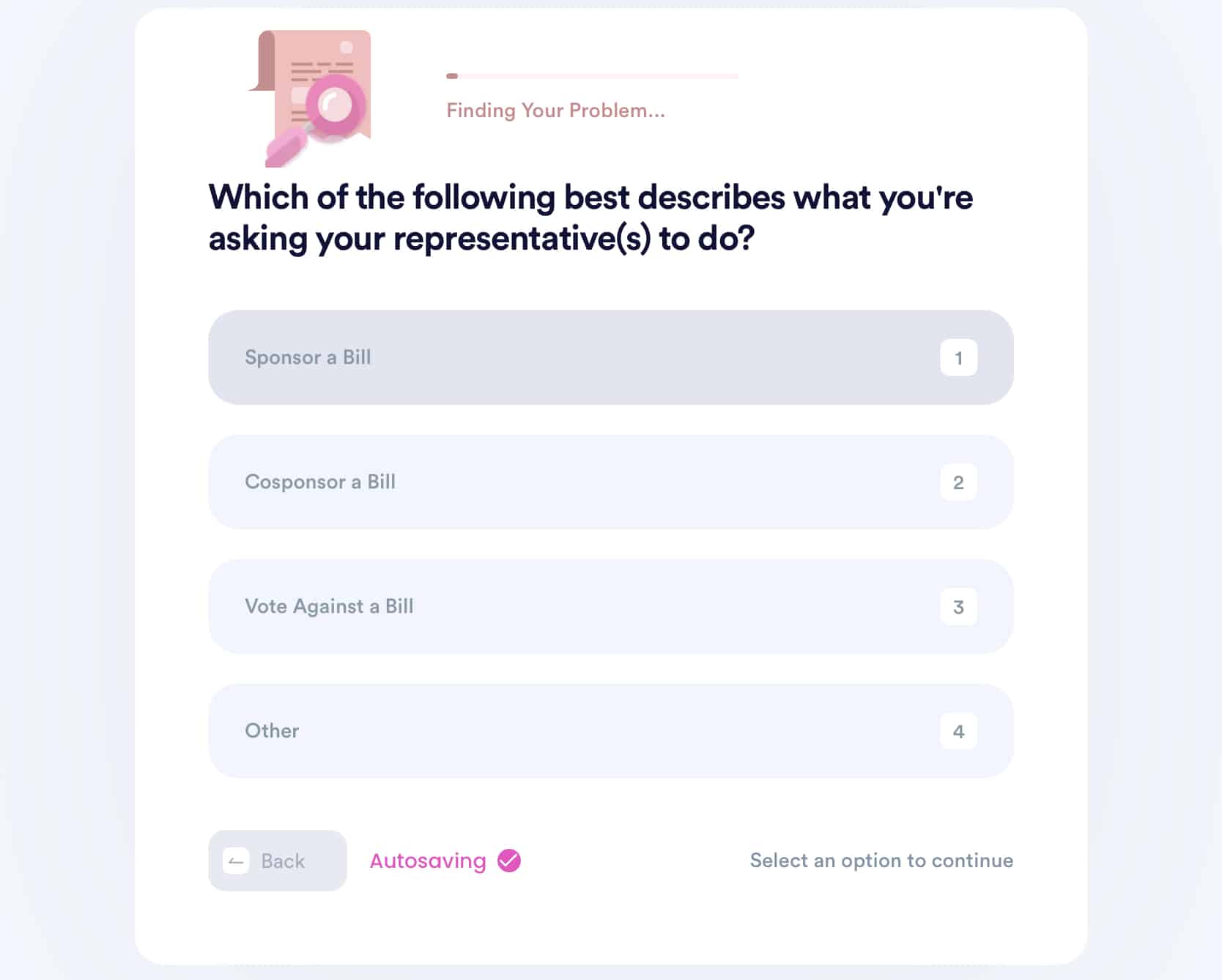 Sit back and relax! DoNotPay will deliver your message and handle the rest for you. Our bots will fill the contact forms on your legislator's website on your behalf.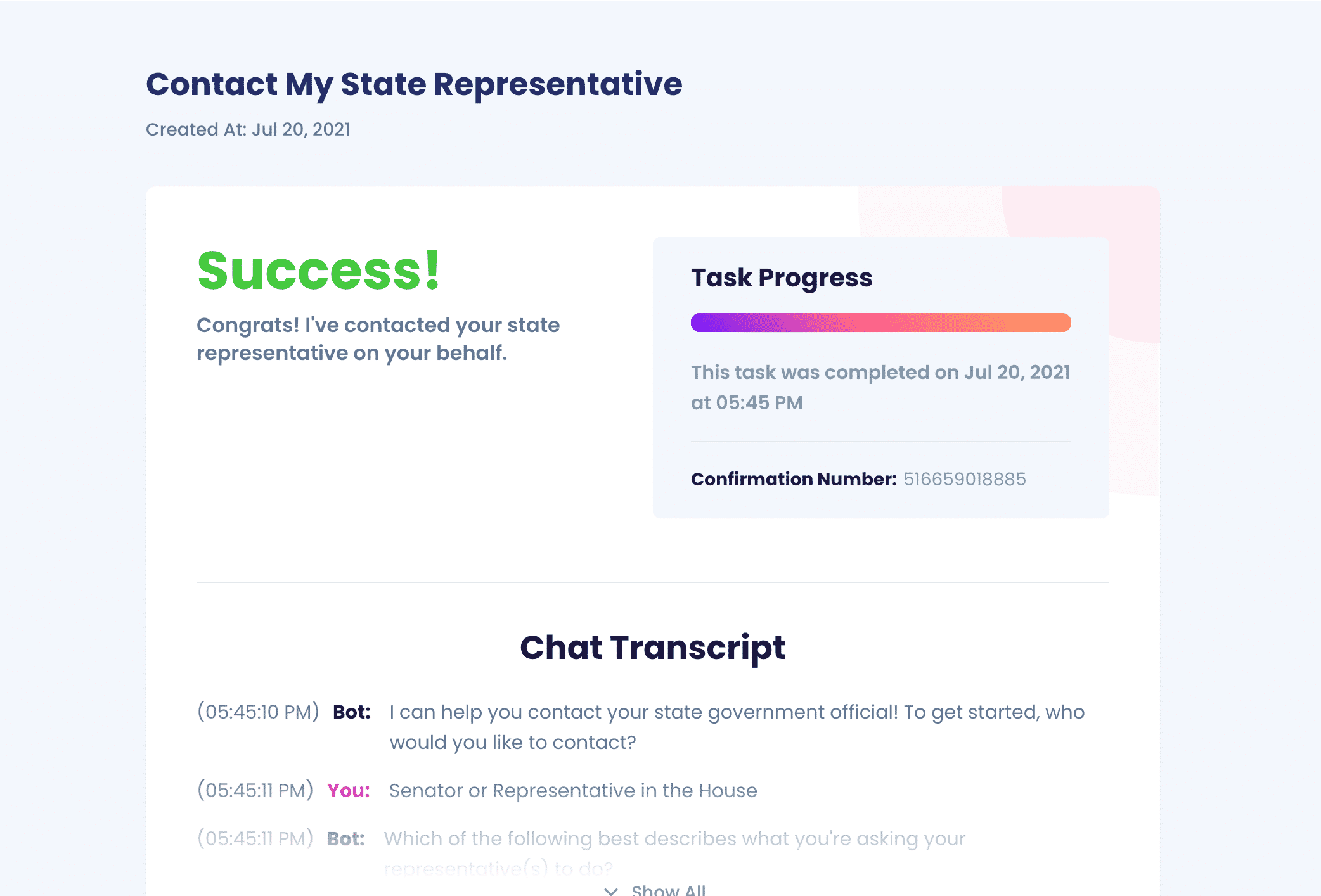 DoNotPay Can Do More!
DoNotPay does not only contact government representatives on your behalf, but it also provides you with much more! Some of these services include: