Contact Senator Tim Kaine Fast and Easy
The long-awaited tax credit is finally here and this means a lot for millions of kids in Virginia, but there are a lot of other issues that affect America's best state for business. If you live in Virginia and you're concerned about the recent election amendment bill or are looking to lend support to the movement to reduce gender paycheck, inequality you should take advantage of this comprehensive guide to get in touch with Tim Kaine.
Below, you will find all other ways Senator Kaine can be of help to you, including the details to locate and contact the former governor's:
Contacting Senator Tim Kaine
Senator Tim Kaine has seven offices in Virginia and Washington, D.C. You can find more information below:
Office Addresses
Phone numbers
Fax
1
Abingdon

121 Russell Road, Suite 2, Abingdon, VA 24210

(276) 525-4790
(276) 525-4792
2
Fredericksburg

816 William Street, Suite B, Fredericksburg, VA 22401

(540) 369-7667
(540) 310-0049
3
Manassas

Grant Avenue, Suite 202, Manassas, VA 20110.

(703) 361-3192
(703) 361-3198
4
Richmond

919 East Main Street, Suite 970, Richmond, VA 23219.

(804) 771-2221
(804) 771-8313
5
Roanoke

611 S. Jefferson Street, Suite 5B, Roanoke, VA 24011

(540) 682-5693
(540) 682-5697
6
Virginia

222 Central Park Avenue, Suite 120, Virginia Beach, VA 23462

(757) 518-1674
(757) 518-1679
7
Washington, D.C

231 Russell Senate Office Building, Washington, D.C. 20510

(202) 224-4024
(202) 228-6363
Senator Tim Kaine On Social Media
Alternatively, you can informally reach out to Senator Kaine on his social media channels below:
Twitter: www.twitter.com/timkaine/
Facebook: https://www.facebook.com/timkaine/
Here are some other federal senate and house representative senators from Virginia, you can contact:
Senator Tim Kaine
Senator Tim Kaine is the 40th delegated, Class 1 Senator for the state of Virginia in the 117th US Congress.
First elected in 2012, the former Democrat party leader is currently serving a second tenure as a member of the upper house. He served in the 113th Congress to the 117th Congress, which is currently in session.
Born Timothy Michael Kaine in Feb 26, 1958, Tim's early life was set in an ironworker store owned by his father, Albert Alexander Kaine Jr, where he learned metal craftsmanship and other pertinent life skills to follow. He obtained a bachelor's degree from the University of Missouri and briefly relocated to Honduras during the periods of his study at Harvard Law School to teach technical skills at a local school funded by the NGO, Jesuit.
Senator Kaine is the father of three children from a 37-year old marriage to Barrister Anne Holton.
Past Offices Held by Senator Tim Kaine
| | |
| --- | --- |
| Office Held | Duration |
| City council member | 1994 - 1998 |
| 76th Mayor of Richmond | 1998 - 2001 |
| 38th Lieutenant Governor | 2002 - 2006 |
| 70th Governor of Virginia | 2006 - 2010 |
| Chairman of Democrat National Convention | 2009 - 2011 |
| Junior Senator Delegate (Virginia) | 2013 - present |
Tim Kaine was chosen as former US Secretary of State, Hillary Clinton's running mate for the 2016 presidential election. They lost to former US President, Donald Trump and former Vice-President Mike Pence.
What Can Senator Tim Kaine Do for You?
Here is a list of what you can and cannot do upon contacting any of Kaine's offices:
| | |
| --- | --- |
| Tim Kaine's office can help you with | Tim Kaine's office cannot help you with |
| Third-party agency inquiries. | Attorney and services. |
| Request for case reconsideration from an agency. | Intervention in private corporate and business issues. |
| Federal and state application progress tracking. | Intervention in pending, developing, or finalized judicial processes including, but not limited to, migration matters, criminal and civil judgment decisions. |
| Contact federal agencies and submit applications or inquiries. | Meddle in Virginia state decisions and outcomes. This should be addressed to your local senators, mayor, or governor. |
| Guidelines for the application of mandatory federal programs (social security) and federal benefit programs (Medicare). | Intervention to expedite your application in a federal agency. |
When Contacting Your Government Representative Becomes Difficult
Contacting a government official can be tough for those who don't have enough time, don't know how to write a formal request, and more. When you do have the time to contact your government official, the long wait times can be draining.
helps millions of Americans contact public servants in their area to seek help, lend support or report local issues. See the steps to use DoNotPay below.
Contact Senator Tim Kaine With DoNotPay
offers a fast and reliable way to contact your government representative. Here's how to do it through the app or website:
1. Search "contact" on and select the Contact Your Government Representative product.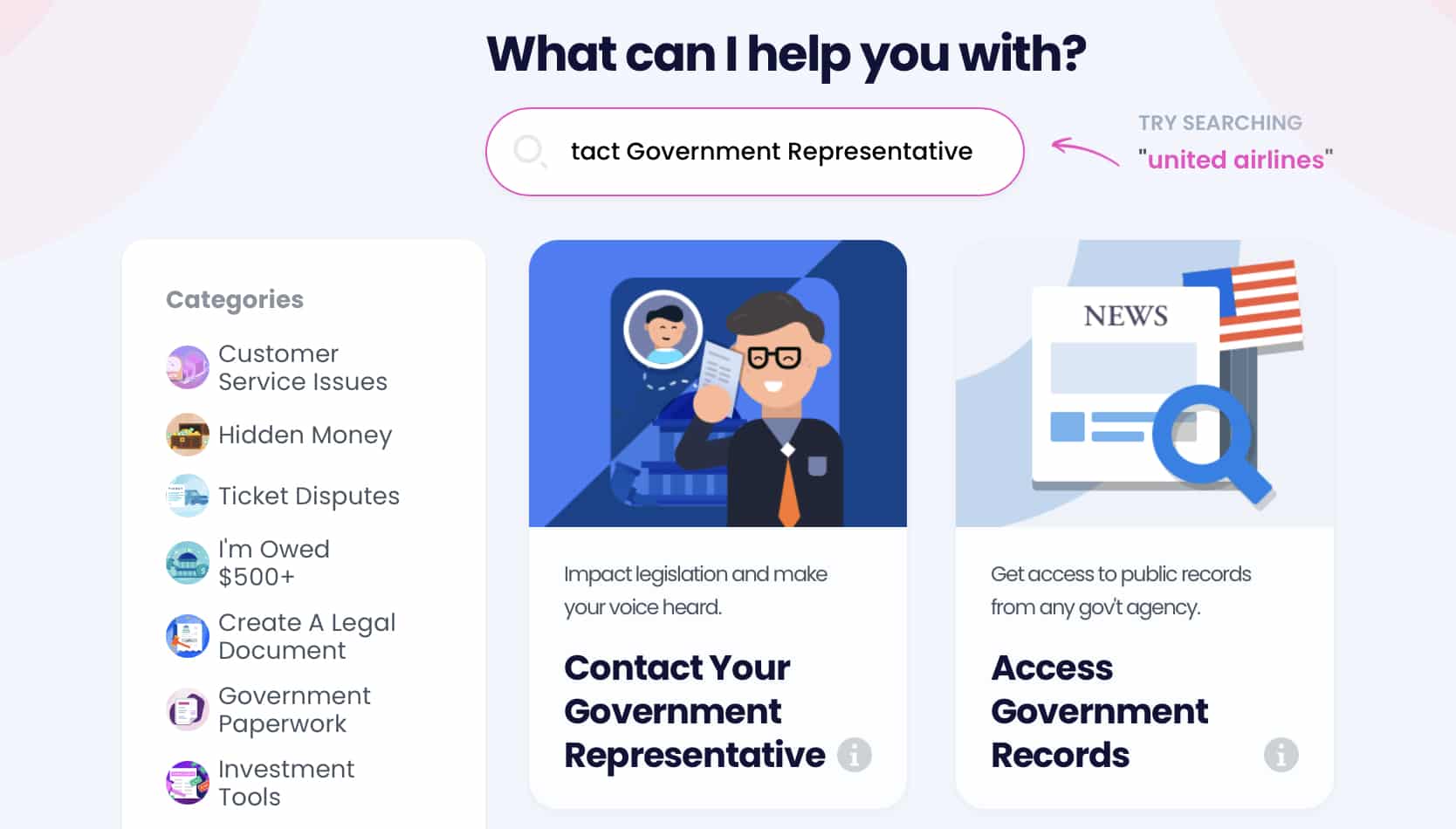 2. Choose whether you want to contact your: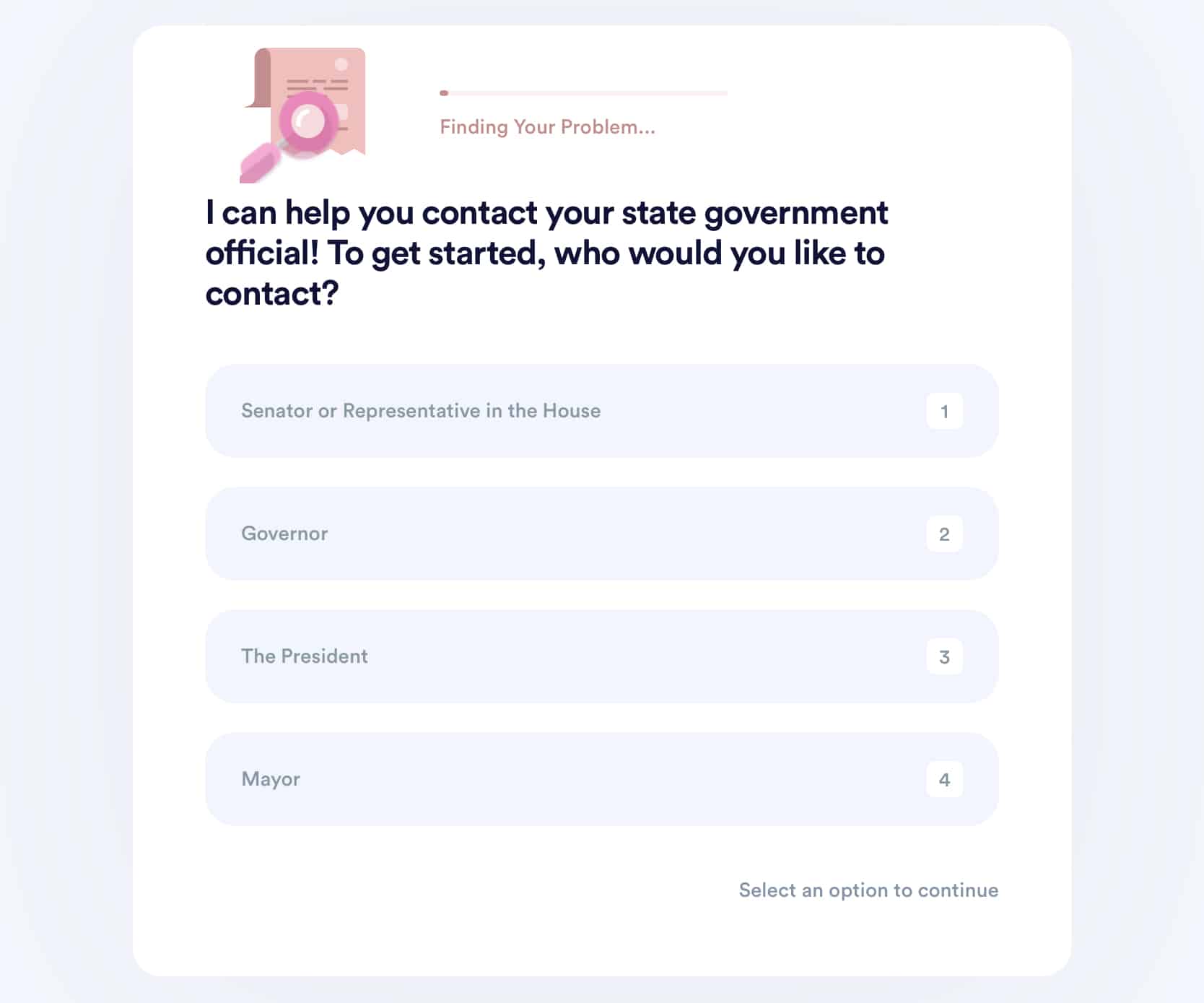 3. Tell us why you are contacting your representative and the bill or issue you're concerned about.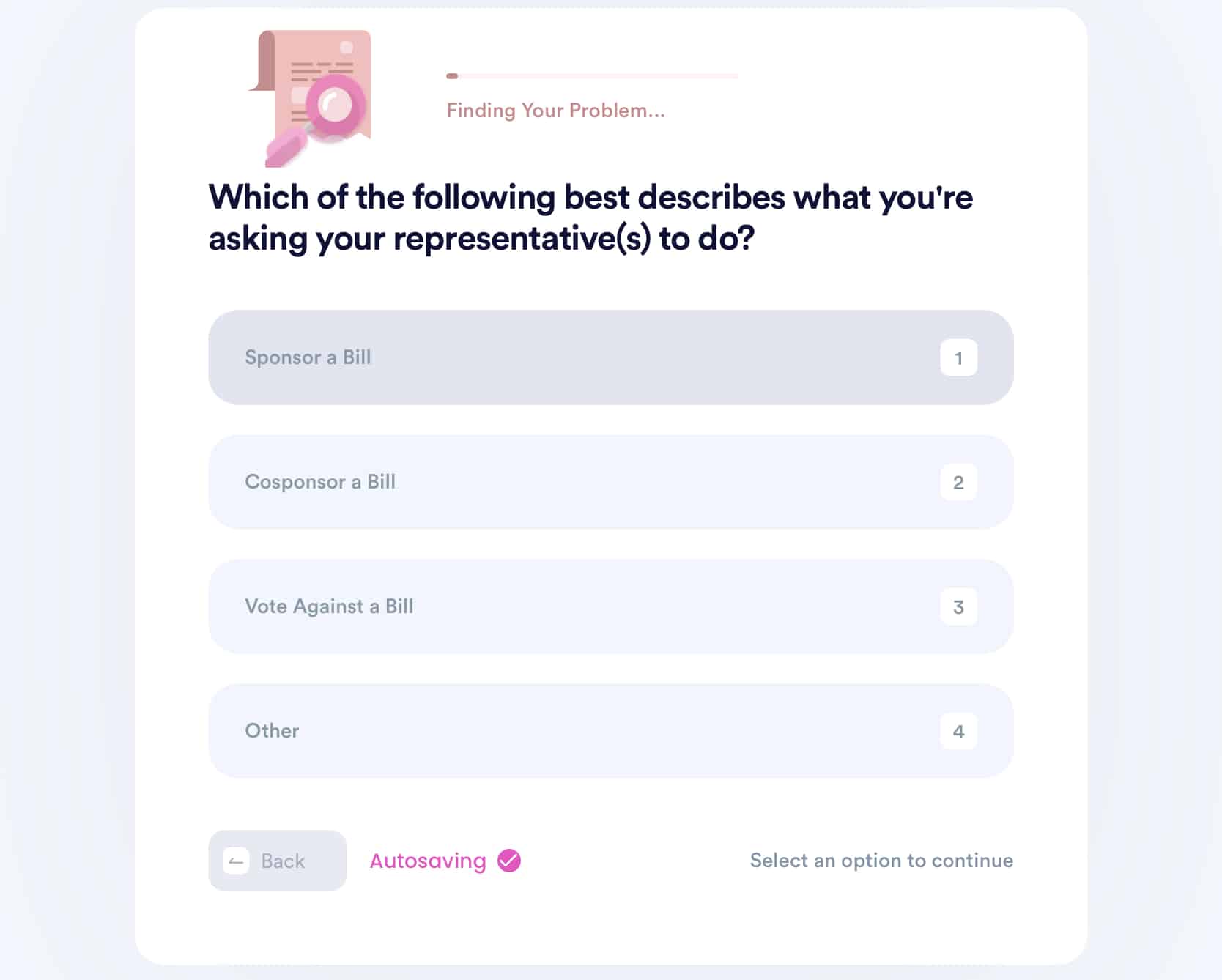 4. Provide a call to action for the representative.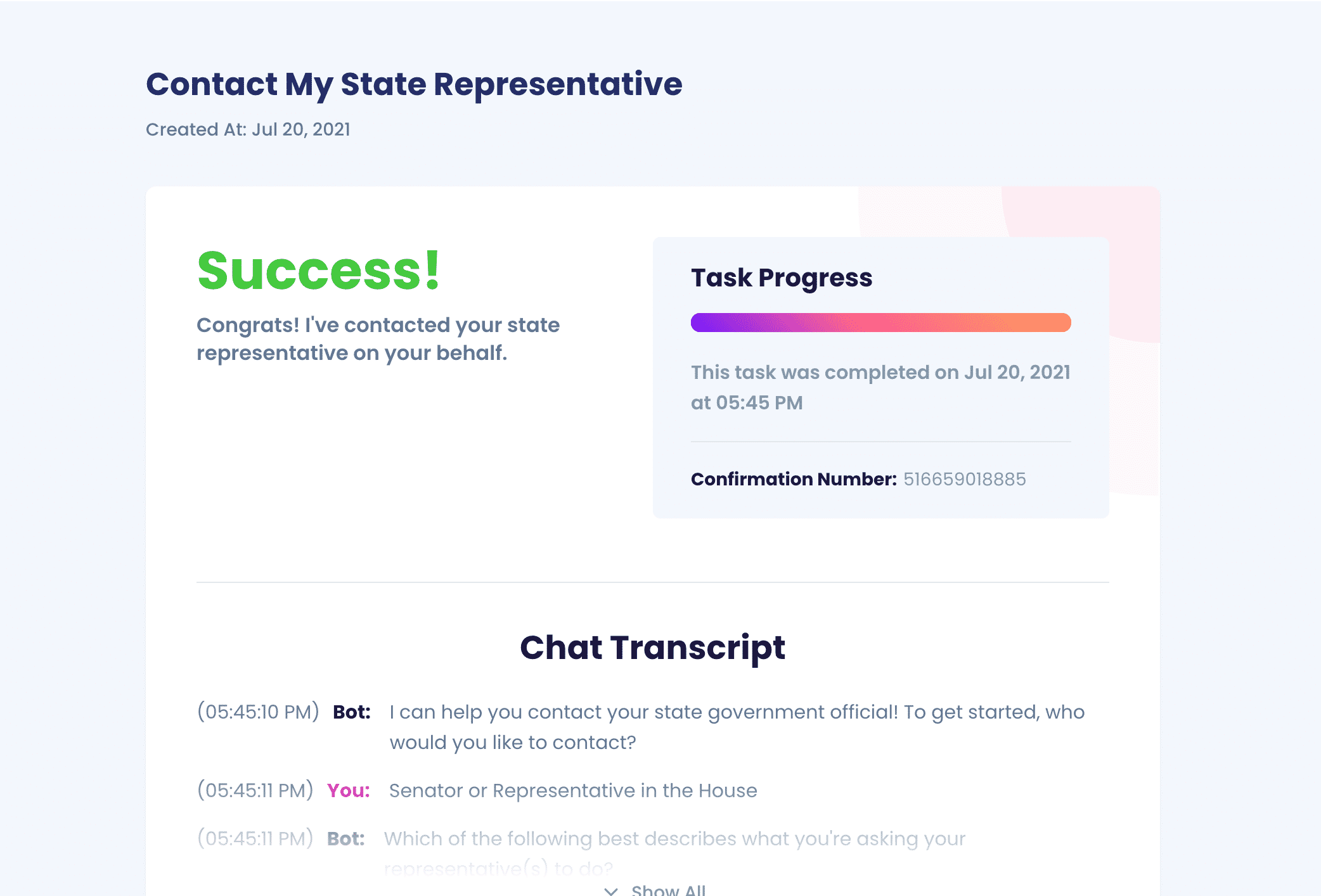 Sit back and relax! will automatically create a formal message with all your information. Our bots will fill out the form on the legislature's website and send it their way!
DoNotPay Does More!