How to Contact Senator Rick Scott
A lesser-known right afforded by the First Amendment is the right to "petition the Government for a redress of grievances."  One of the many ways to petition the government is to talk to your elected representative. In this article, we will provide you with all the information you need to contact Senator Rick Scott, and how you can reach your representatives quickly and easily.
Senator Rick Scott's Contact Information
The Florida Senator has offices in Washington, D.C., Tallahassee, Tampa, Naples, Orlando, West Palm Beach, Kissimmee, Pensacola, Miami, and Jacksonville. For general issues and concerns about the legislation, you may use the form that is on the senator's office's website. However, any casework assistance with a federal agency should be submitted via the Help with Federal Agency page. Here below are Senator's Scott's contact details:
Who Is Senator Scott?
Richard Lynn Scott was born in December 1952 in Bloomington, Illinois, and raised in North Kansas City, Missouri. He attended North Kansas City High School, attended a community college, and earned his Bachelor of Science in business administration from the University of Missouri–Kansas City. Working his way through Southern Methodist University allowed him to earn a Juris Doctor. Gov. Scott served on the USS Glover (FF-1098) as a radar technician for two years and five months. He was sworn into office as the United States Senator from Florida on January 8, 2019. Before becoming a senator, he served as the 45th Governor of Florida from January 4, 2011 – January 7, 2019. As a senator, he serves in the following committees:
Armed Services
Subcommittee on Airland
Subcommittee on Cybersecurity
Subcommittee on Personnel
Commerce, Science, and Transportation
Subcommittee on Communications, Technology, Innovation, and the Internet
Subcommittee on Science, Oceans, Fisheries, and Weather
Subcommittee on Transportation and Safety
Subcommittee on Security
Homeland Security and Governmental Affairs
Subcommittee on Federal Spending Oversight and Emergency Management
Subcommittee on Regulatory Affairs and Federal Management
Florida Senator's Duties and Responsibilities
The responsibilities of passing legislation are shared by the Senate and the House of Representatives. Each senatorial district is to be represented by one senator. The Senate has three crucial duties: impeachment process of federal officers, providing advice and consent on treaties and approving or rejecting ambassador and judicial court appointments. Here are more of a senator's duties and responsibilities:
Representing the citizens – Senators act in the best interests of their constituents and this includes speaking to citizens about their problems and suggestions.
Sharing information with the public – This includes clarifying what the legislative process is or speaking in press conferences and updating the public on current issues.
Serving on committees – Senators are assigned to Senate committees that have various focuses such as healthcare, agriculture, or fighting terrorism.
Passing laws – This includes researching topics, identifying solutions to problems, and coordinating with fellow senators to convince them why supporting or rejecting a bill is crucial.
Tips on How to Contact Senator Scott
In addition to phone calls, sending emails, postal mails, and faxes can be an effective way of reaching your elected representatives. A letter is the best way to record your views and opinions that can be generated into tangible documentation. Here below are some tips on how to effectively contact a senator:
Keep your letter or email brief. Focus on one issue as the office interns who receive your email and posts have to go through so many letters each day.
State your name and where you are from. Legislators will pay more attention if they know that you are a constituent.
Be clear in what you want to happen. Identify the issue that you are writing about. If it is about a piece of legislation, state the bill number or any other identifying information.
Tell a personal story and how a certain issue affects you personally.
Establish a personal relationship with your elected official. If you have voted for the said official or donated money for the campaign, state it so in the letter.
If you have expertise on a certain issue, you may offer helpful information. End the letter (or call) by thanking the recipient for taking the time to read your letter.
DoNotPay Can Help You Contact Your Government Representative!
Talking to a senator over the phone or writing an email to a governor can be a daunting task. In most cases, it's easier said than done. That is where DoNotPay can help. Our AI lawyer facilitates communication between average citizens and their elected representatives. With our app, all you have to do is:
1. Search for the Contact Your Government Representative service on DoNotPay.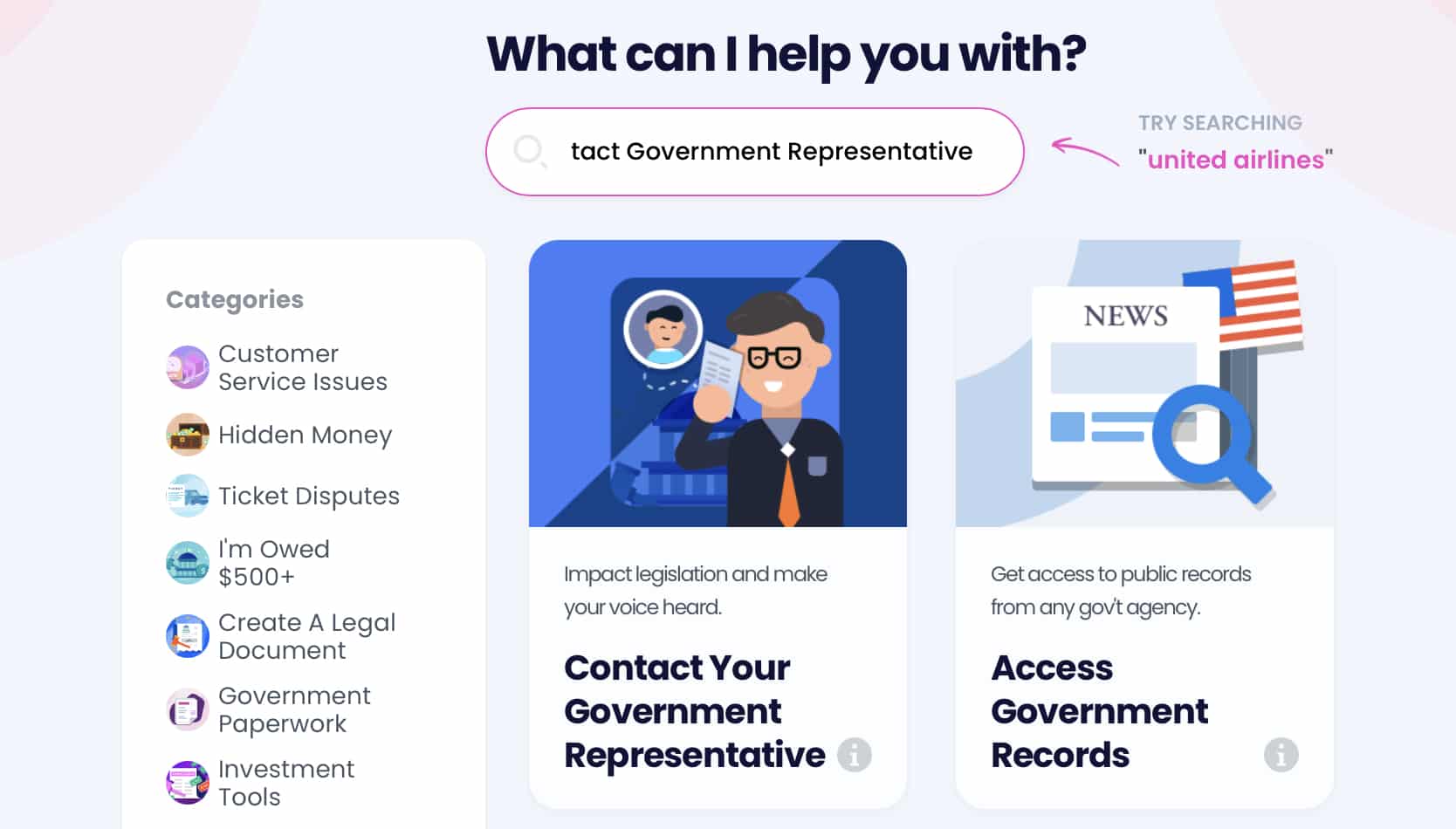 2. Select whether you want to contact your Senator, House Representative, Governor, President, or Mayor.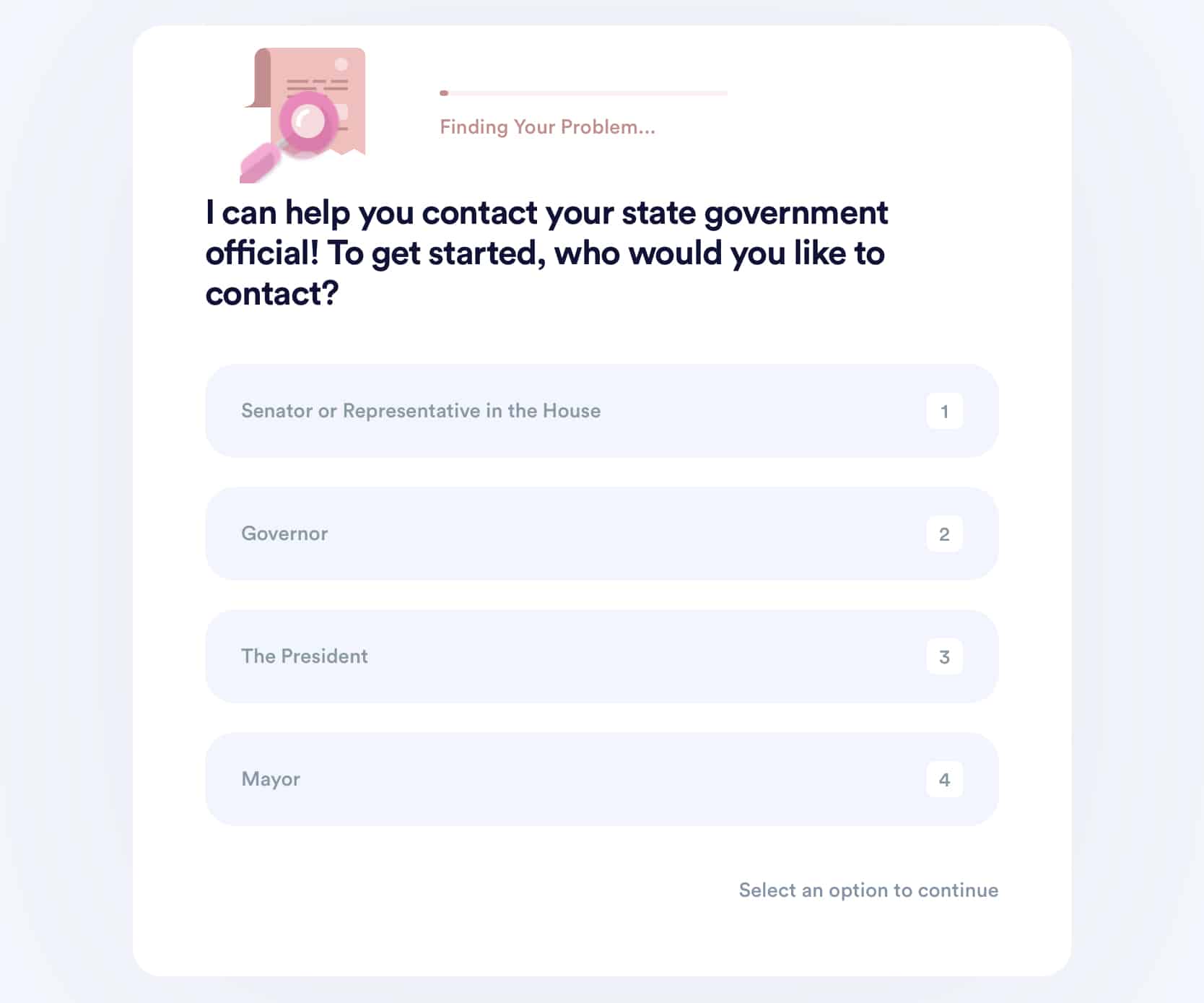 3. Explain why you're contacting your representative. Do you want them to sponsor, cosponsor, or vote against a bill? Or are you concerned about something else?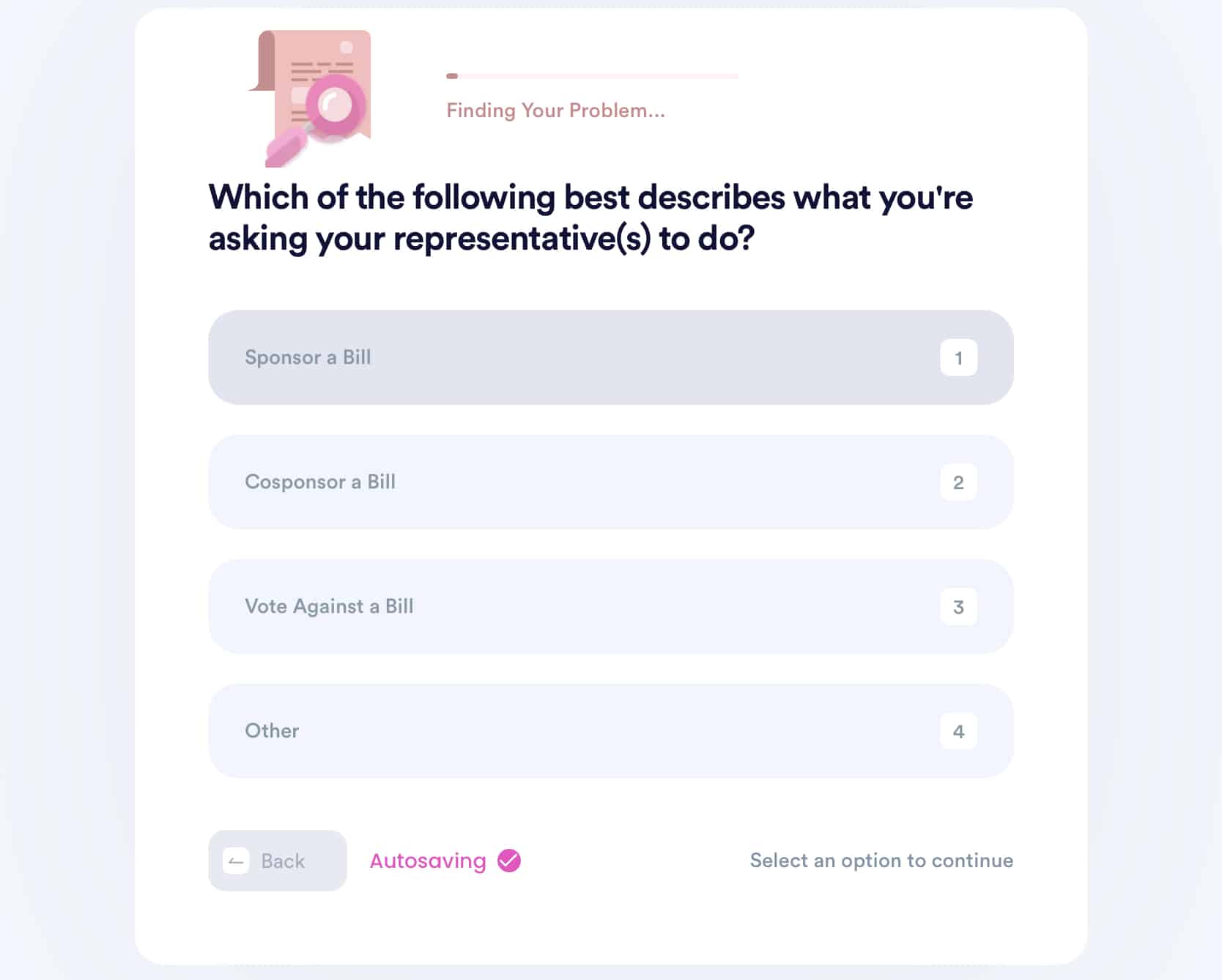 4. Tell us which bill or issue you're concerned about in more detail. Feel free to include a call to action.
Sit back and relax! DoNotPay will take care of the rest and get your message delivered!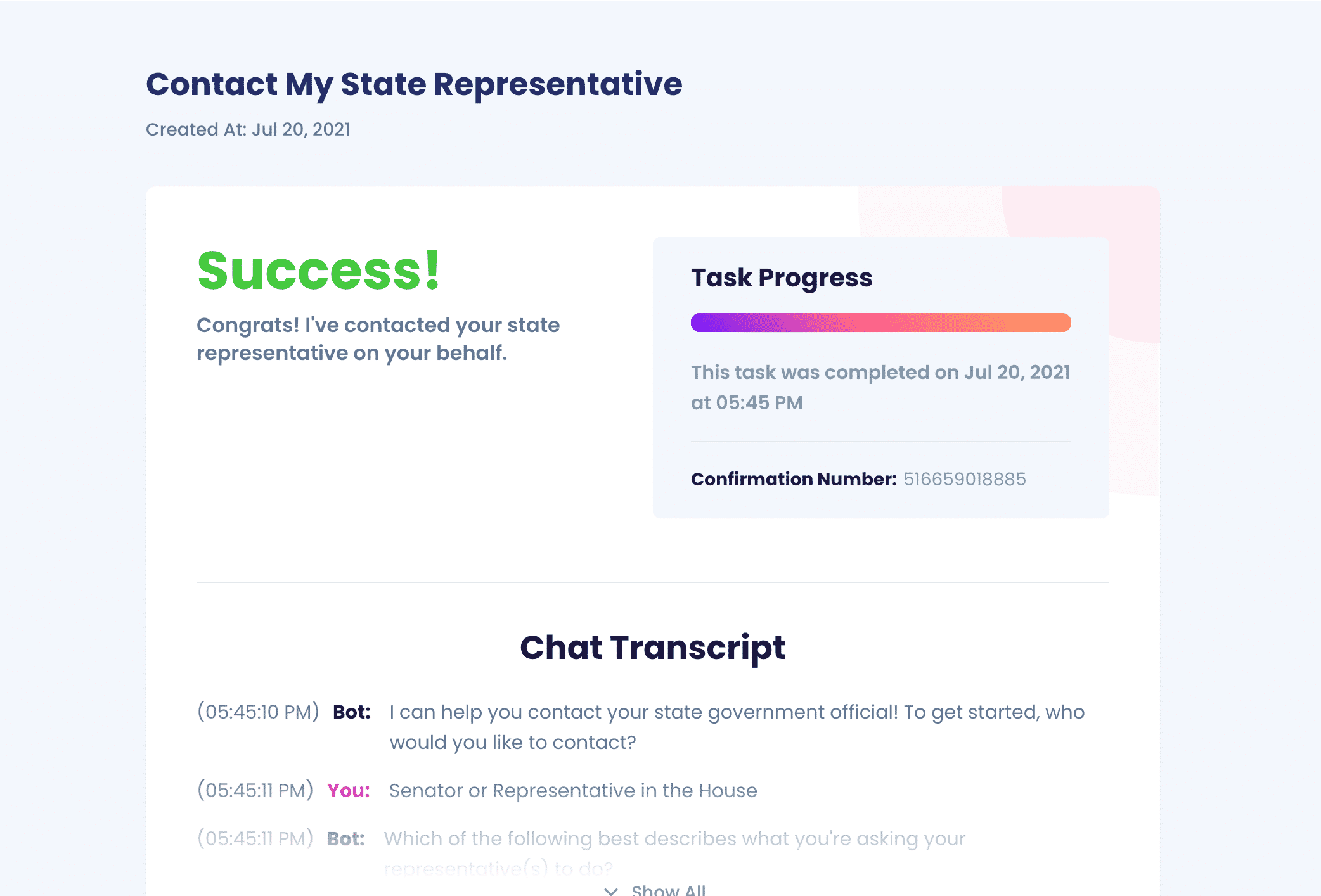 DoNotPay is Your AI Lawyer!
Not only can DoNotPay help maintain your civic duty, but it can also assist you on various legal matters: