How to Contact Senator Pat Roberts
Even though reaching out to your government representatives can be a fantastic way for anyone to get involved in local politics, only 1 in 3 Americans actually knows who their representative is. If you want to beat the odds and discover the best way to contact your senator, we've got everything you need to know.
Whether you are looking for phone numbers, office locations, or a list of the senator's services, keep on reading to find out the details!
Who Is the Current Senator of Kansas?
Senator Pat Roberts retired in 2021, so we'll go over one of the two current senators of Kansas - Senator Roger Marshall.
Roger Marshall recently became the newly appointed senator of Kansas.
From 1997 to 2021 American Politician Pat Roberts held the position of senior senator of the state, he then went on to retire in 2021.
About Senator Roger Marshall
Senator Roger Marshall was born in El Dorado, Kansas in 1960
He graduated from the University of Kansas School of Medicine and is a certified physician. He spent 25 years practicing medicine as an OB-GYN.
Prior to starting his political career, the senator also served for 7 years in the Army Reserves. And before becoming Senator of Kansas he worked as a representative of Kansas' 1st district, a position he held from 2017 to 2021.
What's the Best Way to Reach Out to the Current Senator of Kansas?
Address

Russell Senate Office Building

Suite 479A

Washington, DC 20510

The senator also has offices located in all of the following places:

Pittsburg
Overland Park
Garden City
Topeka
Wichita
Salina

All of the locations and contact information for these offices can be found at the bottom of his official website.

Official Website
https://www.marshall.senate.gov/
Email
The senator does not list his email, instead, he requests that anyone who wants to contact him do so through his official website.You can click here to fill out the necessary form.
Senator Phone Number
202-224-4774
Fax
202-228-6966
Alternative Ways to Stay Updated on the Senator of Kansas
Sign up for the senator's Newsletter
Signing up for the senator's newsletter is a more formal way to receive updates on the senator's political actions and events. All you have to do is go to the senator's official website and fill out the following form.
Following Senator Marshall on his social media accounts
The senator frequently uses his social media accounts to communicate with the residents of Kansas about the latest news, legislation, and any state-wide emergency. Following any of his accounts can be a great way to keep in touch with the senator's initiatives and services.
You can follow Senator Risch on any of the following platforms:
What Services Does the Senator of Kansas Offer?
The senator and his offices offer a wide range of services for the residents of Kansas, here is a list of all the things he can help you and your community with:
Schedule a personal meeting with Senator Roger Marshall
Like any government representative, Senator Marshall works to serve the people which elected him, and therefore speaking to him about the concerns you might have regarding your state is your democratic right.
If you would like to schedule a meeting with the senator to speak to him one on one, or even schedule time for the senator to attend a public event you might be planning, then click here to find out how.
Getting help with academy nominations
The senator can nominate qualified candidates to the country's military academies.
The appointment allows you to apply for the selection process,
To be eligible for the nomination candidates have to be older than 17 but younger than 23 years of age.
If you're interested in applying for a nomination from the senator click here to find out the requirements, eligibility standards, and more information.
Press releases
The senator's office frequently does press releases to address the public directly and quickly. All of these are posted on his official website and can be accessed by anyone.
Why It Can be Hard to Get in Touch on Your Own
Senator Marshall's offices are often very busy and have a lot of work to get through, so calling them doesn't guarantee a fast response. It's definitely better to address your concerns in a written form, either an email or a letter to the senator.
By writing, you guarantee that his office has a written record with the details of your case, and you can follow up with them more effectively. However, we know that writing a formal email isn't easy, and getting down everything you want to say can be a challenge.
How Can DoNotPay Help You Contact Senator Marshall?
If you want to make sure that your voice is heard, DoNotPay can help you send the perfect email to the government representative of your choice. Whether it's your Senator or a delegate from the House of Representatives, can articulate all of your concerns in a formal, detailed, and effective manner.
Here's how it works:
1. Search "Contact Representative" or "Legislator" on 's search bar and choose the Contact Your Government Representative product.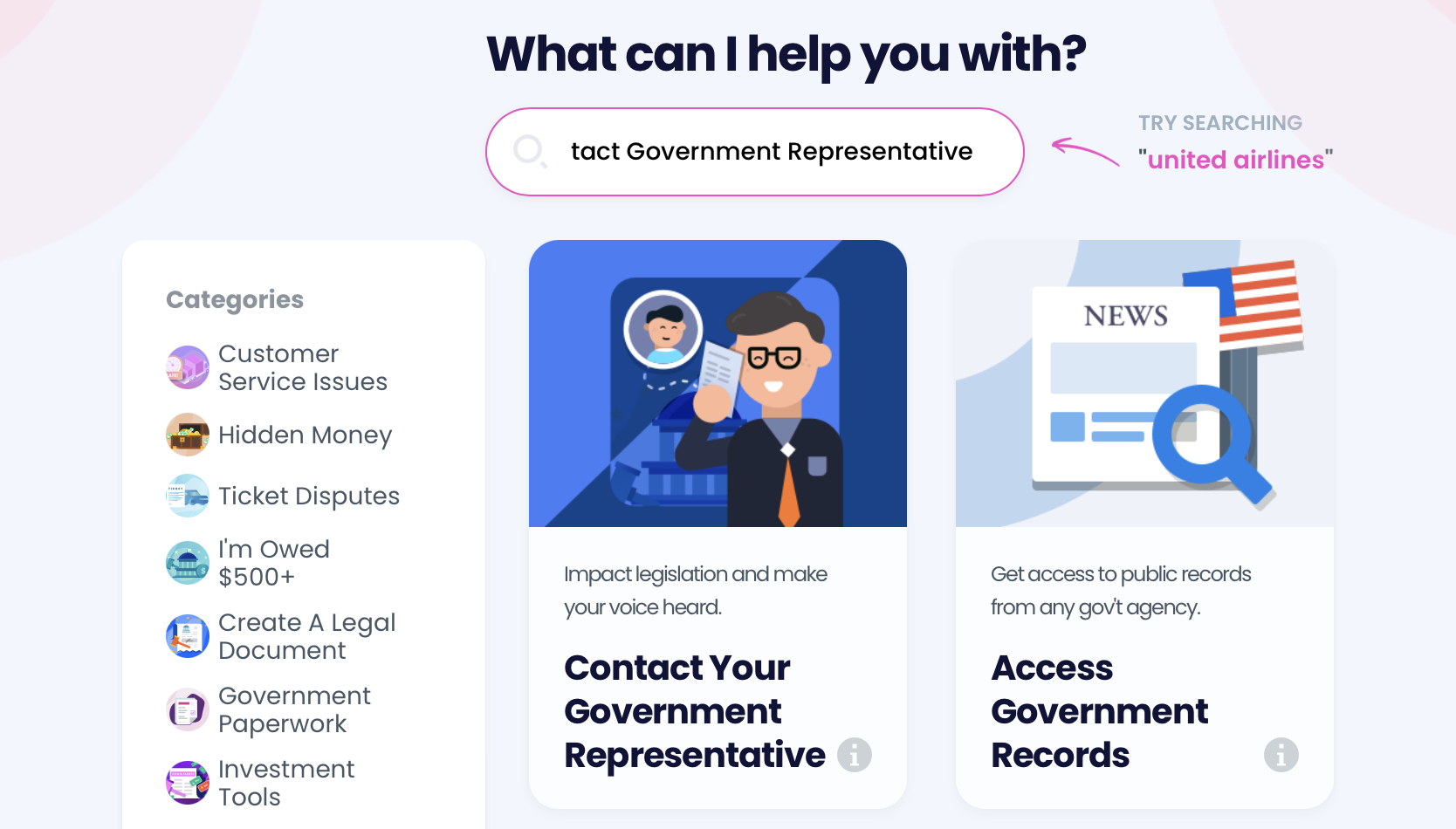 2. Select which representative you wish to contact: your Senator, Governor, President, Mayor, or House Representative.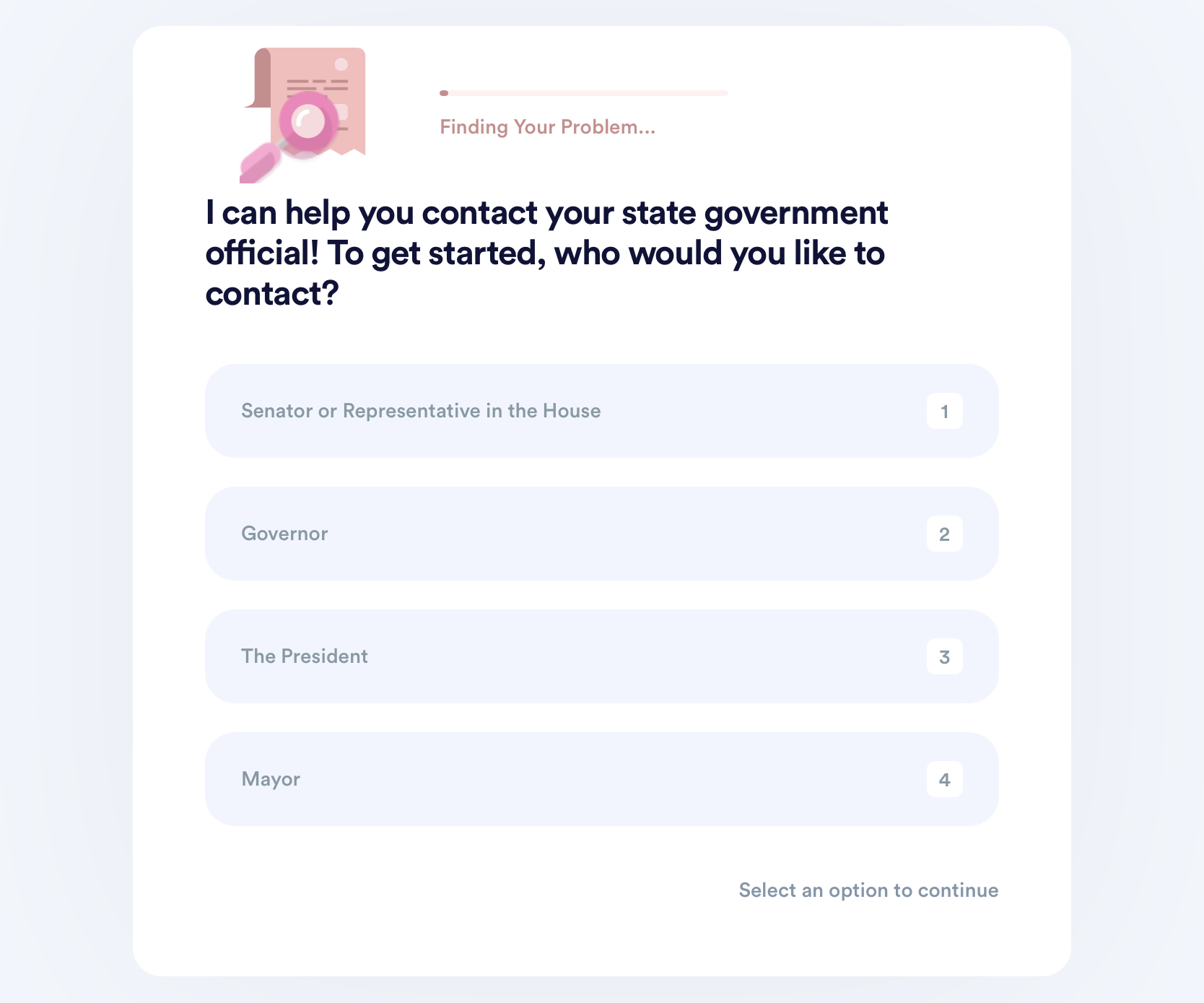 3. Briefly explain the issues you are concerned about or whatever bill you have an opinion about. Give us details about your position and what action you wish for them to take.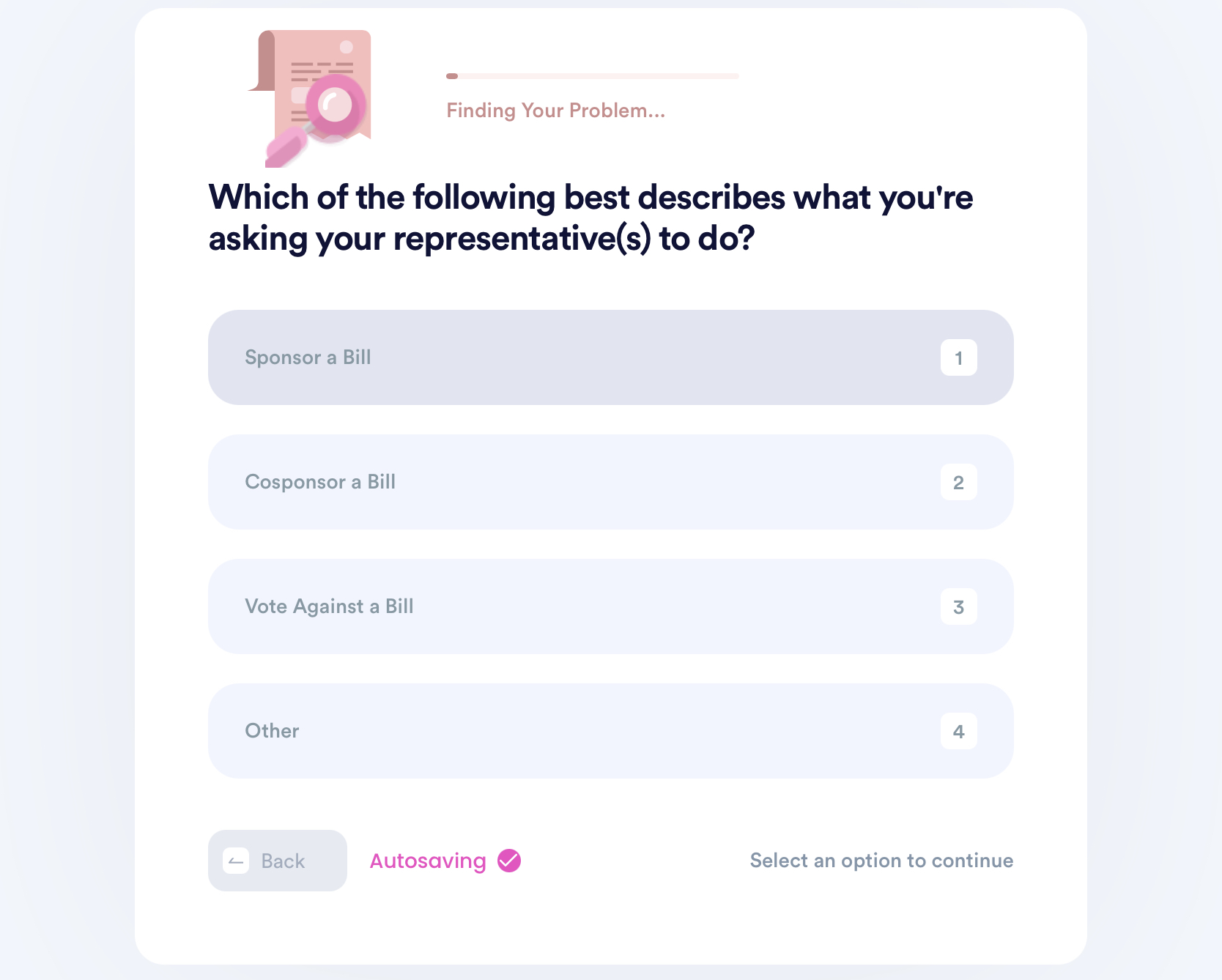 All you have to do is sit and relax while our bots create the perfect email. They'll fill out all the necessary forms on your legislator's website on your behalf or send an email to the official's contact.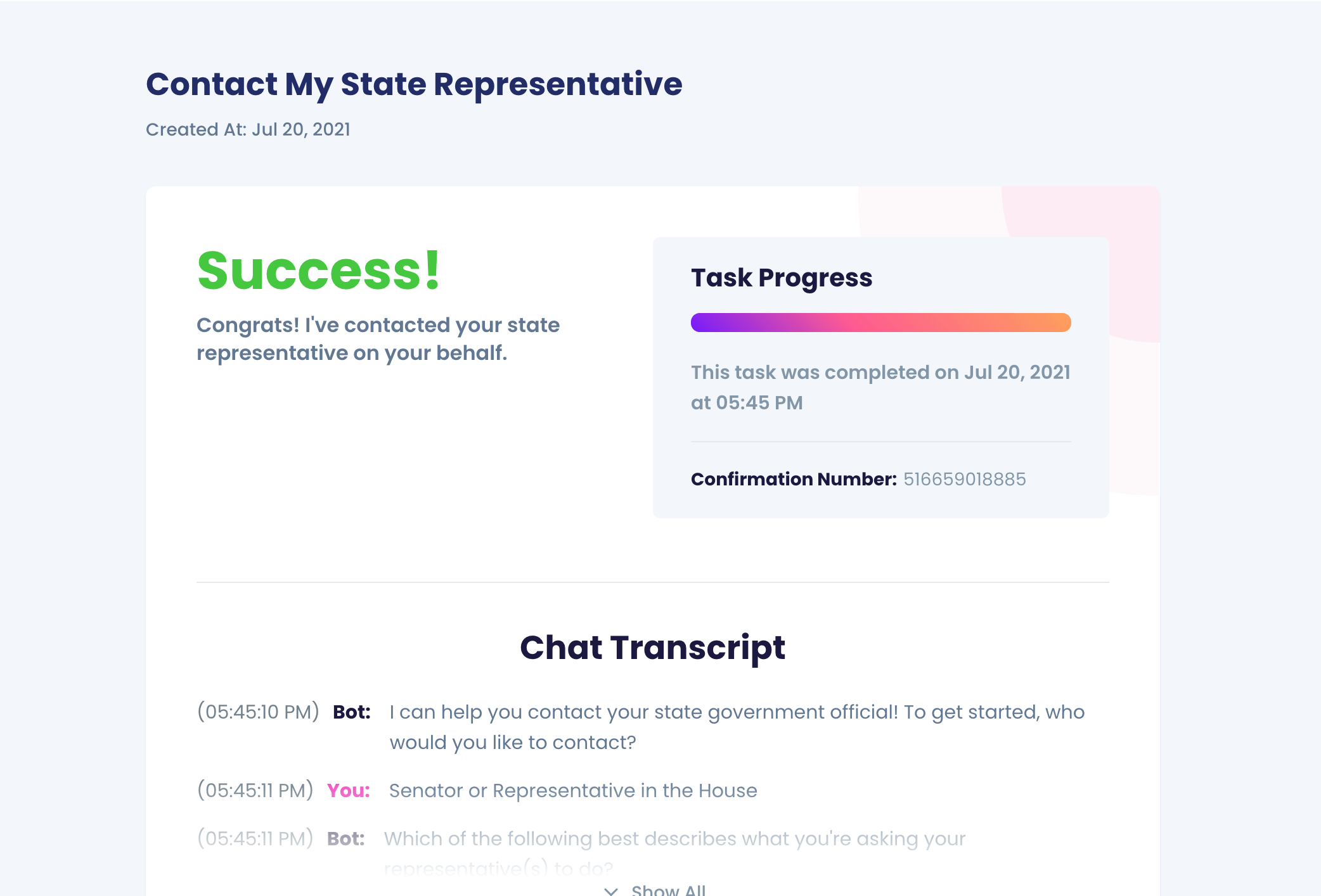 DoNotPay Can Help You with Much More!
Our services do not only include contacting a senator, but we offer a variety of services regarding legal matters! Some of them are: