Discover How to Contact Senator Mitch McConnell
If you live in the state of Kentucky, contacting Senator McConnell can help you discover a wide range of resources, as well as access government services like obtaining a letter of recognition, arranging tours in Washington DC, and finding internship opportunities.
This article has compiled all of governor McConnell's latest contact information, and the best way to contact your government representatives using .
Who is Senator Mitch McConnell?
Senator Addison Mitchell McConnel was born in Sherrill, Alabama in 1942. He is a member of the Republican party and was first elected to the Senate in 1985.
He completed his undergraduate degree at the University of Louisville and went on to study law at the University of Kentucky. He was the senate majority leader between 2015 and 2021 and now serves as the Senate minority leader.
Where Exactly is the Senator's Office Located?
The governor has several offices located throughout the state of Kentucky and one in the Capitol. As long as you are a constituent of Kentucky, you can contact the Senator. The following table can help discover which of his offices is closest to you:
City / Town
Address & Contact Information
Louisville
601 W. Broadway

Room 630

Louisville, KY 40202

Phone: (502) 582-6304

Fort Wright
1885 Dixie Highway

Suite 345

Fort Wright, KY 41011

Phone: (859) 578-0188

Lexington
771 Corporate Drive

Suite 108

Lexington, KY 40503

Phone: (859) 224-8286

London
300 S. Main Street

Suite 310

London, KY 40741

Phone: (606) 864-2026

Bowling Green
Federal Building

241 E. Main Street, Rm. 102

Bowling Green, KY 42101

Phone: (270) 781-1673

Paducah
100 Fountain Avenue

Suite 300

Paducah, KY 42001

Phone: (270) 442-4554

Washington D.C
317 Russell Senate Office Building

Washington, DC 20510

Phone: (202) 224-2541

FAx: (202) 224-2499
Senator McConnell Contact Details
https://www.mcconnell.senate.gov/public/index.cfm/home
Fill out the following contact form to send an email to Senator McConnell.
Phone number: 202-224-2541
Twitter: @LeaderMcConnell
Facebook: @mitchmcconnell
Instagram: @mcconnellpress
What Services Can Senator McConnell Help You With?
As part of his constitutional duties, Senator McConnell has specific responsibilities within the state of Kentucky. Many of the services he provides can be of benefit to you and your community, here is a list of all the ways the senator and his office can help you:
Federal casework

Senator McConnell and his office can assist you with any issues you might face trying to resolve problems with a federal government agency.
In order to receive this assistance, you may need to provide a letter explaining the details of your circumstances, the agency involved, and the action you wish to pursue. In addition to this, you must attach a privacy release form.
Finding internship opportunities in the state of Kentucky

This program helps to encourage the development and education of undergraduate students.
You can find out more about the program and how to apply at the following link.
Requesting a flag

US flags can be requested for military retirement, or events celebrating personal achievements.
The governor has jurisdiction over any flags being flown at half-mast about the state of Kentucky.
Visiting the state of Kentucky

Known as the bluegrass state, The state of Kentucky is recorded by the senator as agreed please for national tourism. His office can help you arrange and discover tours to different parts of the state.
Why It Can Be Hard to Get a Hold of Senator McConnell
Getting a hold of the Senator can be tricky, as a leader of the senate minority he is frequently in Washington DC and his schedule is incredibly busy.
Calling his offices is an option, but explaining the details of your situation in the span of a single phone call can put you under a lot of pressure, and it's hard to know whether your message will be repeated with accuracy to the senator.
Your best option is to write a formal email to Senator McConnell. However, figuring out the perfect structure and argument can be an intimidating process, and it can take a lot of time to express yourself in a formal and concise manner.
How DoNotPay Can Help You Contact Senator McConnell
If you want to make sure that your voice is heard, DoNotPay can help you send the perfect email or message to the government representative of your choice. Whether it's your Senator, Mayor, or a House Representative, can articulate all of your concerns in a formal, detailed, and effective manner.
Here's how it works:
1. Search the words "Contact Representative" or "Legislator" on and select the Contact Your Government Representative product.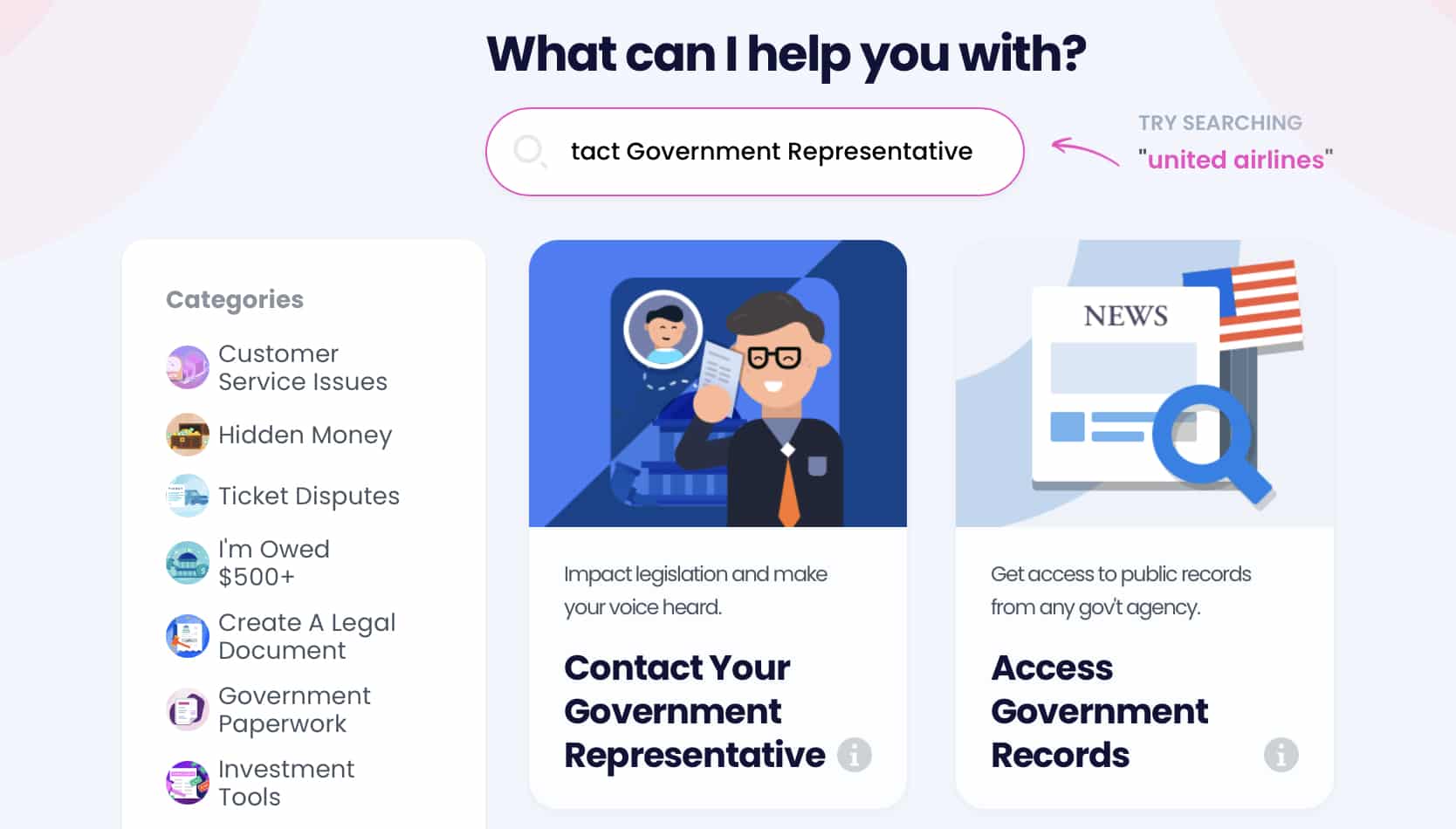 2. Select which representative you wish to contact, your Senator, Governor, President, Mayor, or House Representative.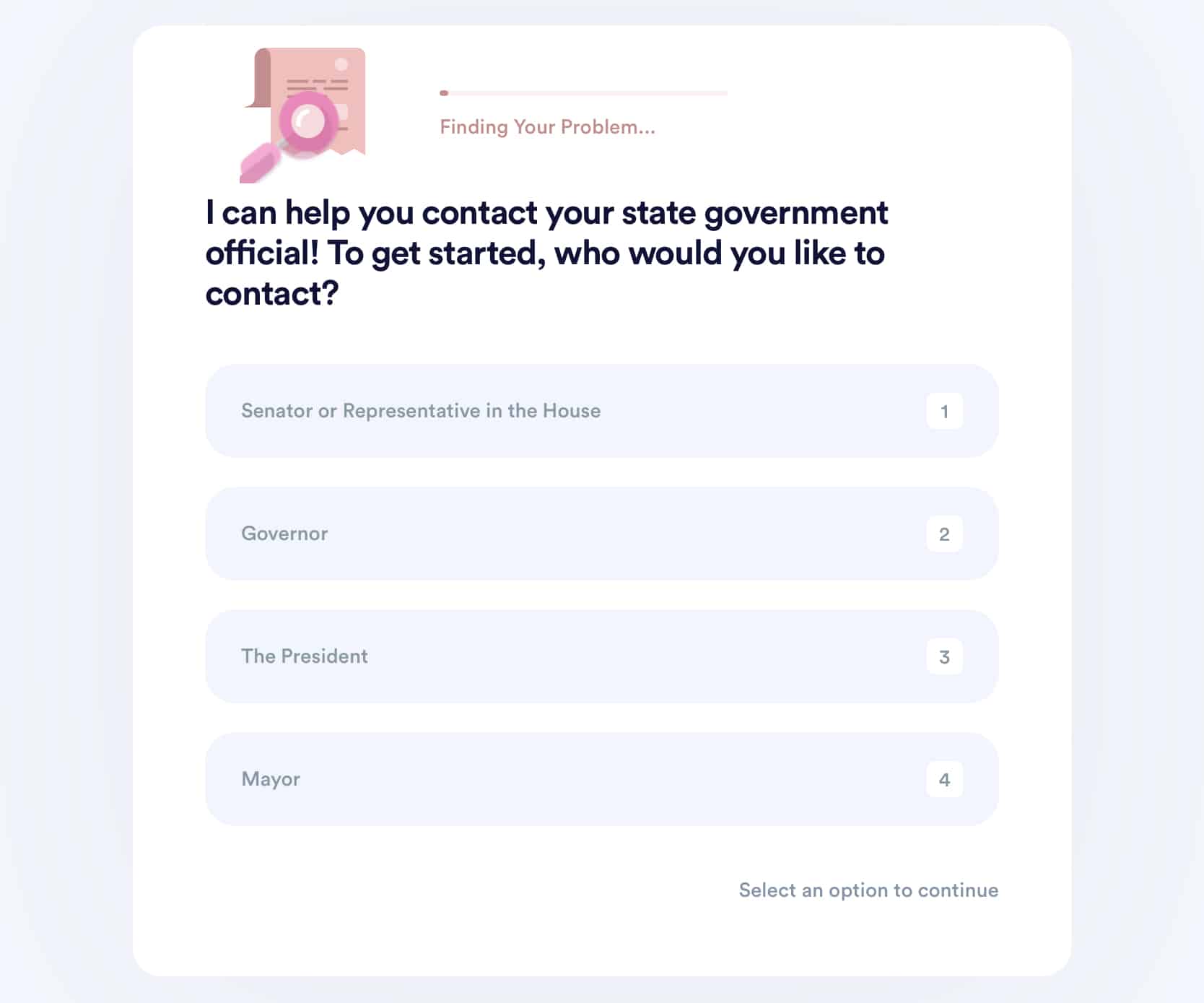 3. Briefly explain the issues you want to get across to them, or whatever bill you're concerned about. Give us details about your position and what action you wish for them to take.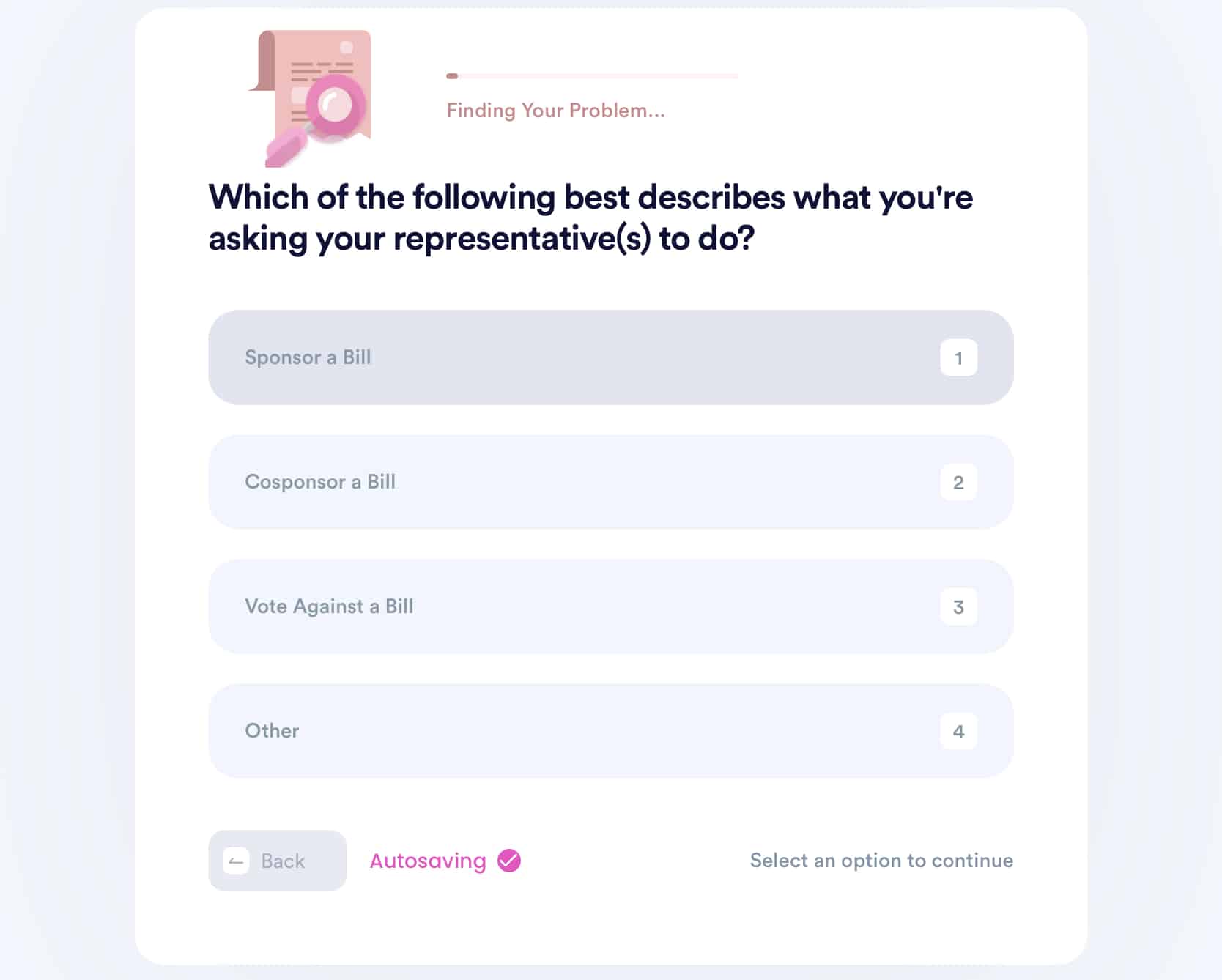 4. You're done! All you have to do is sit and relax while our bots create the perfect email. They'll fill out all the necessary forms on your legislator's website on your behalf.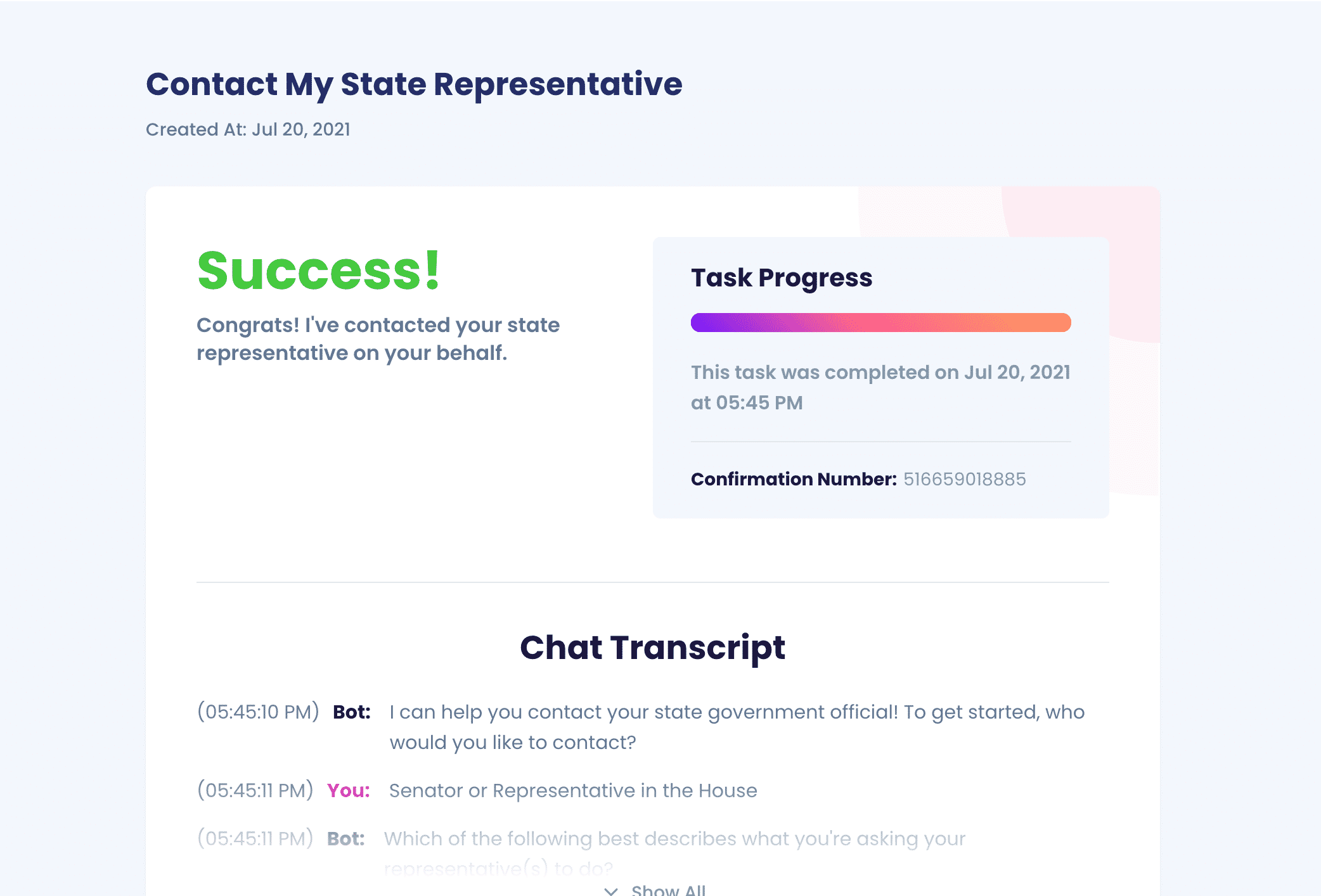 What Else Can DoNotPay Do for Me?