Contact Senator John Kennedy the Easy Way
Government representatives help and assist millions of Americans daily. They are elected to be the voice of the people, and reaching out to a representative will allow them to voice their particular opinion on matters concerning the nation. More than that, representatives encourage Americans to share their thoughts with them so that they can take action according to public opinion.
The following article will be a comprehensive guide on how you can contact United States Senator of Louisiana, John Kennedy. It will also introduce you to the best way to contact any government representative using .
How to Contact Senator John Kennedy
There are several ways you can reach a senator. You can choose to call a senator or government representative. email them, or mail them your requests.
Senator John Kennedy has ten office locations, nine in the state of Louisiana, and one in the Senate Office Building in Washington DC.
Washington, DC: 416 Russell Senate Office Building Washington, DC 20510, Phone Number: (202)-224-4623
Baton Rouge, Louisiana, 7932 Wrenwood Blvd. Suites A&B Baton Rouge, LA 70809, Phone Number: (225) 926-8033
Lafayette, Louisiana: 315 S. College Road Suite 140, Lafayette, LA 70503, Phone Number: (337) 269-5980
Lake Charles, Louisiana: 814 West McNeese Street Suite 213 Lake Charles, LA 70605, Phone Number: (337) 573-6800
Houma, Louisiana: 8026 Main Street Suite 700 Houma, Louisiana 70360, Phone Number: (985) 851-0956
Mandeville, Louisiana: 21490 Koop Drive Building A Mandeville, LA 70471, Phone Number: (985) 809-8153
New Orleans, Louisiana: 500 Poydras St. Suite 364 New Orleans, LA 70113, Phone Number: (504) 581-6190
Shreveport, Louisiana: 401 Market St. Suite 1050 Shreveport, LA 71101, Phone Number: (318) 670-5192
Monroe, Louisiana: 1651 Louisville Avenue Suite 148 Monroe, LA 71201, Phone Number: (318) 361-1489
Alexandria, Louisiana: 6501 Coliseum Blvd. Suite 700A Alexandria, LA 71303, Phone Number: (318) 445-2892
The following table is an overview of the main ways you can contact U.S. Senator
State
Louisiana
Political Party
Republican
Entered Office
3rd of January 2017
Term Expires
3rd of January 2023
Main Mailing Address
416 Russell Senate Office Building

Washington, DC 20510

Main Phone Number
(202)-224-4623
Email Address
To send the senator an email, fill out the form here.
Website
http://www.kennedy.senate.gov/
Social Media
Facebook
About Senator John Kennedy
John Kennedy is an American lawyer and politician who is currently serving as the junior United States Senator for Louisiana, a seat he has held since 2017.
He is a Democrat turned Republican.
Kennedy served as the Treasurer of the State of Louisiana.
Kennedy graduated magna cum laude from Vanderbilt University with an interdepartmental major in political science, philosophy, and economics.
Afterward, he received a Juris Doctor from the University of Virginia School of Law.
Later, Kennedy attended Magdalen College at the University of Oxford.
He was initially a staff member of former Governor Buddy Roemer before he rates as a Democratic nominee for state attorney general in 1991.
He was elected the Secretary of the Louisiana Department of Revenue in 1996.
In 1999, Kennedy was elected the Treasurer of Louisiana, a position he was re-elected to in 2003, 2007, 2011, and 2015.
He was an unsuccessful candidate to the U.S. Senate in 2004 and 2008.
In 2007, he switched parties and became a Republican.
Submit a Legislative Opinion to Senator John Kennedy
Louisianans are encouraged to share their opinion on the legislation of the nation to Senator Kennedy, who will then give feedback or take action to voice their opinion. Here is a list of topics you can offer your opinion on:
2nd Amendment
Abortion
Agriculture
Animal Welfare
Appropriations
Banking
Budget
Civil Rights
Congratulations
Corruption
Crime
Defense and Military
Economy
Education
Energy
Environment
Family Issues
FEMA
Flood Insurance
Foreign Affairs
Health Care
Homeland Security
Housing
Immigration
Insurance
Judiciary
Labor
Natural Resources
Pensions
Small Businesses
Social Security
Taxes
Telecommunications
Trade
Transportation
Women's Issues
Get Assistance With Federal Agencies
Residents of Louisiana that are experiencing issues or problems with a federal agency can reach out to one of the offices of Senator Kennedy, which can assist them and act as a liaison between them and the federal agency.
Senator Kennedy's staff members can answer questions, locate resources, work to resolve challenges, and receive status updates. If you are seeking help to work with a federal agency, fill out the form found here. Here are certain topics the Senator can help you with:
Veteran's Benefits
Immigration and Visas
Taxes and IRS
Social Security
Medicare
Passport Assistance
FEMA and Disaster Assistance
Your Best Option for Contacting Senator John Kennedy
You can try to call a senator. However, in this case, you should follow a script to ensure that you can professionally communicate your message in order to increase the chances that the Senator will take action. However, calling is deemed the worst option to reach a government representative as there is a risk that your message will be lost in translation, or misinterpreted.
Writing an email is recommended, however, there are extended wait times and it can be intimidating writing a professional email to a senator. An email must be well written especially seeing as the offices of representatives experience high volumes of emails and calls daily. Therefore, contacting a representative through DoNotPay is your best option!
Let DoNotPay Contact United States Senator John Kennedy for You!
Forget about the long wait times and busy phone lines, DoNotPay can contact a government representative on your behalf in a matter of minutes! All you have to do is follow these simple steps:
1. Search "Contact Representative" on and click on the product.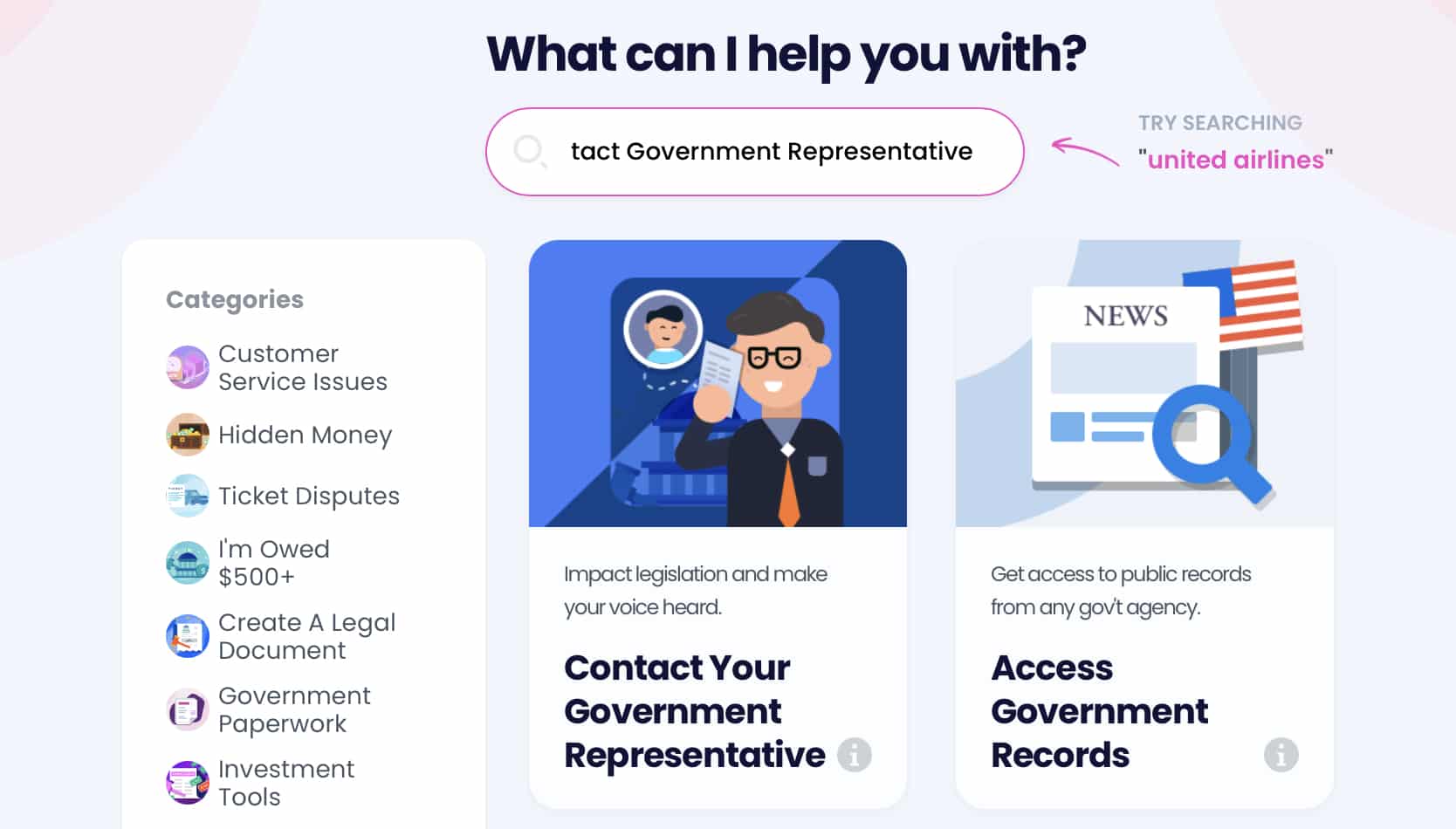 2. Choose whether you want to contact your Senator, House Representative, Governor, President, or Mayor.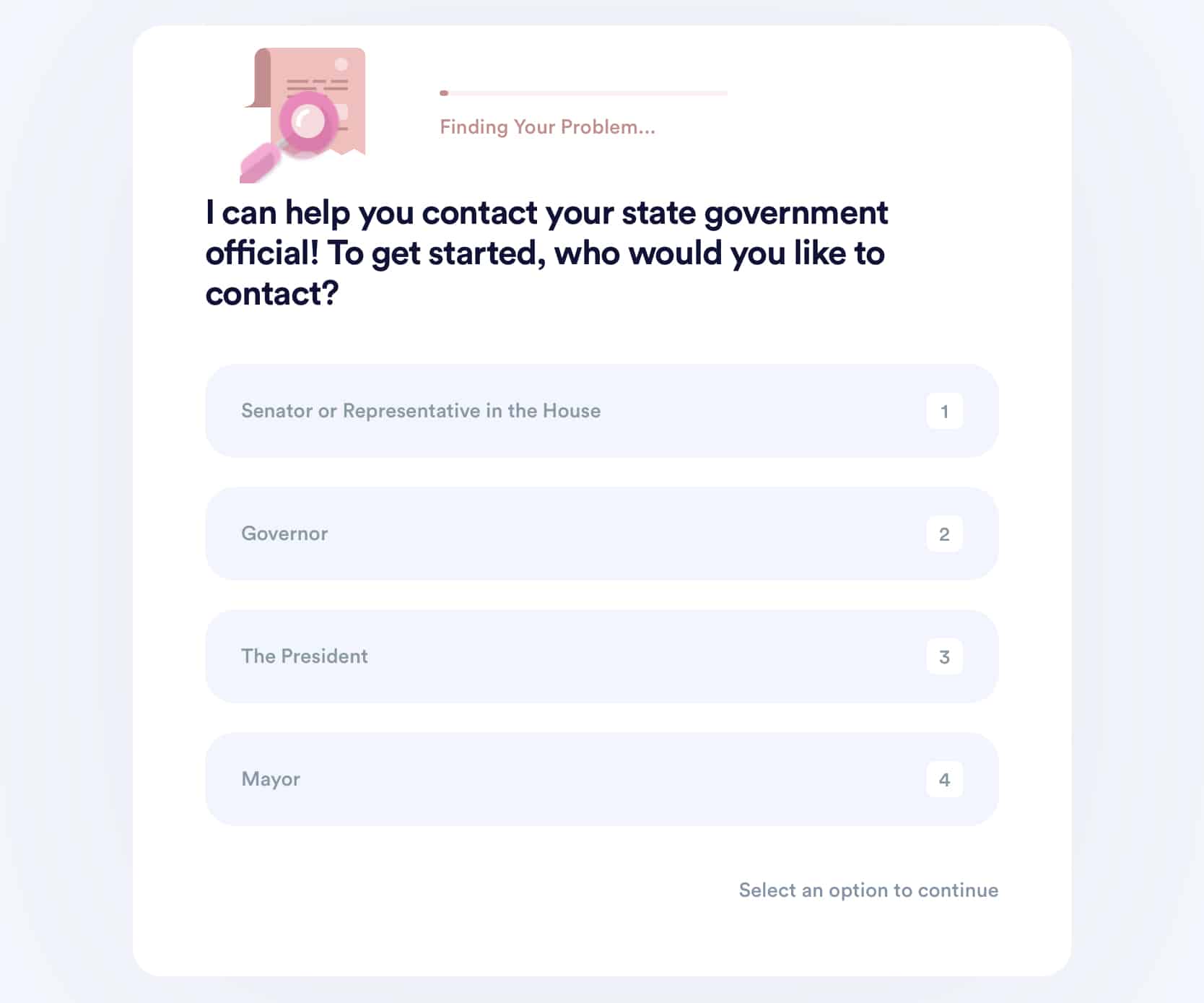 3. Tell us why you're contacting your representative, which bill or issue you're concerned about, and what you're urging the representative to do.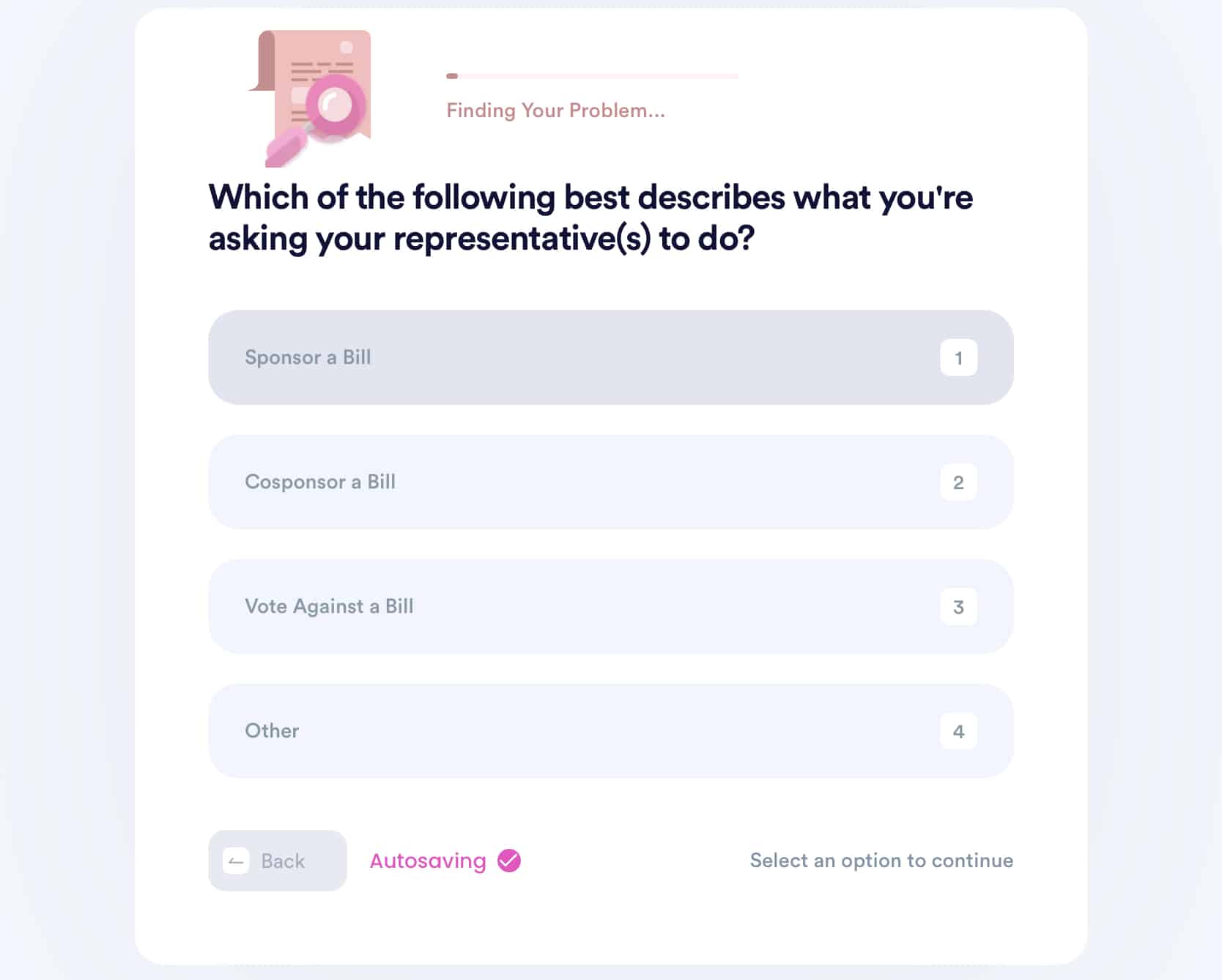 Sit back and relax! will make sure your message gets delivered.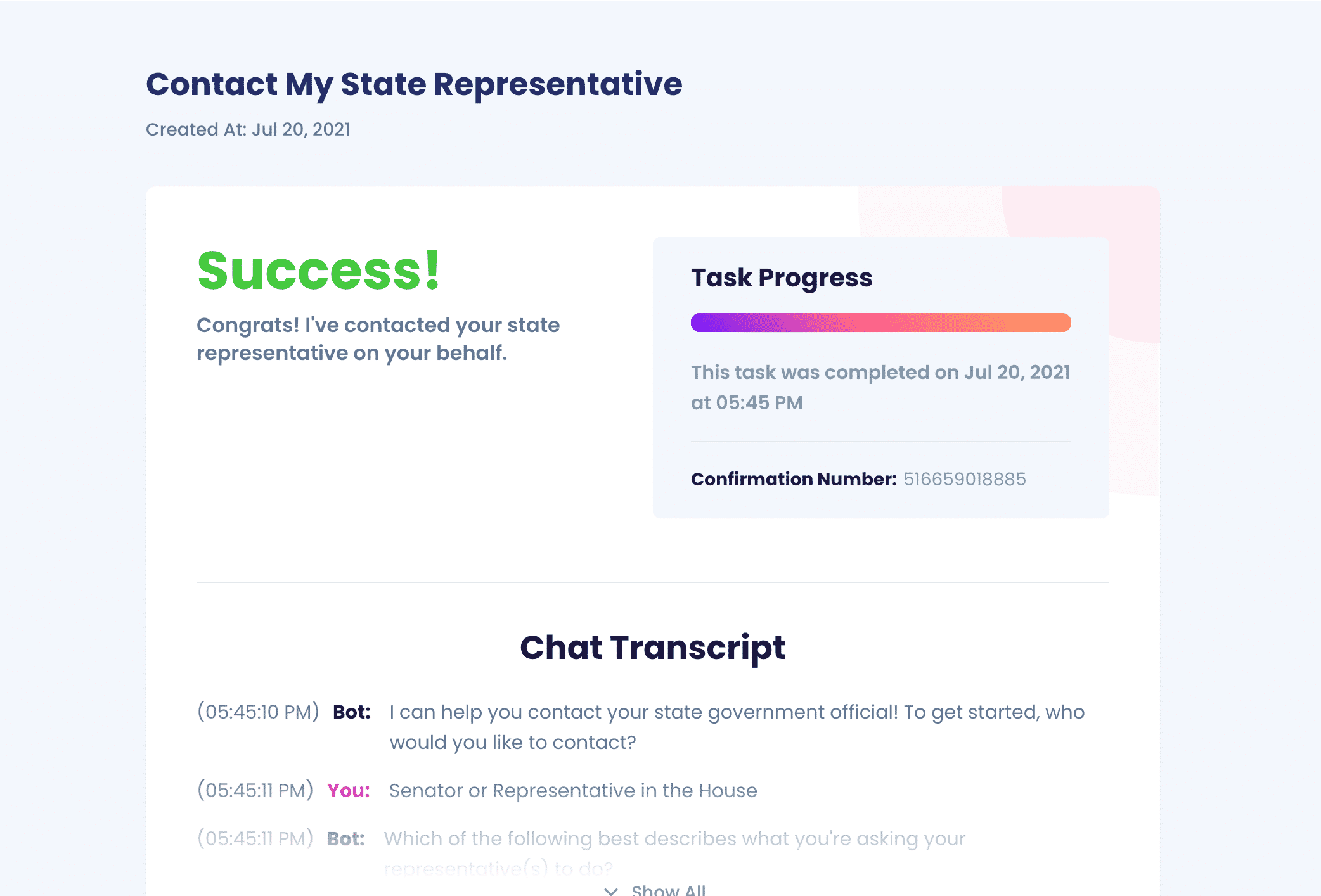 DoNotPay Does More for You