Contact Senator John Cornyn, Texas
Contacting a government representative is a great way to ensure that your voice will get heard. Representatives care about their supporters and their standpoints, as it is essential for them to be reelected. However, finding the proper way to contact the representative and raise your concerns regarding legislation can be quite a tiresome process. This article will introduce you to an incredibly easy and fast way to contact your senator, or any other government representative using .
How to Contact United States Senator John Cornyn
You can contact your senator or any other government representative by calling in. United States Senator John Cornyn has eight offices that you can contact him at. Seven are in the state of Texas and one is in the Capitol Building in Washington DC. You should contact the office that is closest to your location. The following table shows an overview of how you can contact each office location:
| | | |
| --- | --- | --- |
| Office Location | Address | Phone Number |
| Washington DC | 517 Hart Senate Office Bldg. Washington, DC 20510 | 202-224-2934 |
| Southeast Texas | 5300 Memorial Drive Suite 980 Houston, TX 77007 | 713-572-3337 |
| South Texas | 222 East Van Buren Suite 404 Harlingen, TX 78550 | 956-423-0162 |
| West Texas | Wells Fargo Center 1500 Broadway, Suite 1230 Lubbock, TX 79401 | 806-472-7533 |
| South Central Texas | 600 Navarro Suite 210 San Antonio, TX 78205 | 210-224-7485 |
| Central Texas | Chase Tower 221 West Sixth Street Suite 1530 Austin, TX 78701 | 512-469-6034 |
| East Texas | Regions Bank Building 100 E. Ferguson Street, Suite 1004 Tyler, TX 75702 | 903-593-0902 |
| North Texas | 5001 Spring Valley Road Suite 1125 E Dallas, TX 75244 | 972-239-1310 |
You can also contact United States Senator John Cornyn through:
United States Senator John Cornyn Biography
John Cornyn is a politician and attorney born in Austin, Texas.
Cornyn graduated from Trinity University and St. Mary's University of Law before obtaining an LL.M. from the University of Virginia School of Law.
He served as a judge on the 37th District Court of Texas from 1985 until 1991.
In 1991, he was elected to be an associate justice of the Texas Supreme Court, where he served for 6 years until 1997.
In 1998, he was elected the Attorney General of Texas where he served one term.
He served as the Republican Senate Majority Whip for the 114th and 115th Congresses.
He was the Chair of the National Republican Senatorial Committee for three years, from 2007 until 2011.
He is currently serving as a senior United States Senator for the state of Texas, a seat he has held since 2002.

He first won the seat in 2002 and was reelected in 2008, 2014, and 2020
His current term expires in 2026.
Why You Should Contact John Cornyn
You can contact U.S. Senator John Cornyn for any of the following reasons:
Discuss an Issue

Choose an issue from the list provided by the senator
Write a brief message including your stance and make a request (if applicable)
Include your contact information

Services for Texans: Contact Senator Cornyn if you are a Texan and want to inquire about any of the following services:

Passport services and Travel
Home Ownership and Foreclosure
Grants
Medicare and Social Security
Letters of Recognition
Students
Military and Veterans
Visas and Immigration
IRS and Taxes

Get Help with a Federal Agency

Select a federal agency from the list below
Write a brief message of your standpoint

Request a Flag flown over the Capitol

Visit this website
Complete the Agency Form
Enter Your Payment Information
Submit Your Request
List of issues you can discuss with U.S. Senator John Cornyn:
Abortion
Agriculture
Arts and Humanities
Banking
Budget
Criminal justice
Defense
Education
Election reform
Energy
Environment
FEMA
Finance
Firearms
Foreign Affairs
Health Care
Housing
Immigration
Interior
Judiciary
Labor
Law Enforcement
Medicare
Presidential Personnel
Religion
Service Academics
Small Business
Social Security
Taxes/ Economy
Telecommunication
Trade
Transport
Veterans
Welfare
Why It's Hard to Contact Senator Cornyn Alone
It is no secret that contacting a senator can be quite difficult. You can always try to call the senator and attempt to explain your issue, however, calling a senator on the phone is probably not your best option as phone lines are extremely busy and there is no guarantee that the person taking your call will pass on your message. In this case, is your best option to contact the senator!
DoNotPay Can Contact Senator John Cornyn for You!
makes the process of contacting a representative of the US government incredibly easy, and much more convenient. Here's what you need to do:
1. Search "Contact Representative" on .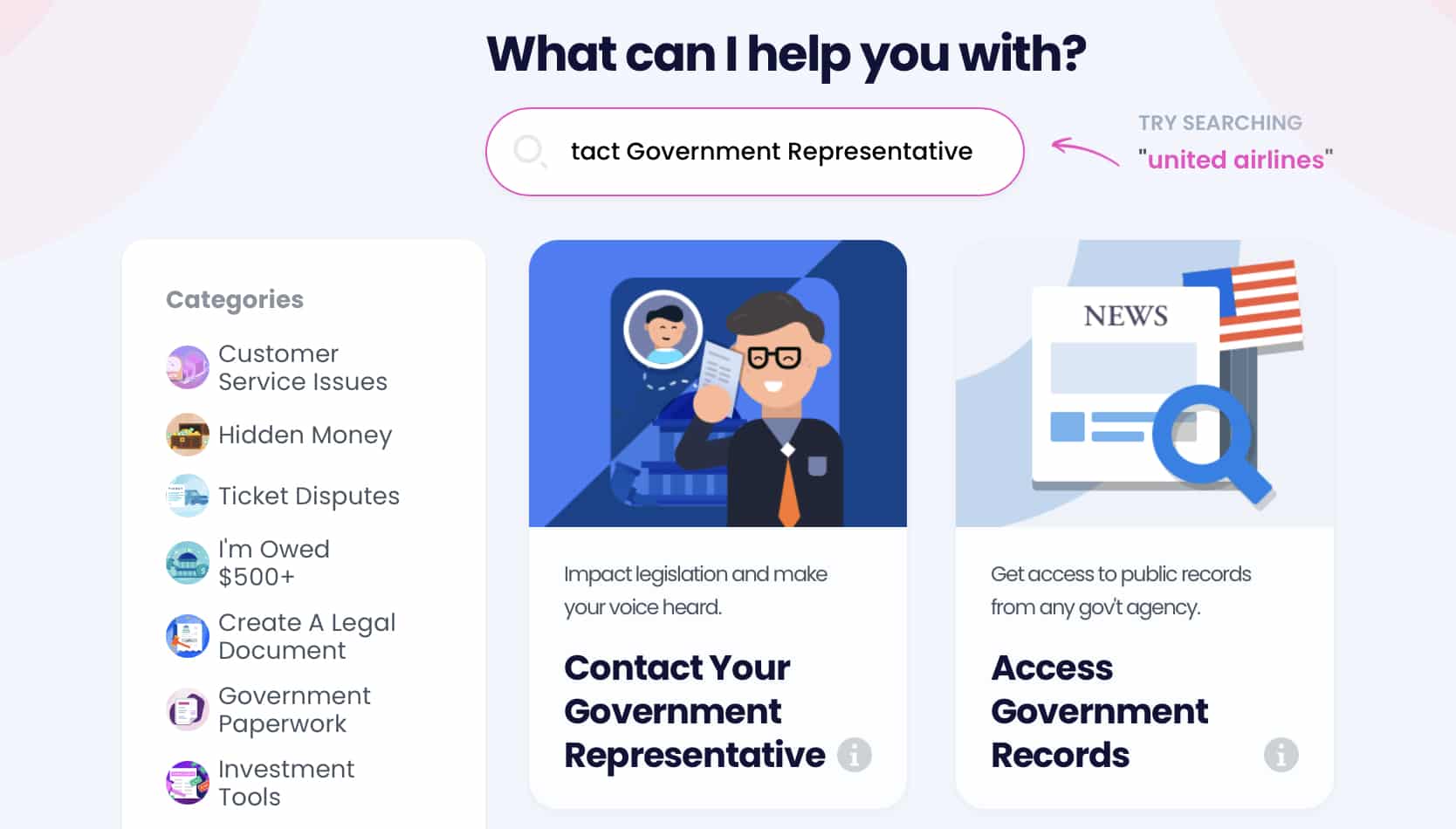 2. Choose whether you want to contact your:
Senator
House Representative
Governor
President
Mayor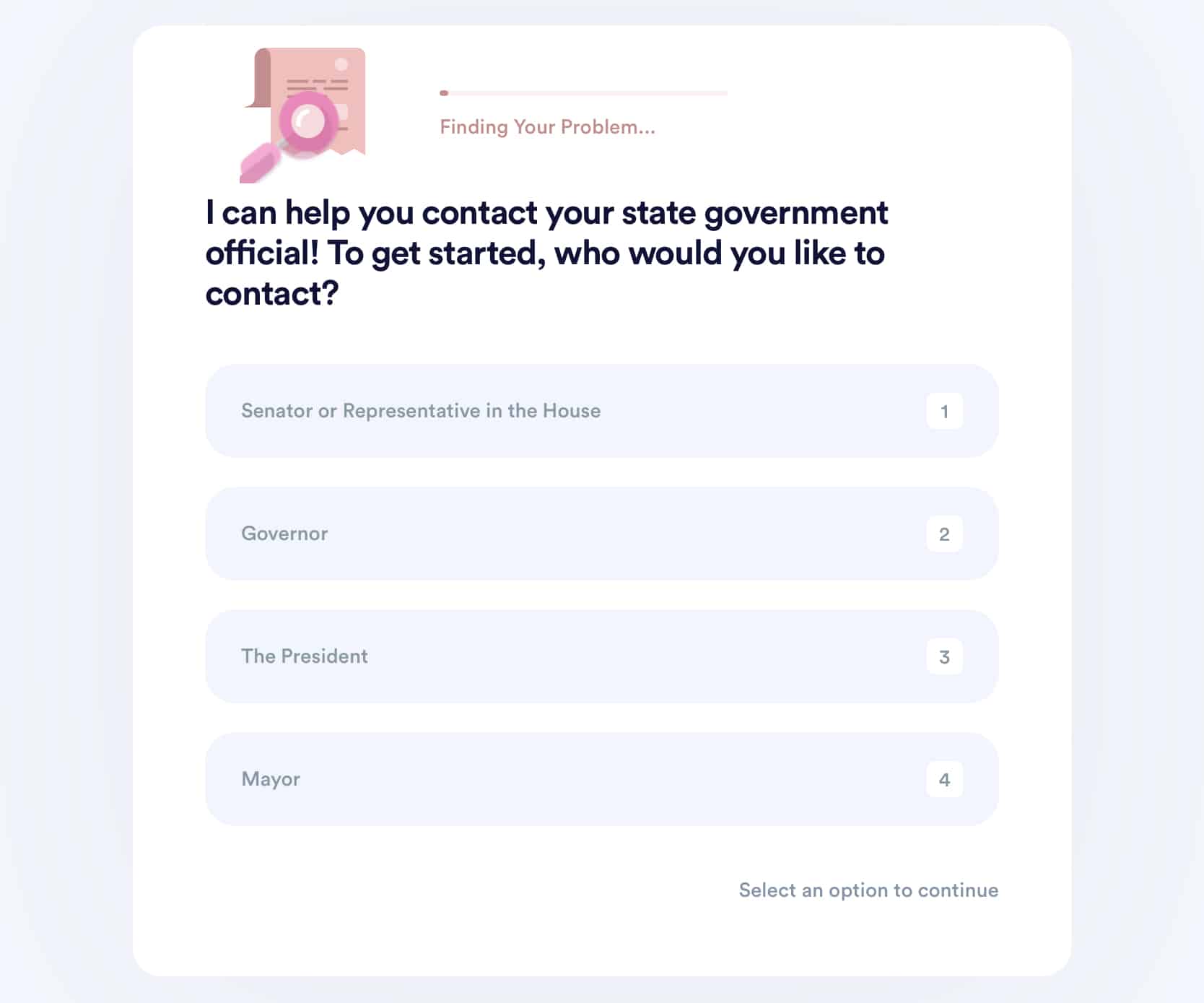 3. Tell us why you're contacting your representative.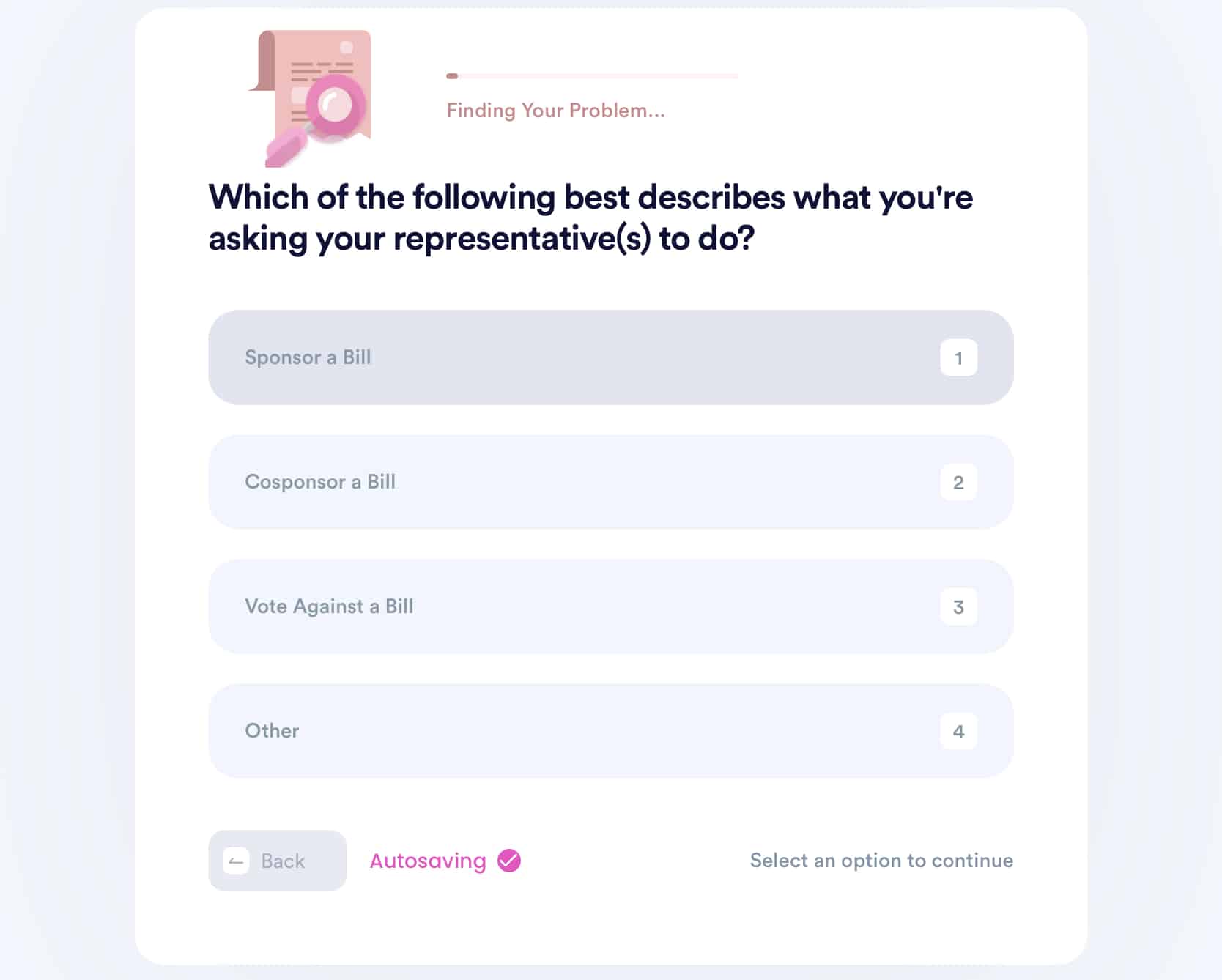 4. Tell us which bill or issue you're concerned about and what your opinions are.
That is all we need from you! 's bots will automatically fill out contact forms on your representative's website!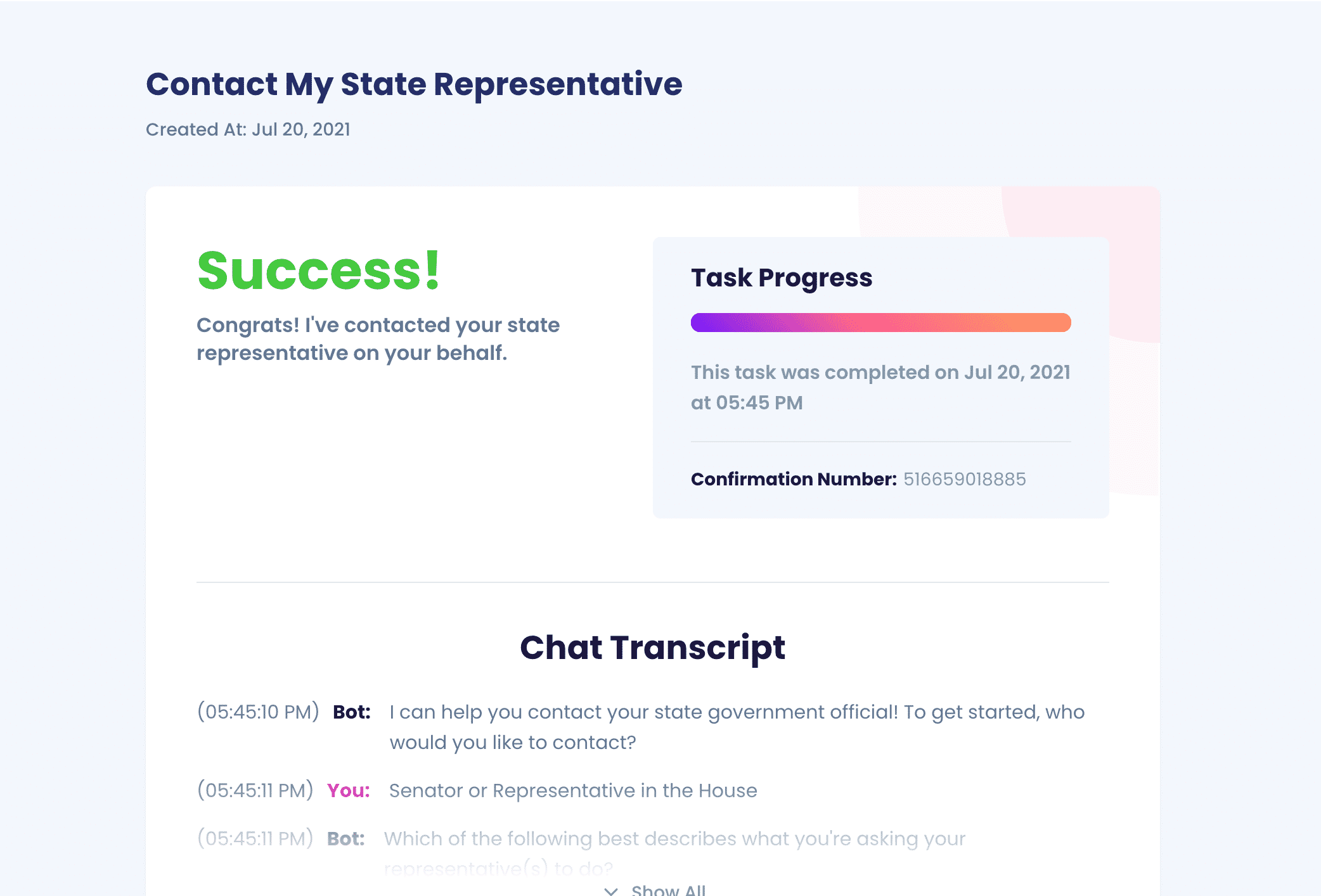 DoNotPay Fights Your Rights!
Reduce property taxes

And more!