How to Contact Senator Grassley
Contacting your senator is a great way to express your political opinions and participate in the progress of your state. As the senior senator of Iowa, Senator Grassley can help you with reporting a violent crime, fixing issues with a federal agency, or planning a one-on-one meeting with him to discuss your concerns about anything in your community.
This article will provide you with everything there is to know about contacting Senator Grassley, and how can help you in the process.
Who Exactly is Senator Chuck Gresley?
Chuck Ernest Grassley was born in New Hartford, Iowa in 1933. He completed his bachelor's and master's in political science at the University of Northern Iowa.
He was elected to serve as Senator of Iowa in 1980 and has held the position for seven terms.
Senator Grassley also serves as president pro tempore of the United States Senate, a position which allows him to preside over the Senate in the event of the vice president's absence.
What Are the Best Ways to Get in Touch With the Senior Senator of Iowa?
Address
721 Federal Building

210 Walnut Street

Des Moines, IA 50309

Official Website
https://www.grassley.senate.gov/
Email
The Governor does not list his email, instead, he requests that anyone who wants to contact him do so through his official website.

You can click here to fill out the necessary form.

Senator phone number
Des Moines office: (515) 288-1145
Fax
Des Moines office: (515) 288-5097
Social Media Accounts
Twitter: @ChuckGrassley

Facebook: @grassley

Instagram: @senatorchuckgrassley
Where Can I Find Senator Chuck Grassley's Office?
Senator Grassley has several offices throughout the state of Iowa, you can receive the same services no matter which office you go to, so simply choose whichever location is most convenient for you.
Here is a list of all the offices, including their locations and contact information:
City/Town
Address and Contact Information
Cedar Rapids
111 7th Avenue SE, Box 13

Suite 6800

Cedar Rapids, IA 52401

Phone: (319) 363-6832

Fax: (319) 363-7179

Council Bluffs
307 Federal Building

8 South 6th Street

Council Bluffs, IA 51501

Phone: (712) 322-7103

Fax: (712) 322-7196

Davenport
201 West 2nd Street

Suite 720

Davenport, IA 52801

Phone: (563) 322-4331

Fax: (563) 322-8552

Sioux City
120 Federal Building

320 6th Street

Sioux City, IA 51101

Phone: (712) 233-1860

Fax: (712) 233-1634

Waterloo
210 Waterloo Building

531 Commercial Street

Waterloo, IA 50701

Phone: (319) 232-6657

Fax: (319) 232-9965

Washington DC
135 Hart Senate Office Building

Washington, D.C. 20510

Phone: (202) 224-3744

Fax: (202) 224-6020
What Are the Duties of the Senator of Iowa?
Here is a list of the senator's responsibilities and how these can benefit you and your community:
Request a meeting with the Senator
The senator has an annual meeting in each of the state's counties.
During Senate sessions the Senator has one-on-one meetings in his Washington DC office, there are 8 spots available and each lasts a maximum of 15 minutes.
Help with federal agencies
To obtain help with any federal agency you have to complete a form from Senator Grassley's office, sign the form and then mail it to his office (whichever location is closest to you works.)
Signing up for Senator Grassley's newsletter
This is a great way to stay up to date on the senator's schedule and events, as well as other activities and important information on the state of Iowa,
Reporting a wrongdoing or misuse of authority in the State of Iowa
Whether it's retaliation, wasteful spending, fraud, criminal activity, or another issue of similar gravity, you can report any of these to the senator's office.
Why It Can Be a Challenge to Get a Hold of Iowa's Senior Senator
Senator Grassley's office is often busy, and when you call a government representative on the phone there's no way to guarantee that any message you leave will be delivered accurately. This can make calling an inefficient method of voicing your opinion.
Getting a spot for one of the senator's personal appointments can also be incredibly difficult. Meanwhile, if you decide to wait for one of his annual visits to your municipality it does not guarantee that you'll get the opportunity to talk to him individually.
Writing an email is definitely your best option when it comes to contacting any government representative, but it can be intimidating to write your argument in a formal and well-structured way. Luckily can help you, read ahead to find out how.
How Can DoNotPay Help You Contact Senator Grassley Faster?
DoNotPay can help you send a letter to any government representative, a state representative, your Mayor, Senator, or even the president. Just by answering a few questions and providing the details of your case, DoNotPay can write a formal email on your behalf.
Here's how it works:
1. Search the words "Contact Representative" or "Legislator" on and select the Contact Your Government Representative product.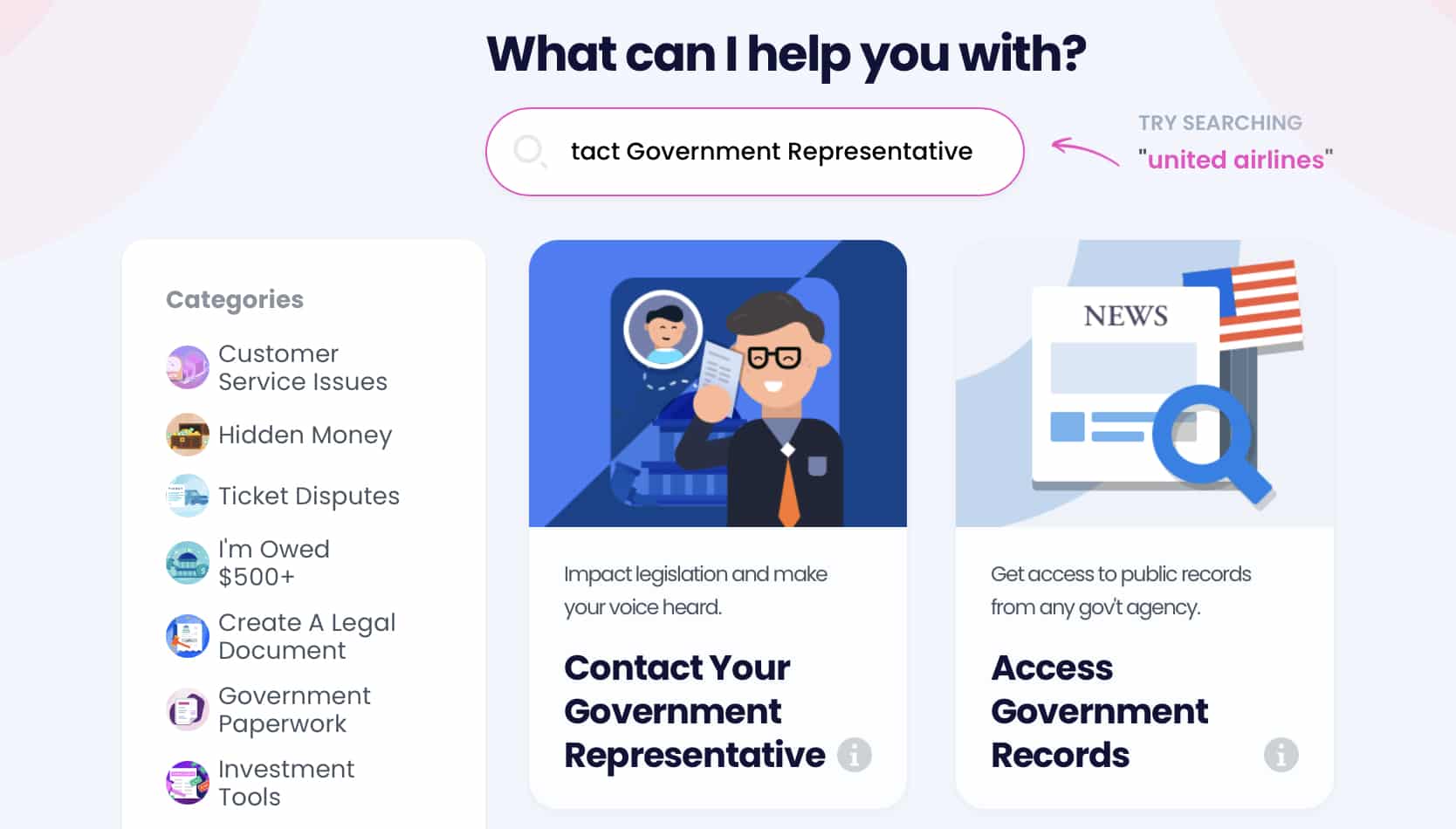 2. Select which representative you wish to contact, your Senator, Governor, President, Mayor, or House Representative.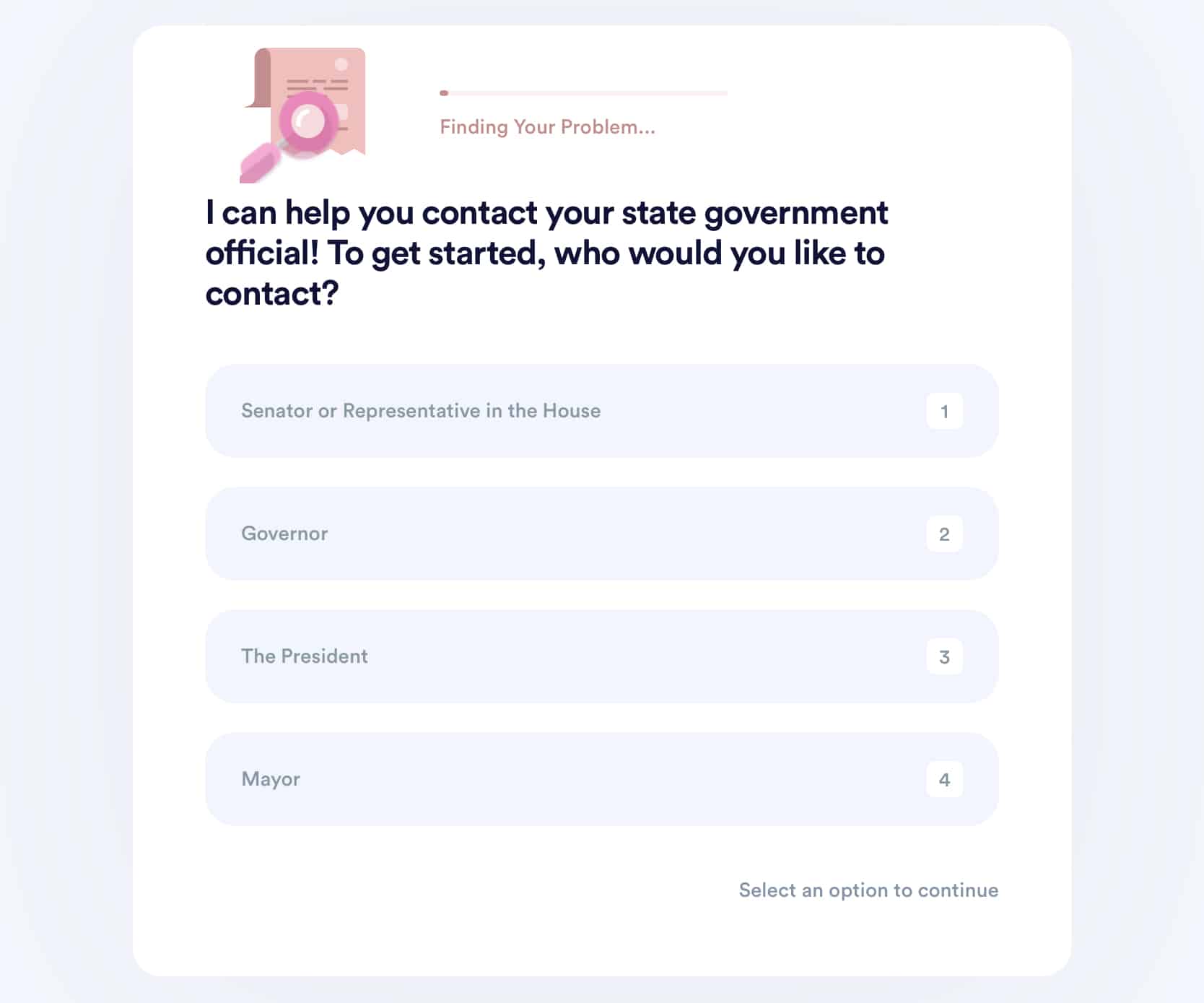 3. Briefly explain the issues you want to get across to them, or whatever bill you're concerned about. Give us details about your position and what action you wish for them to take.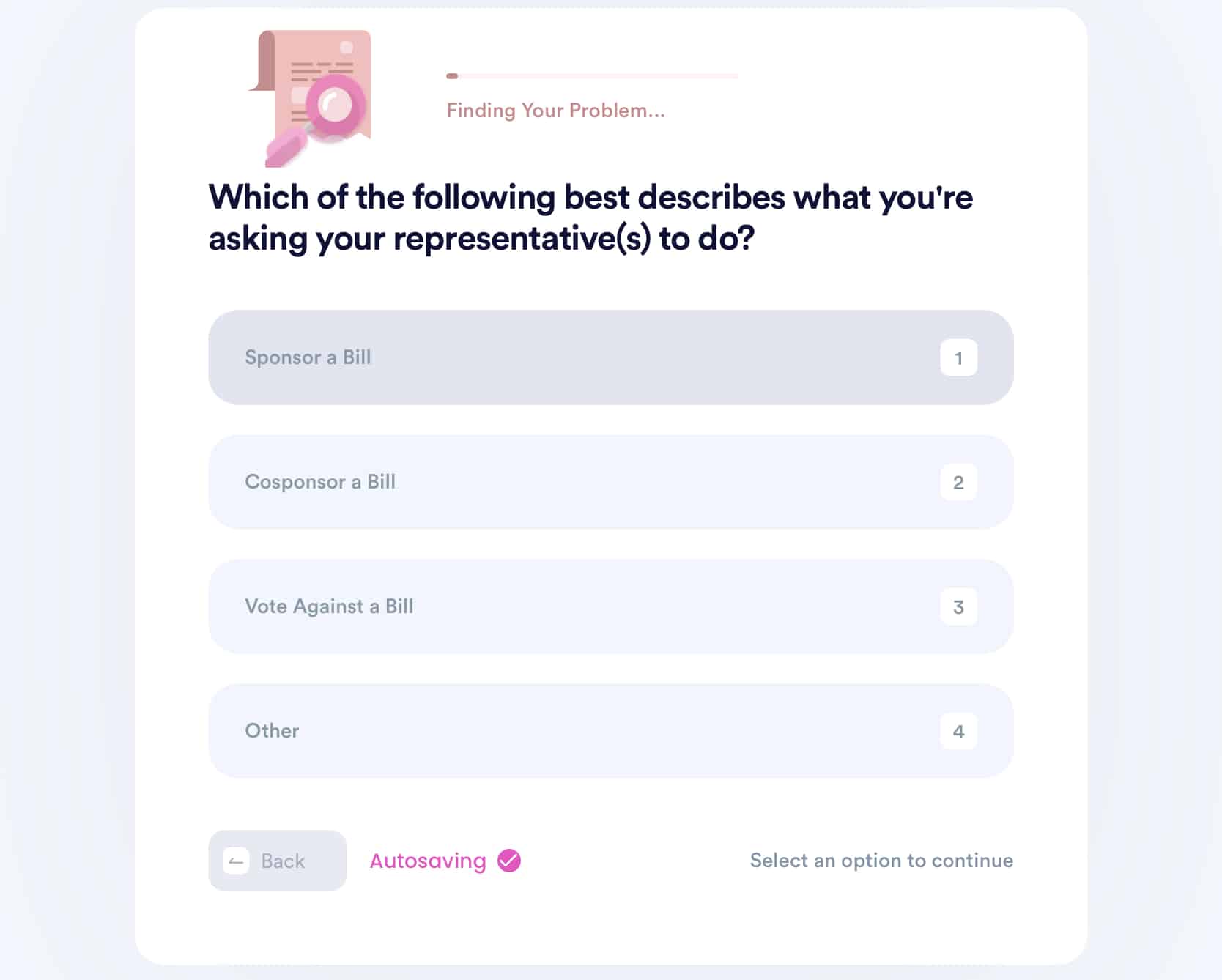 4. You're done! All you have to do is sit and relax while our bots create the perfect email. They'll fill out all the necessary forms on your legislator's website on your behalf.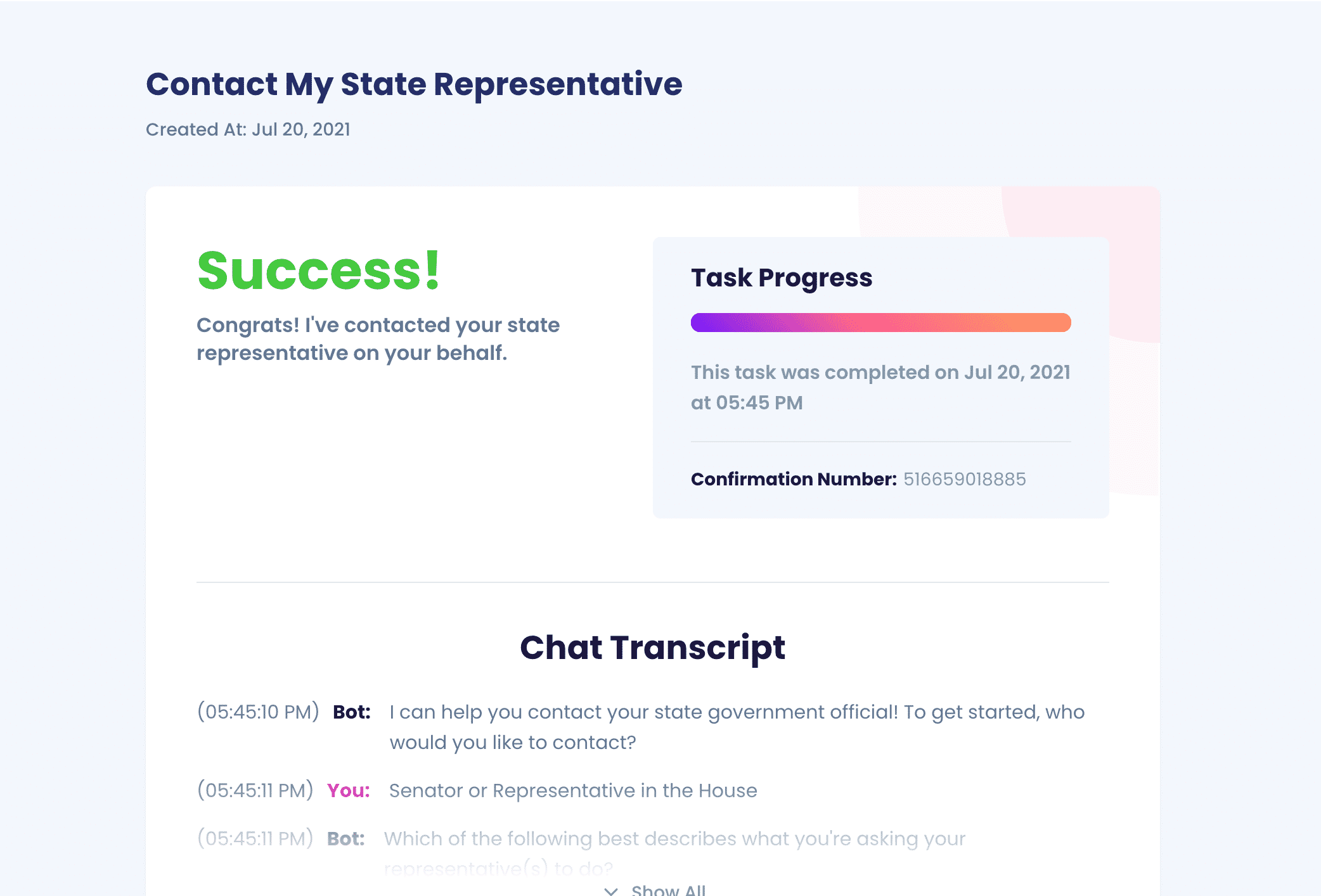 How Else Can DoNotPay Help You?