How to Contact Senator Dianne Feinstein
Senator Dianne Feinstein is a Senior 1st class senator representing the state of California in the 117th Congress. An established Californian politician, Senator Feinstein is partly known as the stern congresswoman who co-authorized the Iraqi war and the brave lady who joined to lay the groundwork for LGBTQ in the US on the other.  Senator Dianne has also left her mark as the longest-serving female senator in US history, with an extra four years still left to make an impact. 
Here's a current guide to Senator Dianne Feinstein's contact details including a simpler, faster way to get in contact with one of California's finest senators today.
About Dianne Feinstein
Senator Dianne Goldman Berman Feinstein was born on June 22, 1933, to a family of Jewish migrants. Feinstein's early education took place at a local Catholic school, and later in Covenant Sacred Heart High School, before graduating with a degree in History from Stanford University in 1955.
A staunch advocate for gun control, Senator Feinstein has served as a member of the board of supervisors in San Francisco, served as mayor of San Francisco, and was elected to the senate in 1992, breaking the record as the first female to hold all three positions in California.
Feinstein has had three marriages. First to Jack Berman in 1956, then neurosurgeon Bertram Feinstein in 1962, and lastly to Richard Blum in 1980. She has one daughter - Katherine F. Marion.
Contact Senator Dianne Feinstein
Office Address
Phone Number
Fax
Email
1
Fresno

2500 Tulare Street, Suite 4290, Fresno, CA 93721

(559) 485-7430
(559) 485-9689
Fresno office
2
Los Angeles

11111 Santa Monica Boulevard. Suite 915

Los Angeles, CA 90025

(310) 914-7300
(310) 914-7318
Los Angeles office
3
San Diego

880 Front Street, Suite 4236, San Diego, CA 92101

(619) 231-9712
(619) 231-1108
San Diego office
4

San Francisco

One Post Street, Suite 2450, San Francisco, CA 94104

(415) 393-0707
(415) 393-0710
San Francisco office
5
Washington, D.C.

331 Hart Senate Office Building. Washington, D.C. 20510

(202) 224-3841
(202) 228-3954

(202) 224-2501 for TTY/TDD

Washington, D.C. office
You can also reach Senator Feinstein through any of her official social media channels on Facebook, Twitter, and Youtube.
Contact other California representatives
In the event that your reason for contact is about an issue that another Californian representative can answer, here are the contact details of some popular Californian public officers:
| | |
| --- | --- |
| | Senator Alex Padilla is California's Junior senator currently serving at the 117the US Congress. He was first elected in 2006. |
| | Kamala Harris is the first female Vice President of the US, serving under Joe Biden, the 46th president of the United States. |
| | A.G. Rob Bonta is California's 34the Attorney General. The first as a Filipino, and the second as an Asian-American. |
| | Governor Newsom is California's 40th governor elected in 2018. |
| | Speaker Pelosi is the house speaker and representative of California's 12th district at the 117th US congress. |
| | Maxine Waters is a democrat congresswoman currently representing California's 43rd district at the 117th US Congress. |
| | Devin Nunes is a Republican representative in charge of California's 25th district at the 117th US Congress. |
| | Jim Costa is California's current 16th congressional district representative at the 117th US Congress. |
| | Adam Schiff is California's current 28th congressional district representative at the 117th US Congress. |
| | Mike Garcia is the current representative of California's 12th District at the 117th US Congress. |
| | Young Kim was recently elected as the representative for California's 39th district at the 117th US Congress. |
| | Anna is California's 18th congressional district representative at the 117th US Congress. |
Top Reasons People Contact Diane Feinstein
In 2012, Senator Diane broke the record for the largest senatorial vote ever received in the US. It's no surprise to see how popular Feinstein has become among Californians. Here are some common reasons people get in contact with Diane Feinstein:
Tender opinions on congress issues
Request a group or individual meeting
Sign up for a tour around the capitol
Submit an application for service jobs
Get copies of bills past and present
Apply for internship
Request for issuance of the authorized US flag
Need Assistance with Contacting Dianne Feinstein?
Many US residents lose touch with their government representatives, because of the stringent formal processes required. It's nearly impossible to talk to an official on the phone or receive desired responses in your mail.
Apps like DoNotPay help you contact any legislative, senator, or congressman in the US with speed and ease. See how to use DoNotPay in the next section!
Contact Senator Feinstein with DoNotPay
DoNotPay's "Contact A Government Representative" product allows you and millions of other Americans to contact your mayor, senator, representative, and president with AI. DoNotPay's bots will automatically reach out to any government official when you:
1. Search "contact representative" on DoNotPay and select the Contact Your Government Representative product.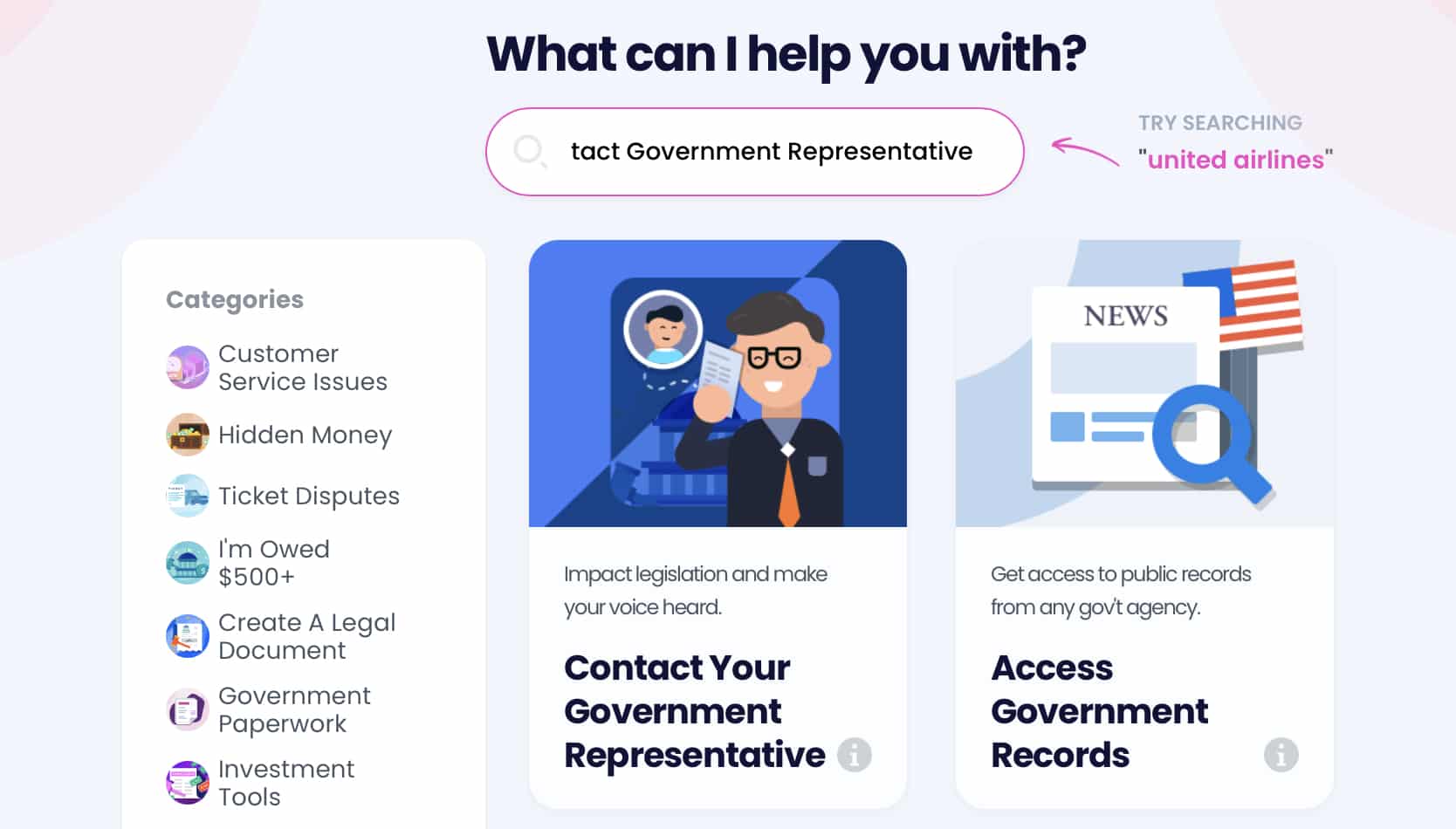 2. Choose whether you want to contact your Senator, state representative, Governor, President, or Mayor.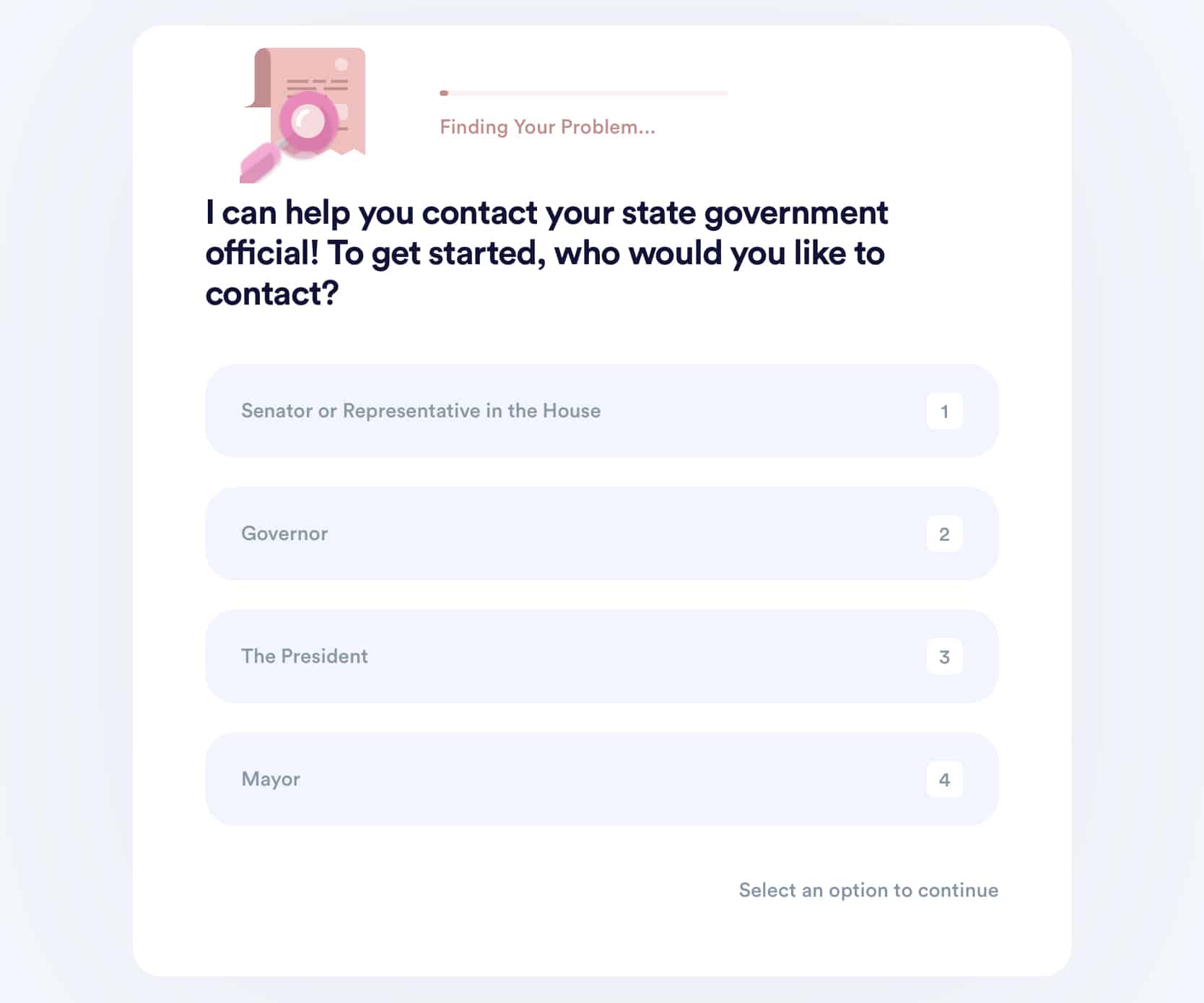 3. Tell us why you are contacting your representative.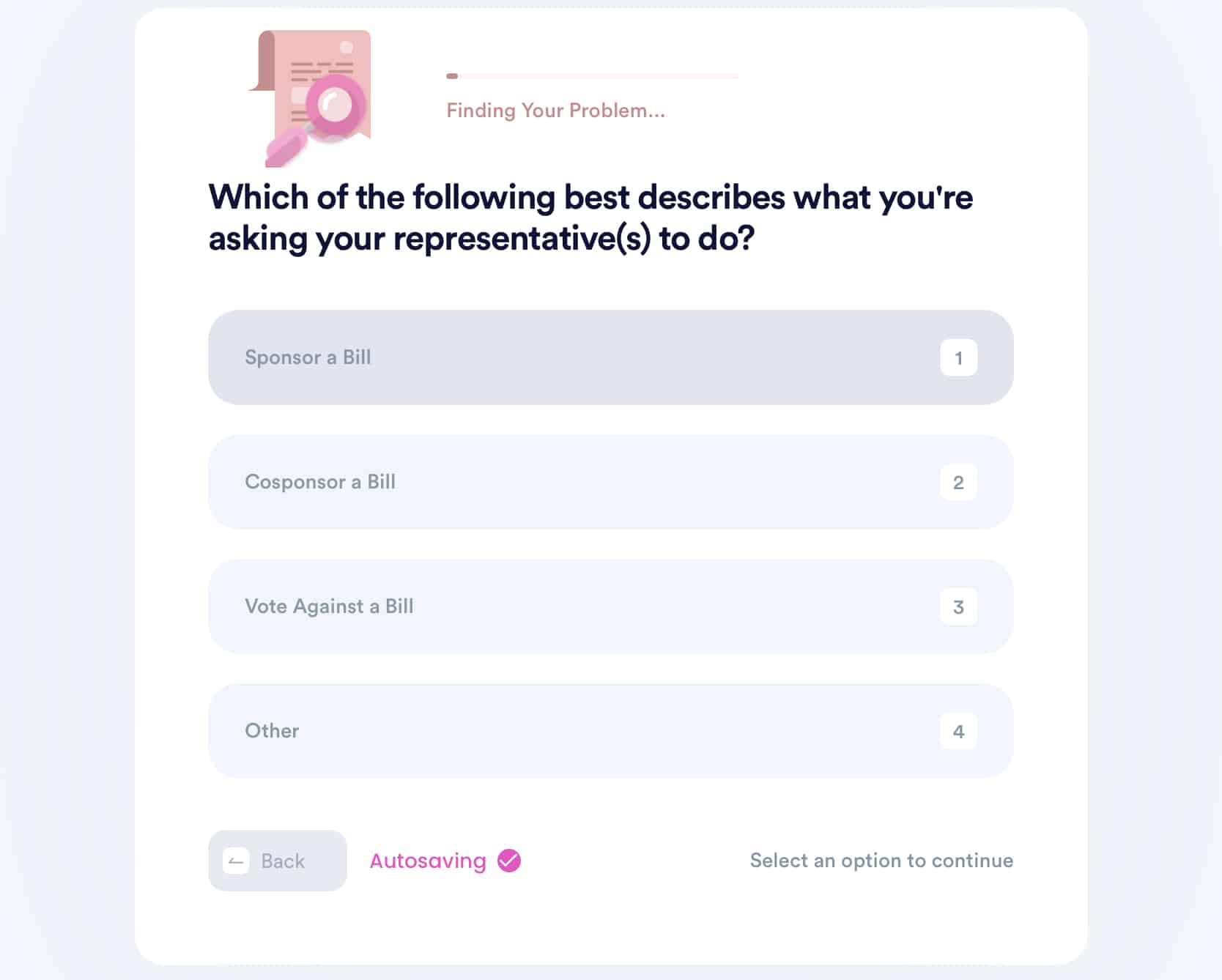 4. State which bill or issue you're concerned about and what you're urging the representative to do.
That's all! DoNotPay will deliver your message in seconds!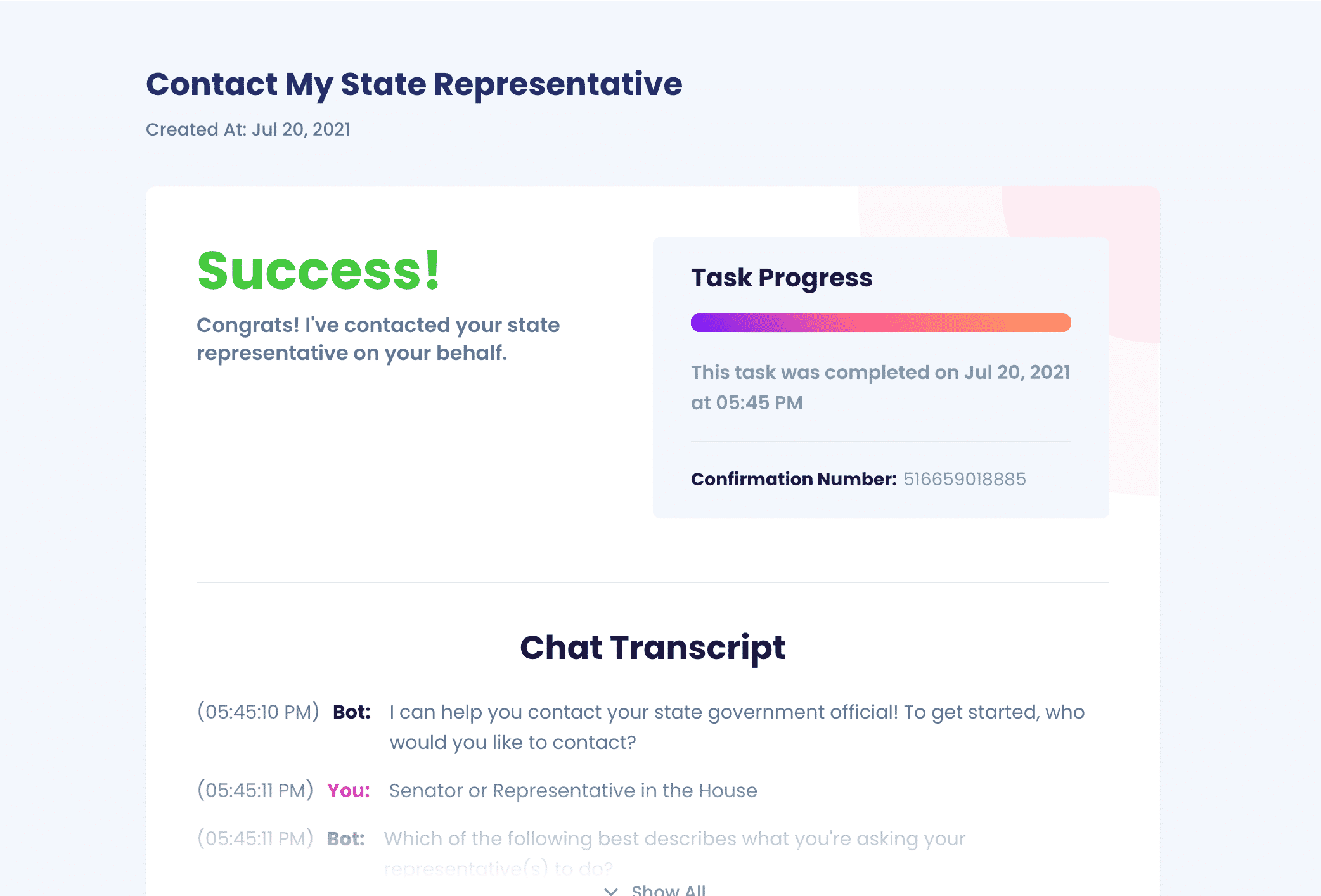 DoNotPay Products for You