How to Contact Senator Amy Klobuchar
If you contact a government representative, you can make sure that your voice is heard and that your opinion on matters concerning the United States is shared. Through this, you can influence a decision taken by a government representative. Representatives always take their supporters' opinions into consideration as they aim to be reelected.
This article will guide you on how you can contact the United States Senator of Minnesota, Amy Klobuchar. The article will also introduce you to the best way you can contact your senator, or any other government representative using DoNotPay.
About Senator Amy Klobuchar
Amy Jean Klobuchar is an American lawyer and politician who is currently serving as the Senior United States Senator for the state of Minnesota, a seat she has held since 2007.
She is the first woman elected to represent the State of Minnesota in the United States Senate.
Klobuchar achieved her Bachelor of Arts Magna Cum Laude from Yale University with a degree in political science.
After graduating from Yale, she attended the University of Chicago Law School and earned her Juris Doctor.
She worked as a corporate lawyer after university and became a candidate for public office shortly after when she ran for Hennepin County Attorney. However, she quit the race to support Michael Freeman for reelection.
She was first elected to the Senate of Minnesota in 2006 and was later reelected in 2012 and 2018.
She announced that she will be running for the President of the United States in the 2020 election in early 2019, however, in March 2020, she suspended her campaign and endorsed Joe Biden.
As of the 3rd of February, 2021, she is the Chair of the Senate Rules Committee.
How to Contact Senator Amy Klobuchar
There are several ways you can contact Senator Amy Klobuchar. You can choose to call a senator or government representative. or email her or mail documents to her offices.
Senator Amy Klobuchar has five office locations, four in Minnesota and one in the Senate Building in Washington DC.
Washington, DC: 425 Dirksen Senate Building Washington, DC 20510. Phone Number: 202-224-3244. Fax: 202-228-2186.
Greater Metro, Minnesota: 1200 Washington Avenue South, Room 250 Minneapolis, MN 55415. Phone Number: 612-727-5220. Fax: 202-224-1792.
Northeast Minnesota: Olcott Plaza, Room 105 820 9th Street North Virginia, MN 55792. Phone Number: 218-741-9690. Fax: 202-224-1792.
Northwest and Central Minnesota: 121 4th Street South Moorhead, MN 56560. Phone Number: 218-287-2219. Fax: 202-224-1792.
Southern Minnesota: 1130 1/2 7th Street NW, Room 212 Rochester, MN 55901. Phone Number: 507-288-5321. Fax: 202-224-1792.
The following table offers an overview of how you can contact Senator Amy Klobuchar:
State
Minnesota
Political Party
Democratic
Entered Office
3rd of January 2007
Term Expires
3rd of January 2025
Main Mailing Address
302 Hart Senate Office Building

Washington DC 20510

Main Phone Number
(202) 224-3244
Email Address
Fill out the email form here.
Website
http://www.klobuchar.senate.gov/
Social Media
Services Offered by the Office of Senator Amy Klobuchar
Help with Federal Grants
Providing Assistance with Passports
Letters of Recognition
Requesting Flags
Nominations for the Military Academy
Visiting Washington, DC
Help with Federal Agencies:
Senator Amy Klobuchar considers it her duty to help residents of Minnesota that are experiencing difficulties with federal agencies. The staff in the senators' offices can assist individuals on a variety of issues, which include:
Veterans
Identity theft
Medicare
Immigration
Housing
Social Security
Education
Taxes/IRS
Small Business
Why It Can Be Difficult to Reach United States Senator Amy Klobuchar on Your Own
All too often, it can be very difficult to reach a representative of the United States Government.
Many choose to call a senator. If you consider doing so, please follow a script to ensure that you will provide the senator's office with all the necessary details of your argument. However, even if you do follow a script, there is still a risk that the staff member who answered your call will not accurately deliver the message to the Senator.
Writing an email would be better as you can make sure that no information is lost in translation, however, the email must be well written and professionally presented. This makes it intimidating for many to write an email to a representative. Therefore, contacting a representative through DoNotPay is your best option!
Let DoNotPay Contact United States Senator Amy Klobuchar for You!
Why spend hours drafting an email or waiting on hold to reach a government representative when you can do so in minutes? can contact any representative of the United States government on your behalf while you are in the comfort of your home. All you have to do is:
1. Search for the Contact Your Government Representative service .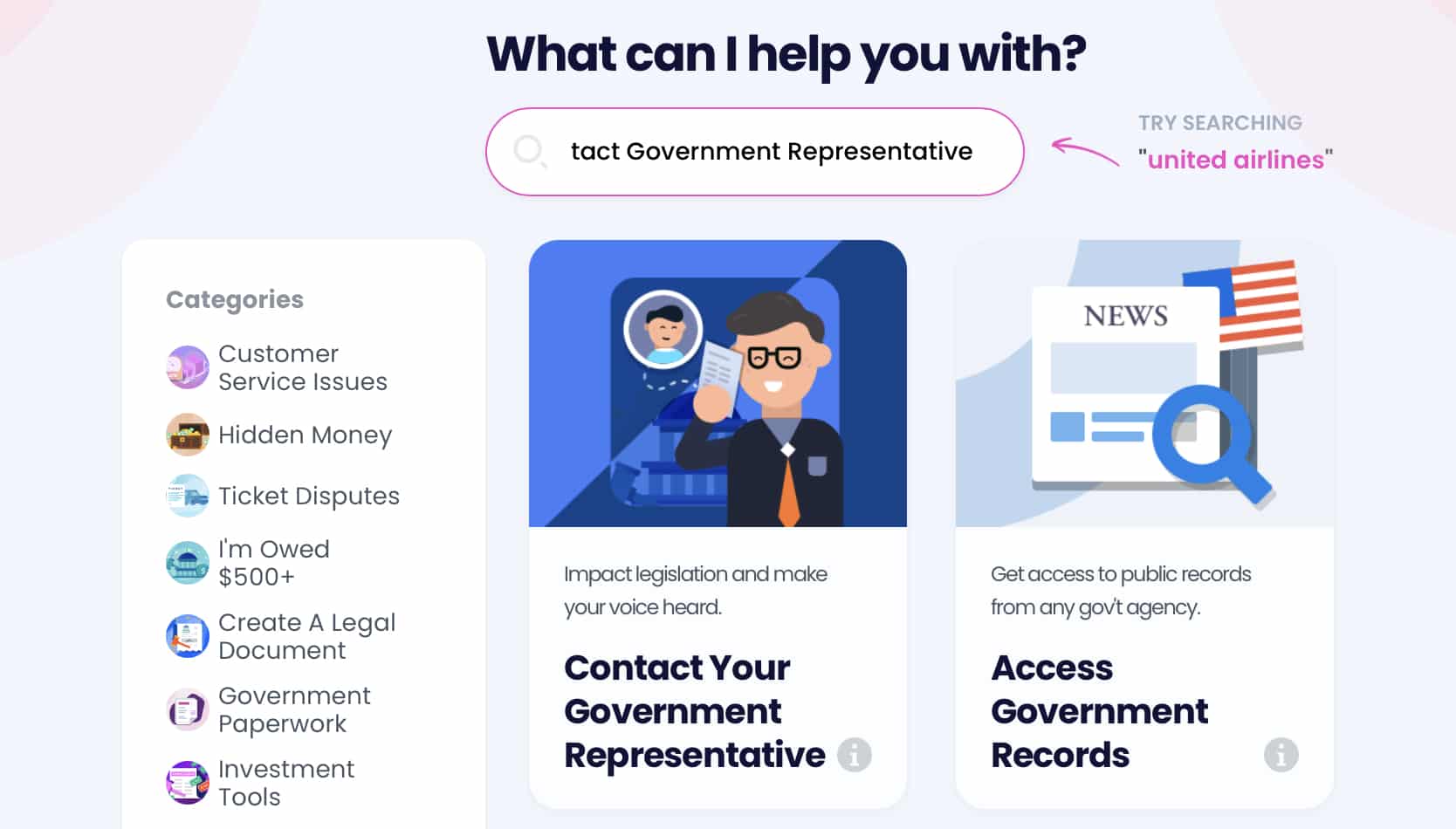 2. Choose whether you want to contact your Senator, House Representative, Governor, President, or Mayor.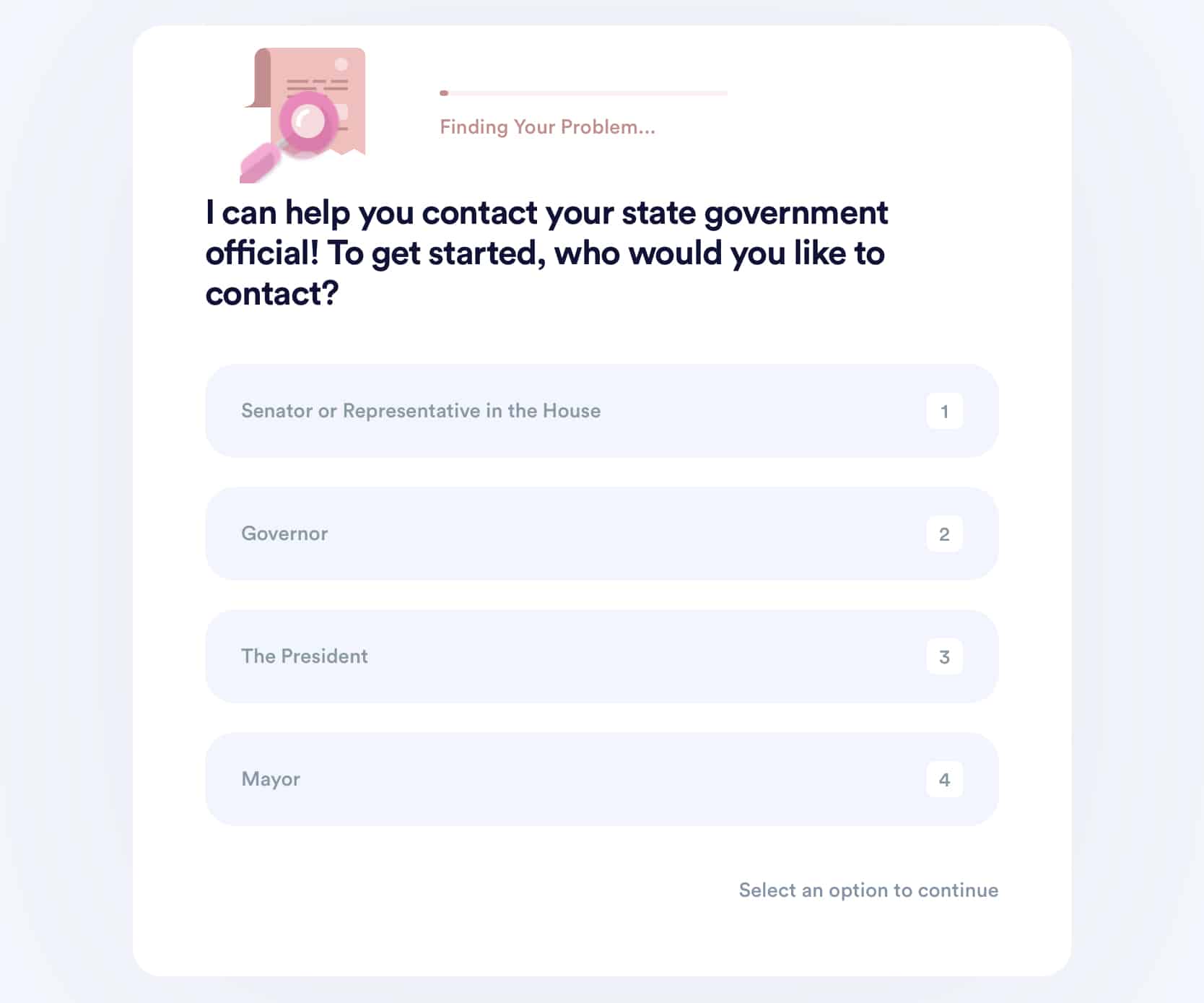 3. Tell us why you're contacting your representative. If it's not about a bill, select "Other".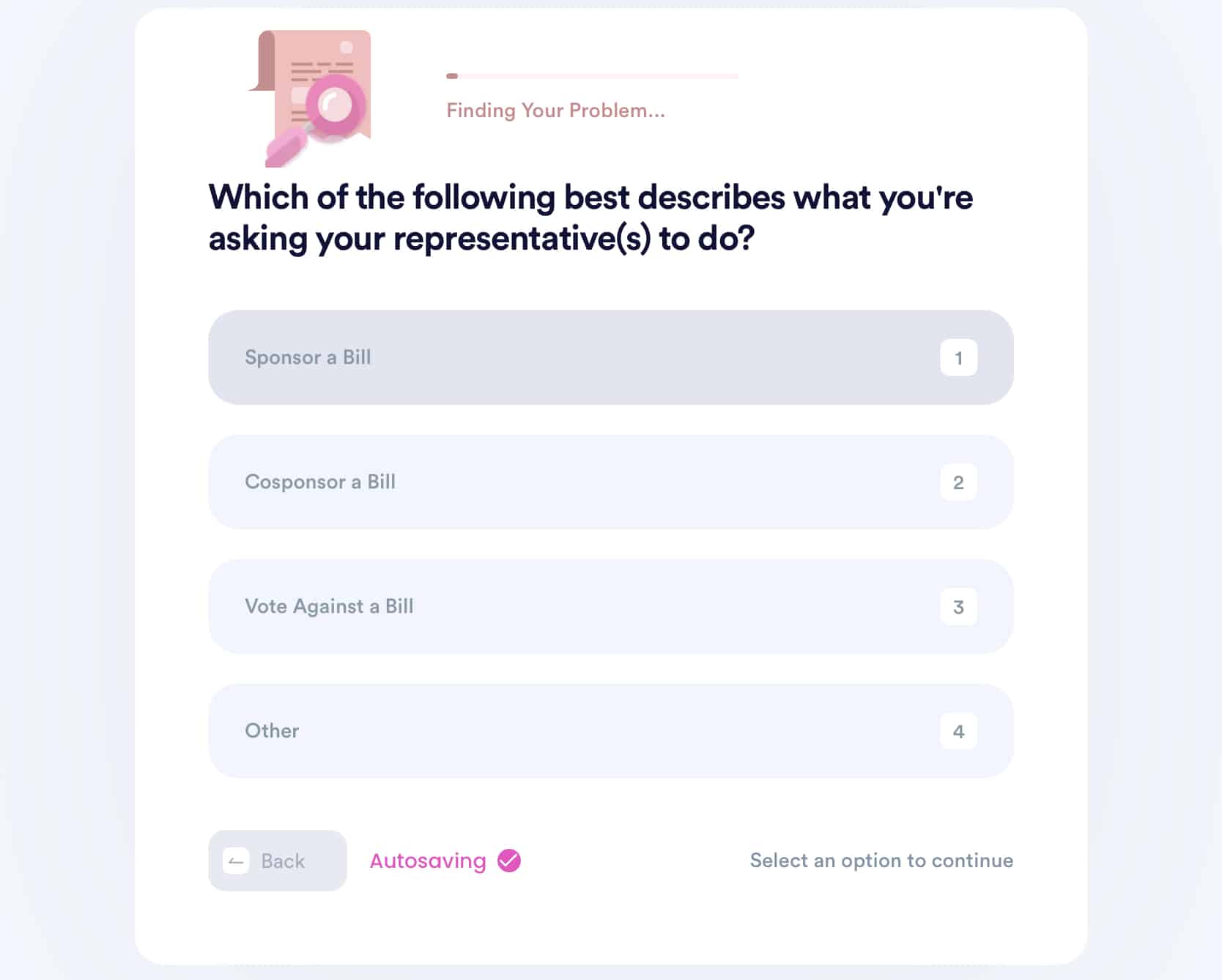 DoNotPay will take your responses and write a message to your selected representative!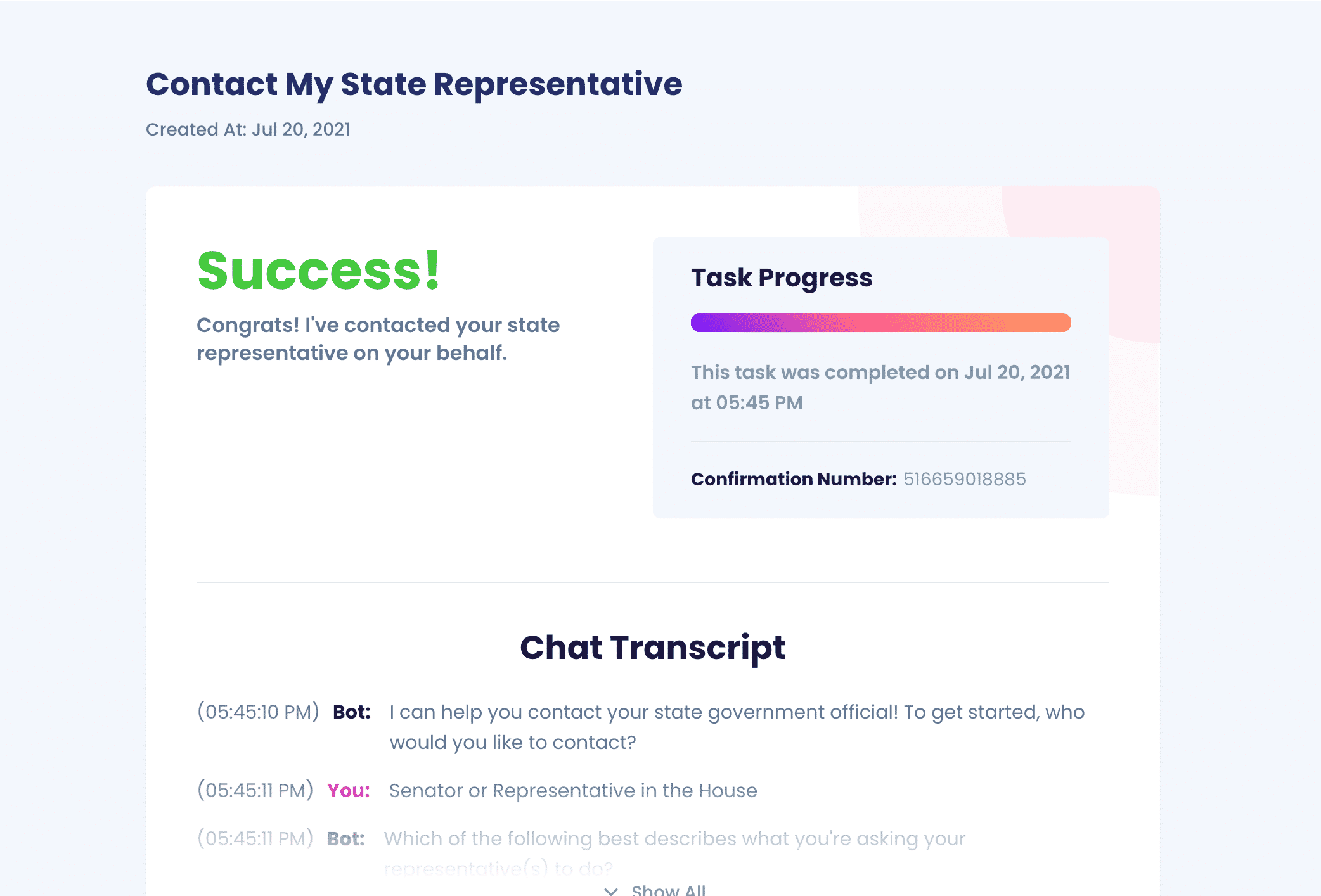 DoNotPay Helps With...