How to Contact Governor Wolf the Best Way
When a constituent calls, government representatives — especially those who are seeking reelection — will do well to listen. In most cases, getting in touch with a government representative is a simple process. But in some, the simple thought of calling a senator or writing emails to a representative can make one anxious. In this article, we provide you with all the details you need to contact Governor Wolf and how you can do so easily and effectively.
Governor Tom Wolf's Contact Details
Contacting Governor Wolf is easy with multiple modes of communication available. However, if you are reaching out about a greeting or proclamation request, the governor's office has specific guidelines on how to do it. Also, due to Executive Order 2015-01, Executive Branch Employee Gift Ban, the administration is not allowed to receive gifts and recommends donating to a charity instead.
Governor Tom Wolf Bio
Thomas Westerman Wolf was born in 1948 in Mount Wolf, Pennsylvania. He is a member of the Democratic party and the 47th Governor of Pennsylvania. Tom Wolf attended The Hill School and received a Bachelor of Arts in Government, Magna cum Laude, from Dartmouth College. He holds a Master of Philosophy from the University of London and a Doctor of Philosophy degree in Political Science from the Massachusetts Institute of Technology. Before he became a Pennsylvania governor, he was a Secretary of the Pennsylvania Department of Revenue from 2007 to 2008 and headed a family-owned business. Some of the most notable actions that Governor Tom Wolf took since he assumed office are as follows:
Issued a gift ban that prohibited administration employees from accepting gifts from lobbyists
Ended the practice of pay-to-play with legal contracting reforms
Restored the $1B budget cut to education made by the previous administration
Expanded MedicAid to improve Pennsylvania's health care and strengthening the fight against the opioid and heroin epidemic
Made it easy for entrepreneurs to start small businesses and augmented career and technical education opportunities
Pennsylvania Governor's Duties and Responsibilities
The Governor of Pennsylvania holds the role of a chief executive of the Commonwealth of Pennsylvania and the commander-in-chief of the Commonwealth's military forces. The governor's main duty is to enforce state laws, approve or veto bills, and convene the legislature. Here below are some of the governor's duties and responsibilities:
To command the militia – The governor shall be commander-in-chief of the army and navy of the Commonwealth, and of the militia, except when they shall be called into actual service of the United States.
To appoint with consent of the Senate – The governor has to fill vacancies such as appoint a Secretary of the Commonwealth and an Attorney General, a Superintendent of Public Instruction for four years, and similar other officers of the Commonwealth.
To grant pardons – The governor may grant pardons or reprieves, except for cases of impeachment, and only with recommendations by the Board of Pardons.
To recommend measures to the General Assembly – The governor may provide information and recommendation of the state of the Commonwealth.
To convene the General Assembly – The governor, on extraordinary occasions, convene the General Assembly and adjourn the two Houses when they disagree.
Best Way to Contact Governor Tom Wolf
Before making the phone call or drafting an email with your opinions, make sure to do research and cite reliable sources. Having accurate facts to back your opinions is an effective way to get your point across to your representatives. In addition to these, here are more tips when contacting your government representatives:
Make strategic calls in addition to email – Emails are easily ignored and often depersonalized which is why phone calls are more effective in triggering an action.
Plan a strategic group call – Inundating an office with phone calls may force representatives to publish a statement on an issue.
Make the call as personal as you can – You may use scripts when calling your representative, but including how an issue affects you personally makes it more impactful.
Take advantage of policy updates on websites – Browsing your representative's website can help you be aware of upcoming bills that they are slated to vote on. This allows you to reach out during a critical period in the legislation.
DoNotPay Can Help You Contact Your Government Representative!
Legislation has a direct impact on an average American's life. Now more than ever, we need to reach out to legislators and make our voices heard. However, placing a call or writing emails isn't always easy.
This is where DoNotPay can help! We are the world's first robot lawyer and we make it easy for citizens to reach their representatives or legislators. With DoNotPay, all you have to do is:
1. Create a account and head over to the Contact Your Government Representative product.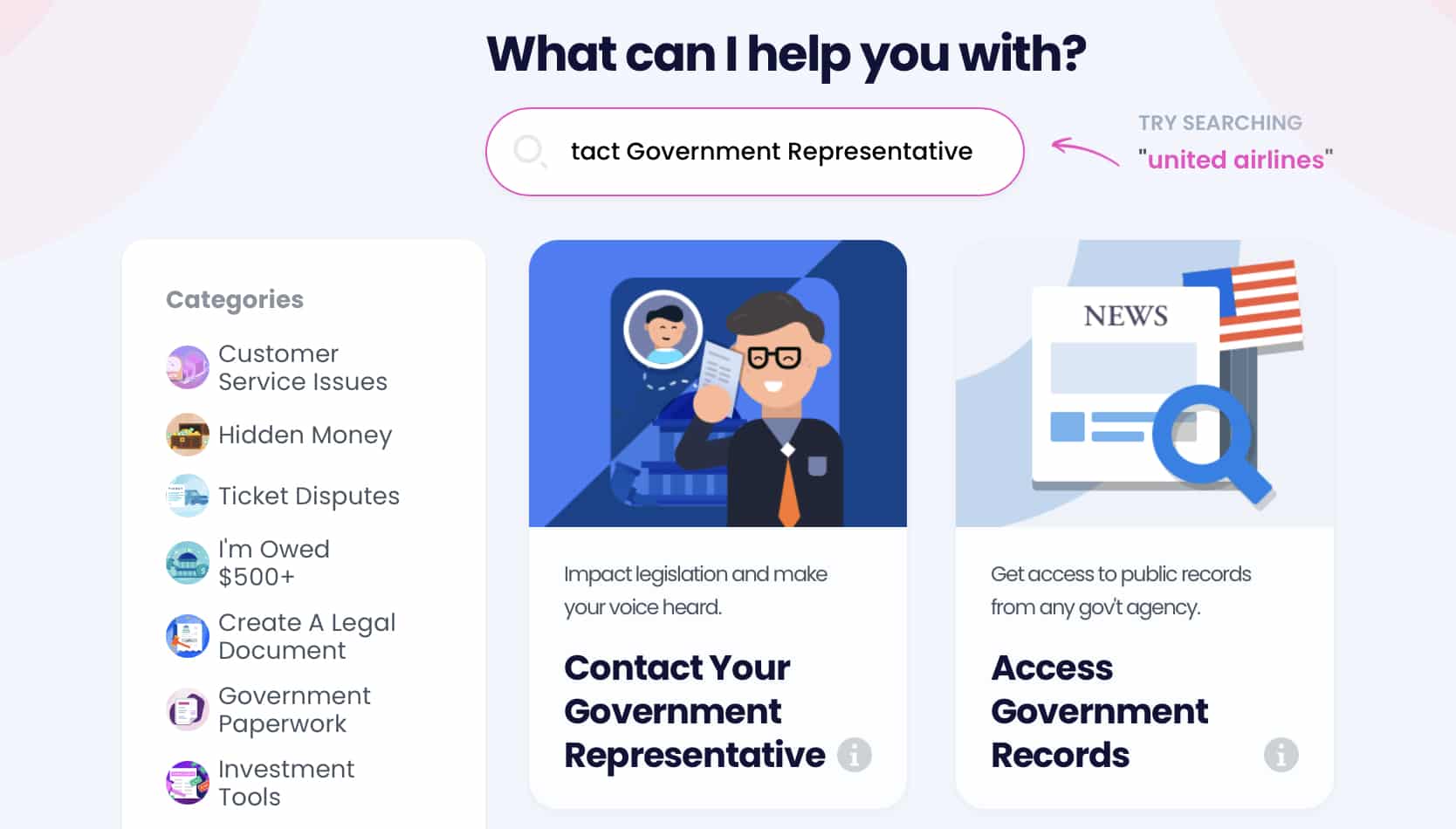 2. Choose between contacting your Senator, House Representative, Governor, President, or Mayor.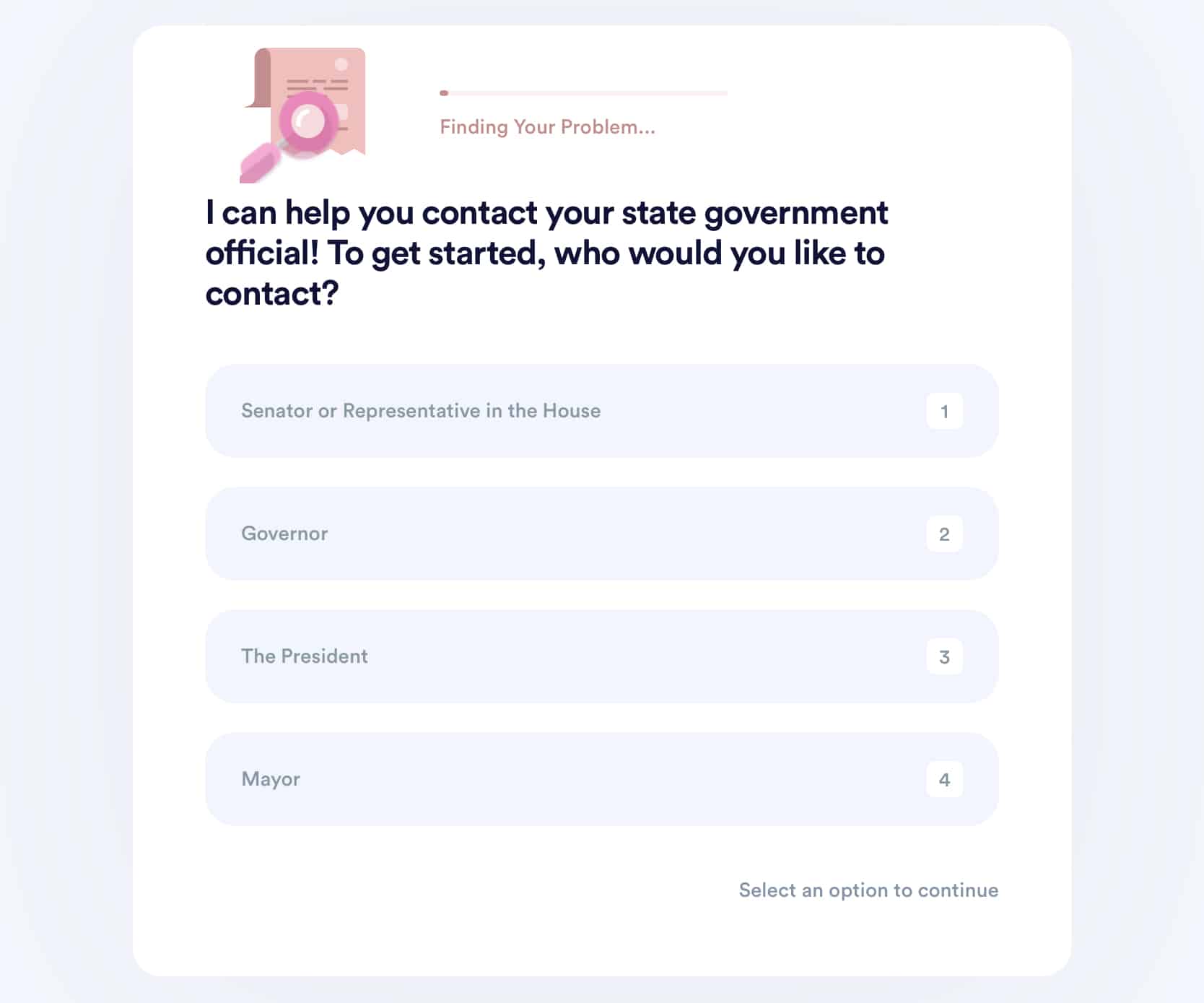 3. Choose the option that best describes what you want your representative to do.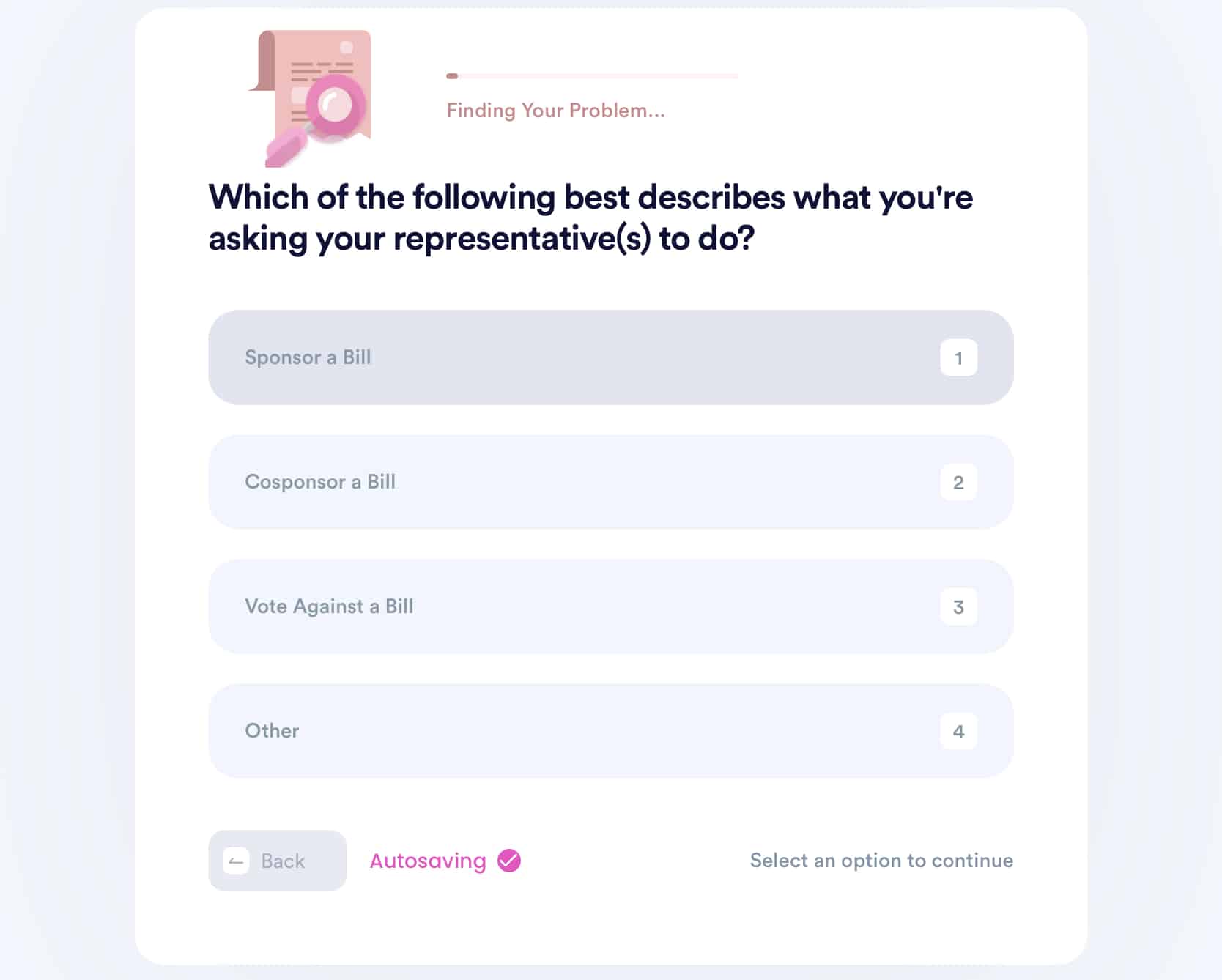 4. Tell us which bill or issue you're concerned about in more detail.
DoNotPay will send your message to your government representative once you're done!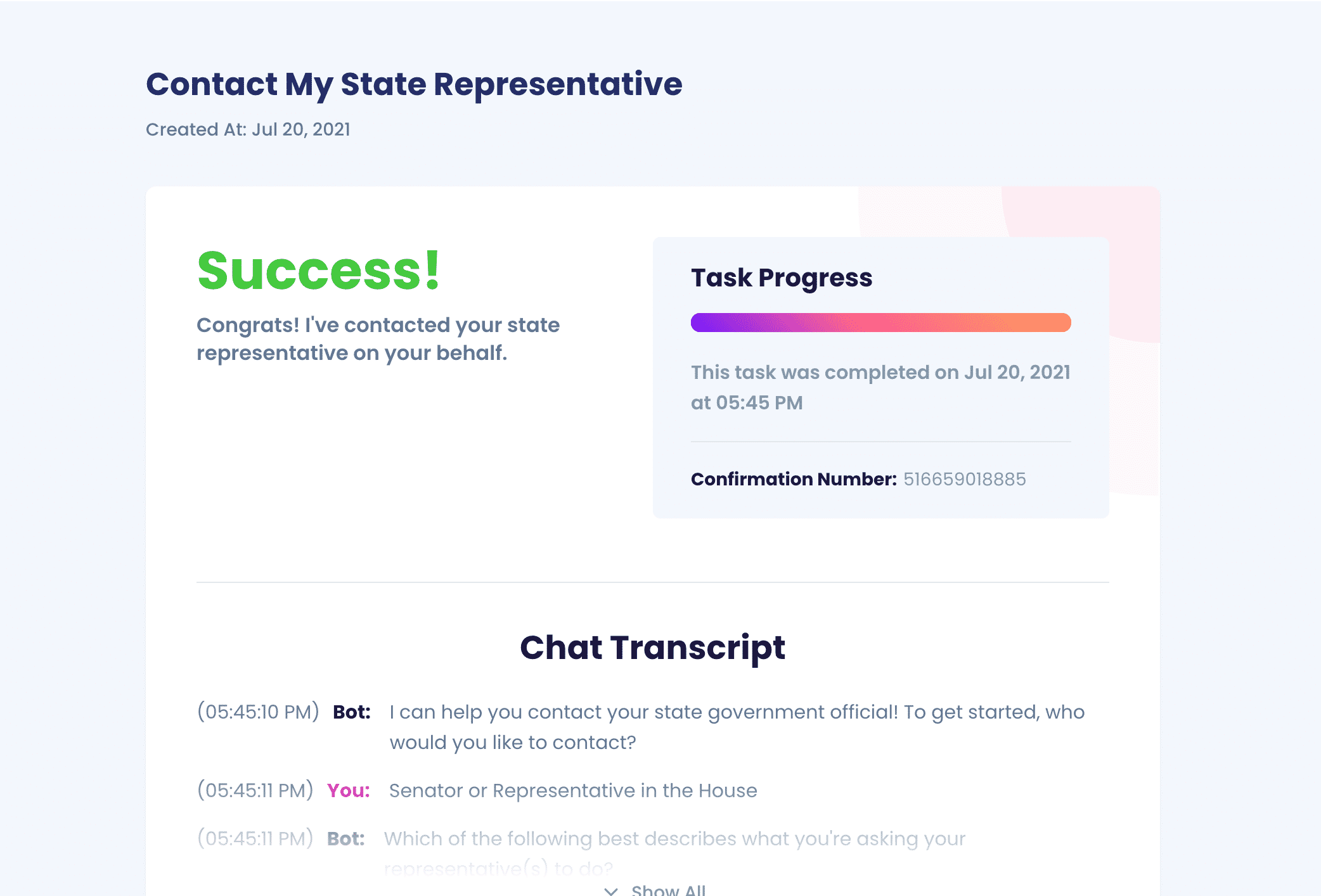 How Else can DoNotPay Help You?