Contact Governor Roy Cooper
Contacting a representative is a great way to share your opinion and to ensure that your voice is heard on matters concerning your state and the nation as a whole! Government representatives always welcome ideas and questions as they aim to be reelected and address the public's concerns.
This article is a comprehensive guide as to how you can contact Governor Ray Cooper. It will also introduce you to , an AI-Powered Robot Lawyer that can contact any U.S. Government Representative on your behalf!
How to Contact Governor Roy Cooper
You can always try calling a senator, a governor, or any other government representative. If you decide to reach a representative by phone, make sure to follow a script so that you can ensure that you will not miss any important points in the phone call.
The table below shows all the contact details for North Carolina Governor, Roy Cooper:
Political Party
Democrat
State
North Carolina
Term begins
January 1, 2017
Term Ends
January 1, 2025
Mailing Address
20301 Mail Service Center

Raleigh, NC 27699-0301

Phone Number
(919) 814-2000
Email
Email the governor here
Website
https://governor.nc.gov/
Social Media
Facebook
About Governor Roy Cooper
Roy Cooper III is an American politician and attorney currently serving as the 75th governor of North Carolina, a seat he has held since 2017.
Cooper received the Morehead Scholarship at the University of North Carolina at Chapel Hill for his undergraduate degree.
He earned a Juris Doctor degree in 1982 from the University of North Carolina School of Law
After graduating, Cooper practiced law in his family's law firm for a number of years.
In 1986, he was elected to the North Carolina House of Representatives.
In 1991, Cooper was appointed to the North Carolina Senate to serve the remainder of a term of a senator who had vacated his seat.
He was elected as the Democratic majority leader of the State Senate in 1997.
In November of 2000, Cooper was elected as the North Carolina Attorney General. He assumed office on the 6th of January 2001.
Cooper was then reelected as the attorney general in 2004.
In the 2016 election, Cooper decided to run for Governor against Pat McCrory.
McCrory conceded the election, which made Roy Cooper the first candidate to defeat a sitting governor in the history of North Carolina.
Share Your Opinion with Governor Cooper
The Office of Governor Roy Cooper is open to all ideas, questions, comments, and requests. All submissions are reviewed and then directed towards the appropriate person or department.
Issues You Can Discuss with the Governor:
Jobs and the Economy
Education
Healthcare
Workforce Development
Environment
Disaster Recovery
Military and Veterans
Infrastructure
Public Safety
Early Childhood
Budget and Taxes
Business
Consumer and Housing
Courts and Justice
Government and Elections
Land
Recreation and Culture
Social programs
Transportation/ Eminent Domain
Special Announcements Regarding COVID-19 from the Office of Governor Roy Cooper
The governor has issued an order to lift social distancing requirements and general face-covering requirements in most settings. Masks are still required in schools, child care, and camps as a large majority of children are not eligible to be vaccinated yet. Everyone, even those who are fully vaccinated, must wear a mask in certain settings, such as health care, long-term care, and congregate settings. This includes:
Public transportation
Doctors' offices
Hospitals
Nursing homes
Correctional facilities
Homeless shelters
For more questions or concerns about COVID-19, visit the website at https://www.nc.gov/covid19 or call 2-1-1- or your local health department. For more information about the COVID-19 vaccine and how you can get vaccinated, visit this website, or call 888-675-4567
What is the Best Way to Reach Governor Roy Cooper?
When contacting a government official, calling is considered the worst option as you may forget certain important details. Even if that is not the case, there is still a risk that the person who has answered your call will not accurately deliver the message to the Governor.
Writing an email is considered a better option, however many find it intimidating. An email to a governor must be very well written and extremely professional, which can be quite hard to do. Therefore, is your best option!
Let DoNotPay Contact United States Governor Roy Cooper for You!
Out of 's 150 products, "Contact A Government Representative", is the only one that allows Americans to contact their government officials from the comfort of their homes! Here's a detailed look at how to do so through the app or website:
1. Log in to and select the "Contact A Government Representative" product.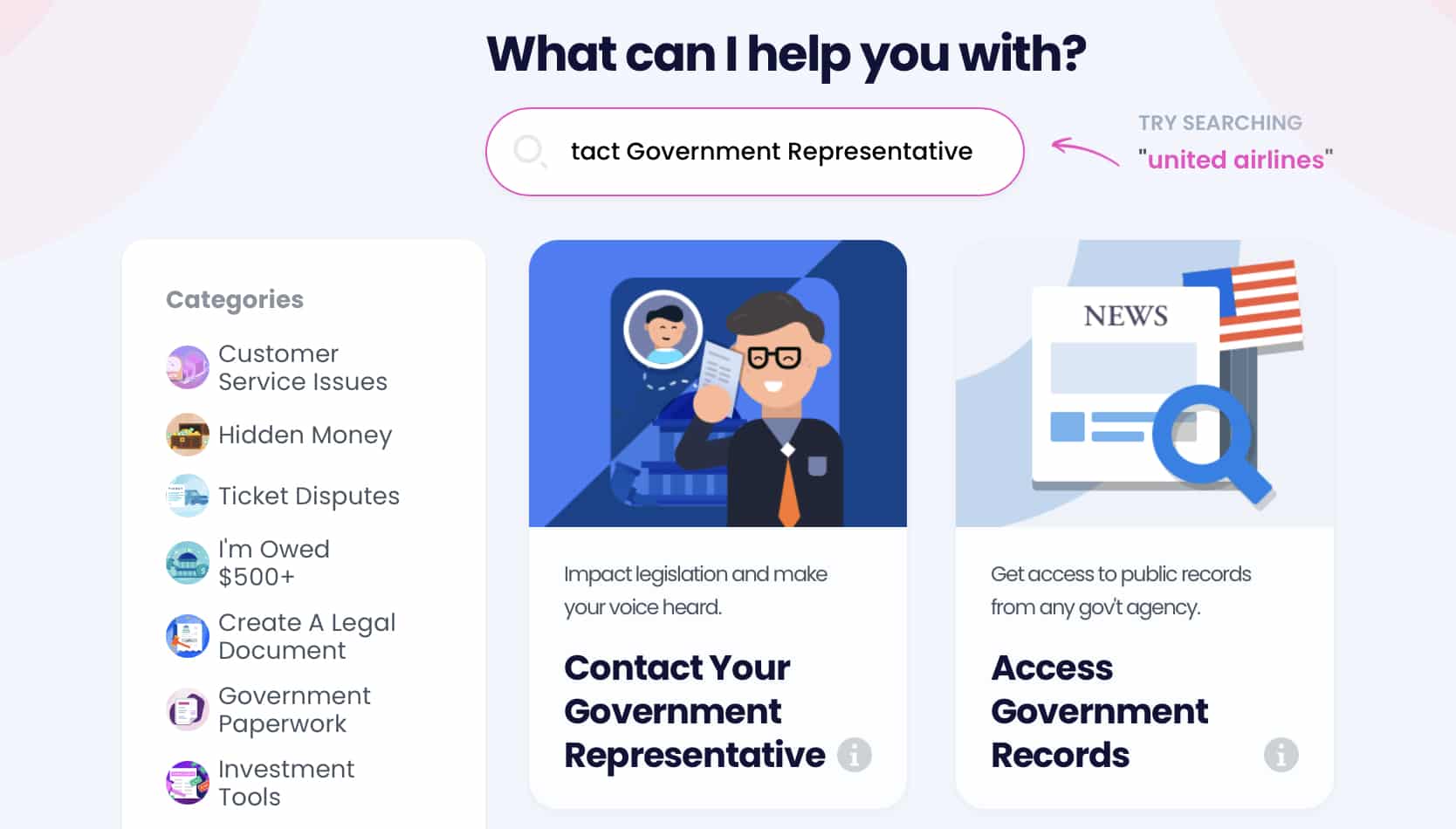 2. Select the official you need to contact:
Mayor
House Representative
Governor
President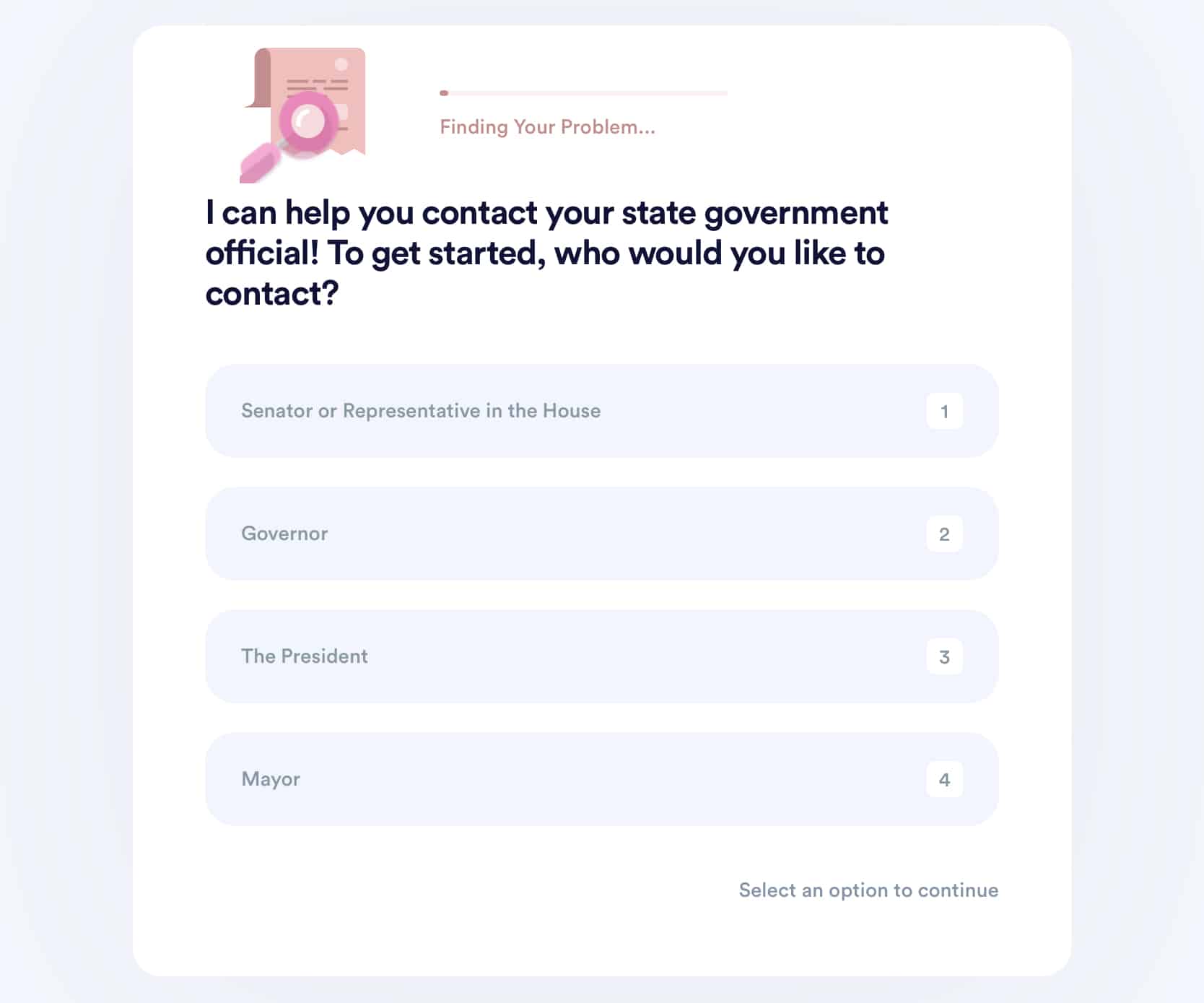 3. Explain the reason for your contact and discuss any bills, policies, or suggestions you may have.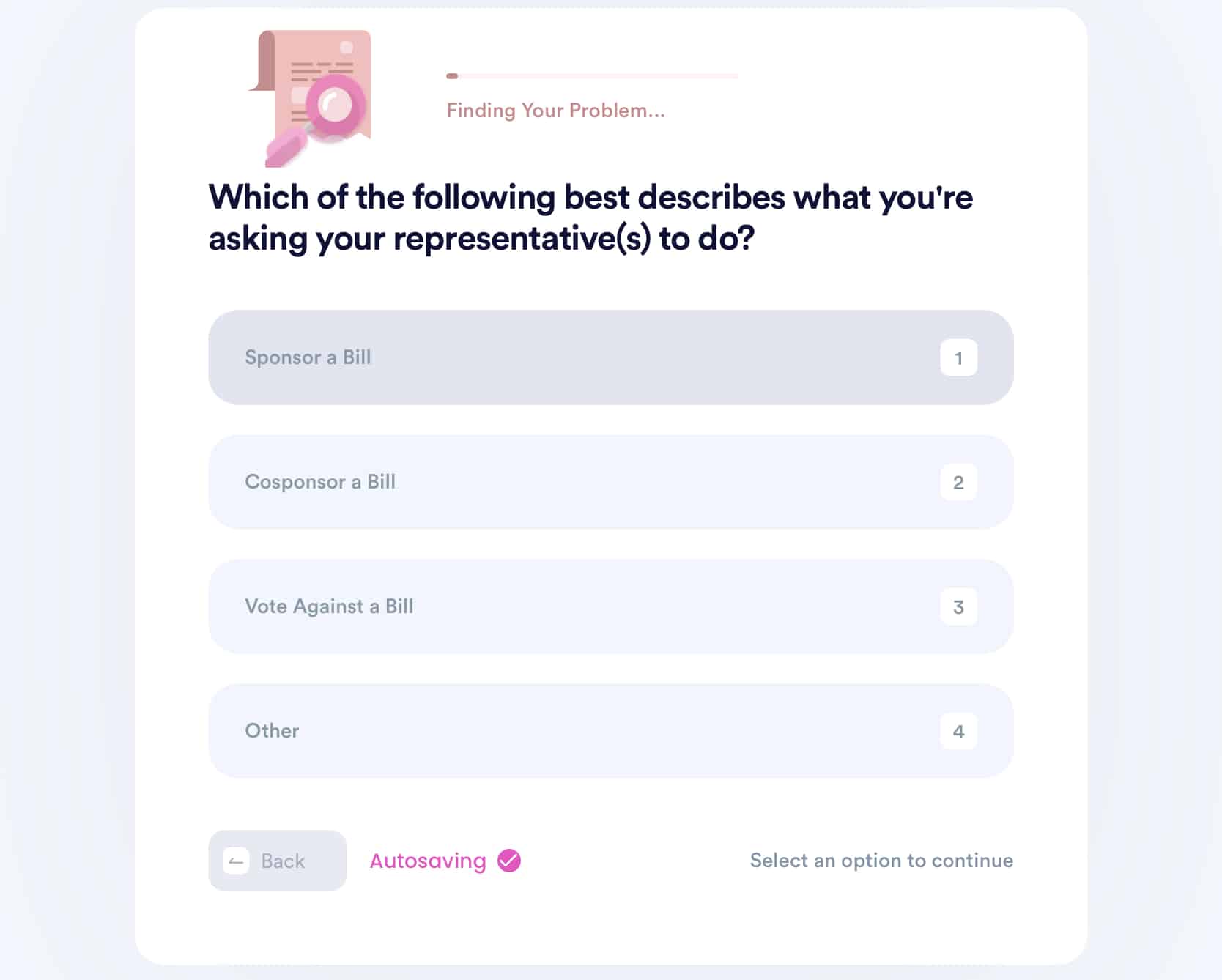 will automatically turn your response into a well-crafted message. It will also submit your thoughts to the legislator's contact form or email!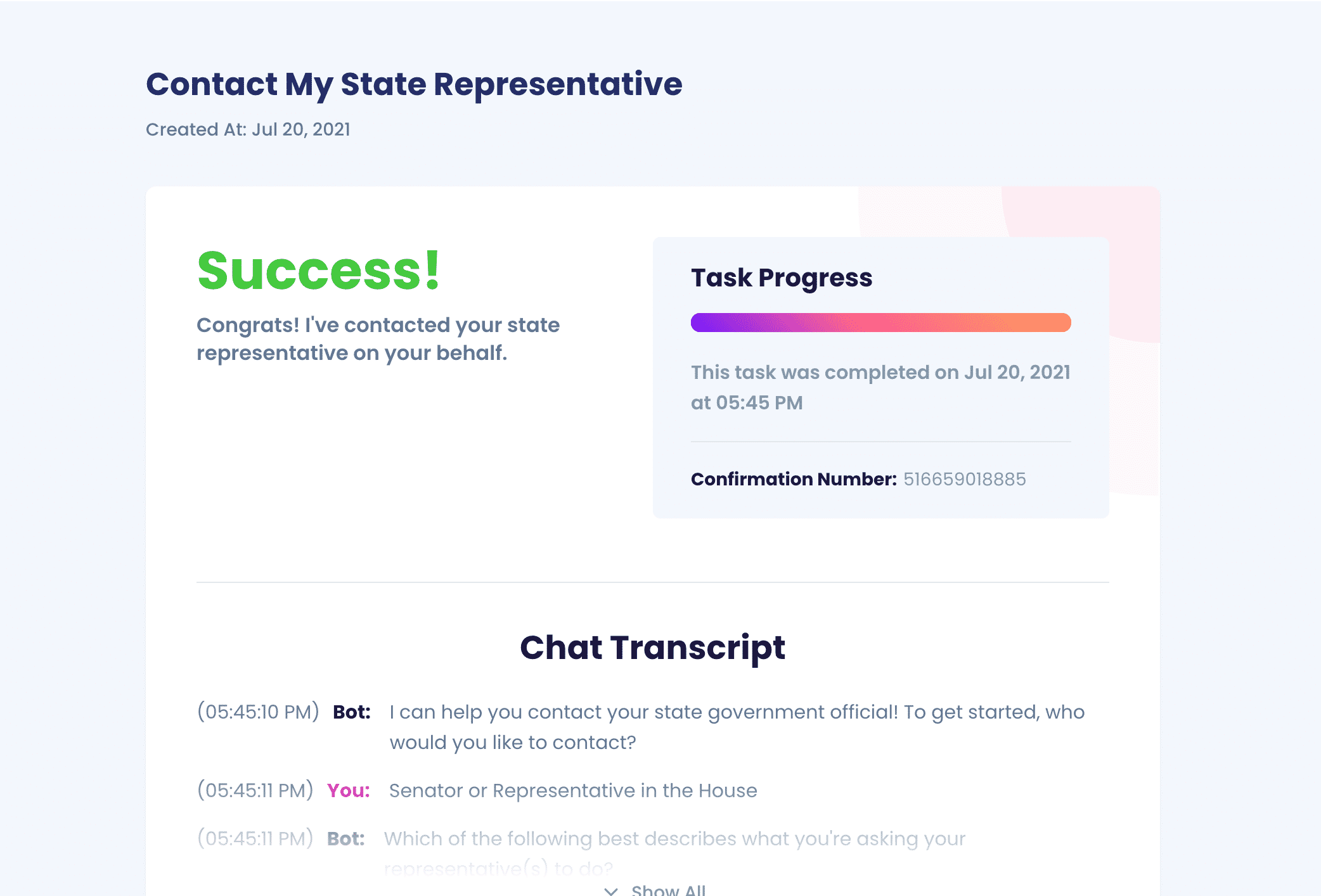 DoNotPay can do a lot more!