How to Contact Governor Reynolds
Republican Kim Reynolds has been the Governor of Iowa since 2017. She strongly embraces her working-class background and has led with a focus on economic growth and investment. She attended Iowa State University and graduated with an undergraduate degree in liberal studies. As far as her work as governor goes, she has taken strong stances against abortion and has signed multiple bills to ban or delay abortions - bills that were later struck down by the Iowa Supreme Court. She has also made significant efforts to amend the state constitution to no longer protect a women's right to abortion and to defund Planned Parenthood.
During the COVID-19 pandemic, Governor Reynolds has made many controversial choices, starting with her refusal to pass a state-wide mask mandate. This led the mayor of Iowa city to use emergency powers to instate a mask mandate within city limits. In November 2020, she conceded and a state-wide mask mandate was enforced.
As the Governor of Iowa, Kim Reynolds is quite influential on policy and law in Iowa. As US states function as semi-sovereign republics, states have a significant amount of independence over their own governance.
Each state has its own Senate and can pass its own legislation, which governors have their own input on.
What Issues Does Governor Reynolds Deal With?
Signing Bills
Veto power on Bills
State budget controls
Dealing with issues of the state constitution
Learn the specifics of the power-sharing relationship between each state and the US federal government here. The table below summarizes Governor Reynold's stances on political issues:
| | |
| --- | --- |
| Issue | Stance |
| Cannabis | Opposed to legalization |
| Abortion | Pro-Life |
| Gun Control | Opposed |
| Police Reform | Complicated |
| LGBTQ+ Marriage | Opposed |
| Immigration | Opposed |
| Climate Change Action | Opposed |
| ObamaCare, Affordable Healthcare reform | Opposed |
While Governor Reynolds has denied any mention of defunding the police, she has helped to reinstate voting rights for many ex-felons and has maintained a focus on prisoner rehabilitation.
Methods of Contact for Governor Kim Reynolds
Mode of Contact
Information
Mailing Address
Office of the Governor

Iowa State Capitol

1007 East Grand Avenue

Des Moines, IA 50319

Office Phone Number
​​515-281-5211
Email
https://iqconnect.lmhostediq.com/iqextranet/EForm.aspx?__cid=FSL_IA_GOV&__fid=100007
Twitter
@IAGovernor

https://twitter.com/IAGovernor

Instagram
N/A
Facebook
https://www.facebook.com/IAGovernor
Governor Website
https://governor.iowa.gov/
Campaign Website
https://reynoldsgregg.com/
Intern with Governor Reynolds
https://governor.iowa.gov/constituent-services/internships
How Should You Contact Iowa Governor Kim Reynolds?
Unfortunately, Governor Reynolds does not have any options to schedule a meeting in person, which would be the most ideal way to make effective contact with her. In the absence of this option, the best way to contact her would likely be by phone or email. You could also supplement the email by submitting a hard copy to the Governor's mailing address, although this may take longer. While social media is a great way to keep up with your representative, it's not ideal for making contact, as it's usually run by a team of social media managers.
Not sure which one to pick? Let us help you compare and contrast your options.
Pros
Cons
Phone Call

More personal
Can convey emotion better
More likely to make direct contact
More likely to get a voice message back

Requires more practice
More on-the-spot
Likely to reach a receptionist and have to leave a message

Email

Allows for revisions, more time to create a thoughtful argument
Can support your argument with links or data

Less intimate and direct
It may take longer to receive a response
Harder to communicate urgency or emotion
Tips and tricks to formulating your argument:
Choose the most relevant representative to contact. Do some research and figure out who is most impactful on your issue and if there are surrounding political actors that may also be useful to contact for support.
Set out clearly what the issue is. If you don't already know, learn a little bit of background on the issue and the political context surrounding it. Figure out why your representative may be taking the stance they are.
Know the action you wish your representative to take. Come in with an action plan. Know what the next steps are for your representative to take, and let them know explicitly that you want them to take this action.
Formulate your argument using a professional tone. For email, make sure to include the appropriate formalities and to address your representative by their correct title. For email structure and other professional email writing tips, check out this helpful guide.
Practice! For phone calls, you may want to create your own script so you manage to hit all of your talking points.
Be confident! While your representative may hear from many people, he or she is there to represent you and take action on issues that affect your life.
How DoNotPay Can Help You Contact Governor Kim Reynolds
Let DoNotPay help you out! Our is designed to make it easier to contact your representative and have your voice heard. We strongly believe in the power of democracy and want to help your government represent your views. DoNotPay will create a professional and coherent message that will be sent to your representative. We'll then make sure they receive it as soon as possible! Check out our easy steps below:
1. Click on the Contact Your Government Representative product on .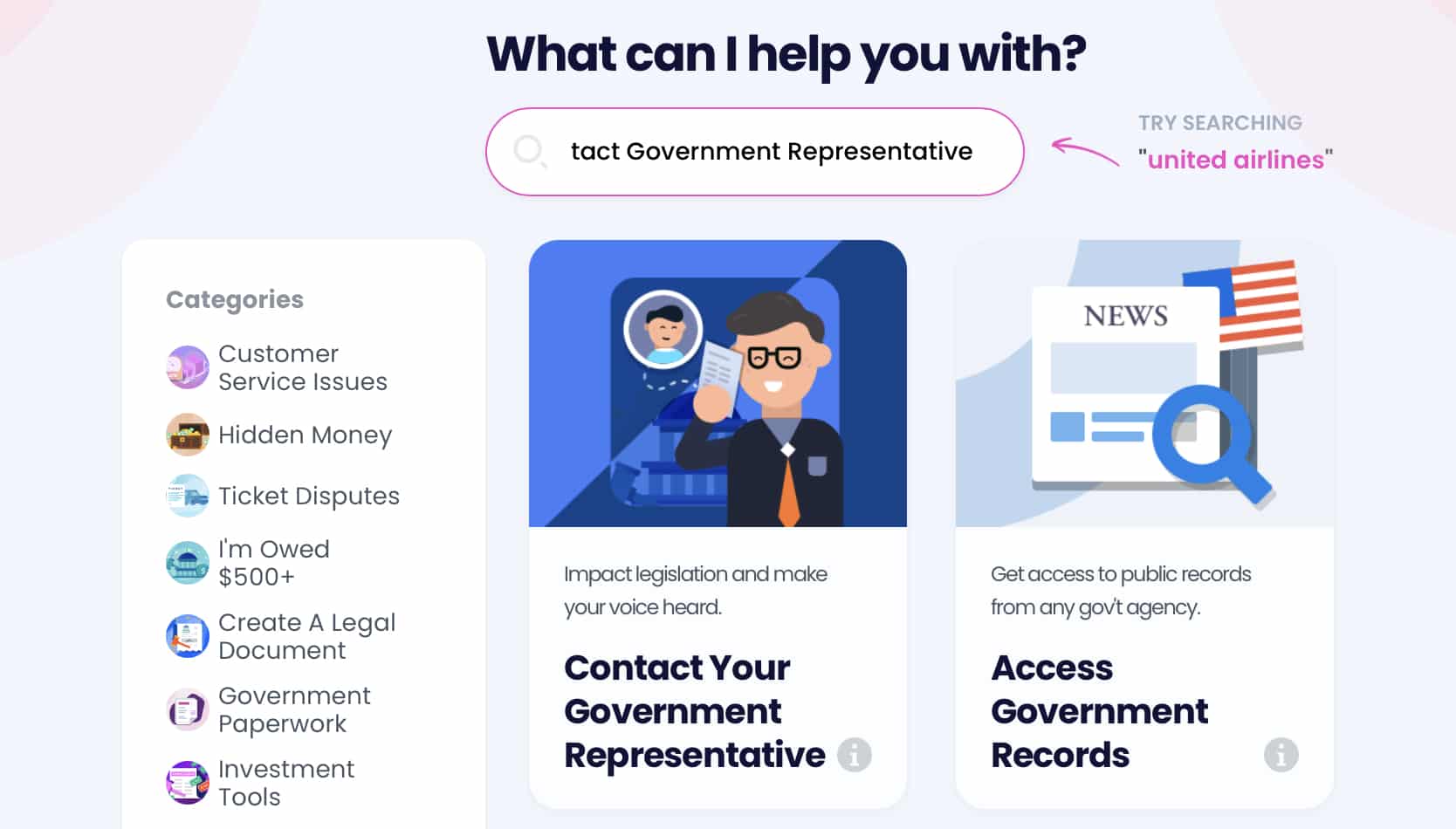 2. Choose the representative you wish to contact.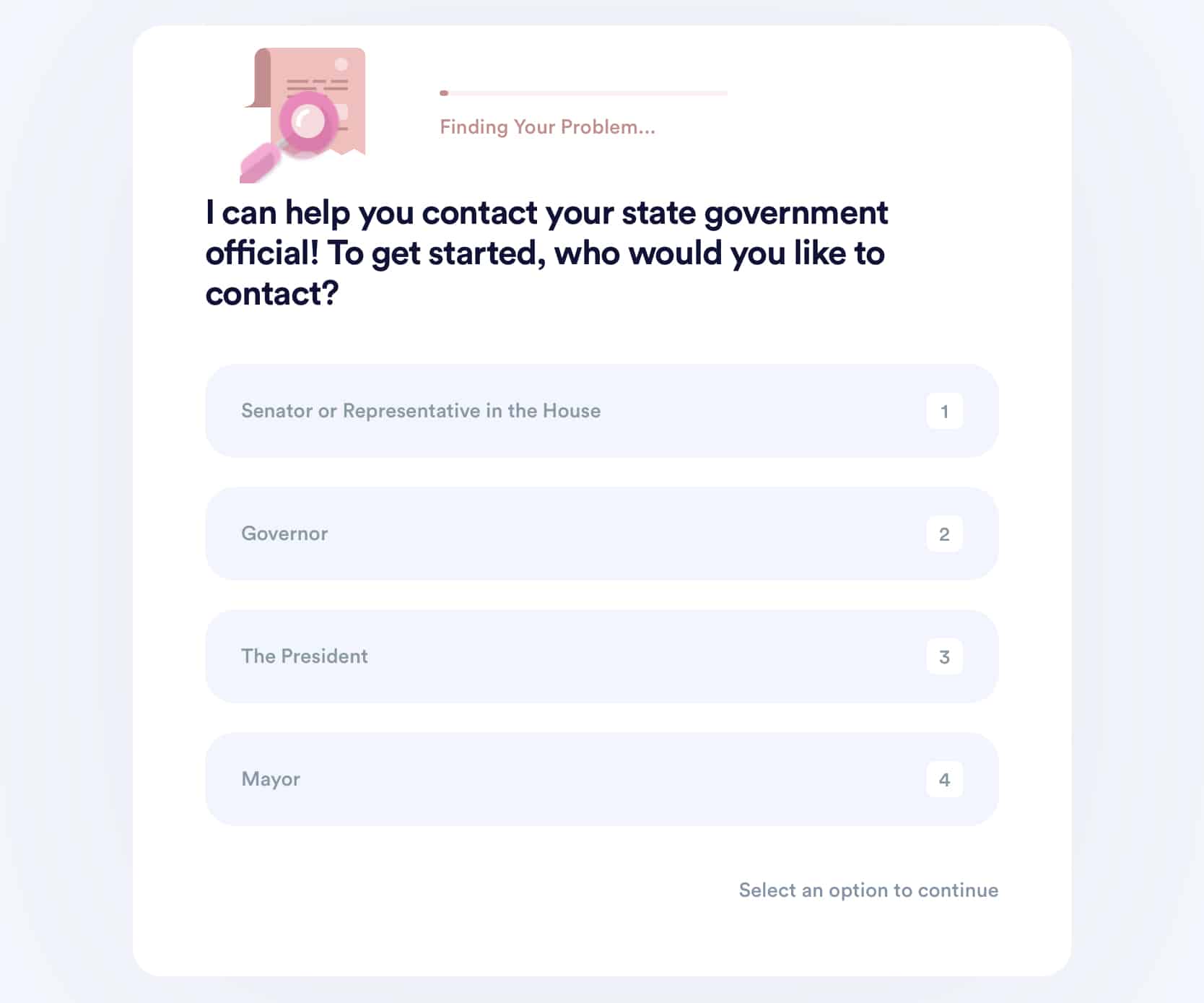 3. Let us know what action you'd like your representative to take, why you feel strongly about it, and why they should also feel strongly!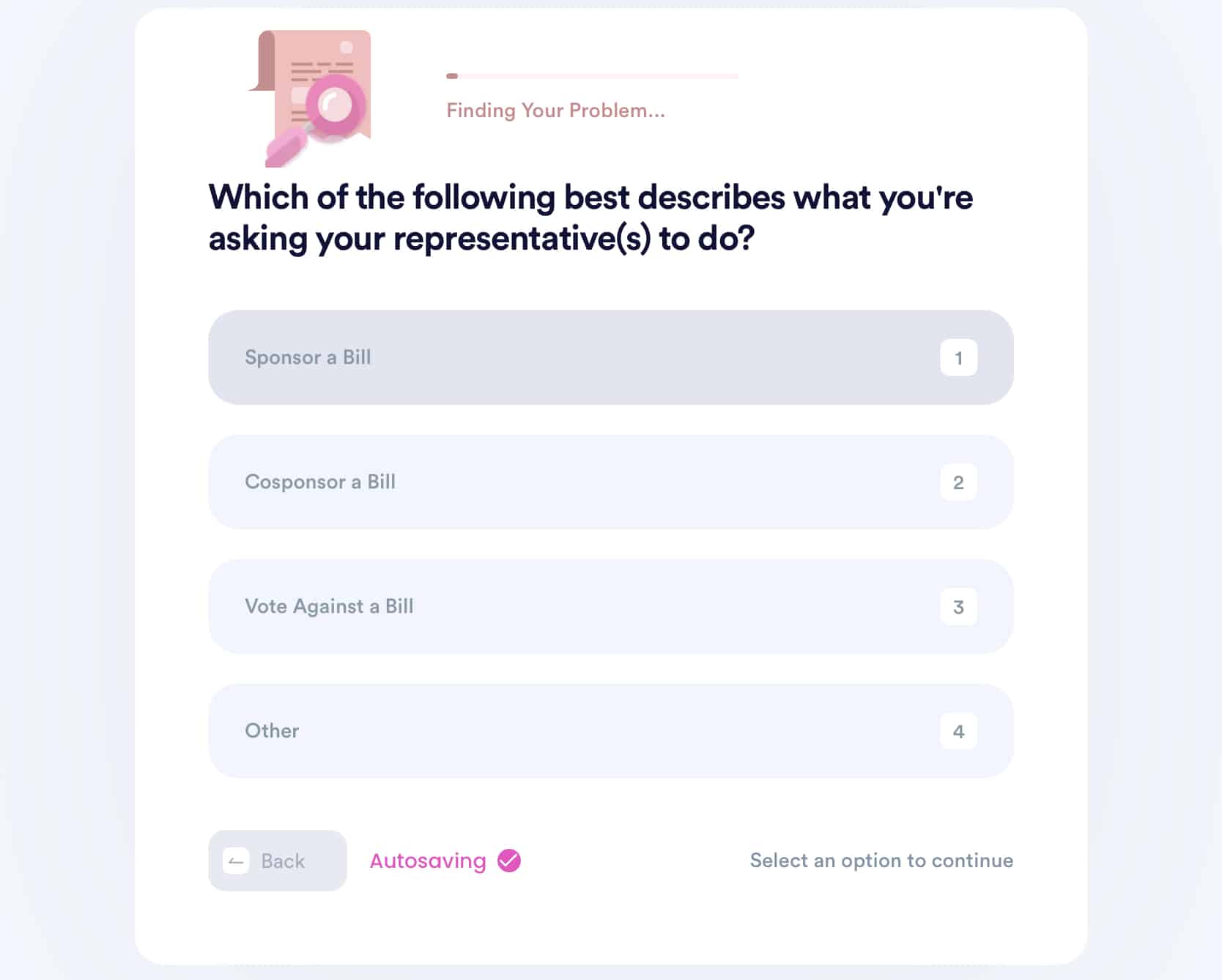 It's as simple as that. DoNotPay will take care of the rest and get your message delivered.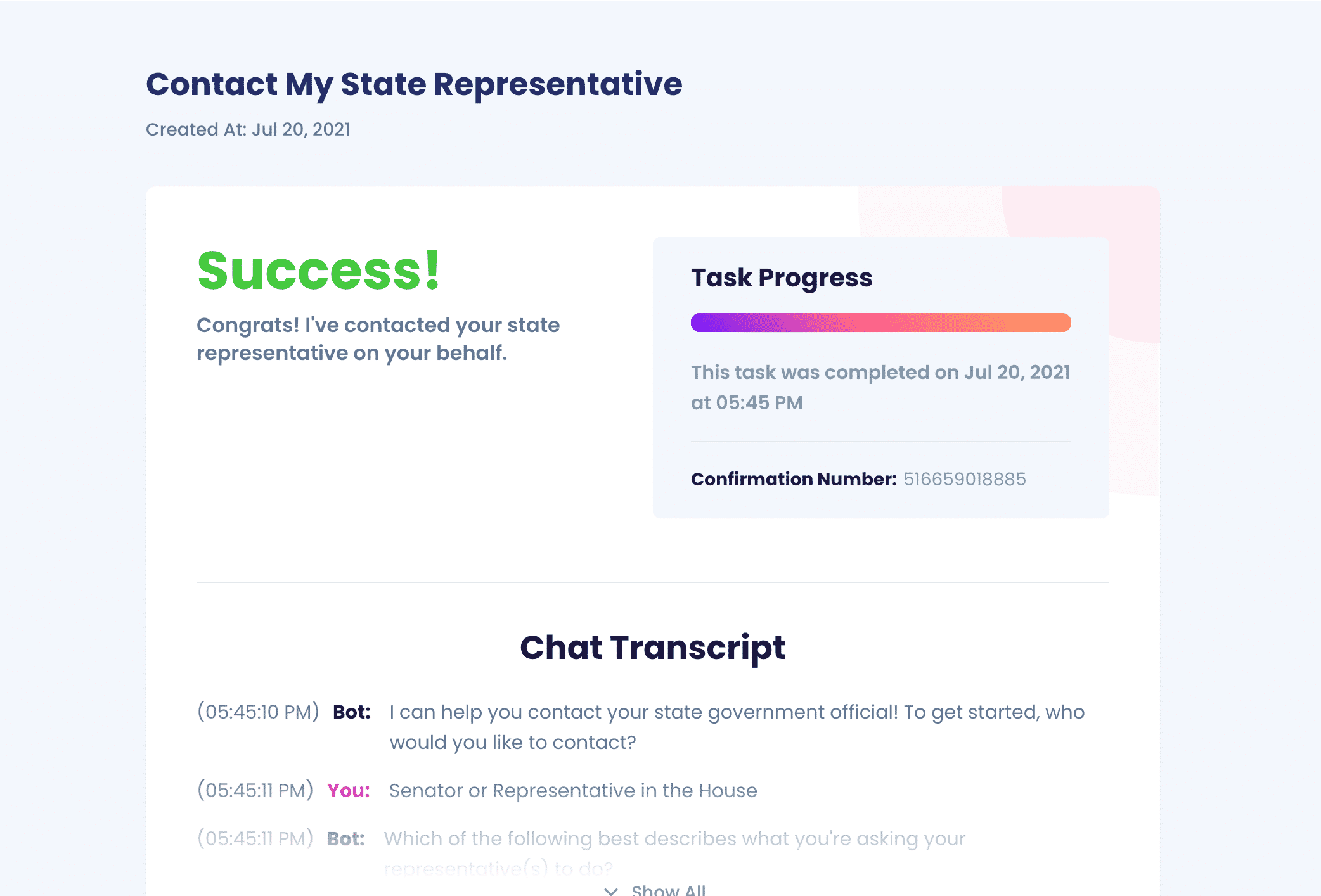 DoNotPay Can Help You with More!