How to Contact Governor Newsom
A constituent's civic duty doesn't stop at showing up to vote. We also have to ensure that our elected representatives have the insights to make decisions and advocate on our behalf. The best way to do that is to get in touch with them and express our views on important issues. It is after the election that our duties are critically needed. It is because it's when legislators set priorities and make legislative decisions that will affect our day-to-day lives. In this article, we will provide you with all the information you need to contact Governor Newsom, and how you can do so quickly and easily.
Governor Newsom's Contact Information
Governor Newsom can be reached through modern means such as social media or traditional means such as phone or post. Here below is the California governor's contact information:
Governor Gavin Newsom's Bio
Gavin Christopher Newsom, the 40th governor of California, was born in 1967 in San Francisco. He was sworn in as governor on January 7, 2019. Governor Newsom attended Ecole Notre Dame Des Victoires and Redwood High School. He earned a Bachelor of Science in political science from Santa Clara University while on a partial baseball scholarship. Newsom's first political involvement was when he volunteered for Willie Brown's successful campaign for mayor in 1995. Since then, he has made a name for himself in public service as follows:
Member of the San Francisco Board of Supervisors from the 2nd district: January 8, 1997 – January 8, 2004
42nd Mayor of San Francisco: January 8, 2004 – January 10, 2011
49th Lieutenant Governor of California: January 10, 2011 – January 7, 2019
California Governor's Duties and Responsibilities
The governor of California holds the supreme executive power and is the Commander in Chief of the state's militia. The governor also has a duty to supervise the executive and ministerial officers' conduct. He also needs to oversee the appointment of offices and the fulfillment of duties. Here is more of a California governor's duties and responsibilities:
Appointing and setting the salaries of his office's assistants and other personnel
Appointing of new positions in the judiciary and a large number of positions in the executive department, as authorized by the State Senate
Communicating annually with the Legislature about the condition of the state and making recommendations
Submitting an itemized budget to the Legislature within the first 10 days of each year
Vetoing any bill passed by the Legislature
Pointers to Remember when Contacting Governor Newsom
Not all governments are perfect and it's sometimes difficult to make a government representative listen, knowing how to strategically reach a governor or senator is helpful in making an impact. Some governments move slowly, but the bills that are eventually passed directly impact our everyday lives. When contacting California governor Newsom, here are some pointers to remember:
Research the topic before picking up the phone or drafting an email. This allows you to strategically make your point with correct facts and figures.
Plan a group call on a specific issue as this may overwhelm phone lines and compel a governor or senator to publish a statement.
Attend town hall meetings and make preparations on how to use your time wisely if given a chance to speak. You may also team up with others and consolidate your similar concerns so you can cover more ground.
Use online tools to track legislation your elected official is scheduled to vote on. Reach out to them in a timely fashion to express your opinion on a certain issue.
DoNotPay Can Help You Contact Your Government Representative!
Although there are different channels to contact governors or senators, calling or emailing a government representative remains a challenge to most. Some don't believe phone calls are effective as it's not guaranteed that the message you left will actually be forwarded. Emails should be professionally written and it needs to show important points that will allow you to argue your point effectively. That is where DoNotPay can help. Our AI lawyer helps average citizens communicate with their state representatives to express their views. With our app, all you have to do is:
1. Select the "Contact Your Government Representative" product on DoNotPay.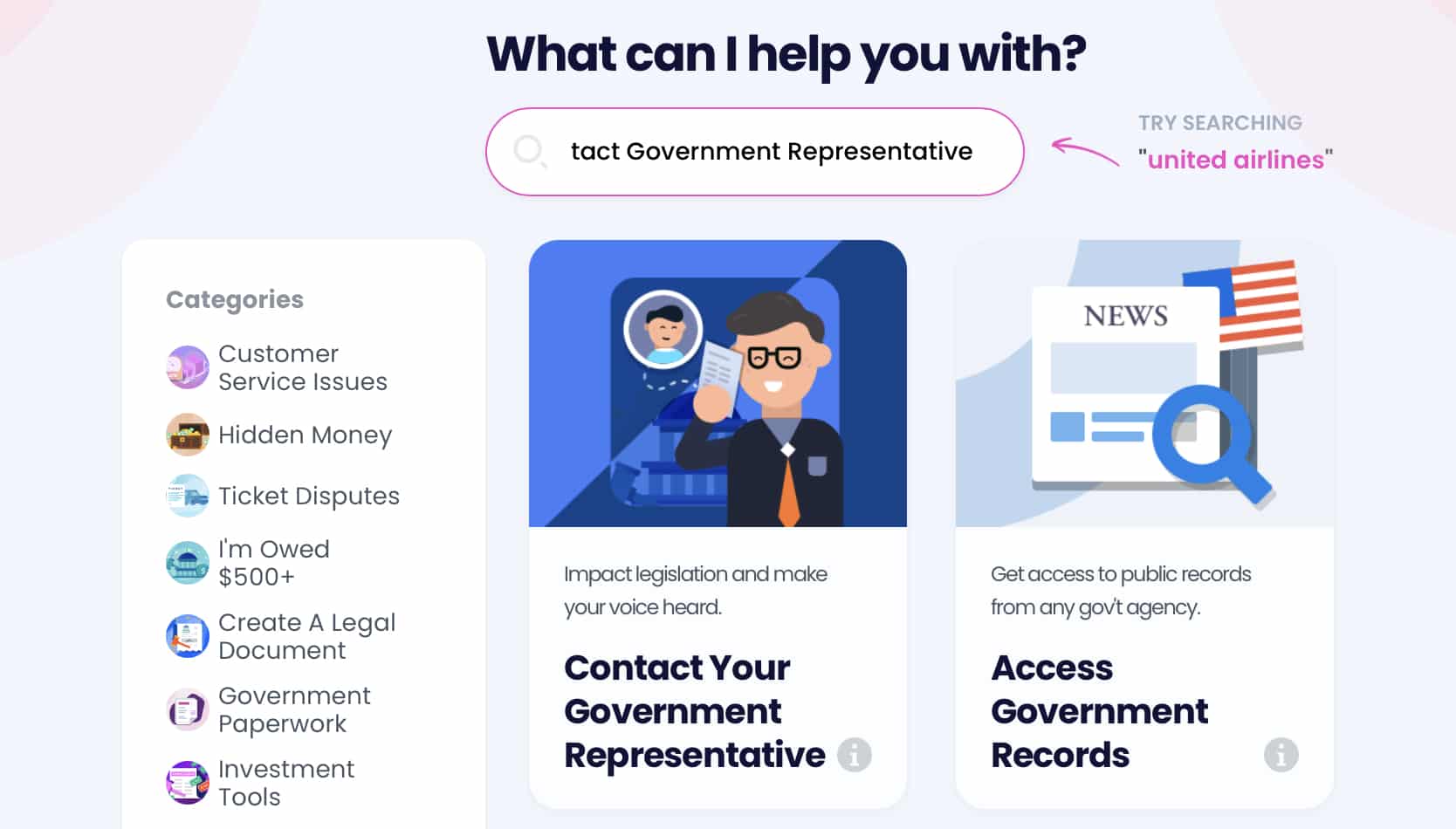 2. Select whether you want to contact your Senator, House Representative, Governor, President, or Mayor.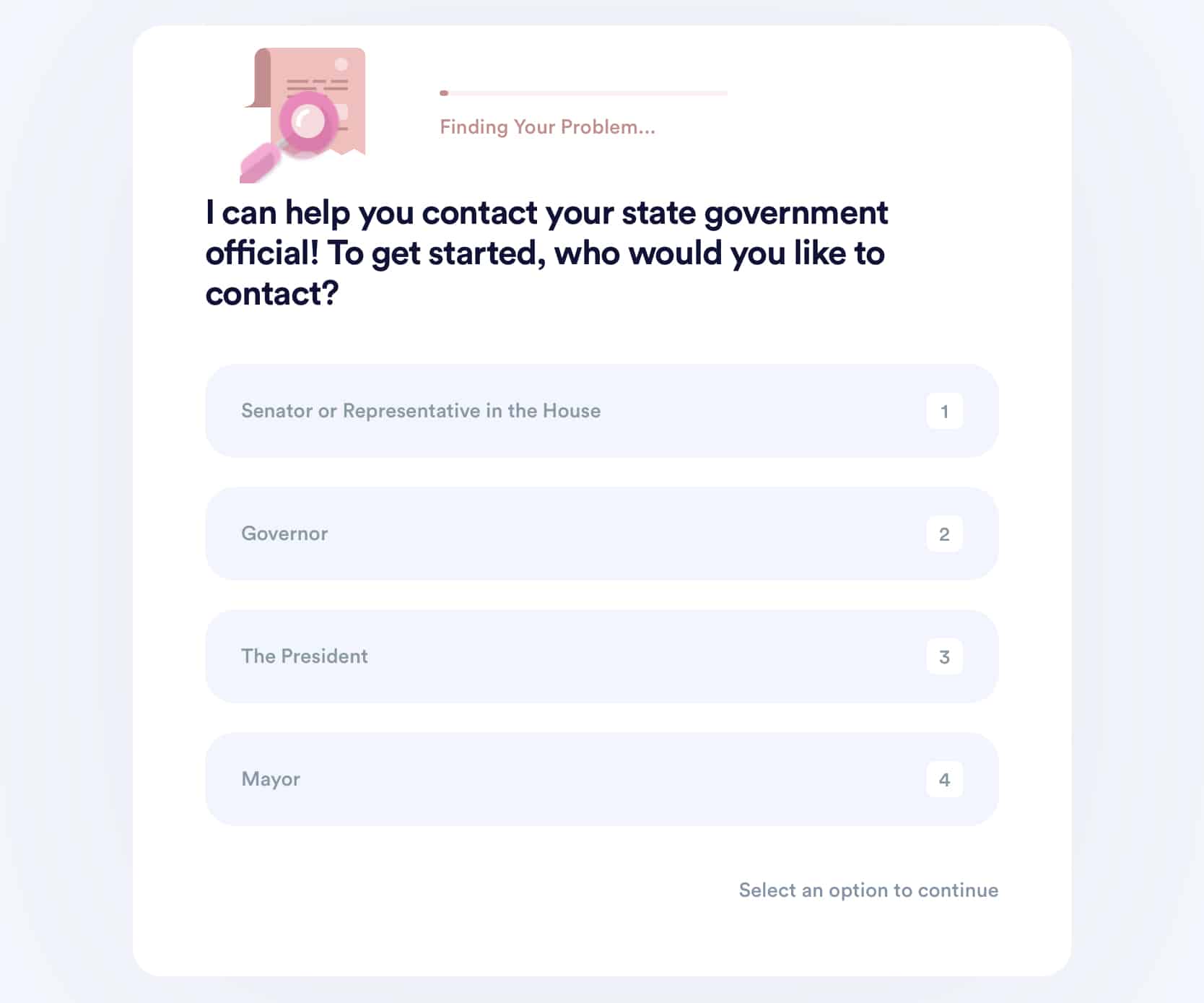 3. Explain why you're contacting your representative. Do you want them to sponsor, cosponsor, or vote against a bill? If not, select "Other".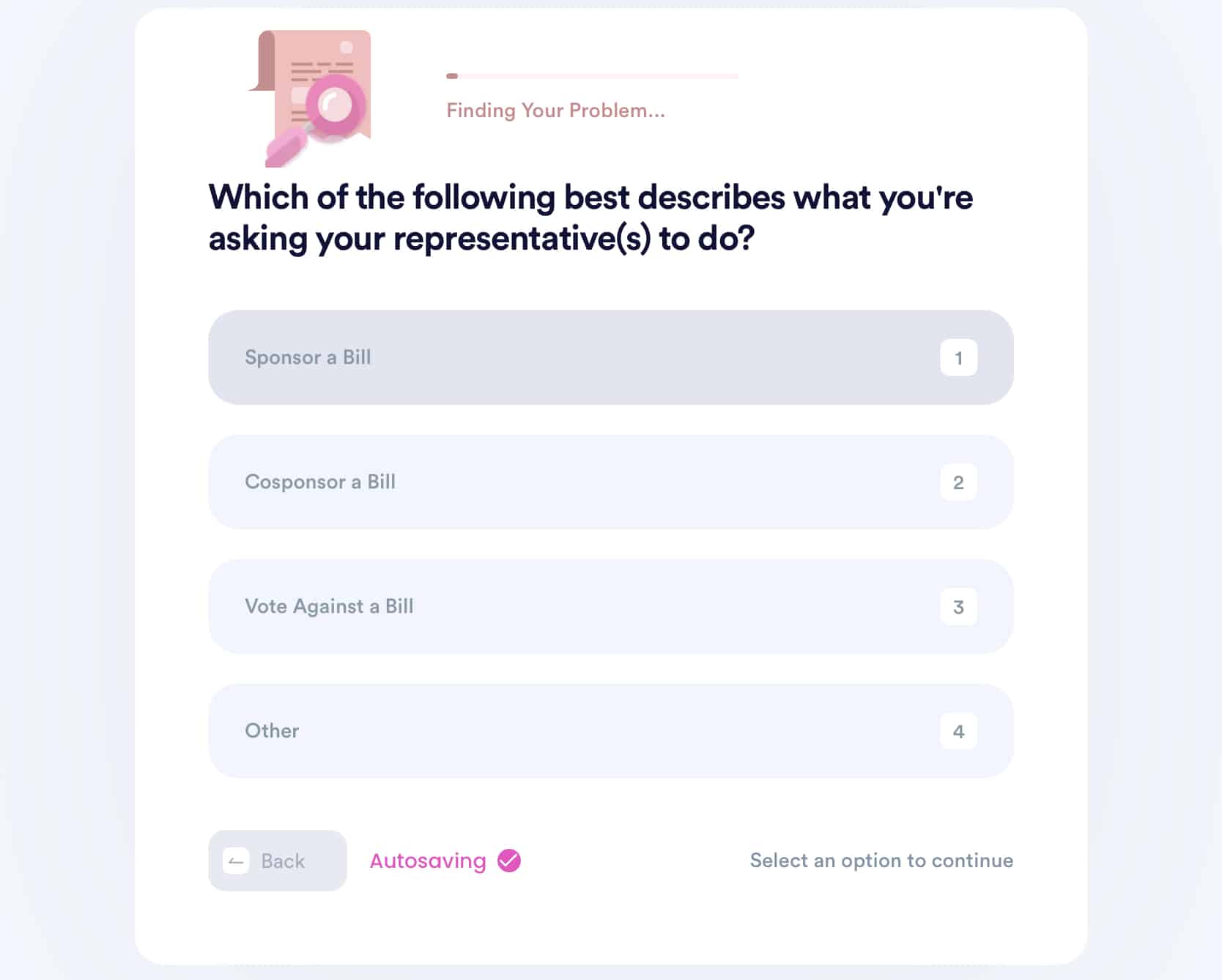 4. Tell us which bill or issue you're concerned about and what you want the representative to do.
DoNotPay will take care of the rest! Your representative will be contacted and all responses will be sent to you.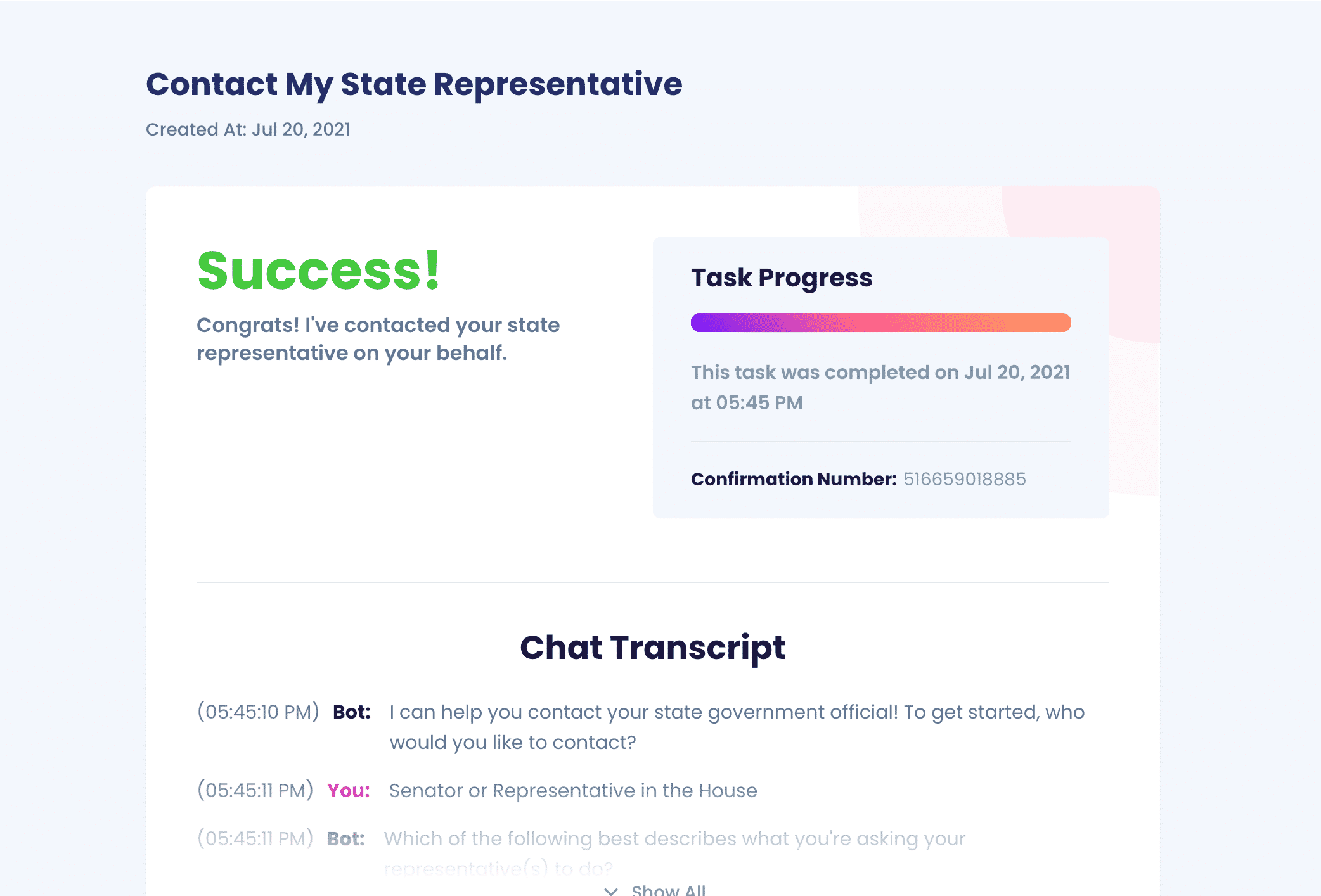 DoNotPay is Your AI Lawyer!
Not only can DoNotPay help maintain your civic duty, but it can also assist you on various legal matters: