A Guide to Contact Governor Mills
A law passed in the state of Maine starts as a solution to a problem or as an idea. This idea may originate from the lobbyists, the legislator, or ordinary citizens. This is why letting your opinions or concerns be heard by your elected officials is important. In this article, we will provide you with all the contact information you need to reach Maine Governor Mills, and a helpful tool to let you do so quickly and effectively.
How to Contact Governor Mills
Contacting Gov. Mills can be done through traditional means such as by phone or in person, or social media, email, and via the website. On the governor's office's website, there are different forms to fill up depending on what you need: sharing your opinion, requesting assistance, scheduling a meeting or invitation, requesting a congratulatory letter, or requesting a proclamation. Regardless of your needs, here below are Governor Mill's contact information:
Governor Janet T. Mills' Bio
Janet Trafton Mills was born in December 1947 in Farmington, Maine. She attended Farmington High School and earned her Bachelor of Arts degree from the University of Massachusetts Boston. Governor Mills attended the University of Maine School of Law and earned her Juris Doctor in 1976. During her time in law school, she interned in Washington, D.C., for civil rights attorney Charles Morgan Jr. of the American Civil Liberties Union. Since then, she has had an illustrious career in public service which included:
Member of the Maine House of Representatives from the 78th district: December 4, 2002 – December 1, 2004
Member of the Maine House of Representatives from the 89th district: December 1, 2004 – January 6, 2009
55th and 57th Attorney General of Maine: January 7, 2013 – January 2, 2019
On January 2, 2019, she became Maine's first female governor and the 75th governor of Maine.
Maine Governor's Duties and Responsibilities
The governor holds the supreme executive power and is the commander-in-chief of Maine's army and navy and the Maine National Guard. He or she is an elected constitutional officer and is the executive branch leader of Maine's highest state office. Here are more of the Maine governor's duties and responsibilities:
To appoint officers including judicial officers (except probate judges and justices), and civil and military officers
To grant pardon, including juvenile offenses, and except for cases of impeachment
To convene extraordinary legislative sessions and adjourn the legislature in case of disagreements
To require reports from any office or state's militia about their job's circumstances
To deliver information on the status of the state and make recommendations if necessary
Tips When Contacting Gov. Mills on Your Own
Contrary to what you may know, legislators appreciate hearing from their constituents. It is part of their duties to listen to constituents' views, and citizens have a legal right to let their opinions be heard. At the end of the day, your elected senator or governor's duty is to represent your views. When contacting your legislators, be courteous to the staff and be specific about the issue you are calling or emailing about. Here are more pointers to remember when getting in touch with your elected official:
Be mindful of timing. Contact your legislator by phone or email when you know that voting on a bill of your concern is coming. A stronger mode of communication is sending mail or scheduling an in-person visit.
Establish a relationship with the staff. Know their names and what issue they are assigned to so you know who the right person to get in touch with when the time comes.
Regardless of your legislator's political affiliation, you should voice your position on a certain issue. This provides your elected representative with an overview of how their constituents feel about a topic.
Research about the issue you are calling or emailing about. This allows you to formulate helpful questions and provide insightful information.
Share any information you get from the call or email to your family, community, or organization. This helps expand the interest or awareness on an issue and strengthen support in the same topics you care about.
DoNotPay Can Help You Contact Your Government Representative!
In most cases, calling or emailing an elected representative can be a daunting task. It's intimidating to talk to a governor on the phone or draft an email to a senator. In most cases, voice mails or messages may not be forwarded properly, while messages need to be professionally written. That is where DoNotPay can help. Our AI lawyer can help you fill out a form and generate a courteously written letter in a matter of seconds. All you have to do is:
1. Search "Contact Representative," or "Legislator," on DoNotPay and select the Contact Your Government Representative product.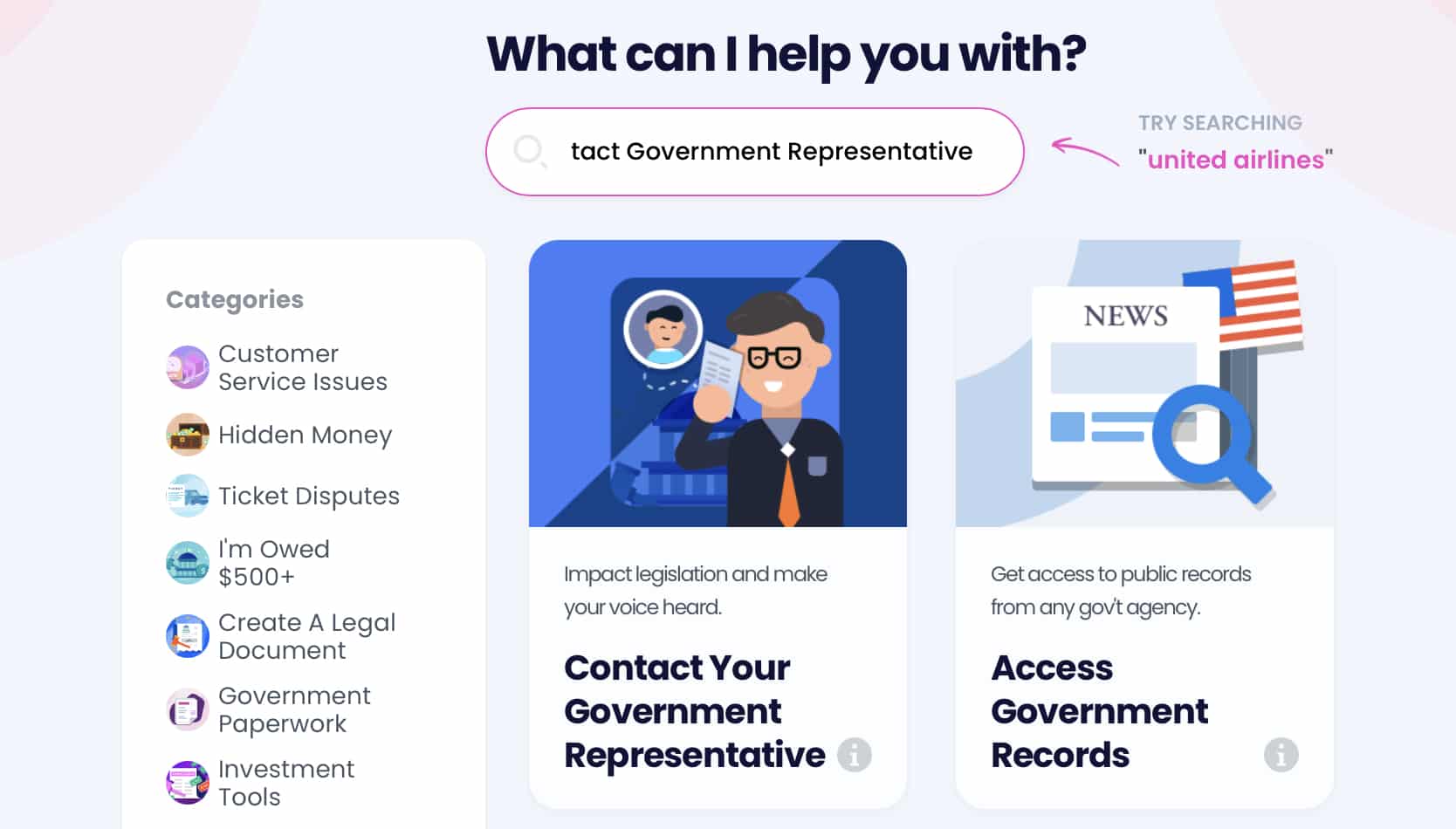 2. Select whether you want to contact your Senator, House Representative, Governor, President, or Mayor.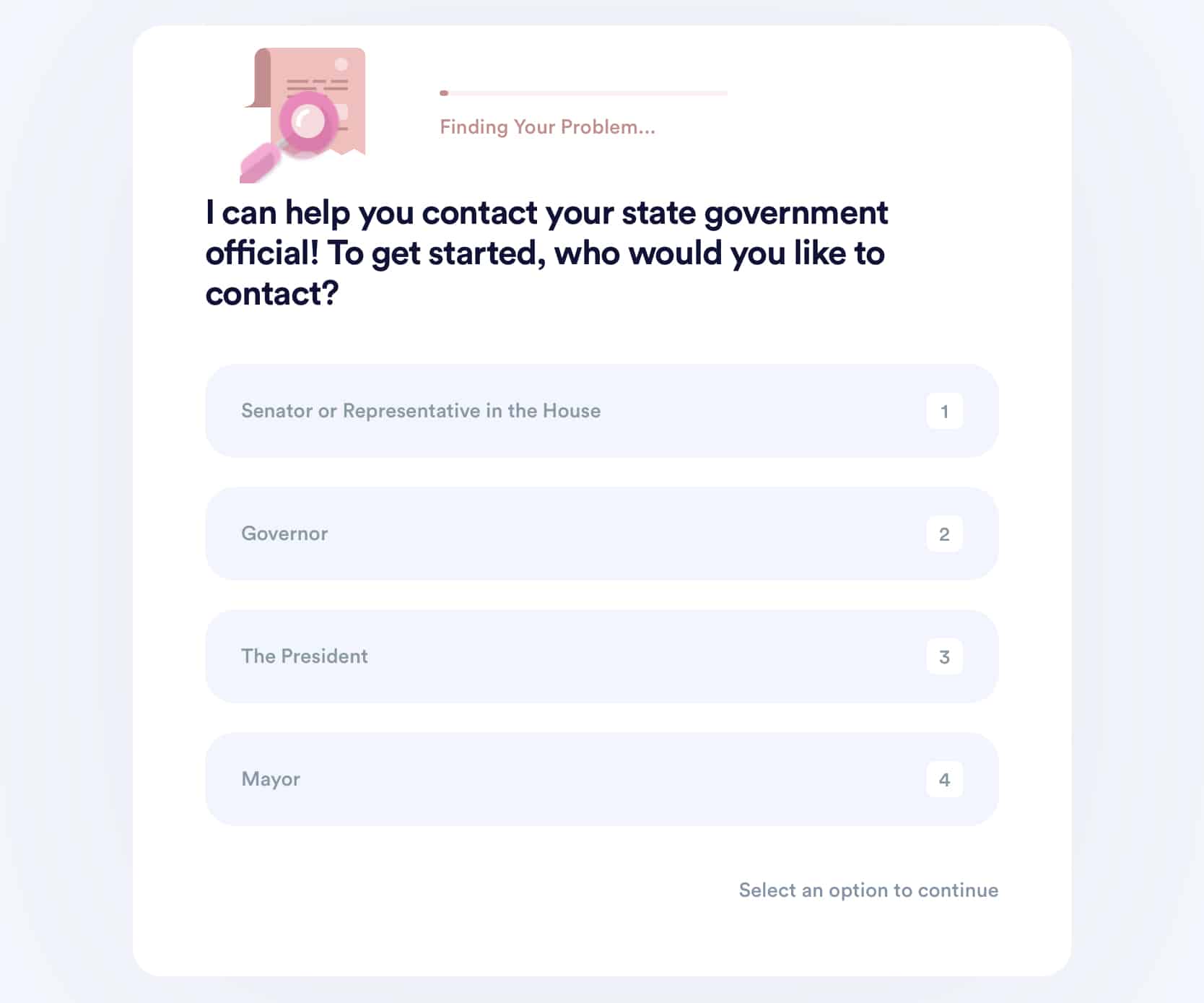 3. Explain why you're contacting your representative, tell us which bill or issue you're concerned about, and what you're urging the representative to do.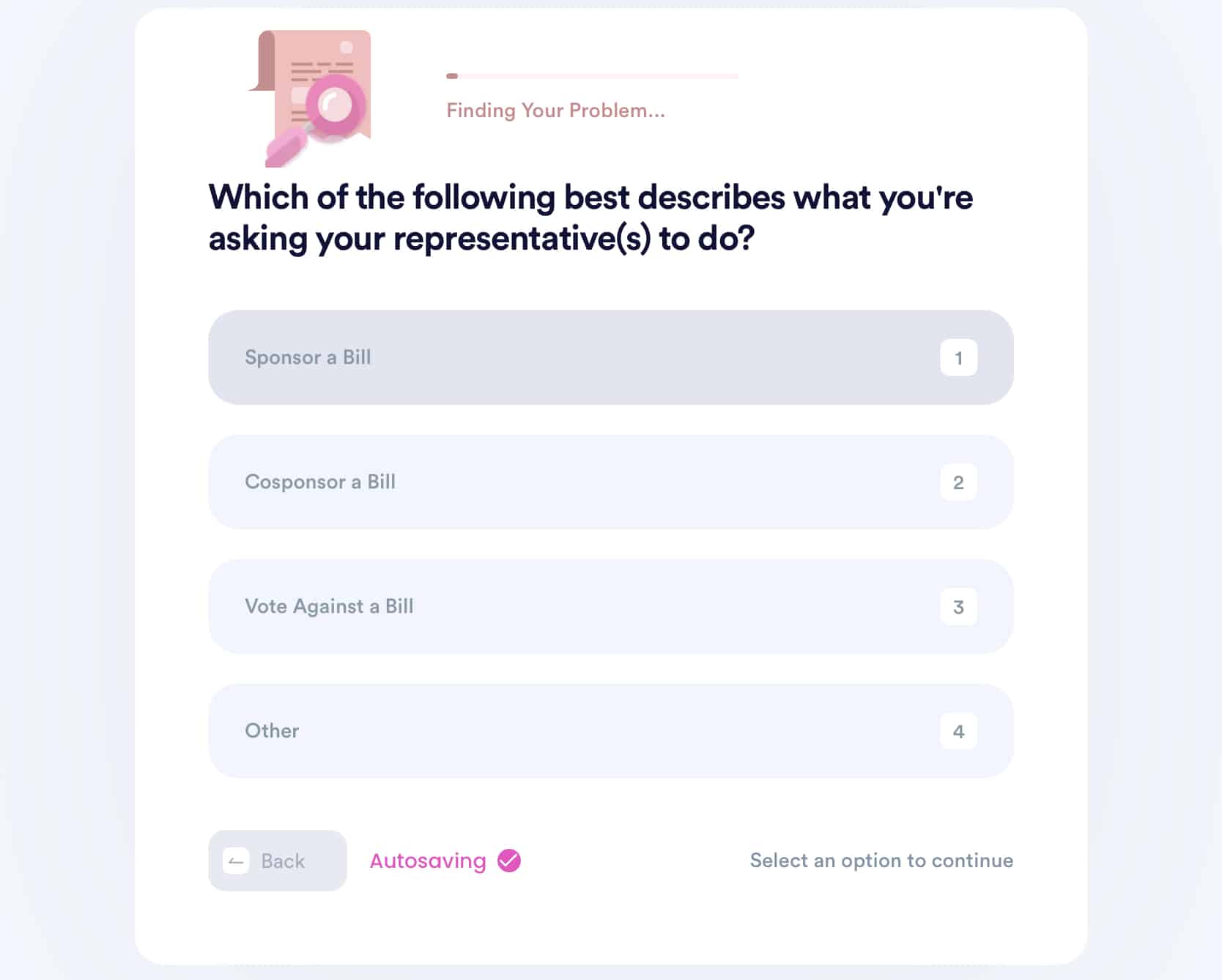 That's it! DoNotPay will handle the rest for you and make sure your message gets delivered. Our bots will fill the contact forms on your legislator's website on your behalf.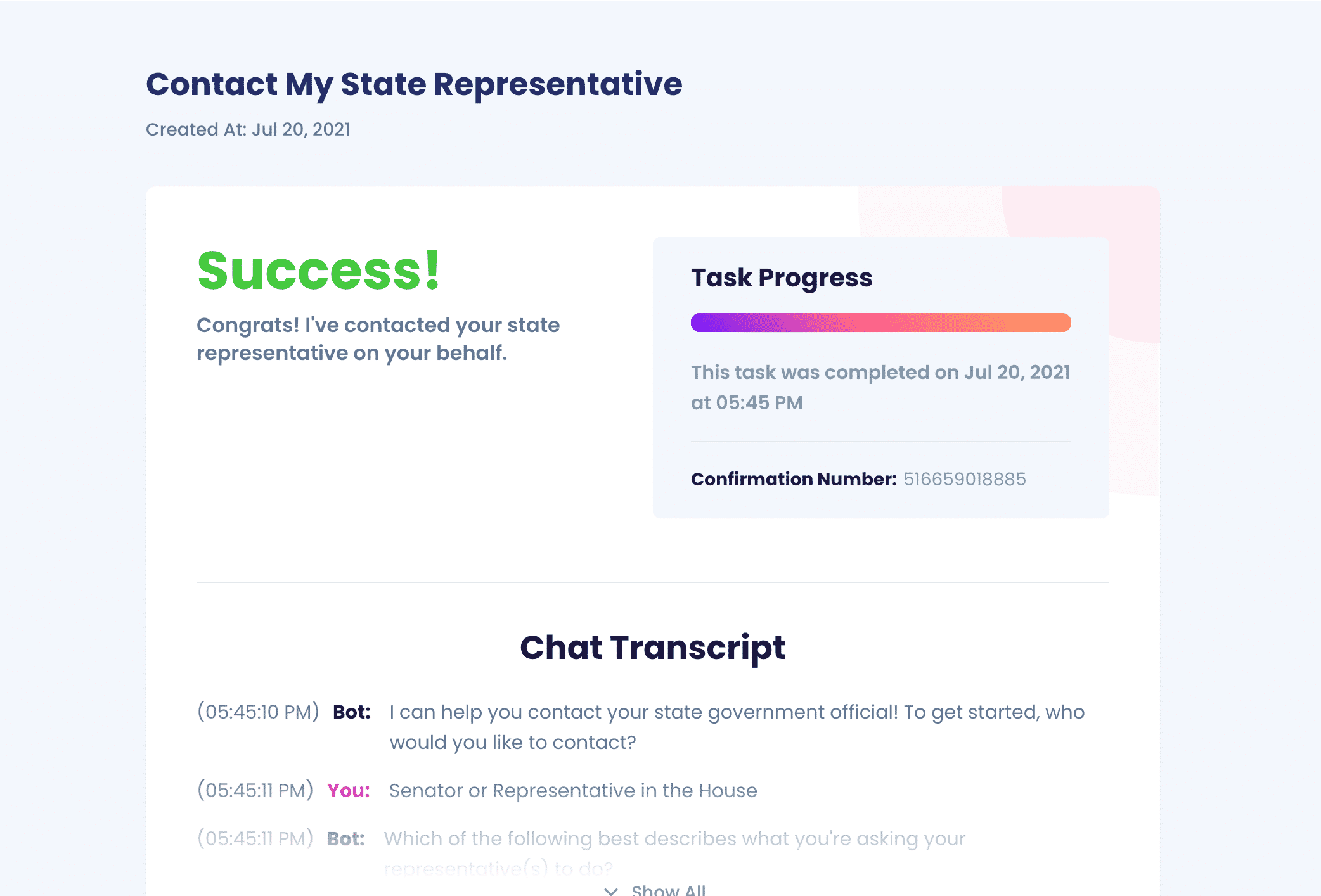 What Else Can DoNotPay Do?