How to Contact Governor McMaster the Easy Way
Governors carry the responsibility of overseeing state operations and implementing new policies. You may find yourself wondering if you should contact your state governor to alert them about your own personal opinions. For the citizens of South Carolina, this article will help you to get in touch with Governor McMaster in just a few quick steps.
Of course, if you wish to reach out to your political representatives, contacting the governor isn't the only way; you can contact your senator or contact your representatives as well.
Governor Henry McMaster Contact Information
Official Website
https://governor.sc.gov/
Mail Address
The Honorable Henry McMaster

State House

1100 Gervais Street

Columbia, South Carolina 29201

Email Address
Governor McMaster receives emails through this form (as shown on his contact page).
Phone Number
(803) 734 - 2100
Fax
(803) 734 - 5167
Other contact methods
Governor McMaster is also active on the following social media pages:
He often posts about his general affairs, which includes his recent work to distribute the funds from CARES (Coronavirus Aid Relief and Economic Security).
Get to Know Governor McMaster
Governor Henry McMaster is a South Carolinian, born in the city of Columbia. He pursued an education in law and graduated from the University of South Carolina School of Law in 1973. From there, he went on to practice law for over 40 years and eventually was appointed by President Ronald Regan to become the U.S. Attorney for South Carolina.
He first ran for the position of governor in 2010, though he lost to Nikki Haley. In 2014, McMaster was then elected as South Carolina's lieutenant governor. He was able to succeed in the position of governor in 2017 when Haley resigned from her position to become the United States Ambassador for the United Nations. McMaster finally won a full four-year term in the 2018 elections and maintains his status as governor today.
McMaster is a member of the Republican Party. He is in opposition to the idea of abortion and does not believe in strict gun control.
What Services Does Governor McMaster Provide?
Governor McMaster's office cannot provide you with advice, but they can provide you with information. In South Carolina, pardons aren't granted by the governor. They are granted by the Board of Probation, Parole, and Pardon Services, which can provide you with assistance and an application for pardon. More information on the matter can be found online at the South Carolina Judicial Department.
The governor does not hold the power to expunge anyone's criminal record. A criminal record is only able to be expunged through an application to the court. An individual should contact a nearby solicitor's office if they wish to seek assistance and obtain an application. (This process does, however, require a fee.)
Reporting state agency fraud
The OIG is an independent agency that works to build trust between South Carolina's citizens and the government branch. They are tasked to detect and investigate any potential fraud and wrongdoing occurring within the branch. You can file an official complaint here.
Governor McMaster runs a program where students can learn more about the South Carolina Executive Branch and the governor's administration. It is a paid internship that runs during the spring, summer, and fall semesters. Learn more about the internship and its requirements at this link.
Why It Can Be Hard to Reach Governor McMaster
It can be difficult to reach out to Governor McMaster for various reasons.
Calling by phone is the least ideal way to contact Governor McMaster. This is because he is extremely busy and that there is no way to know if and when the person receiving your call has passed on your message. It is just as tough as calling your senator's phone number or calling your representative's phone number.
Writing an email can be intimidating. It must be professionally written and be capable of properly conveying your opinion if you wish for the governor to consider it.
How DoNotPay Can Help
can help you to craft the perfect message to send to your governor. Simply follow these steps for a professional, detailed, and effectively articulated statement.
1. Search for the Contact Your Government Representative product on .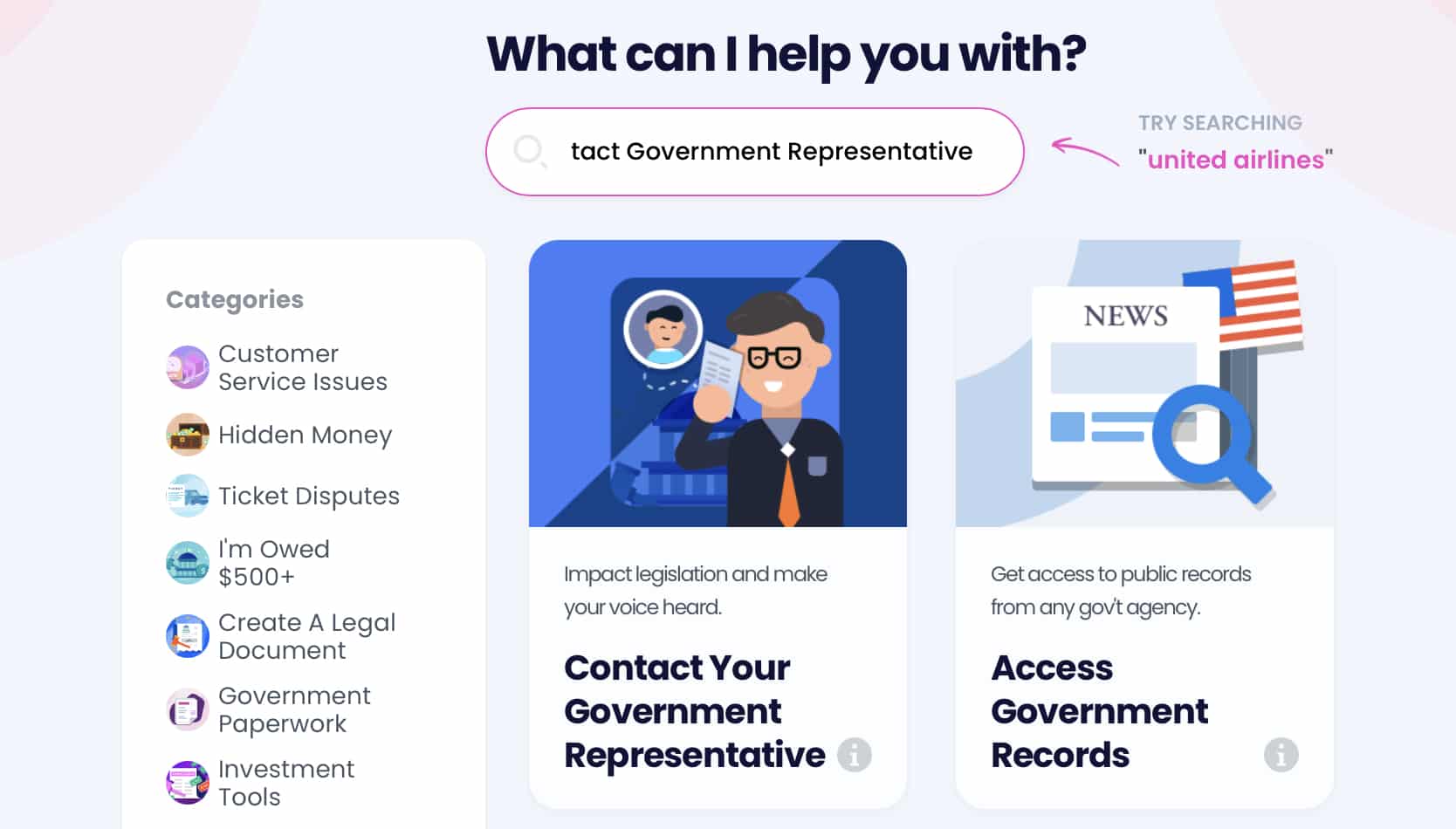 2. Choose whether you want to contact your Senator, House Representative, Governor, President, or Mayor.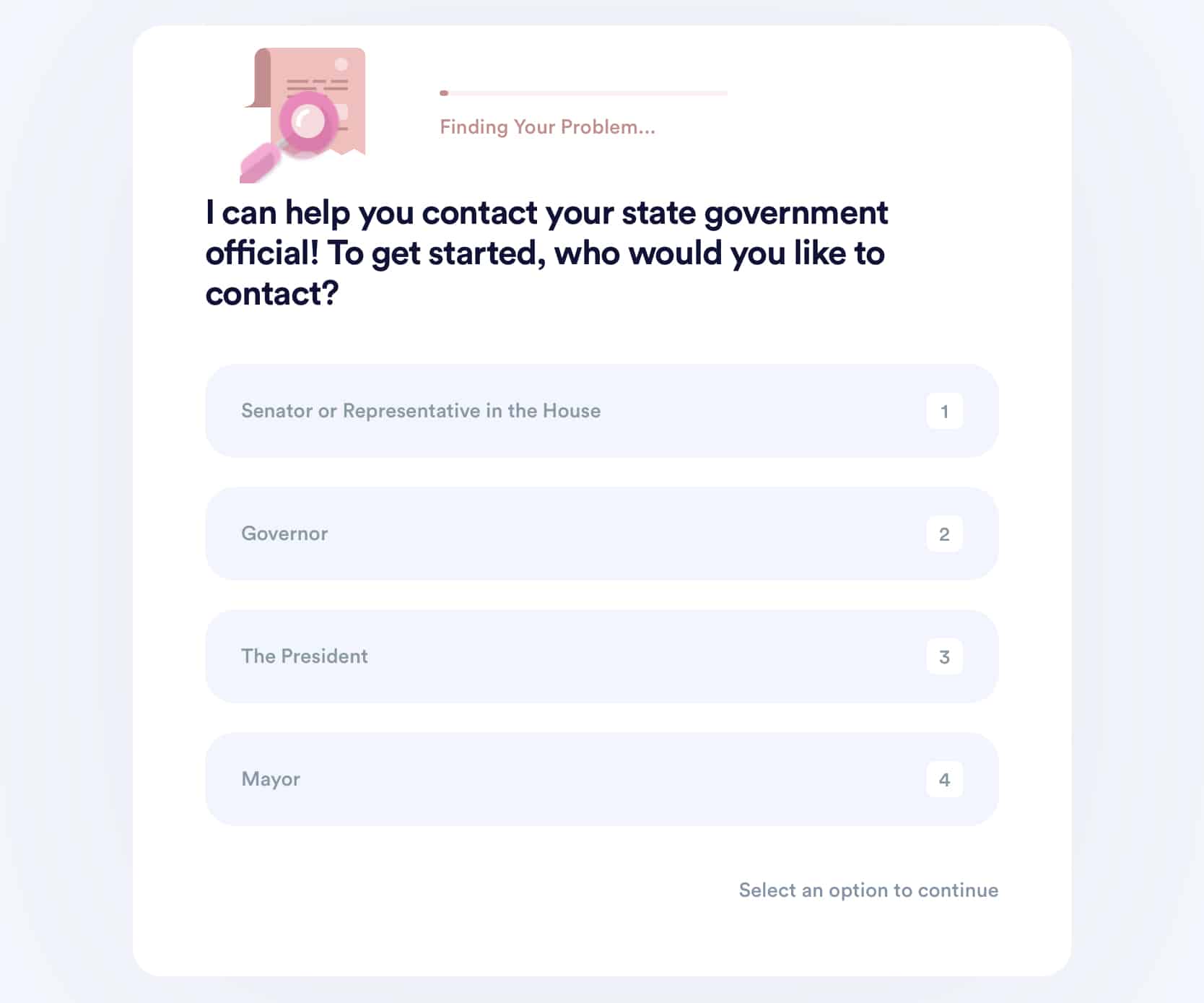 3. Tell us why you're contacting your representative. Do you want them to sponsor, cosponsor, or vote against a bill?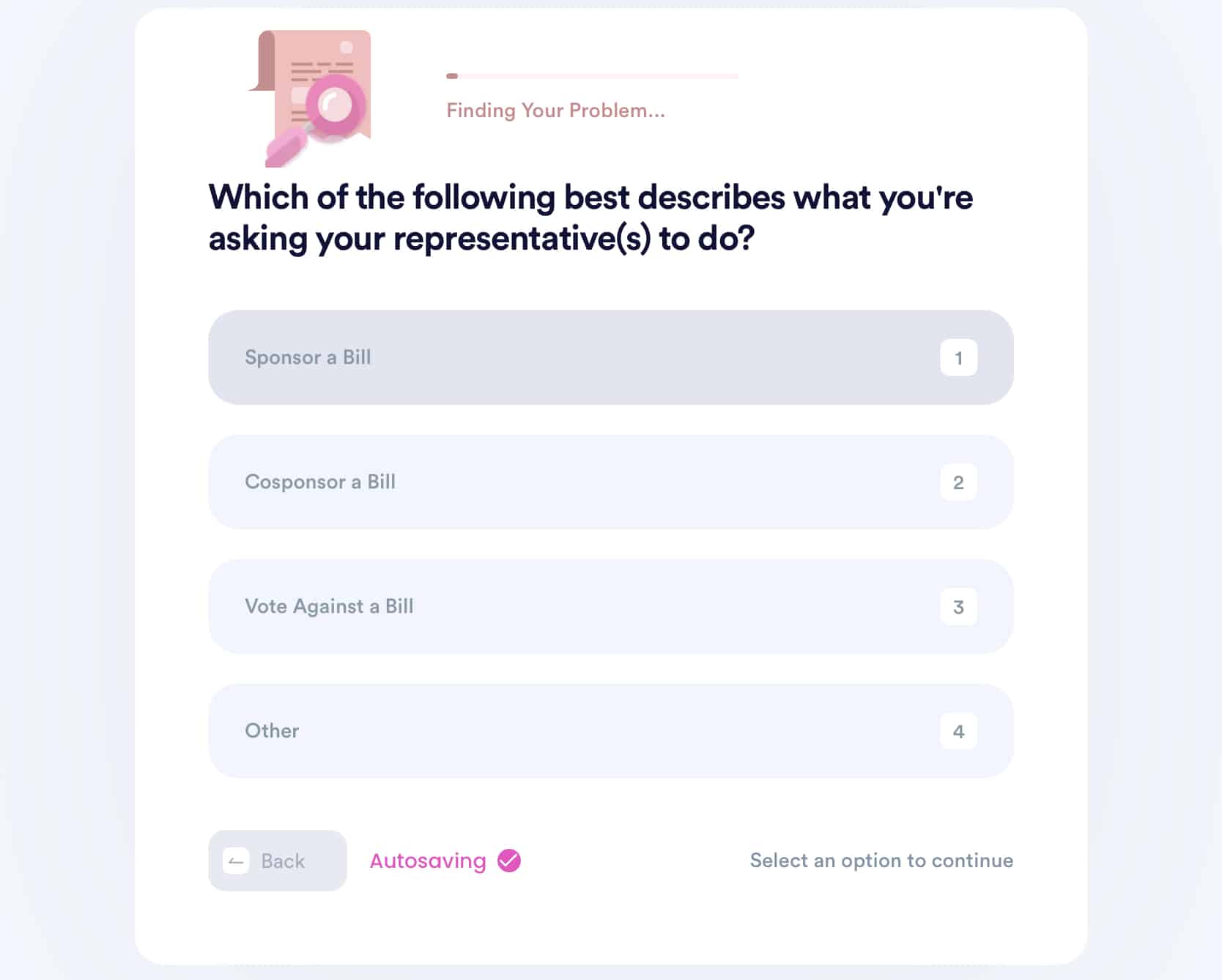 4. Tell us which bill or issue you're concerned about and what you're urging the representative to do.
Sit back and relax! DoNotPay will handle the rest for you and make sure your message gets delivered. Our bots will fill out the contact forms on your legislator's website on your behalf.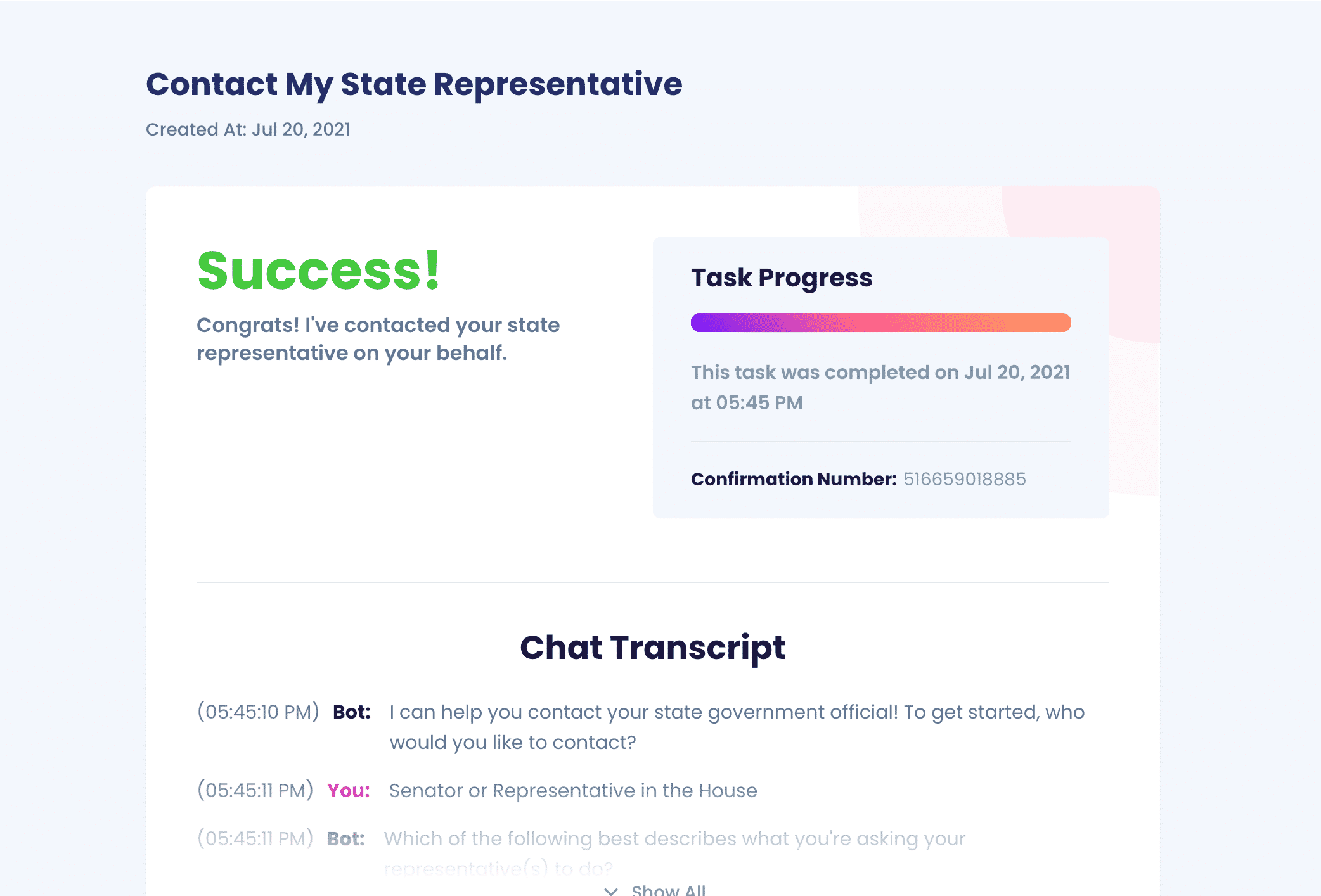 DoNotPay is Your AI Lawyer!
Not only can DoNotPay help maintain your civic duty, but it can also assist you on various legal matters: