How to Contact Governor Kay Ivey the Easy Way
Republican Governor Kay Ivey has served as the Governor of the State of Alabama since 2017. She is the first female Republican governor and the oldest serving governor at age 76.
She is a staunch supporter of the Second Amendment rights and supports allowances for armed officials in schools. Furthermore, she has passed legislation allowing faith-based adoption organizations to refuse service to same-sex parents and has also signed a bill that prevents Alabama sports teams from competing in trans-inclusive events. She is strongly pro-vaccination and has been in the news recently for blaming unvaccinated people for the rise of cases of COVID-19 in Alabama.
The governor in each state heads the executive branch and must be elected in a state-wide election. As each state is a semi-sovereign republic, they hold a significant amount of power.
What Issues Do Governors Deal With?
Signing Bills
Veto power on Bills
State budget controls
Dealing with issues of the state constitution
Here is a table summarizing Governor Kay Ivey's political stances:
| | |
| --- | --- |
| Issue | Stance |
| Cannabis | Pro Medical |
| Abortion | Pro-Life |
| Gun Control | Opposed |
| LGBTQ+ Marriage | Opposed |
| Immigration | Opposed |
| Climate Change Action | Opposed |
Methods of Contact for Governor Kay Ivey
Mode of Contact
Details
Email
https://contact.governor.alabama.gov/contact.aspx
Phone Number
334-242-7100
Mailing Address
600 Dexter Avenue

Montgomery, AL 36130

Fax
334.353.0004
Twitter
@GovernorKayIvey
Instagram
@governorkayivey
Facebook
https://www.facebook.com/KayIveyAL/
Schedule a Meeting
https://contact.governor.alabama.gov/contact_meeting.aspx
Senator Website
https://governor.alabama.gov/
Campaign Website
https://kayivey.com/
Intern with Governor Ivey
https://governor.alabama.gov/administration/internship-program/
How Should You Contact Governor Ivey?
There are many different ways to contact Governor Ivey, but we've highlighted some of the ones that we think would be most effective to get your message across.
Schedule a meeting. Meetings are often the best way to get your point across and to fully communicate your emotion, sincerity, or the urgency of your message. It is much more difficult to ignore a conversation than it is to ignore an email.
Make a phone call. A phone call can be a good alternative if you don't have the ability to go meet your representative in person but want a more direct and immediate response. While you will likely speak to a staff member and not the representative, you can ask to set up a time to meet through the phone.
Send an email. Although less direct, emails can be equally as effective if they are done correctly. A good email should be professional, coherent, and state very clearly the action you want your representative to take. It also offers an alternative for those who may get nervous over the phone and want to be able to express their thoughts fully.
To find out the best way to contact your specific representative, check out our guide here. Unsure if calling your representative is even effective? Check out our article before you make the decision to call.
How to Start Contacting Governor Ivey
Locate her contact information
We already provided you with Governor Ivey's contact information, so that should be good to go! If there is more than one government official working on your concern, add them to your list of those to contact. Let us help you out: we've provided a list of phone numbers for senators here and a list of phone numbers for state representatives here.
You'll need to do a little bit of preparation before you hop on a call, attend a meeting, or start writing your email. Make sure you can show your representative that you're knowledgeable on the subject and have a strong basis for your opinion.
Nervous? We have resources just for you. Check out our provided script for making phone calls, and this handy guide to writing well-structured and professional emails to government officials.
Here are some things to keep in mind:
Have a professional tone
Provide a clear thesis
Offer a statement on what action your representative should take
Stay on topic
Support your claim with evidence
DoNotPay can Simplify the Process for You!
In just four easy steps, you can take a shortcut past the hassle and let us handle the logistics of contacting your representative. We'll contact them on your behalf and make sure they receive a professional message as soon as possible. Let's get started!
1. Hop onto DoNotPay and select the "Contact Your Government Representative" product.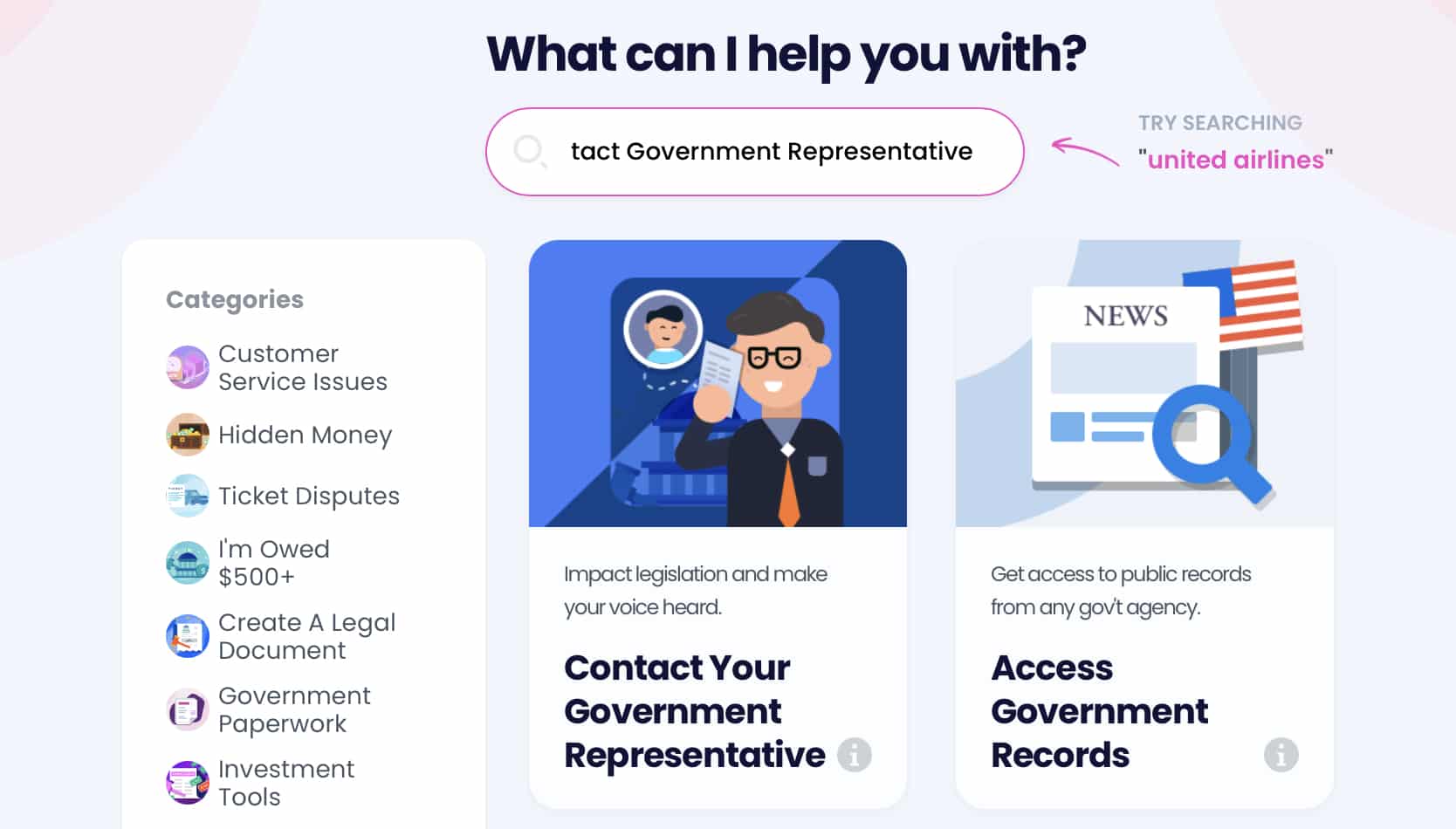 2. Click on the representative you wish to contact.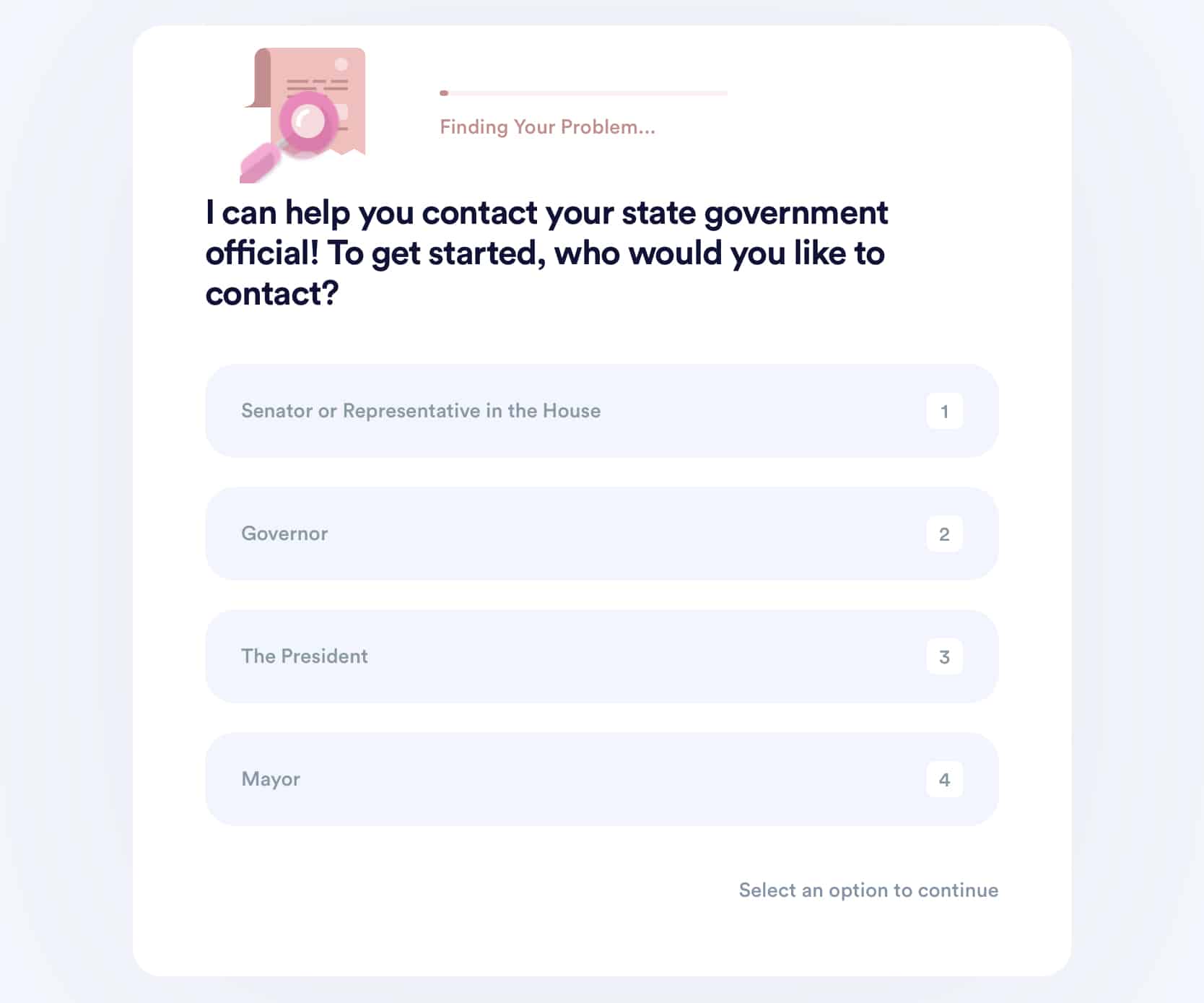 3. Leave us a short message explaining your issue.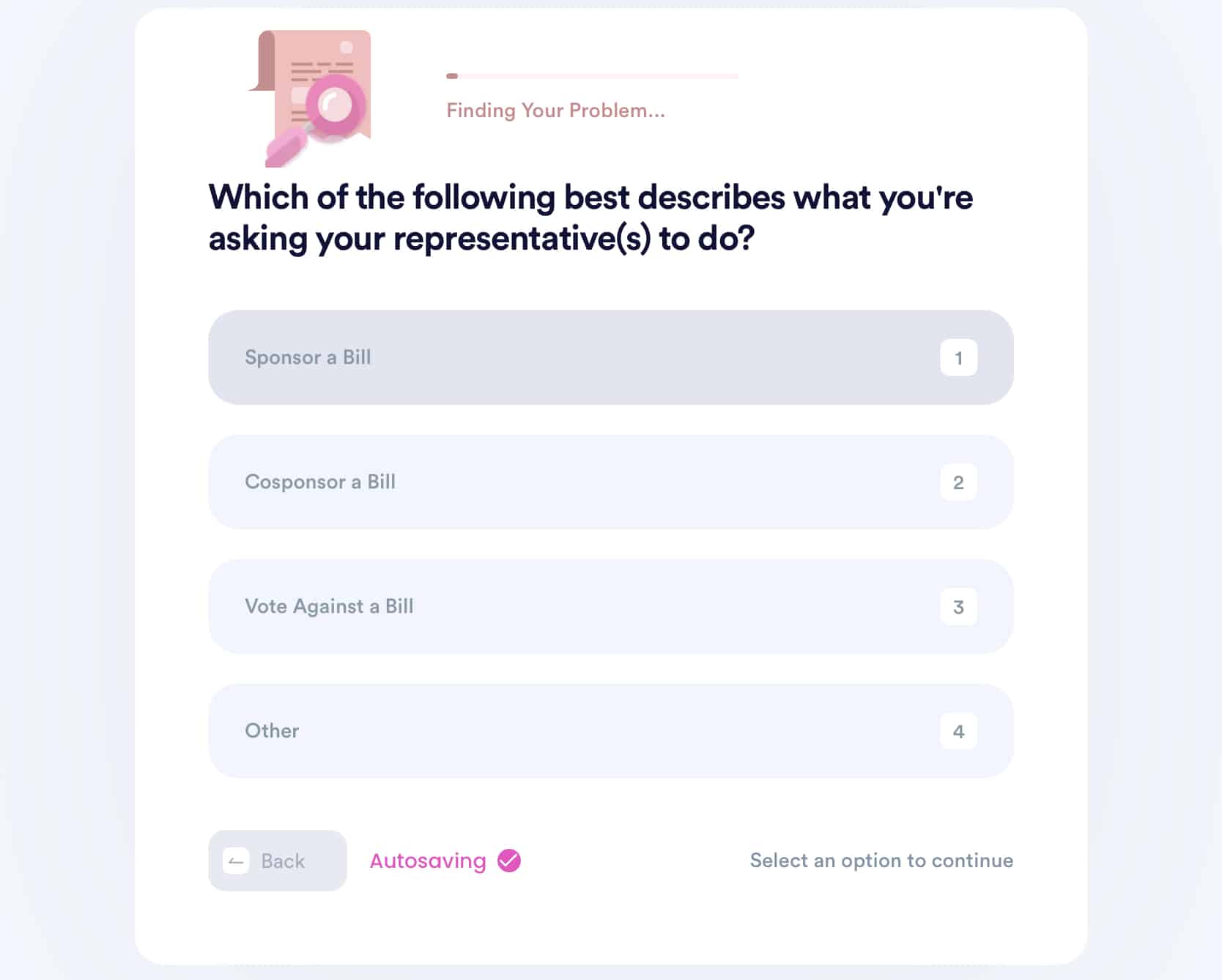 4. Let us know what action you'd like your representative to take, why you feel strongly about it, and why they should take action!
You're all done. Our AI lawyer will create a professional message that will be sent to your representative without delay!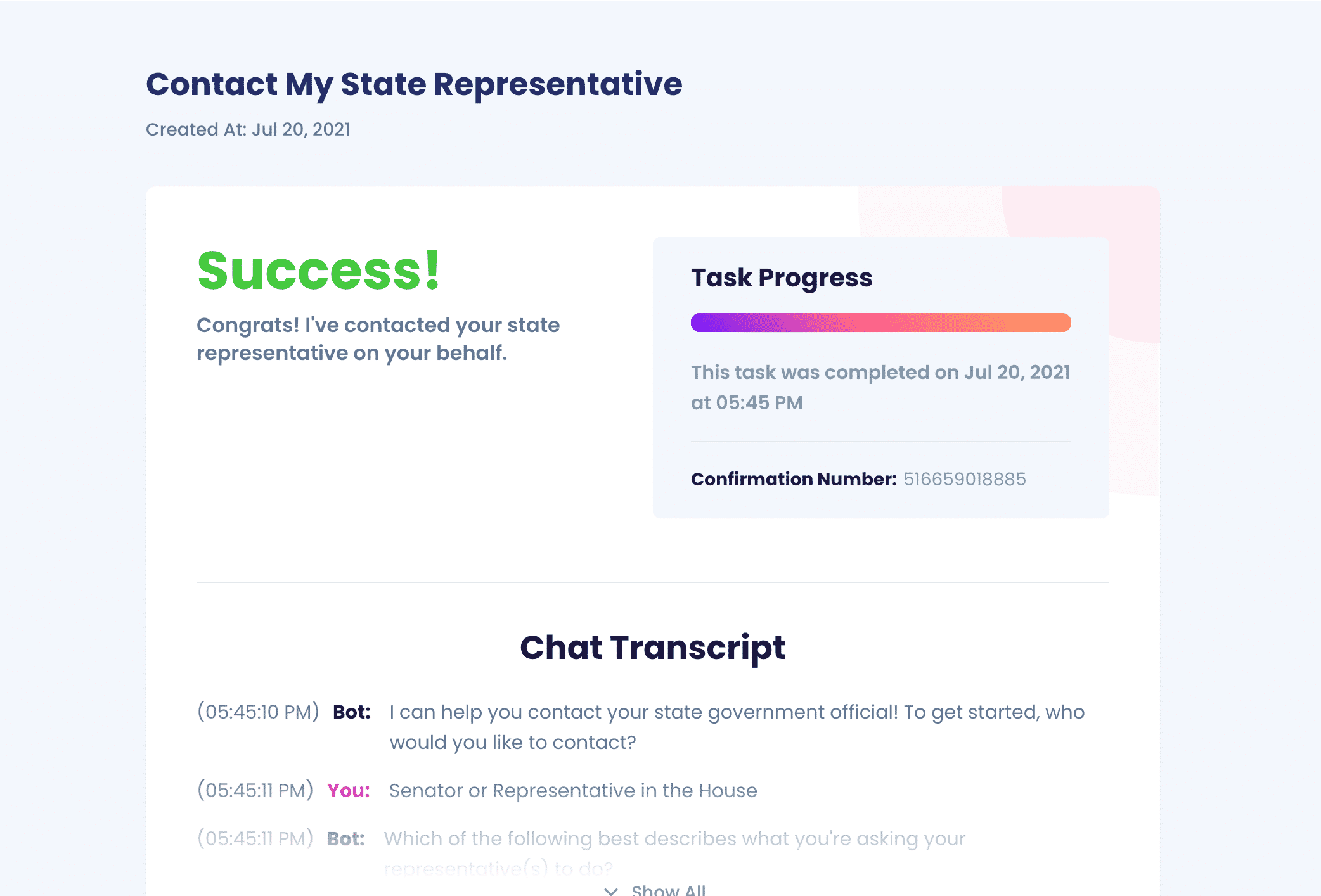 DoNotPay Does More!