Contact Governor Kate Brown Easily
Government representatives care about the opinions of the general population. Contacting a representative is a great way to share your opinion and to ensure that your voice is heard! This article will inform you how you can contact Governor Kate Brown, and it will introduce you to DoNotPay, a reliable service that can help you contact any U.S. government representative.
About Oregon Governor Kate Brown
Kate Brown is an American attorney and politician currently serving as the 38th governor of Oregon, a seat she has held since 2015.
She served as the state representative from the 13th District of the Oregon House of Representatives for three consecutive terms, from 1991 until 1997.
She also served three terms as the state senator from the 21st District of the Oregon Senate from 1997 until 2009.
She was also elected to be the Senate Democratic Leader.
She also served three consecutive terms as Majority Leader of the Oregon Senate from 2003 until 2009.
She assumed office as the 24th Oregon Secretary of State from the 5th of January 2009, until the 18th of February 2015.
She assumed office as the governor in 2015 upon the resignation of John Kitzhaber. She was then elected to serve the remainder of his term in the special election in 2016.
In 2018, Kate Brown was re-elected as the Governor of the state of Oregon.
Brown has made history with her electoral success:
In 2008, she became the first openly LGBTQ+ person to be elected a secretary of state for a state in the United States.
In 2016, she became the first openly LGBTQ+ person to be elected governor of a state in the United States. She was also the second woman to ever be elected the governor of Oregon.
How to Contact Governor Kate Brown?
You can always try calling a senator, a governor, or any other government representative. The following table will inform you on how you can contact Governor Kate Brown through phone, email, mail, or website:
State
Oregon
Political Party
Democratic
Entered Office
18th of February 2015
Term Expires
18th of February 2022
Main Mailing Address
Office of the Governor 900 Court Street, Suite 254

Salem, OR 97301-4047

Main Phone Number
503-378-4582
Email Address 
Fill out the email form found here
Website
https://www.oregon.gov/gov/pages/index.aspx
Social Media
Services Offered by the Governor
Invite the Governor to an Event: Find out more and fill out the entire form here.
Military Retirement Letter: To request a military retirement letter, fill out the form found here.
Ceremonial Bill Signing Request and Policy: A brief photo opportunity of the Governor signing a bill that has already passed and was previously signed by the Governor.

Approval of a request is not guaranteed, it is subject to the Governor's availability
Only legislators can make such a request
Those making the request must come with their own photographer
Ceremonial signings are held in the Capitol
No media is allowed to be present
Share Your Opinion with Governor Kate Brown
The governor welcomes the residents of the state of Oregon to share their opinion of a range of topics and matters concerning the state or nation. Here is a list of topics you can contact the governor to discuss:
Agriculture and Animal Welfare
COVID-19 Coronavirus
Economy and Jobs
Education
Energy
Federal Issues
Health Care
Human and Social Services
Immigration and Diversity
Military and Emergency Management
Natural Resources and Wildlife
Public Employee Benefits
Public Safety
Taxes
Transportation
Why It Can be Difficult to Reach Governor Kate Brown on Your Own
Reaching a United States Governor on your own is not an easy task.
If you wish to call a representative on the phone, you can follow a script to ensure that you will not forget any important details. However, keep in mind that calling a governor on the phone is not recommended. Writing an email is more convenient, as you can make sure that all the necessary details are added and your standpoints are clearly communicated. But sending an email can be intimidating as it must be professionally written so that it would be considered acceptable.
In this case, DoNotPay is your best option to contact the governor!
Let DoNotPay Contact United States Governor Kate Brown for You!
DoNotPay can get your voice heard by any U.S public official! Here's how:
1. Log in to DoNotPay and select the "Contact A Government Representative" product.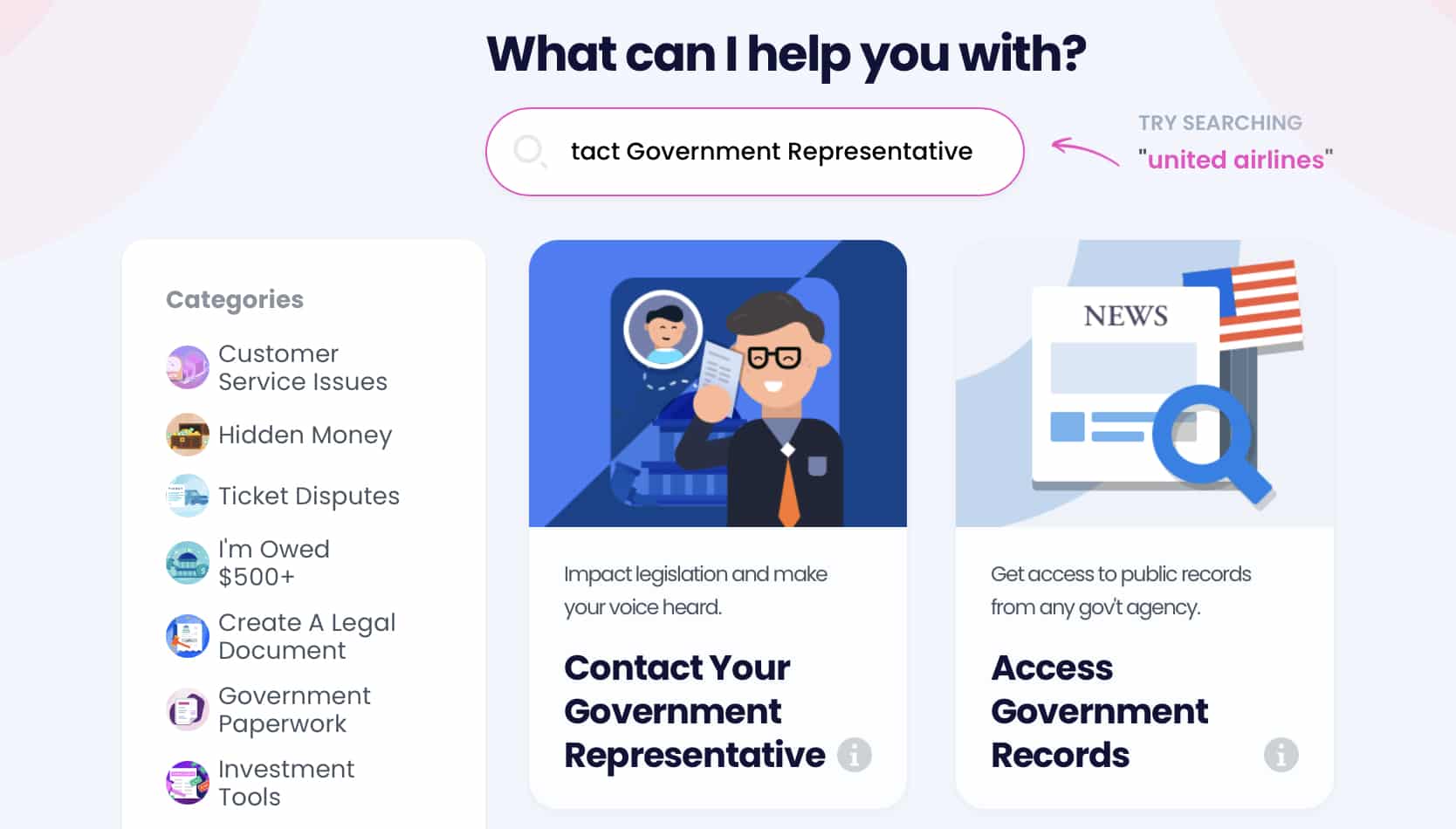 2. Tell us who you want to contact:
Mayor
Governor
Senator
President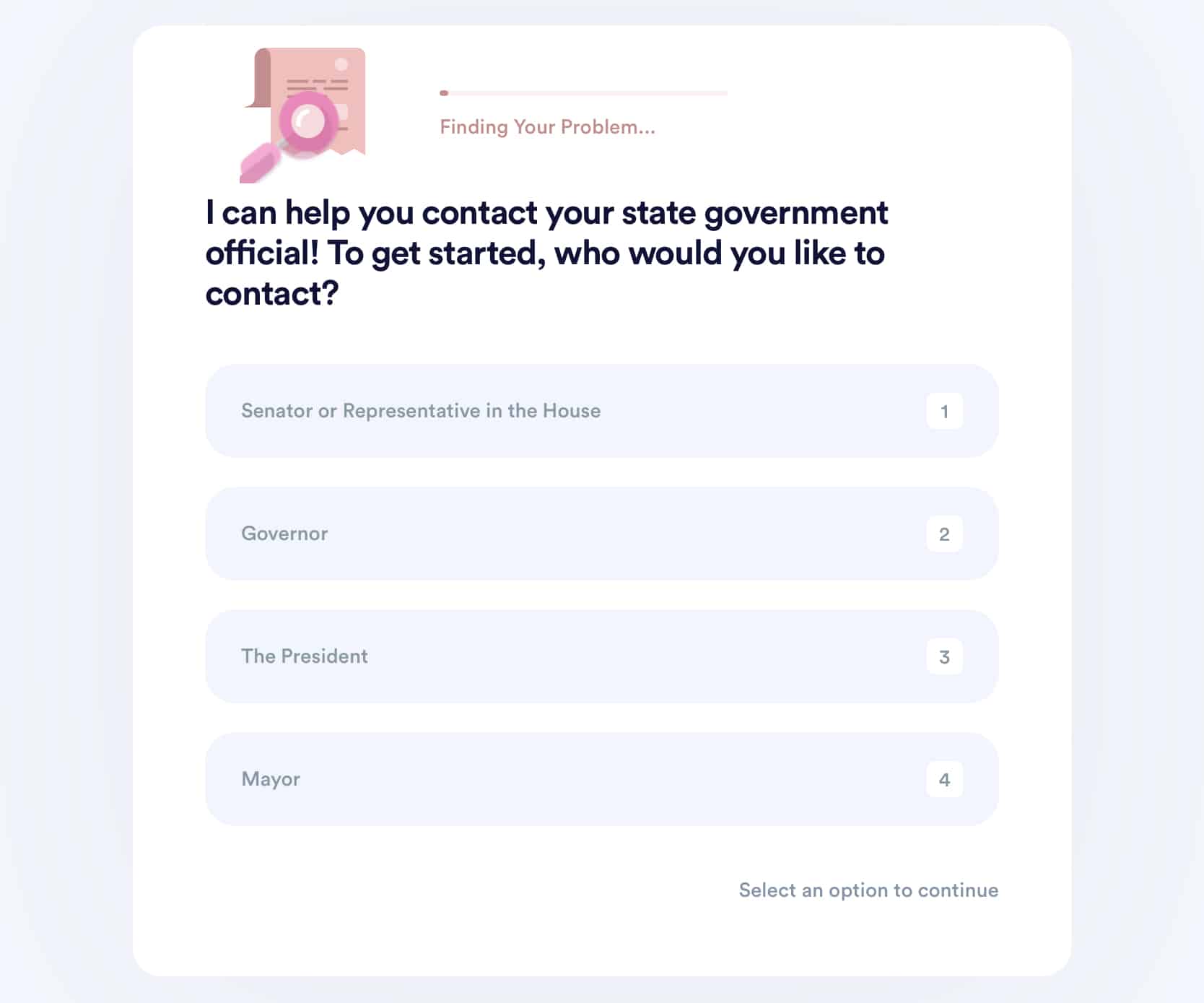 3. Tell us why you're contacting your representative.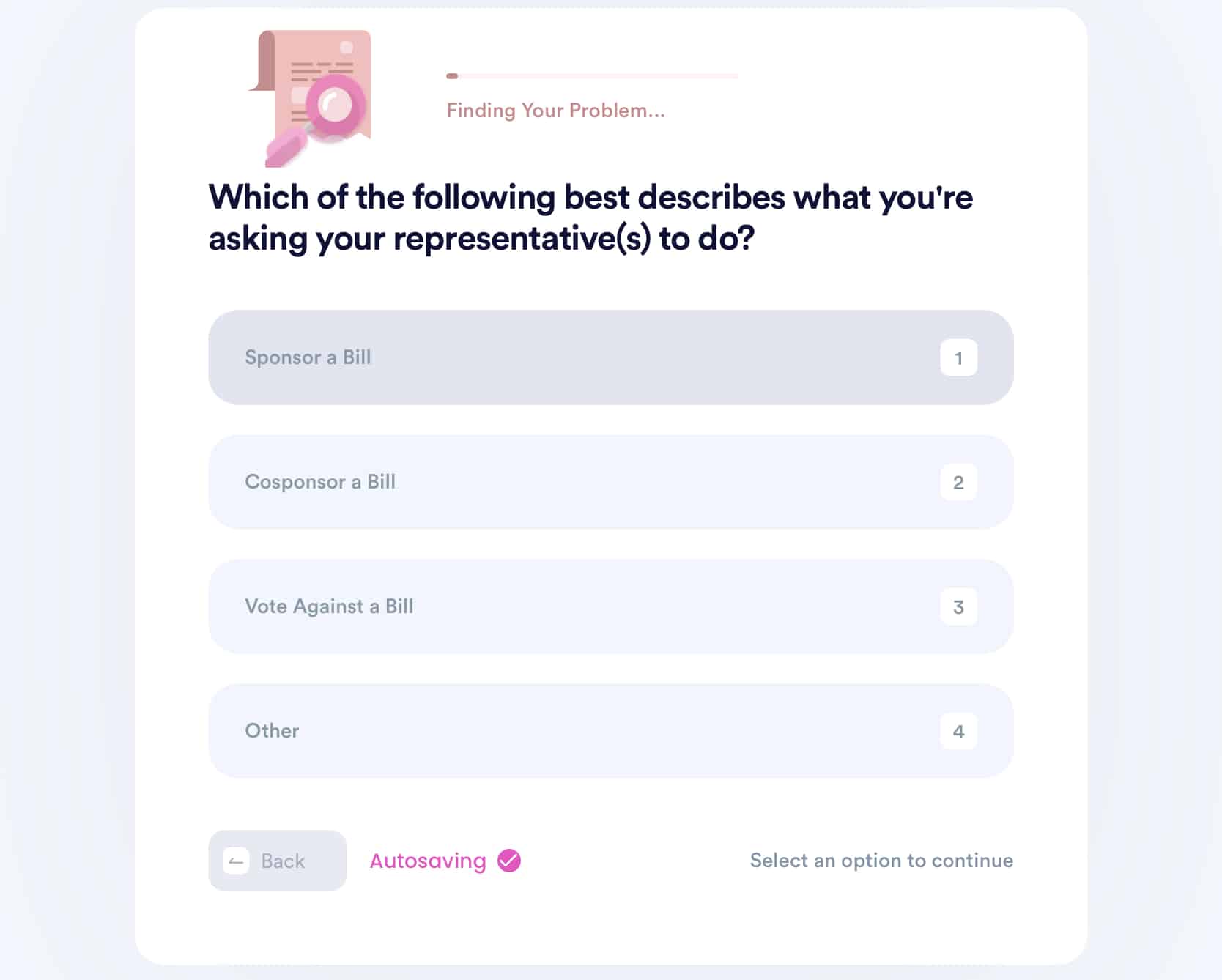 That's all we need from you - DoNotPay handles the rest for you. Our speedy bots will fill out contact forms or compose a formal email on your behalf and send it on the legislator's way!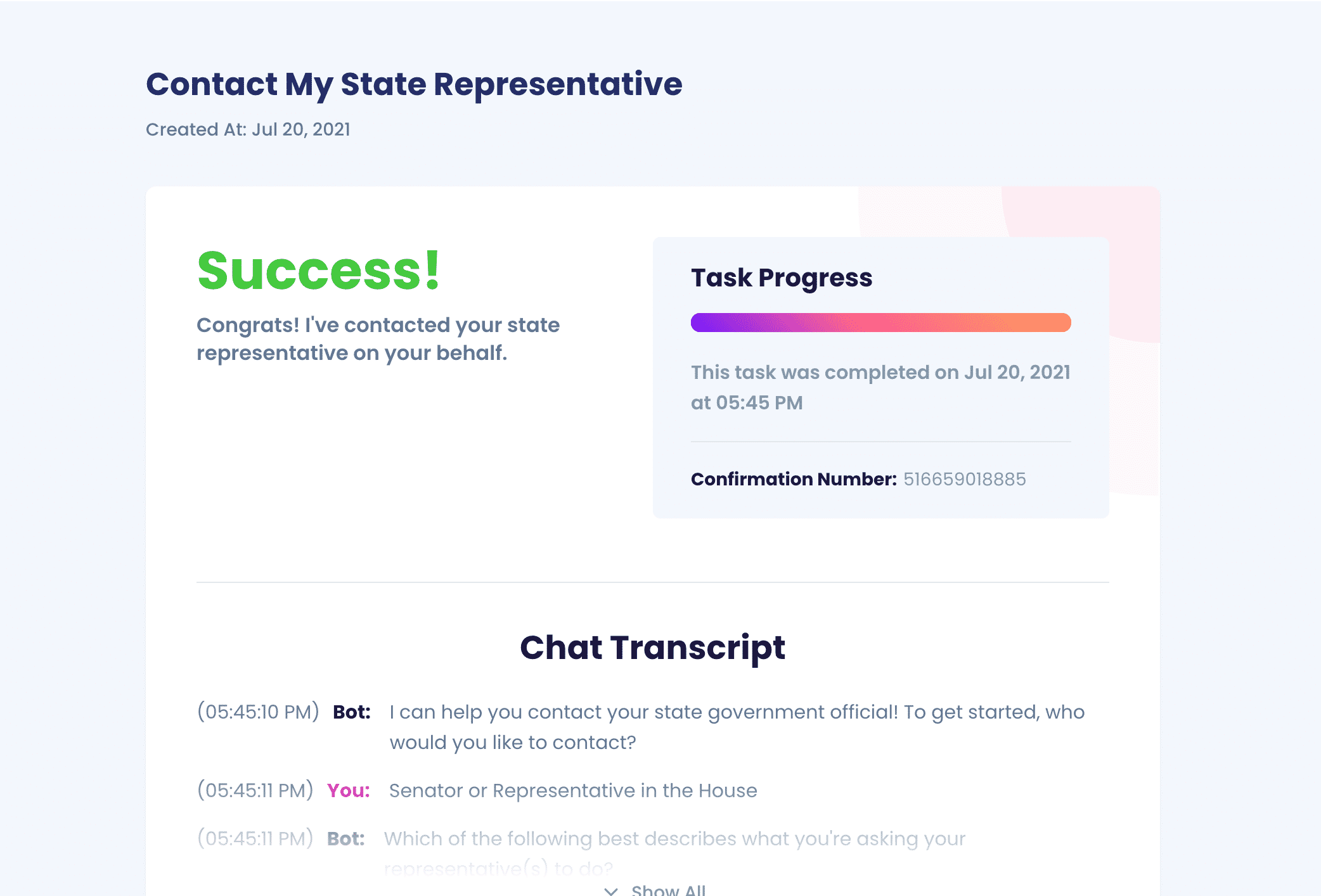 DoNotPay Does More!