The Best Way to Contact Governor Inslee
Only 1 in 3 Americans can name their government representatives, and with those kinds of statistics, it's easy to see why reaching out to the governor of your state can be a daunting process. You might not know who they are, where their office is located or even the services which they can provide.
The good news is that contacting a government representative is actually easier than you might think. If you live in the State of Washington this article will explain everything you need to know about reaching out to Governor Jay Inslee, including his phone number, social media accounts, and how can speed up the process of getting in touch.
Who Is Governor Jay Inslee?
Governor Jay Inslee was born in Seattle, Washington in 1951.
He obtained his undergraduate degree from the University of Washington in 1973. He then attended Willamette University's College of Law and earned a Juris Doctor in 1976.
He was elected to the position of governor in 2012, and he is Washington's 23rd governor.
What Is the Best Way to Reach the Governor of Washington?
Office Location
Office of the Governor

PO Box 40002

Olympia, WA 98504-0002

Website
https://www.governor.wa.gov/

Email Address

Any emails addressed to the governor have to be submitted through a form on his official website.

Click whichever link best addresses your concerns:

Representative's Phone Number
Main office: 360-902-4111

For emergencies only: 1-800-833-6384.

Fax Number
Main office: 360-753-4110
What Services Can Governor Inslee Help You With?
Here is a list of all the services that the governor's office can provide for you and your community:
Applying to a board or commission in Michigan
Scheduling a personal appointment with the governor
Applying for a pardon or clemency
Inviting the governor to an event
Finding an internship
Job openings in the governor's office
Signing up for Governor Inslee's newsletter
Keeping Up with Governor Inslee on Social Media
The governor is active on several social media platforms, following his accounts can help you stay up to date on the latest news regarding the state of Washington, as well as any events or opportunities being offered by the governor's office.
You can follow Governor Inslee on any of the following platforms:
Twitter: @WAStateGov
Facebook: @WaStateGov
Instagram: @govinslee
How to Write an Email to a Government Representative?
If you choose to write an email or a letter to Governor Inslee, it's important to keep in mind that it has to be formal and well structured. We know that getting your thoughts down on paper can be intimidating, so we've put together some tips on how to write the best possible email/letter to your government representative:
Be concise and direct
Be sure to state the purpose of your email in the first sentence, so that the governor's office knows which department can best help you.
Keep the length of your email relatively short, so that you don't lose the reader's attention.
Provide a potential solution
Provide Governor Inslee with a practical solution that he can help you with.
Mentioning a solution can help the governor and his office to come up with ways to improve your suggestion and shows not only your initiative but your knowledge on the issue at hand.
Keep your tone formal
Be sure that your vocabulary is respectful and formal, this will ensure that your email is taken seriously and has a good chance of receiving an equally serious response.
Sign off the email with all of your contact information clearly so that the governor's office can reach out to you quickly and effectively.
Why It Can Be Hard to Reach Governor Inslee on Your Own
Although calling might seem easier than writing down your thoughts, it can be more complicated than you think. The governor's office is always busy, and calling can leave you on hold for long periods of time. It's also difficult to know whether the member of staff attending to your call will explain the extent of your concerns correctly.
Even though writing an email is definitely the best way to reach out to a government representative, not everyone has the time or the confidence to voice their thoughts in a formal and eloquent way. If you want to guarantee that your email turns out perfect, DoNotPay can help you draft a formal email to your government representative.
How Can DoNotPay Help You Contact Governor Inslee Faster?
DoNotPay can help you send a letter to any government representative quickly and effectively. Whether it's the a House Representative, your Mayor, Senator, or even the president. Just by answering a few questions and providing the details of your case, DoNotPay can help write the perfect email on your behalf.
Here's how it works:
1. Search the words "Contact Representative" or "Legislator" on and choose the Contact Your Government Representative service.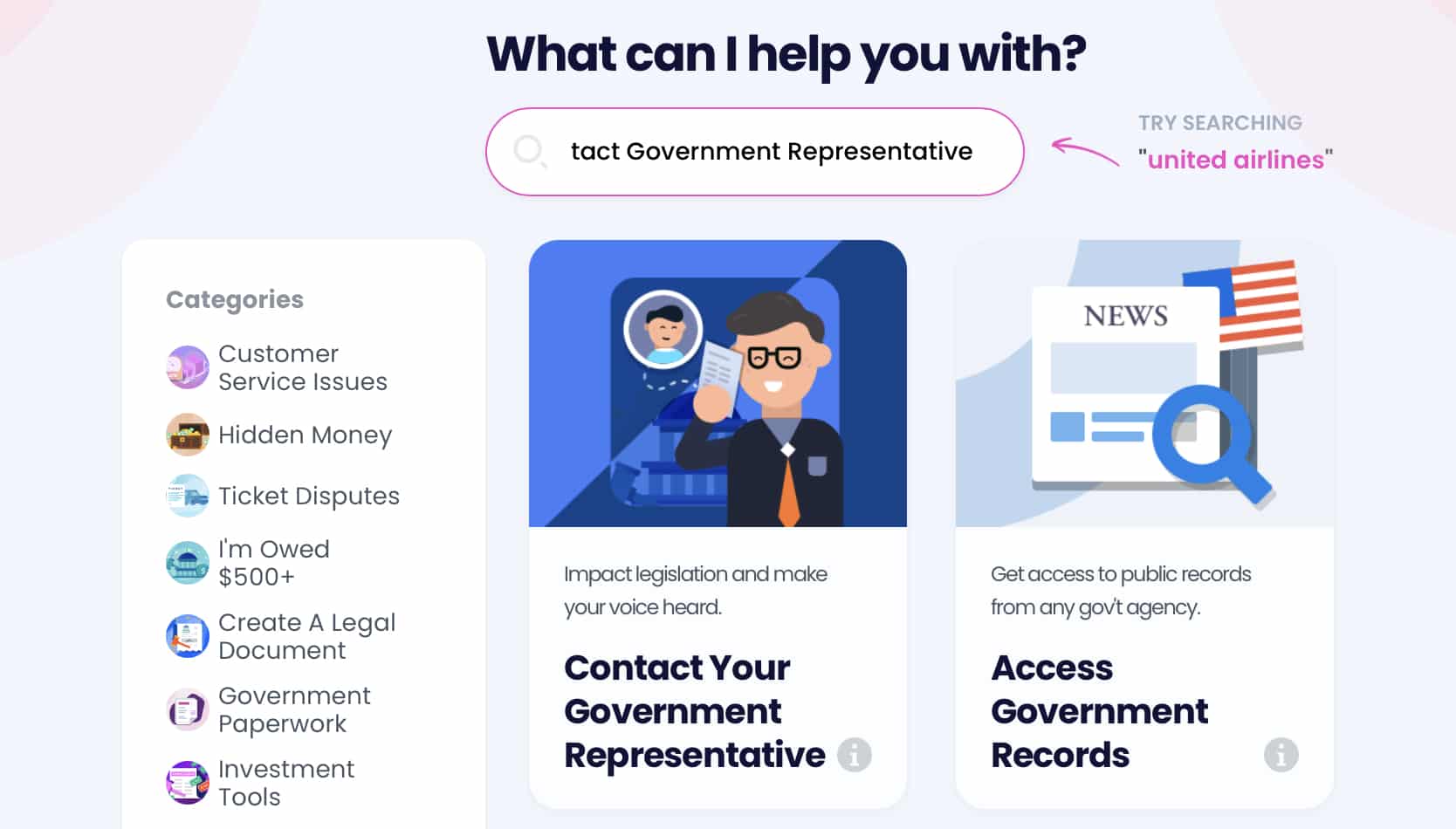 2. Select which representative you wish to contact: your Senator, Governor, President, Mayor, or House Representative.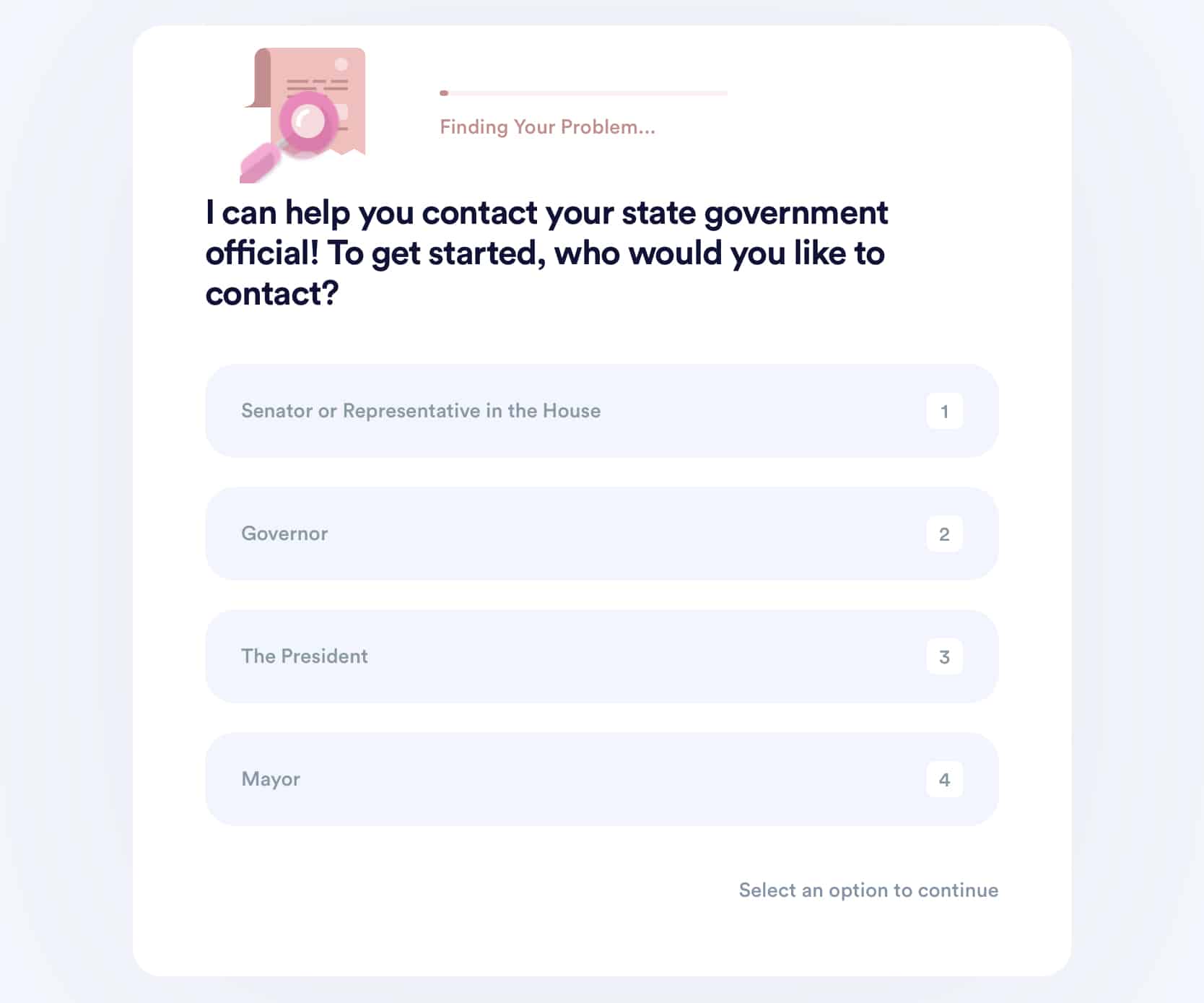 3. Briefly explain the issues you want to get across to them, or whatever bill you're concerned about. Give us details about your position and what action you wish for them to take.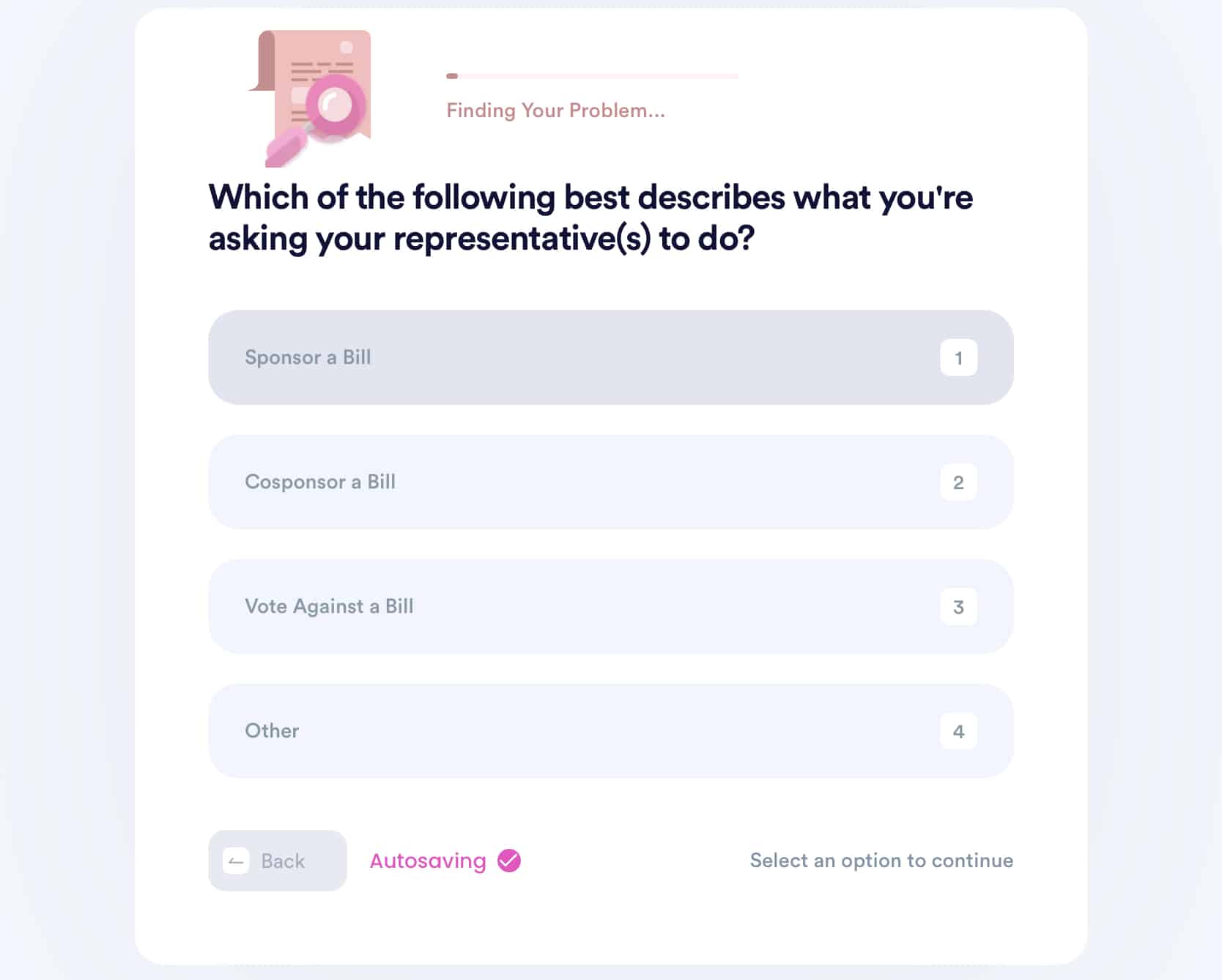 You're done! All you have to do is sit and relax while our bots create the perfect email. They'll fill out all the necessary forms on your legislator's website on your behalf.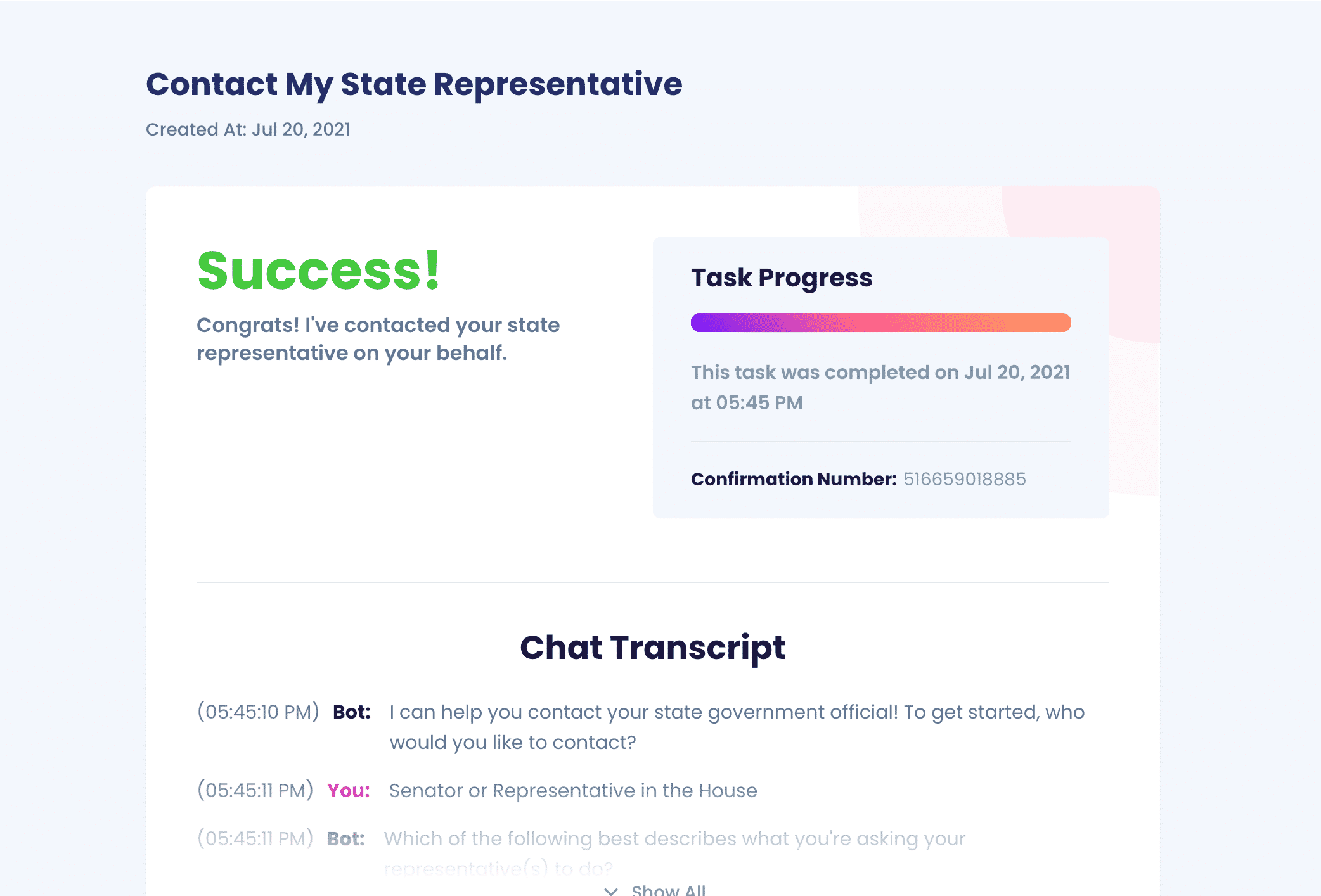 DoNotPay Helps You With More