Contact Governor Holcomb Easily
Being able to voice your opinion to a government representative is fundamental to live in a democratic and dynamic society. It is a way to ensure that your voice and opinion on matters concerning the United States is heard, and can ultimately influence certain decisions made and bills that are passed.
This article is a comprehensive guide on how you can contact Governor Eric Holcomb from Indiana. It will also introduce you to . An AI-Powered Robot Lawyer that can contact any U.S. government representative on your behalf!
How to Contact Governor Eric Holcomb
To reach a governor, you can choose to call a government representative. or email them your inquiries or mail documents to their offices.
The table below gives an overview of the main ways you can contact the U.S. Governor Eric Holcomb:
| | |
| --- | --- |
| State | Indiana |
| Political Party | Republican |
| Entered Office | January 9th, 2017 |
| Term Expires | January 2022 |
| Main Mailing Address | 200 W. Washington St., Rm. 206, Indianapolis, IN 46204 |
| Main Phone Number | 317-232-4567 |
| Email | To send an email to the governor, fill out the form found here. |
| Website | https://www.in.gov/gov/ |
| Social Media | Facebook |
About Governor Holcomb
Eric Holcomb is an American politician who is currently serving as the 51st Governor of the state of Indiana, a seat he has held since 2017.
He was also the 51st lieutenant governor of Indiana from 2016 to 2017, where he worked under governor Mike pence, who is now the former Vice President of the United States of America
He won the 2016 election to become Governor over Democratic Nominee John R. Gregg and was reelected in 2020 over Democratic nominee Woody Myers.
Governor Holcomb's Five Pillars and Accomplishments
Governor Holcomb has outlined the five following pillars that he aims to achieve in his time in office:
Cultivate a Strong Economy
Maintain and Build the Infrastructure of the State
Develop a Skilled and Ready Workforce
Deliver Great Government Service
Attack the Drug Epidemic
Ever since assuming office, Governor Holcomb has accomplished the following:
Five times the national rate growth of wages
Over $1.6 billion in new investment for education
Military pensions are now exempt from state income tax
Leading Indiana's largest state investment in broadband
98% of schools reported an increase in teacher pay
$32 billion invested into the Infrastructure of Indiana over the next 20 years
The second state in the nation for affordability
Over 10,000 Hoosiers earned free training for high-wage and in-demand jobs
Indiana is number 1 in the Midwest for doing business
Over 100,000 new jobs commitments since he entered office in 2017
Establishing a drug treatment within an hour drive from most Hoosiers
Indiana's first non-stop transatlantic flight
Signed a law that charges drug dealers with the highest felony if their actions led to the death of a resident.
It is the third state in the nation for the economic outlook
Added a balanced budget amendment to the Indiana Constitution.
Ask the Governor any Questions and Share Your Opinion with Him
Governor Holcomb encourages the residents of the state of Indiana to share their opinion of a range of topics, legislative issues, and matters concerning the state and nation. Here is a list of topics you can share your opinion on, or ask the governor about:
Department of Administration
Indiana State Department of Agriculture
Alcohol and Tobacco Commission
Court of Appeals
Attorney General
Auditor of State
State Budget Agency
Indiana Business Development
Department of Child Services
Department of Child Services (Child Support)
Indiana Civil Rights Commission
Department of Correction
Indiana Counter Terrorism and Security Council
Criminal Justice Institute
Indiana Development Finance Authority
Department of Education
Election Division
Emergency Medical Services
Department of Environment Management
Indiana State Ethics Commission
Indiana State Excise Police
Indiana State Fair
Office of Faith-based and Community Initiatives
Family and Social Services Administration
Gaming Commission
Office of the Governor
Indiana Governor's Planning Council for People with Disabilities
Indiana Grain Buyers and Warehouse Licensing Agency
Department of Health
Commission for Higher Education
Indiana Higher Education Telecommunication System
Indiana Commission on Hispanic and Latino Affairs
Indiana Historical Bureau
Department of Homeland Security
House of Representatives
Indiana Housing and Community Development Authority
Inspector General
Integrated Public Safety Commission
Department of Labor
Department of Local Government Finance
Hoosier Lottery
Bureau of Motor Vehicles
Department of Natural Resources
Protection and Advocacy Services
Public Employees Retirement Fund
Indiana Commission Public Records
Department of Revenue
Office of Rural Affairs
Indiana Rural Development council
Secretary of State
Senate
Indiana Commission Social Status of Black Males
Department of State Budget Agency
State Police
Indiana State Teacher Retirement Fund
Office of Technology
Indiana Tobacco Prevention and Cessation
Indiana Department of Tourism
Indiana State Treasurer
Department of Transportation
Office of Utility Consumer Counselor
Utility Regulatory Commission
Department of Veteran Affairs
Department of Workforce Development
Why It Can be Difficult to Reach Governor Eric Holcomb on Your Own
Contacting a governor is a challenging task. If you wish to call a representative on the phone, you can follow a script so that your call will remain professional and that you would include all the necessary details of your argument. However, even if you follow a script, calling a governor on the phone is your worst option as Governor phone lines are always extremely busy and have wait times that often last hours, and there is always the risk that your message will be lost in translation.
Writing an email is recommended as you clearly communicate your standpoints and explain your argument, but sending an email can be intimidating as it must be professionally written so that it would cause change or receive feedback. Therefore, DoNotPay is your best option to contact the governor!
Let DoNotPay Contact United States Governor Eric Holcomb for You!
DoNotPay is a reliable service that can contact any government representative on your behalf. All you have to do is follow these three simple steps:
1. Look for the Contact Your Government Representative product on .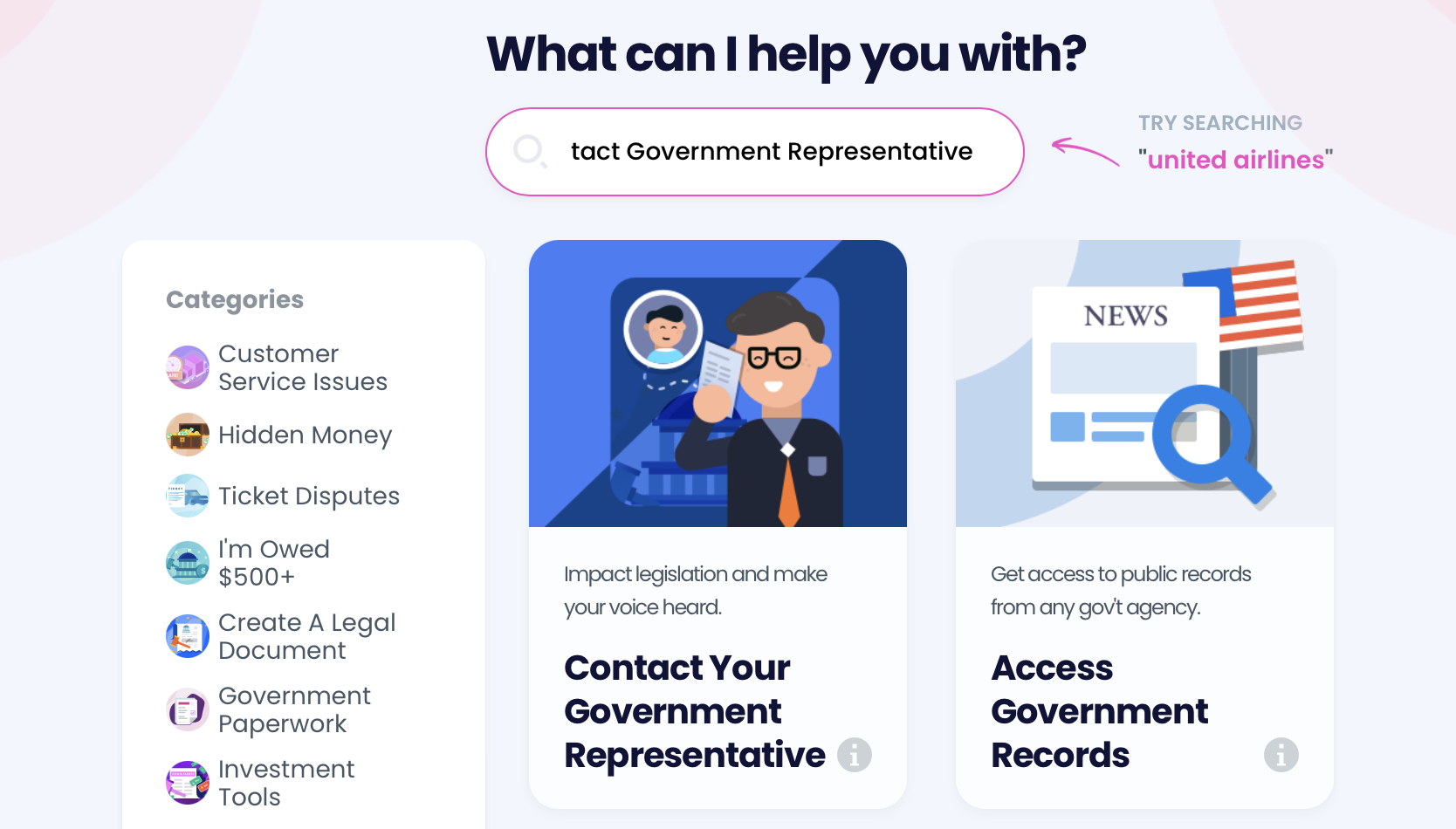 2. Choose whether you want to contact your Senator, House Representative, Governor, President, or Mayor.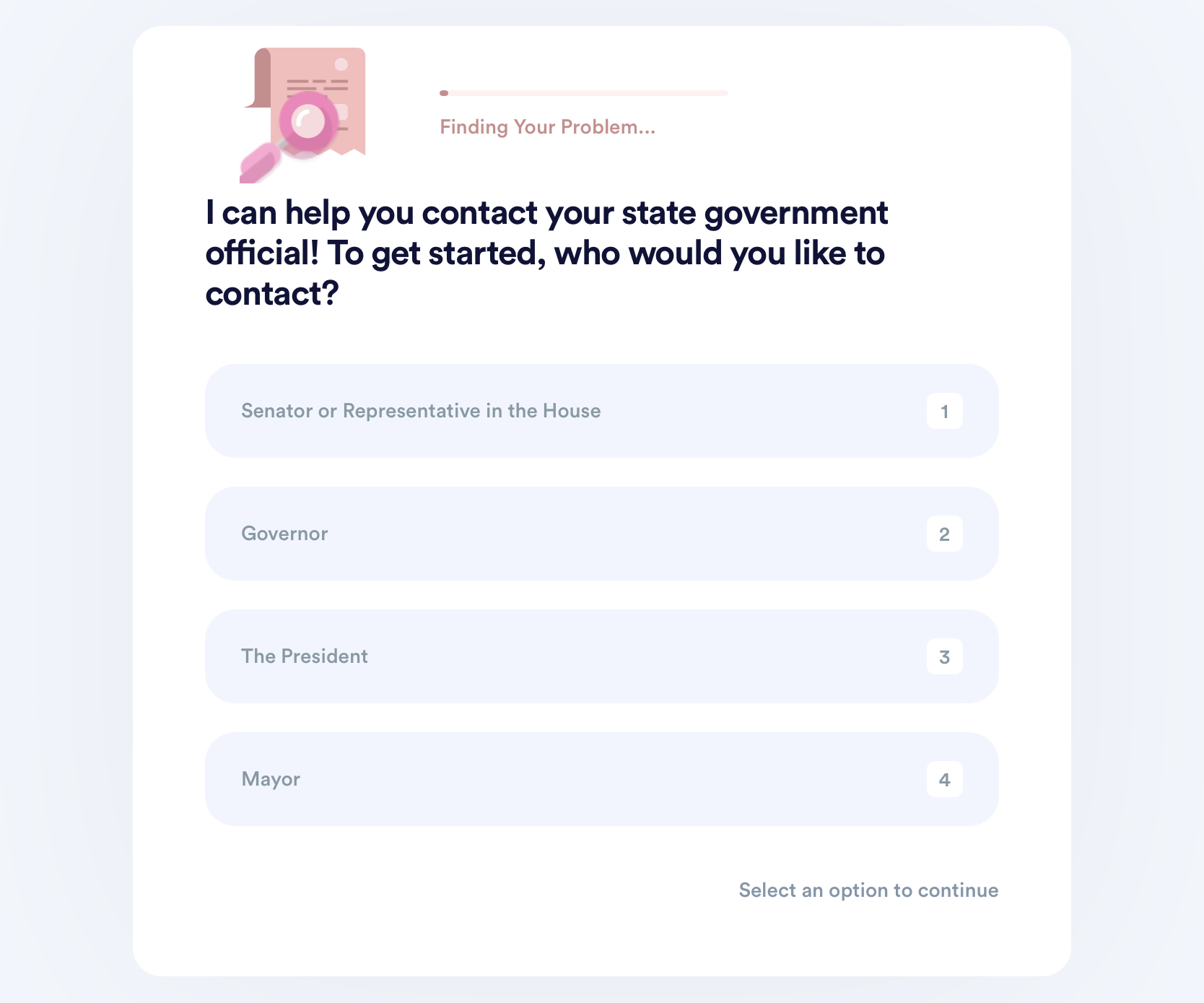 3. Tell us why you're contacting your representative.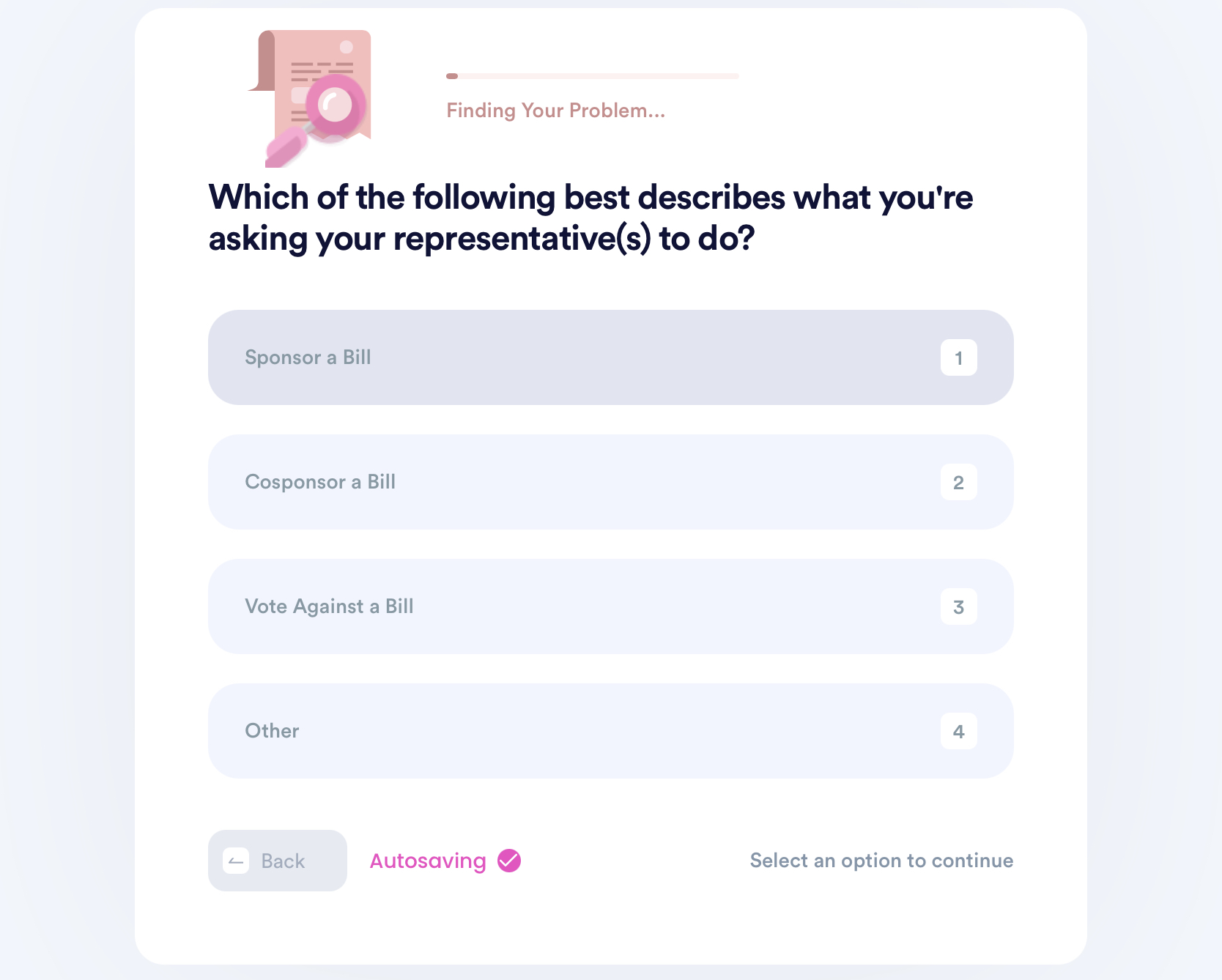 That is it! DoNotPay will take the rest off your shoulders and get your message delivered!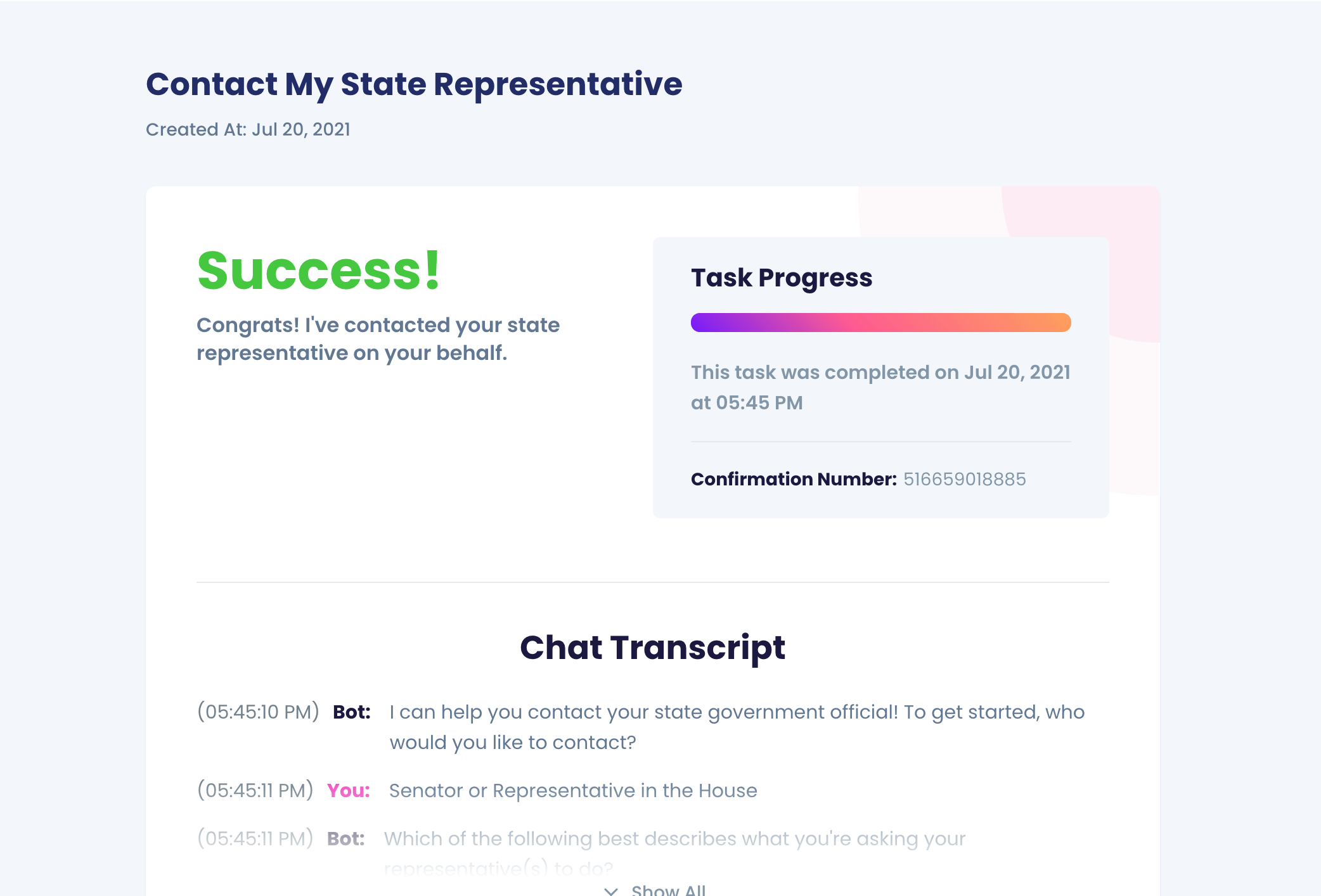 DoNotPay Can Help You