Contact Governor Hogan the Professional Way
Governor Larry Hogan is the 62nd Governor of Maryland and is widely known as America's Most Popular Governor (2020). He is credited for overseeing Maryland through the tides of a raging pandemic and a controversial election year. Governor Hogan will remain in office as governor till 2025.
Below are all the contact details for the office of the Governor of Maryland, and a guide for you to get in touch with the governor easier and faster!
Governor Larry Hogan: Short Bio
Born Lawrence Joseph Hogan Jr. on May 25, 1956, Governor Hogan is the son of the prominent Lawrence Hogan Sr. who was Maryland's 5th district congressman from 1969 to 1975. Hogan was born in Washington, D.C, and attended DeMatha Catholic High School and Father Lopez Catholic High School in Florida. He obtained a bachelor's degree in government and political science at Florida State University.
Hogan's early exposure to the US political sphere involved working at Capitol Hill, assisting his father's 1978 campaign for county executive, running for Maryland's 5th district congressman, and more recently serving as Maryland's Secretary of Appointments between 2003 to 2007.
Hogan's victory over 2014 Democrat governorship candidate Anthony G. Brown made him the second Republican governor of Maryland and the first resident of Anne Arundel County to be elected in over 100 years. He also became the first Republican Governor of Maryland to be elected twice in over 67 years.
65-year old Hogan is the step-father to three daughters from his marriage to Yumi Hogan in 2004.
Contact Governor Hogan
The office of Governor Larry Hogan is situated in Annapolis. Here are the address and contact details below:
Mailing/Office Address
100 State Circle

Annapolis, Maryland 21401

Phone
410-974-3901
Toll Free Number
1-800-811-8336
Governor Hogan is also active on social media platforms like Facebook, Twitter, and Instagram.
Contact other Maryland representatives 
For other local county and district issues, you can equally get in touch with Maryland congressmen and other government representatives. A few of them have been listed below.
Boyd K. Rutherford is Maryland's 9th Lieutenant Governor, elected together with Governor Hogan. He is the first Republican to be elected twice as a Lieutenant-Governor.
Brian Frosh is Maryland's 46th Attorney General, sworn in in 2015 and serving his second tenure as an attorney.
Federal Senators
Ben Cardin is the senior senator delegate of the state of Maryland's serving at the current 117th US Congress.
Chris Van Hollen is the current junior senator delegate of the state of Maryland serving at the 117th US Congress.
Federal Congressmen
What Can Governor Hogan Do for Me?
There are endless reasons why you may need to get in contact with Governor Hogan. You need to first determine if the office of the governor is most appropriate to attend to your issue. For clarity of context, here are some of the commonly reported issues that people seek to contact the governor of Maryland.
The Office of the Governor accepts:
Issues with ongoing citizen's redistricting
Governor internship program application
Public Information Act disclosure and request
Renewable energy implementation issues
Maryland state of emergency issues
Transparency and accountability reporting
State tax and financial institutions issues
Group or private meeting with the governor
Need Help Contacting a Government Official?
Most senators, legislators, and public officials require you to put up a formal tone when calling the phone lines or filing a form to get in contact with their office. This is a challenge for most Americans who just want to report an issue or say what's on their minds.
DoNotPay is a trusted government representative contact tool that can help millions of Americans reach their desired government official without stress. The platform helps restructure citizens' complaints in a formal and acceptable way and forward them to the proper government address. See how you can use DoNotPay to contact Governor Hogan below!
Let DoNotPay Contact Governor Hogan for You!
Why wait on hold and write a letter yourself? helps you reach any public official in a jiffy. You'll get to use our safe and professional contact service by:
1. Search "contact representative' on the app or website and select the Contact Your Government Representative product.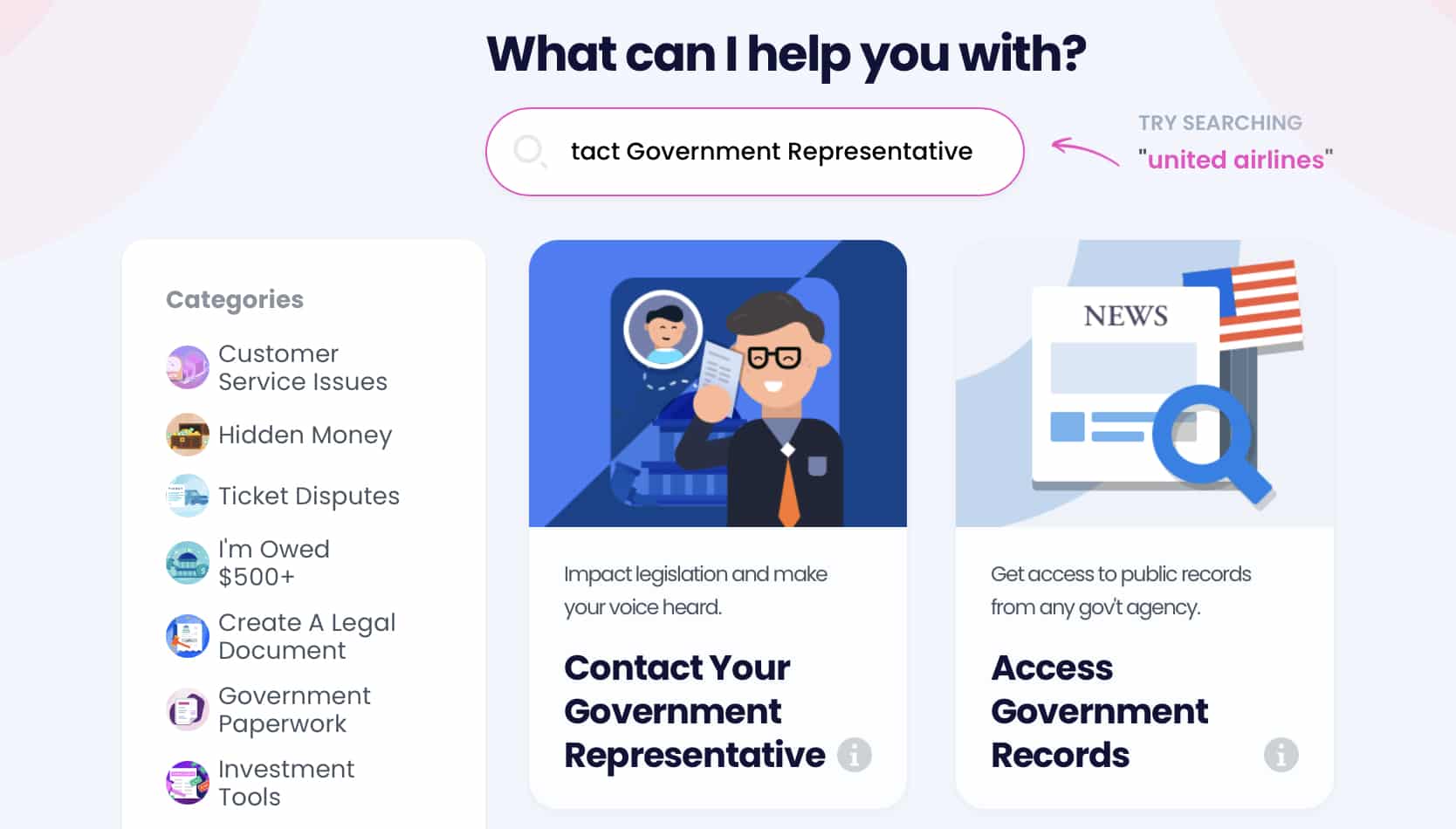 2. Choose whether you want to contact your:
Senator
state representative
Governor
President
Mayor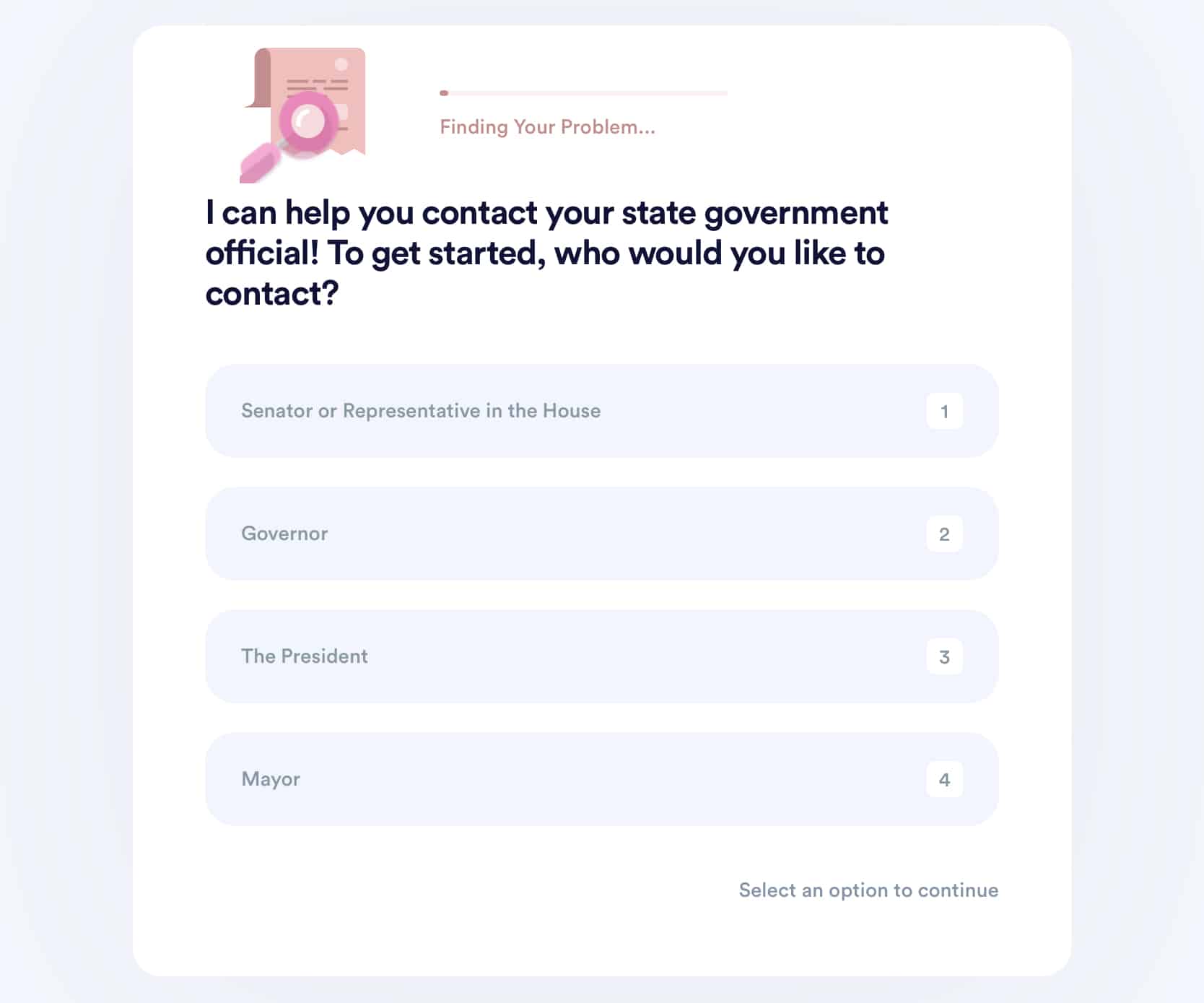 3. Tell us why you are contacting your representative.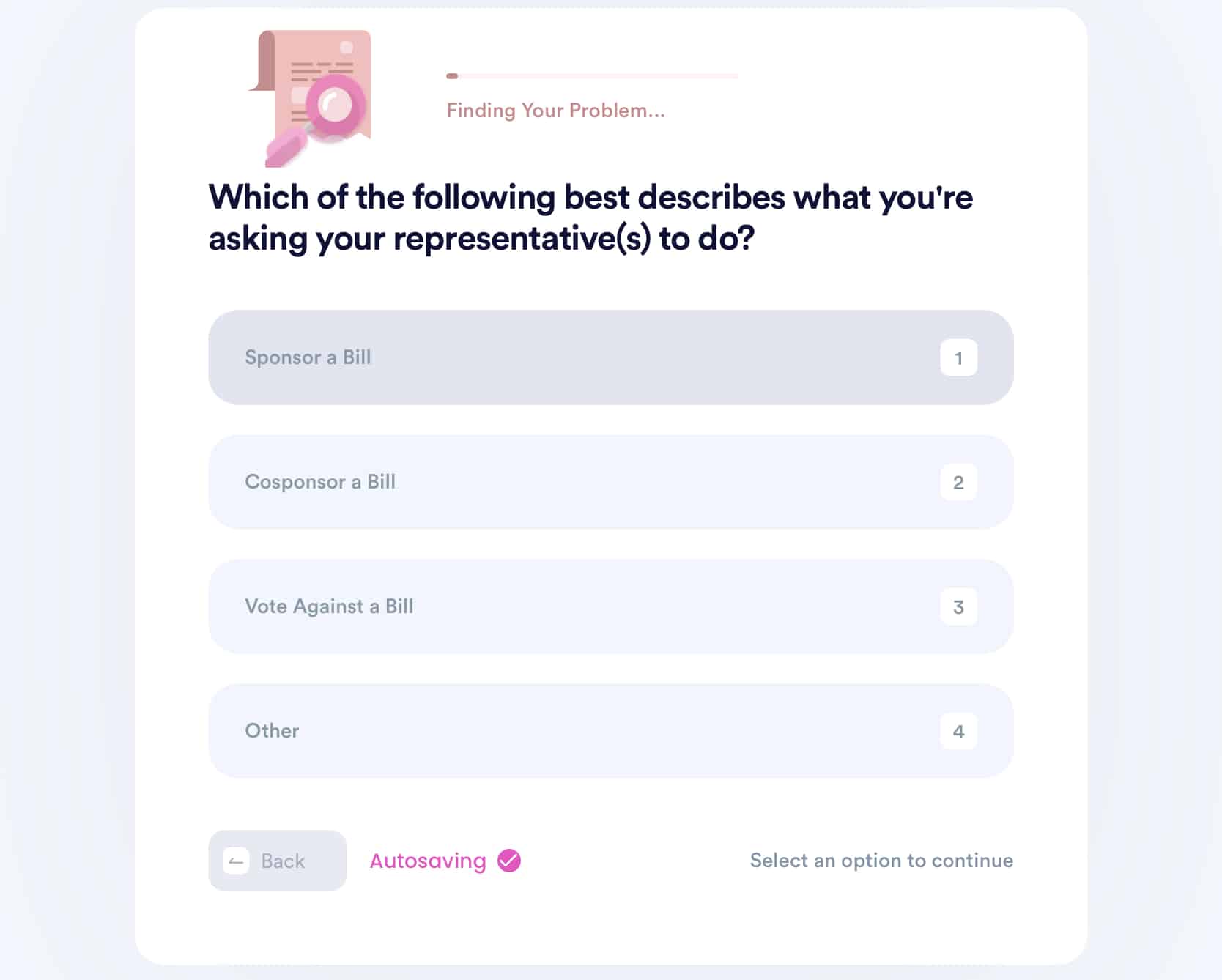 4. State which bill or policy you have concerns about and explain what you would like the representative to do.
will formulate a detailed message for you! Our bots will fill the contact forms on your legislator's website and send in your concerns!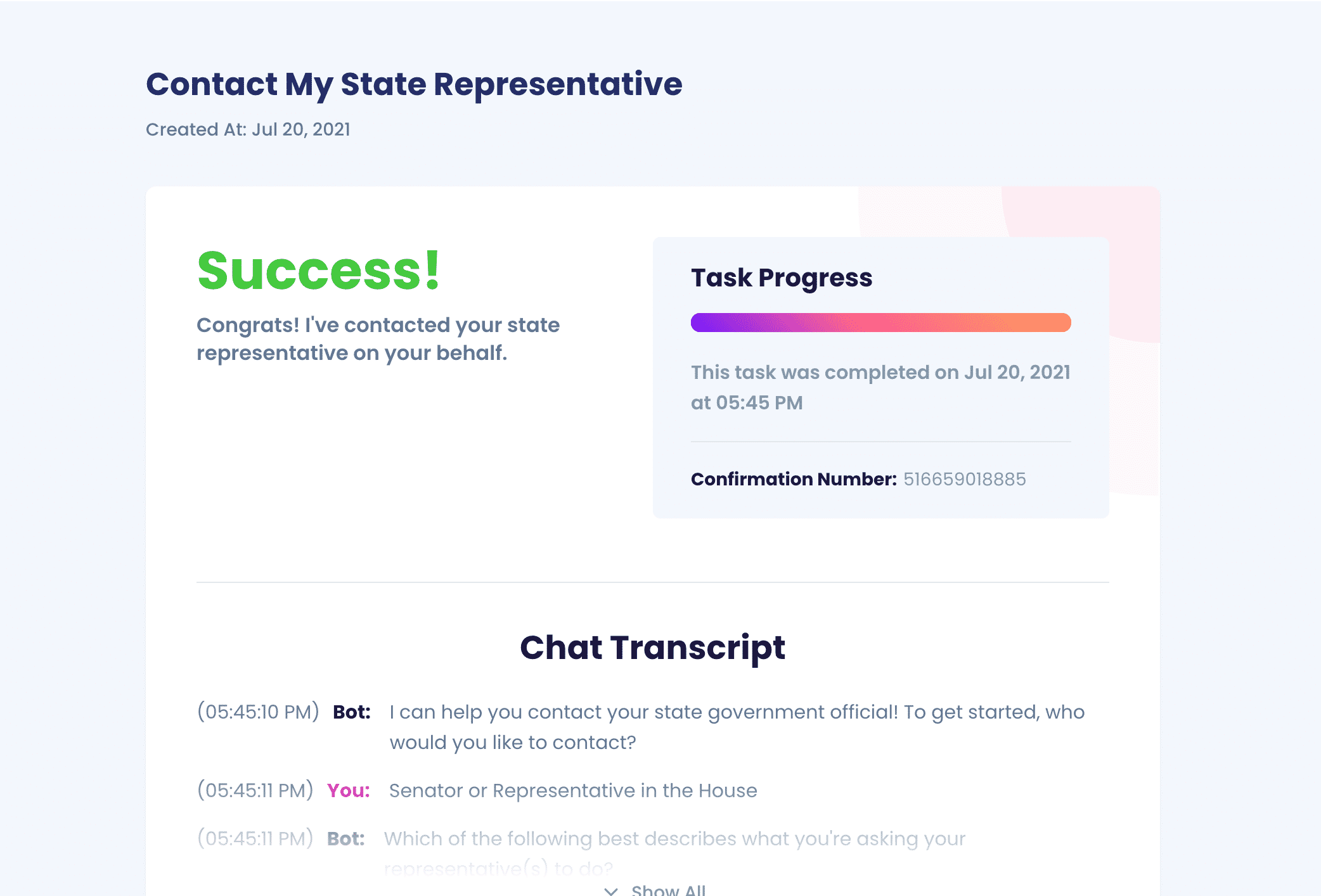 How Else Can DoNotPay Help Me?