How to Contact Governor Evers
If you live in Wisconsin and think you should get in touch with a government representative regarding a state matter, Governor Tony Evers could be the one you need to contact. He represents Wisconsin as governor and might be able to help you.
Getting in touch with government representatives is not easy. They are pretty busy with critical state matters and will be hard to reach. However, their goal is to be re-elected to the position that they are in, so they will be willing to hear what their supporters have to say.
This article can help you on how to contact Governor Tony Evers, provide his contact information, and go over how you can contact him much more easily with !
Contact Information of Tony Evers
If you have an issue with something that requires the attention of the governor of Wisconsin and you want to get in touch with him by yourself, here is the contact information of Tony Evers that is available to the public:
| | |
| --- | --- |
| Address | P.O Box 7863, Madison, WI, 53707 |
| Email | info@tonyevers.com |
| Phone Number | 608-266-1212 |
| Online Form | You can submit your message through online assistance from the governor has: |
Governor Tony Evers also has a Twitter account and a Facebook page. Here are the links to his social media:
Due to the high volume of calls the governor's office is receiving, they might be returning to your calls or emails later than expected.
Who is Governor Tony Evers?
Tony Evers was born on November 5th, 1951 in Plymouth, Wisconsin. He graduated from the University of Wisconsin-Madison, where he also received his Ph.D. He became a schoolteacher and taught for several years. Then, he became a school administrator, principal, and later, district superintendent.
He is an American politician and educator. He has been the 46th governor of Wisconsin since 2019 as a member of the Democratic Party.
What does a governor do?
In a nutshell, governors are responsible for making and implementing state laws and managing the operation of the state executive branch. They are state leaders. They update and implement new and revised policies by making use of executive orders, budgets, vetoes, and legislative proposals.
Why It's Difficult Contacting Governor Evers by Yourself
As we have previously mentioned, contacting a government representative comes with a lot of difficulties. It can be stressful since you will have one chance and your head might be full of questions such as:
Who is the right person I should contact?
How can I find the right contact information?
What is the best way to contact them? Should I email, write a letter, or call?
If I choose to write, how will I phrase my concern and address the governor?
Since government representatives are important people for your state and our country, it becomes pretty burdensome to try and contact them. The first thing to keep in mind is that calling the governor's office is the worst option because you will have to wait a long time just to speak to a, office worker. Also, you will never know whether the person you spoke to passed on your message or when.
The best way to get in touch with a government representative is to write an email through their online portal. You fill in your contact information, write your message and send it to the governor's office. However, the governor probably receives thousands of messages in a day. That is why you need to choose your words wisely and sound strong and convincing so that the governor will read your message and take action accordingly.
Contact the Governor with DoNotPay!
Instead of doing all the hard work of writing the most proper message to the governor, you can choose to let DoNotPay help you and write your message for you! is the easiest and fastest way to get in touch with your government representative!
All you have to do is:
1. Search "Senator" on and select the Contact Your Government Representative product.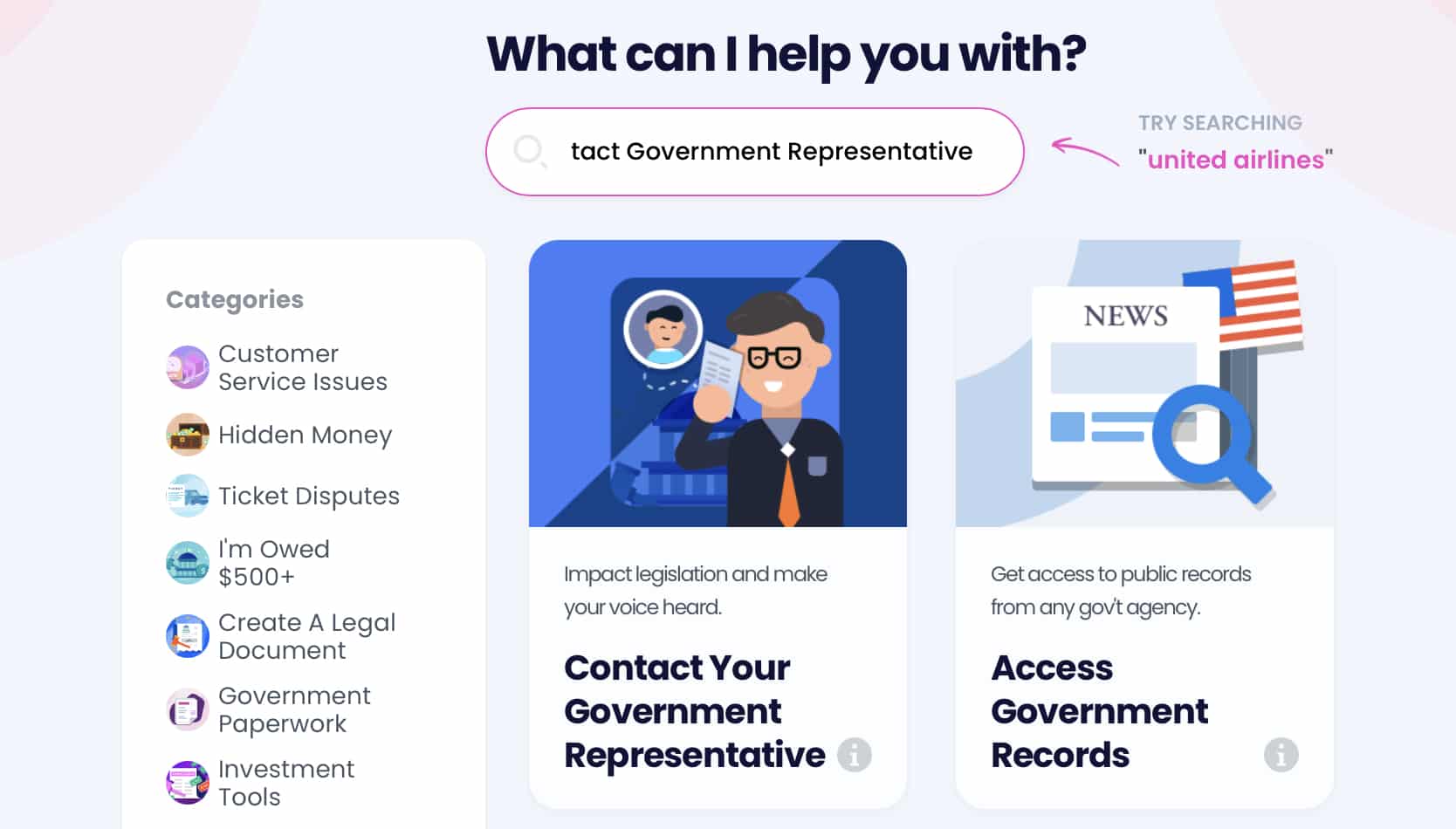 2. Choose who you would like to contact.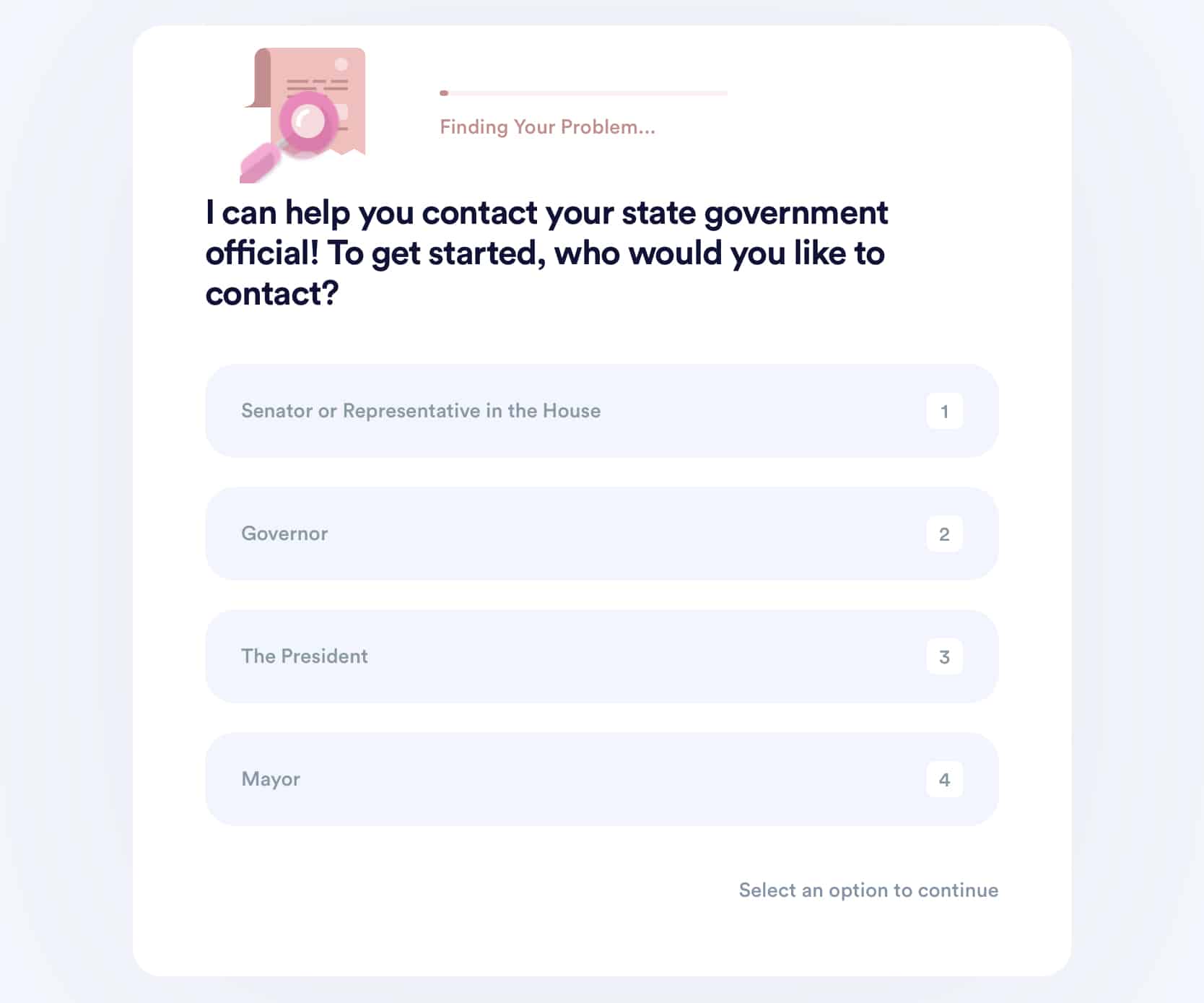 3. Explain your issue, why you want to contact them, and your desired course of action to be taken by the government representative.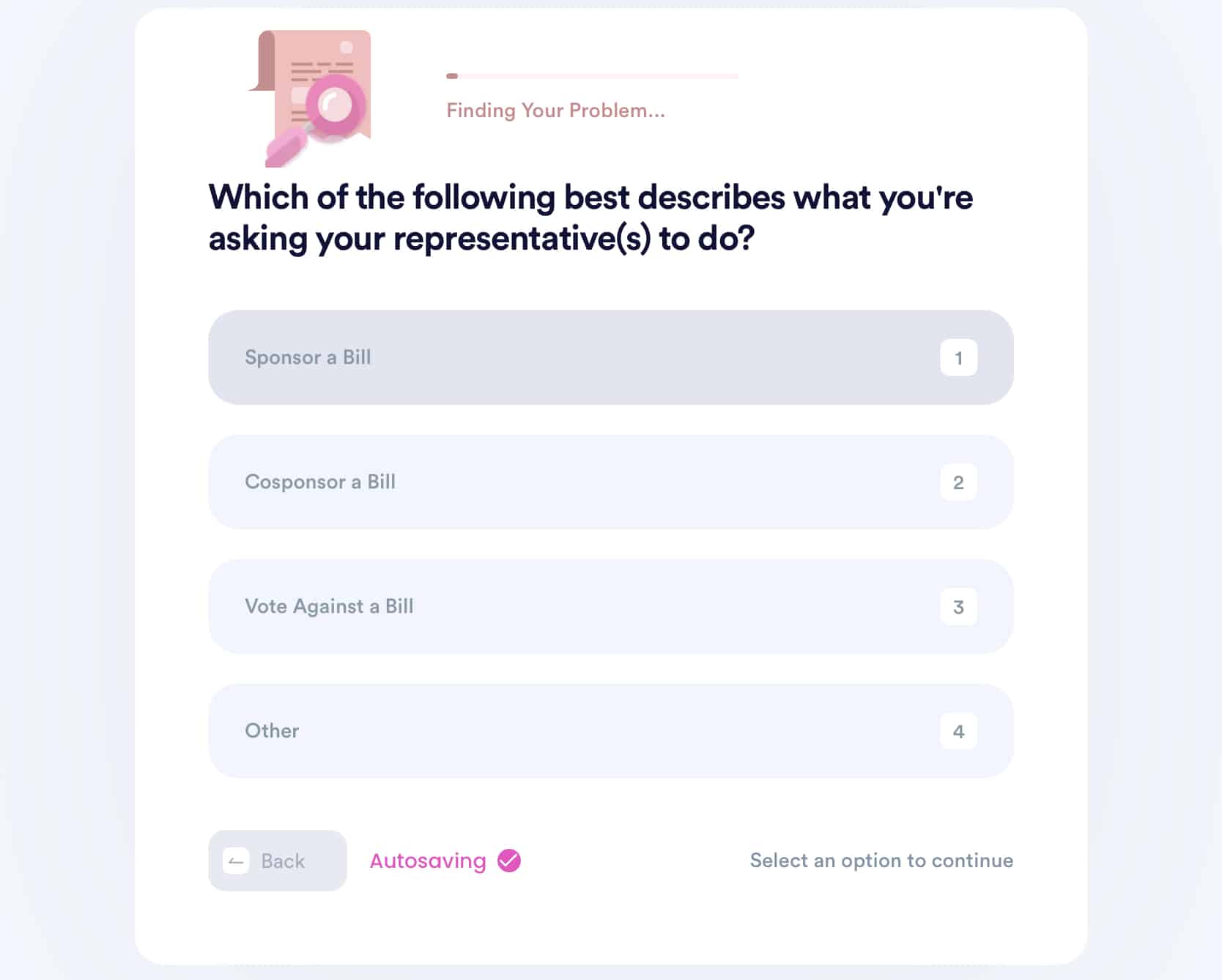 That's it! After you are done with these simple steps, DoNotPay will write you a professional email or letter, and send it to the governor on your behalf!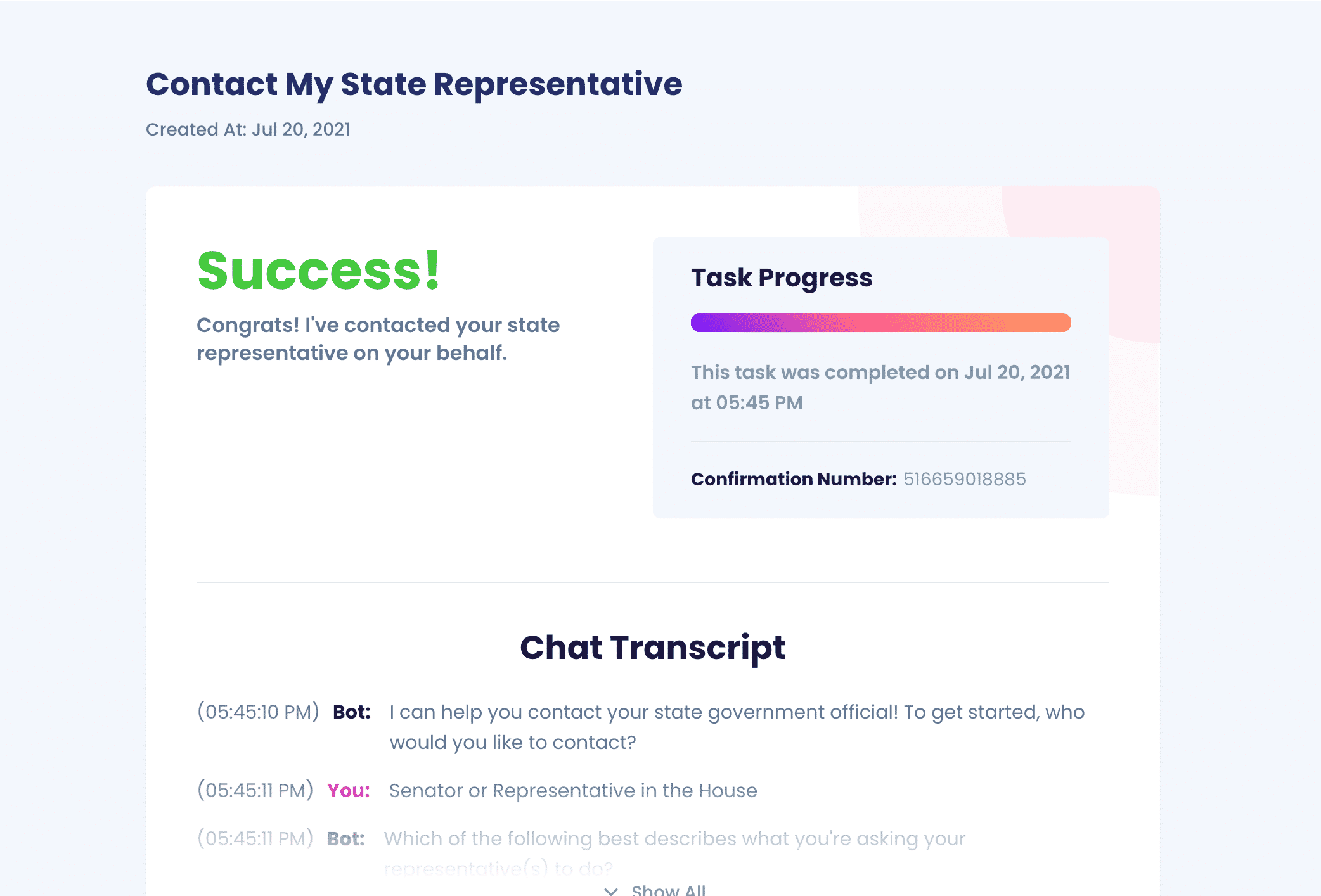 DoNotPay Can Do More!
We do not only help you with contacting a governor, but we also provide a variety of services! Some of them include: