How to Contact Governor DeWine
All legislation starts with a problem, then a solution to the problem. A law usually starts as an opinion of a legislature, staff, lobbyist, or from an average citizen. Legislation survives or dies depending on several reasons. In this article, we will provide you with all the information you need to get in touch with Ohio , and a handy tool that you can use to easily contact your government representative.
How to Contact Governor Mike DeWine
Governor Mike DeWine can be contacted through traditional means such as phone, by post, or email. His office also has official Twitter accounts and the Governor has personal social media accounts as well. Here below are the contact details of Governor Mike DeWine:
Governor Mike DeWine's Biography
Richard Michael DeWine was born in 1947 in Yellow Springs, Ohio. He is a member of the Republican party and the 70th Governor of Ohio. Governor DeWine holds a Bachelor of Science degree in Education from Miami University and a Juris Doctor from Ohio Northern University College of Law. The governor has had a long and illustrious career in government service. His experience includes:
Greene County Prosecutor: 1977–1981
Member of the Ohio Senate from the 10th district: January 2, 1981 – December 13, 1982
Member of the U.S. House of Representatives from Ohio's 7th district: January 3, 1983 – January 3, 1991
59th Lieutenant Governor of Ohio: January 14, 1991 – November 12, 1994
United States Senator from Ohio: January 3, 1995 – January 3, 2007
50th Attorney General of Ohio: January 10, 2011 – January 14, 2019
Gov. DeWine married his wife Frances in 1967. They have eight children and 26 grandchildren. Gov. DeWine is the son of Ohio Supreme Court Justice R. Patrick DeWine and a second cousin to former Ohio Republican Party Chairman Kevin DeWine.
Ohio Governor's Duties and Responsibilities
The Governor position is part of the executive branch of Ohio's state government. The governor is the chief executive officer of state government and the commander-in-chief of Ohio's military forces. His duty includes enforcing state laws, either approving or vetoing bills passed by the Ohio State Legislature, convening the legislature, and granting pardons, except in cases of treason and impeachment. Other roles and responsibilities of the Ohio governor include:
Enforcing laws and mandating for written reports from any office's head
Address the General Assembly annually and making recommendations
Convening the legislature on some occasions
Adjourning the legislature when the two chambers are disagreeing
Safekeeping of the "Great Seal of the State of Ohio"
Signing and sealing commissions granted on behalf of the state of Ohio
Appointing vacancies such as the Lieutenant Governor's office and all key state officers
Receiving an annual report from the department heads
Appointing for all other positions with the consent of the Senate
Tips for Contacting the Ohio Governor
In most cases, legislators are more than happy to entertain calls and emails from their constituents. It is the basic reason why they are elected: to represent in your best interests. When calling or emailing your government representative, a short statement about why you support or oppose a bill is often helpful. Here are some important pointers to remember when calling your state's governor or senator:
Contact your legislator quickly via phone or email when you know that voting on an issue is imminent.
Develop a courteous relationship with the staff that is assigned to your issue.
Do not be discouraged even if your representative does not support your position as simply letting them know of your opinions can be an effective way to let them know how constituents feel.
Research the issue and, if you have the expertise, offer information that may help your legislator to decide regarding an issue.
DoNotPay Helps You Contact Your Government Representative!
Reaching out to a legislator doesn't come easy to most people. The thought of talking to a Senator over the phone or emailing a representative can be nerve-wracking. You can make use of scripts, but being spontaneous and personal can guarantee not being ignored. That is where DoNotPay can help. Our lawyer in an app bridges the communication gap between government representatives and their constituents by making it easy for them to contact a senator or governor. All you have to do is:
1. Select the "Contact Your Government Representative" product on .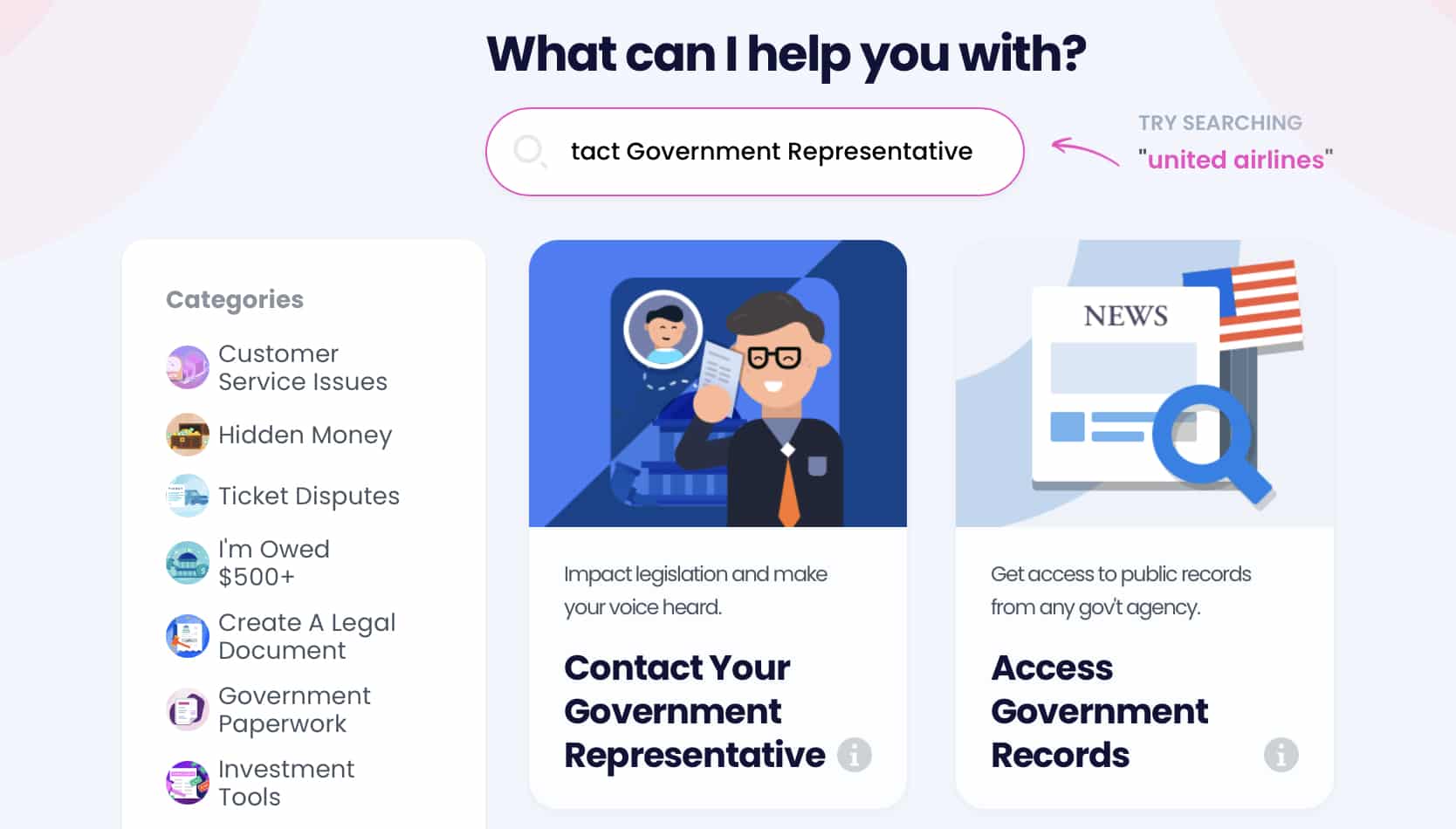 2. Select whether you want to contact your Senator, House Representative, Governor, President, or Mayor.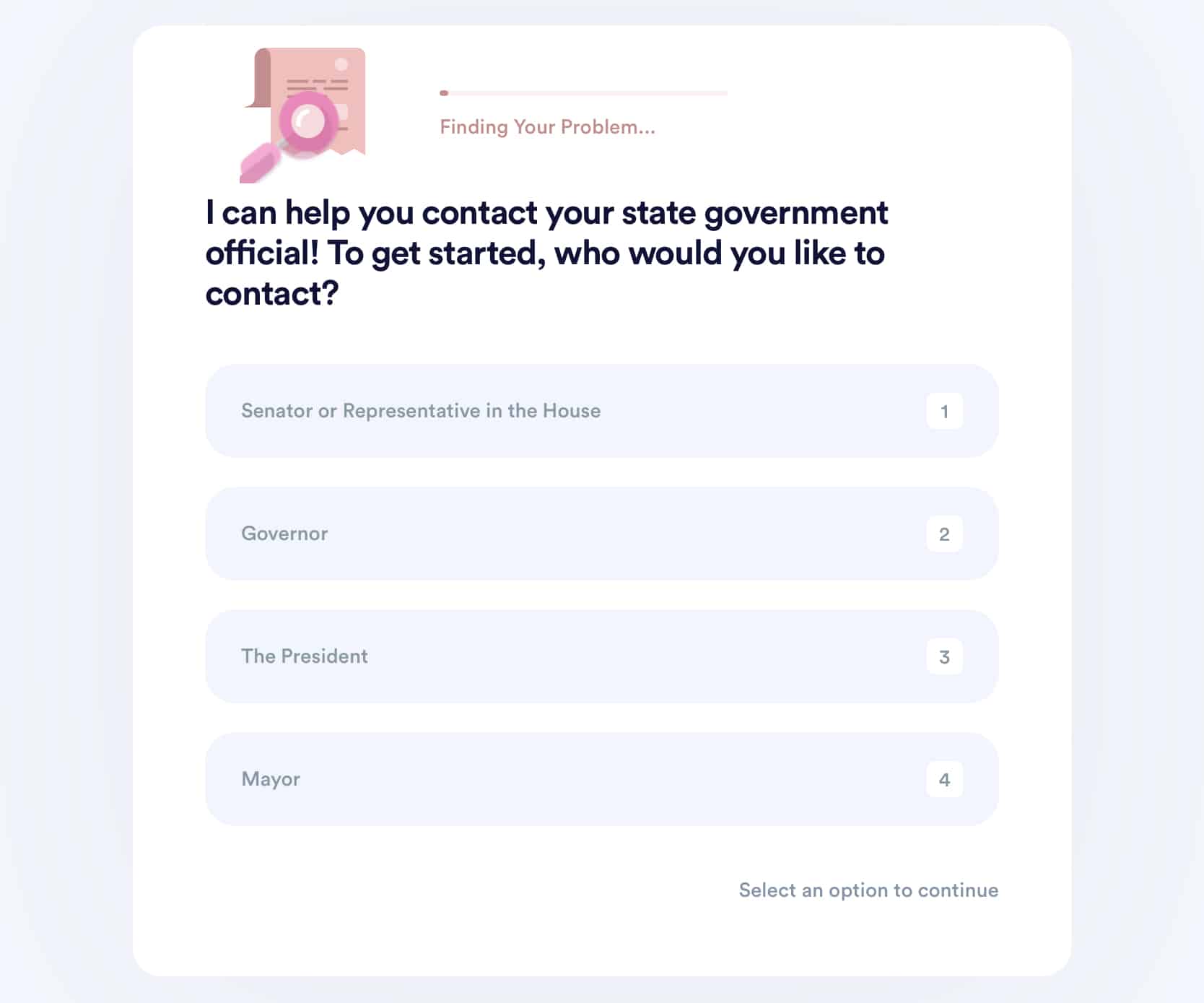 3. Choose the option that best describes why you're contacting your representative. You can explain more later!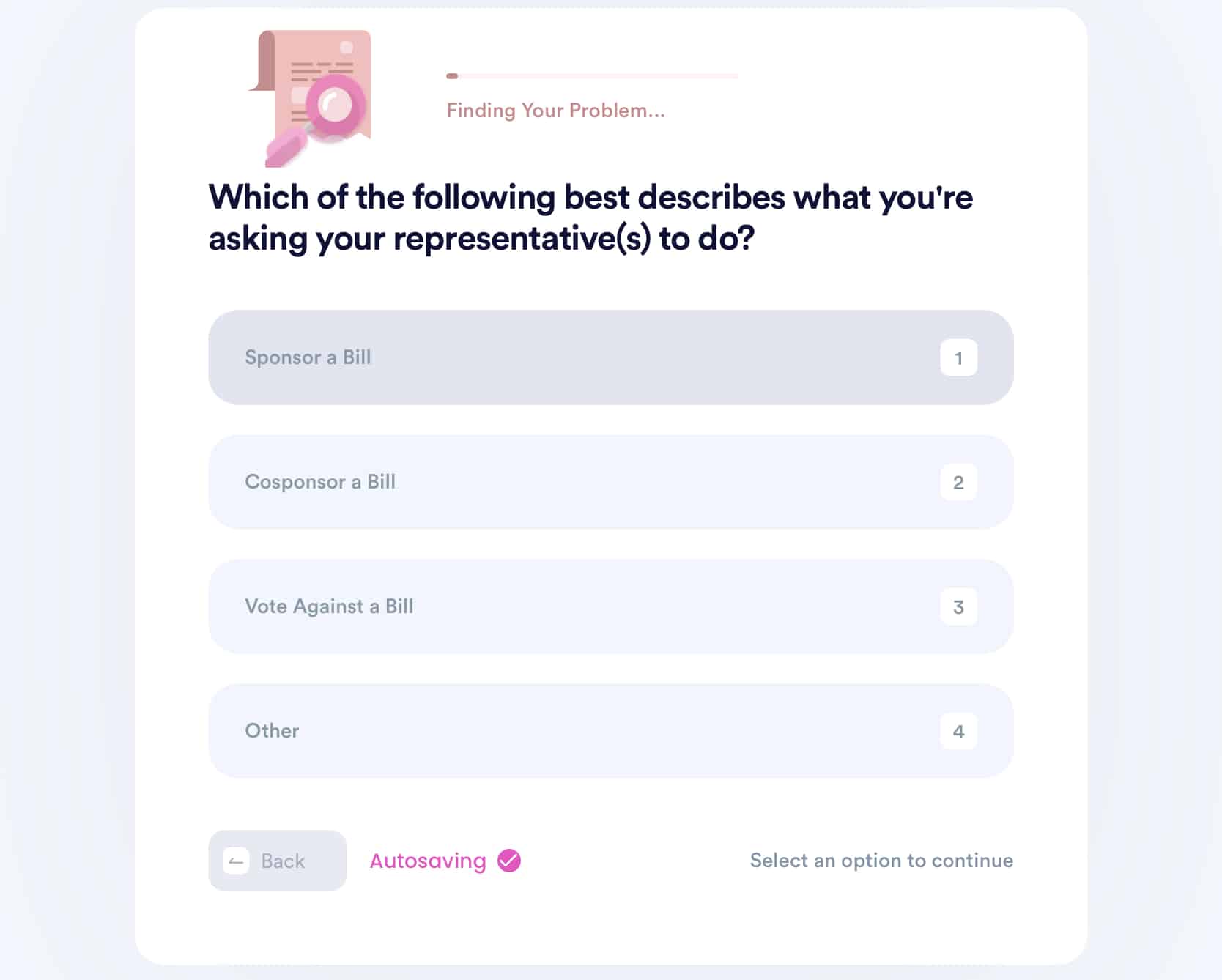 4. Tell us which bill or issue you're concerned about and what you're urging the representative to do.
DoNotPay will gather your responses and send them to your government representative!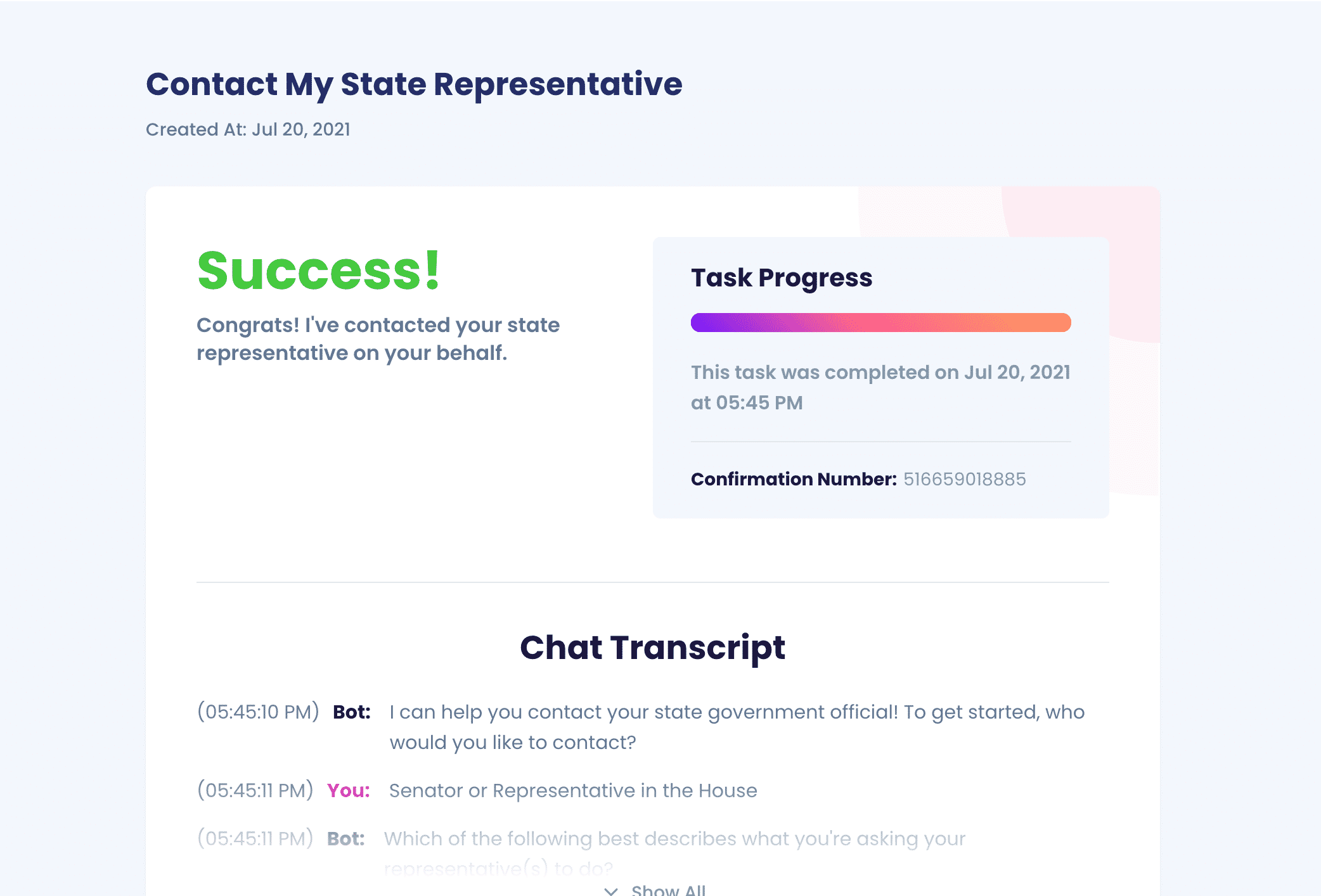 DoNotPay Takes the Load Off Your Shoulders