A Quick Guide on How to Contact Governor Cuomo
Throughout his years of service, Governor Cuomo oversaw the passage of crucial bills and laws of our time. These include the Marriage Equality Act, the Marijuana Regulation and Taxation Act, the New York SAFE Act, and many others. As a New Yorker, you are afforded a basic human right to contact your representatives to express your views and opinions on certain issues. In this article, we will provide you with the information you need to contact Governor Cuomo and go about reaching out to his office.
Governor Cuomo's Contact Details
Governor Cuomo's office has a social media presence and email. For those who prefer traditional modes of communication, you can also call a phone number or send a formal letter. Here below are the contact details of the NY governor's office:
Governor Andrew Cuomo's Bio
Born Andrew Mark Cuomo in 1957, Cuomo is the 56th Governor of New York who was sworn into office in January 2011. He is the son of the former Governor of New York, Mario Cuomo. Governor Mark Cuomo was born in Queens, New York City. He attended St. Gerard Majella's School and Archbishop Molloy High School. He holds a Bachelor of Arts degree from Fordham University and later earned a Juris Doctor from Albany Law School. He served as campaign manager for his father's successful run for Gubernatorial position in 1982. Since then, he has made a name for himself and served in positions as follows:
Chairman, New York City Homeless Commission: 1990 – 1993
Assistant Secretary, Housing and Urban Development for Community Planning and Development: May 28, 1993 – January 29, 1997
11th United States Secretary of Housing and Urban Development: January 29, 1997 – January 20, 2001
64th Attorney General of New York: January 1, 2007 – December 31, 2010
Chair of the National Governors Association: August 5, 2020 – July 8, 2021
New York Governor's Roles and Responsibilities
The Governor of New York is the Chief Executive Officer of the US state of New York. He heads the executive branch of New York and serves as the Commander-in-Chief of the state's military and naval forces. The duties of a New York Governor include the following:
Enforcing state laws
Approving or vetoing bills passed by the New York State legislation
Assembling or appointing members of the legislature
Granting pardons except for cases of treason and impeachment, and communicating to the legislature the pardons granted every year
Communicating to the legislature at every session the condition of the state
Expediting the measures decreed by the legislature and ensuring execution of the laws
Things to Remember When Contacting the Governor
Regardless of which pole of the political line you lean towards, communication with your elected representatives is one of your basic rights as a US citizen. However, when it comes to the public sphere, not all modes of communication are created equal. When trying to reach out to your representatives, here are some pointers to take:
Find the correct contact details by using your elected official's websites where their contact information is most often published.
Make it a point to make strategic phone calls in addition to the emails that you send, as an inbox can be easily ignored.
Show up to town hall meetings when your representatives are scheduled to attend one.
DoNotPay Can Help You Contact Your Government Representative!
In most cases, emails and posted mails can be depersonalized. When drafting emails, you need to ensure that it is professionally written and includes all the points that you need to communicate. Whereas, phone calls can be intimidating for those who are not used to calling an elected official. A more efficient way is to fill up and submit the correct forms that are published on the representative's website. These forms will then generate a professional message that lets your view be heard. However, they can sometimes be confusing and time-consuming to fill up. That is where DoNotPay can help. We are the world's first robot lawyer and we help citizens quickly and easily let their governors or senators know what they think about a certain issue. All you have to do is:
1. Select the Contact Your Government Representative product on .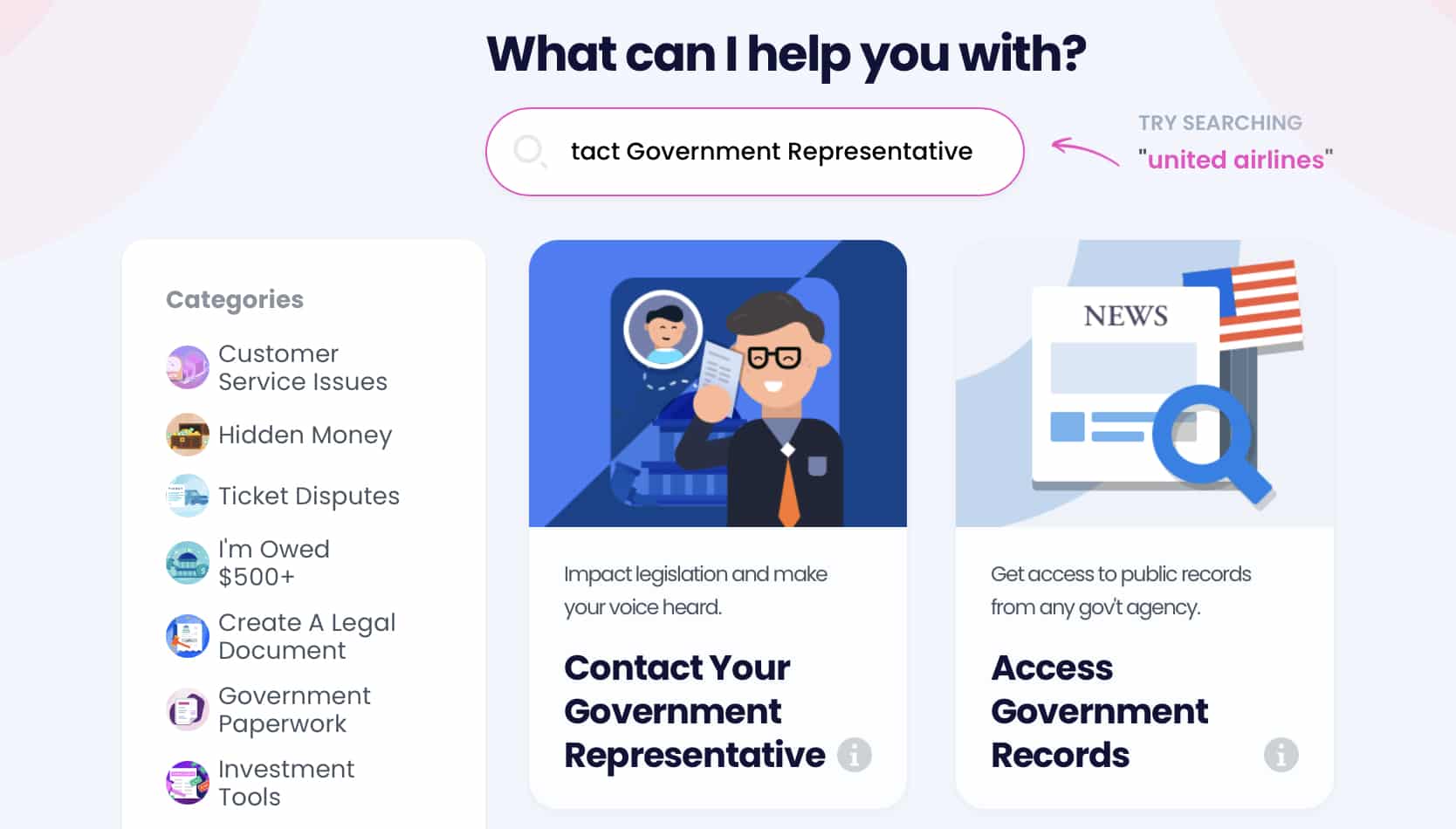 2. Select whether you want to contact your Senator, House Representative, Governor, President, or Mayor.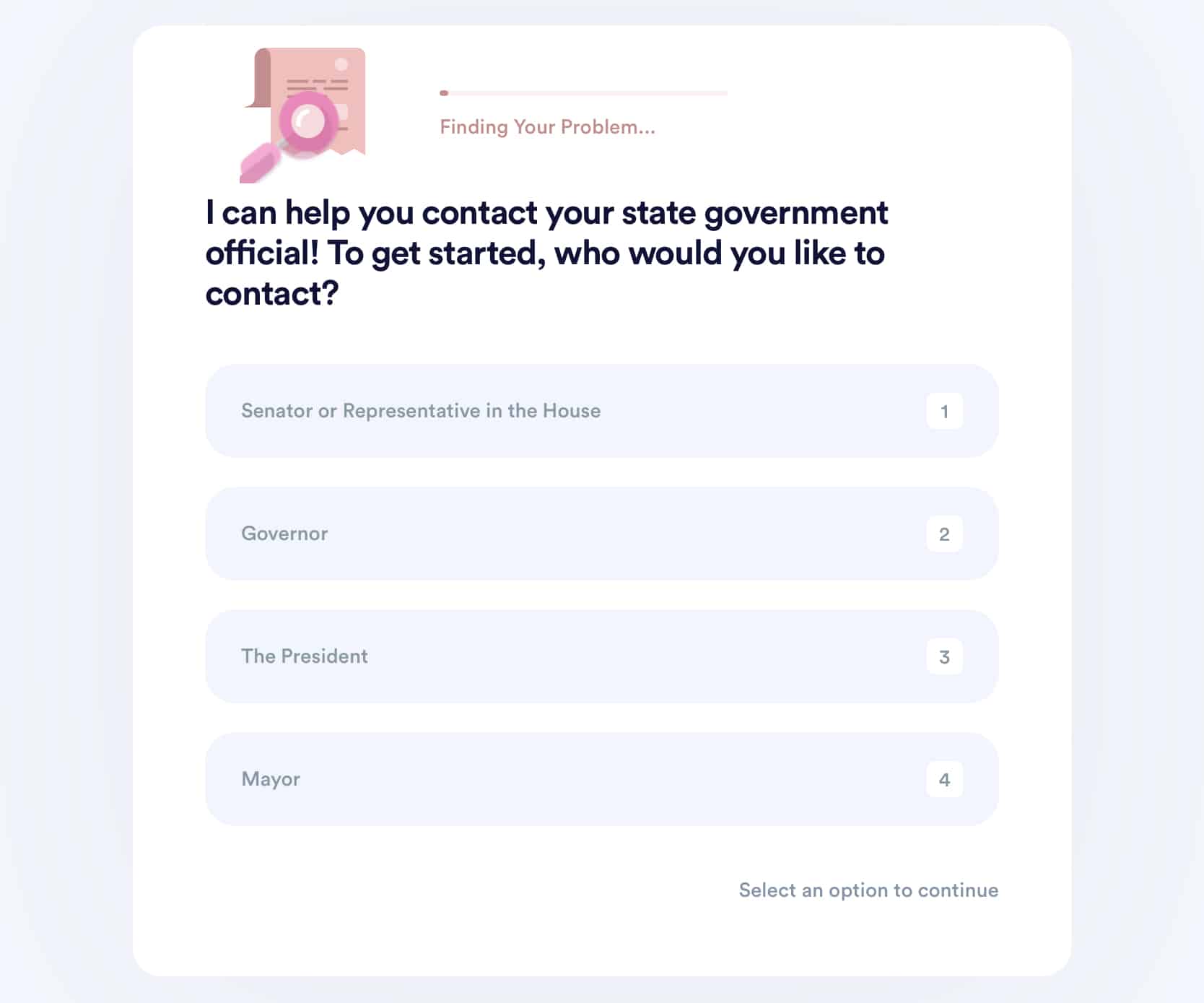 3. Explain why you're contacting your representative. Do you want them to sponsor, cosponsor, or vote against a bill? If none of these, select "Other". We'll give you the chance to explain more!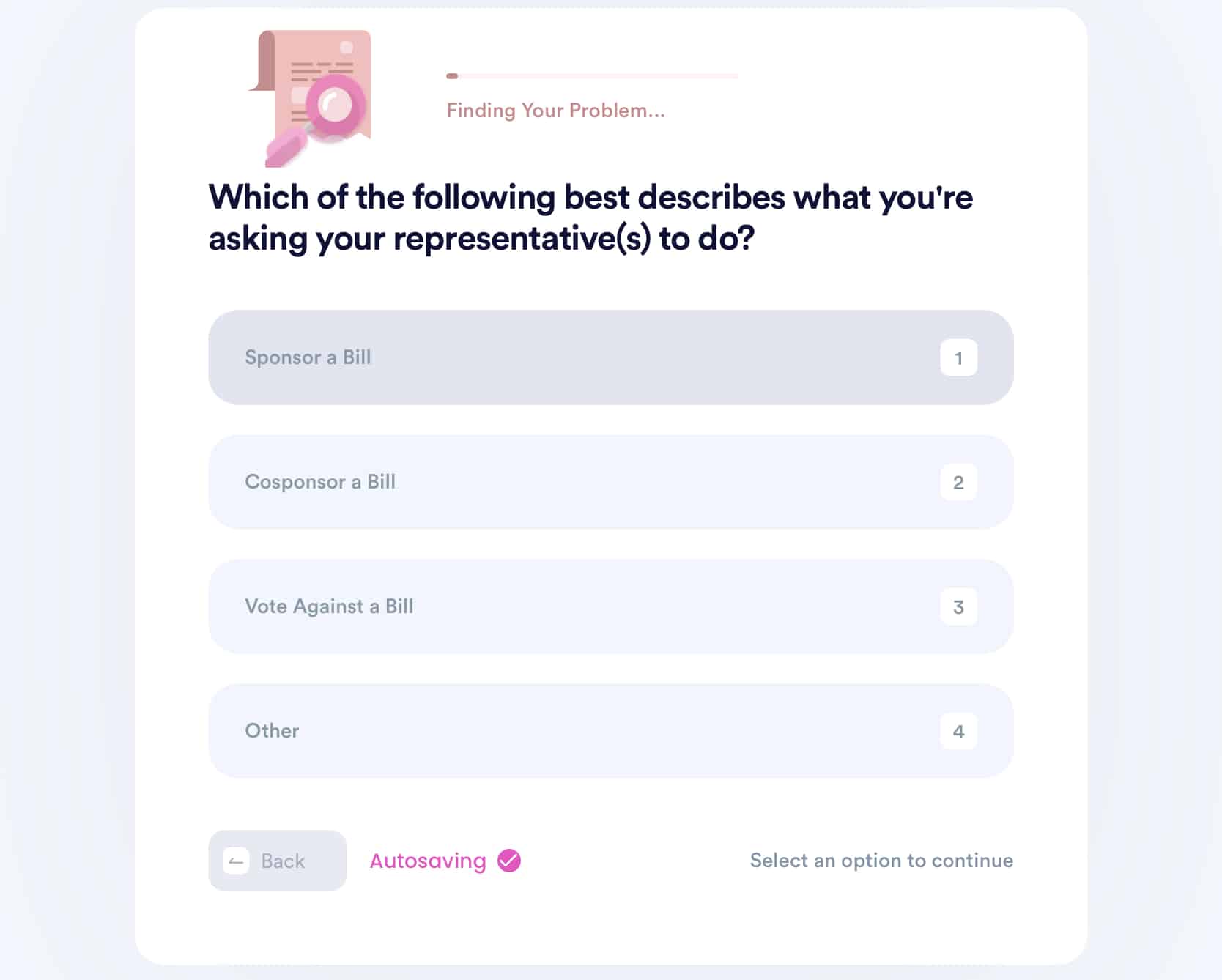 4. DoNotPay will handle the rest! Just sit tight while we go over your responses and submit it to your government representative's contact form!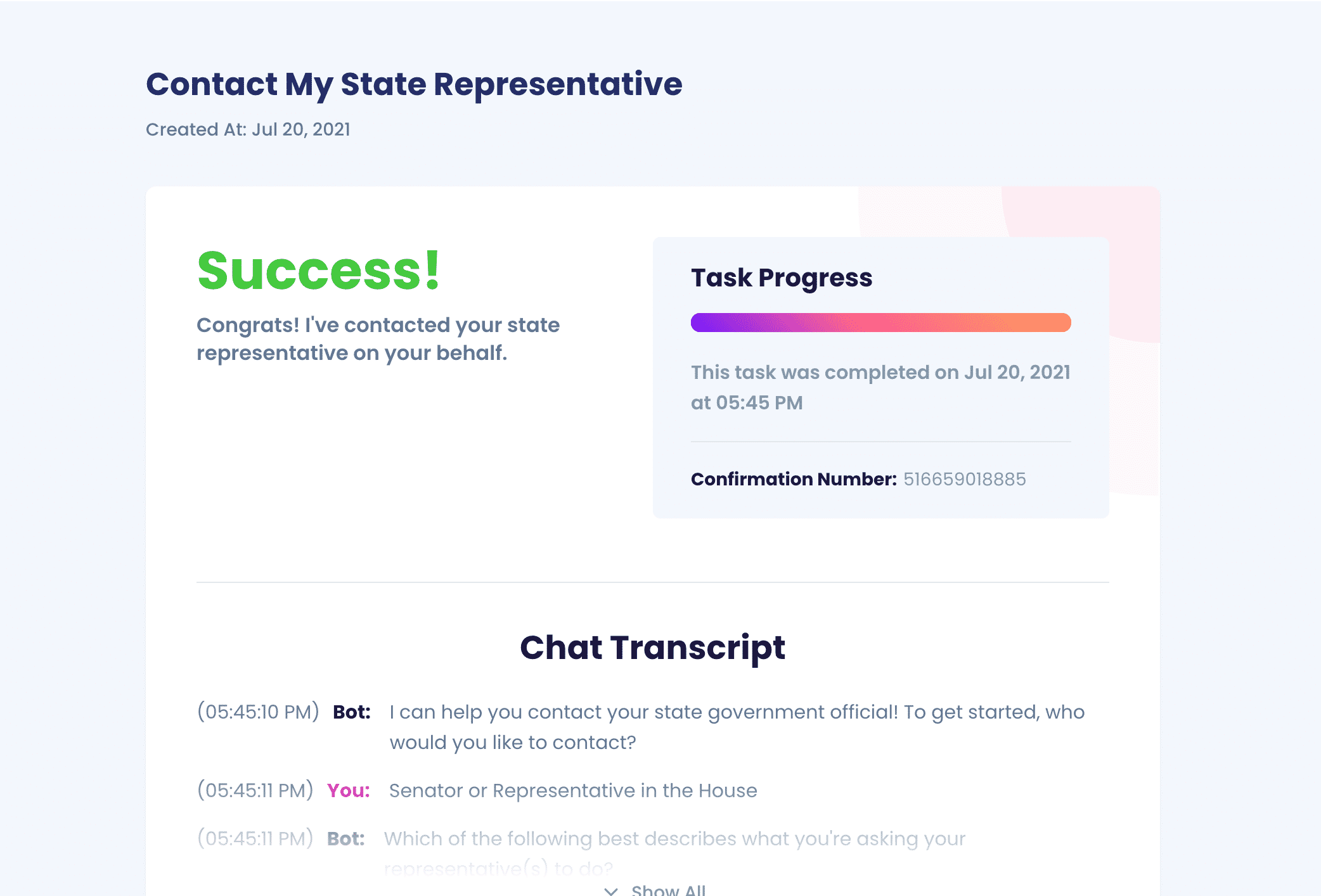 DoNotPay Does More!